Rocket Jet Set Jacket Review Summary
Rocket Jet Set Jacket Image Gallery
A well-constructed, stylish leather jacket with elbow and shoulder protection for the fashion-conscious rider.
Cut specifically for a woman's body, the Joe Rocket Jet Set Jacket also has adjustability through the waist for a custom fit.
The Variable Flow ventilation system and a removable insulated vest provide flexibility for warmer or cooler weather.
Vibrant color and attention to detail provide feminine styling without being "too girly" (a common complaint from female riders).
At the risk of stereotyping, most women like to shop. I said most, and I definitely fit in the category of "loves to shop".
I am like a great Safari hunter; however my jungle is brick and tile. Mapping my way through stores and websites, I stalk my prey, and if it's on sale…even better.
And if that perfect item is on clearance?  I just might do a victory dance right there in the aisle (I'm not kidding!).
The Joe Rocket Jet Set Jacket is currently on closeout, which means CLEARANCE, but I am getting ahead of myself…
It is so important to wear the proper gear — every time — when riding.
If you feel differently, all you have to do is search online for pictures of motorcycle accident victims. One picture of someone's flayed skin with exposed muscle was enough to convince me. My apologies for the visuals – I think I am feeling a bit light-headed now!
So why don't all riders wear protective clothing?  Well, there's this crazy thing called choice, and unfortunately some choose comfort (i.e., no gear) over safety.
If vanity comes into play (which I'll admit it has for me — look for an upcoming Scorpion Savannah pant review), looks usually trump safety, unfortunately. And how silly is that, considering the purpose of the gear?
From a woman's point of view, there's also the lack of availability of women's gear in motorcycle shops. If a guy tells me one more time to try a men's small, I will scream!  Although it might be fun to see their reaction, but I'd rather not go there…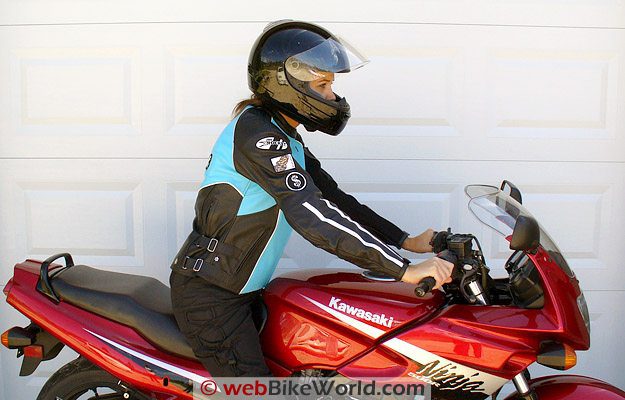 Out of desperation, I once caved and tried some men's gear, but the fit was just not designed specifically for a woman's body. The torso and shoulders are usually too big, which means the jacket will flap around in the wind and the armor will be in the wrong place.
This is a common issue with women's motorcycle clothing items that are simply a smaller version of the men's equivalent, and the result is both improper fit and the appearance of wearing a sack.
And unisex sizes…puh-leease…give it to me straight — they're men's sizes and the only reason women might wear them is if they can't find anything better.
So what's the solution?  Gear that is fashionable, fits well, and offers protection. It sounds too good to be true, right?  Wrong!
Touted as being designed for women by women, Joe Rocket meets all these requirements with their "Jet Set" line.
And their design staff is even quick to respond to questions and offer suggestions!  I was blown away by how many times I got help, suggestions, and pictures from Joe Rocket's employees and their product manager. It is evident they care about their customers and they even went the extra mile to try and help me find a pair of discontinued pants I was looking for.
By the way, I discovered that Joe Rocket's Trixie Leather Pants in blue (which are discontinued and only available in a medium, but a steal at around $115.00) will not match the blue Joe Rocket Jet Set Jacket. However, the Joe Rocket Trixie jacket in blue is still available in limited sizes and it would look hot with the pants.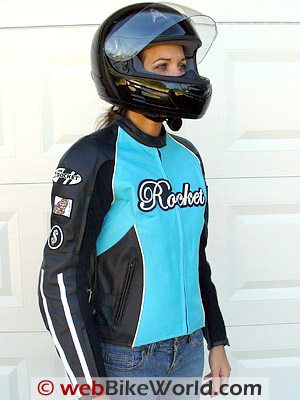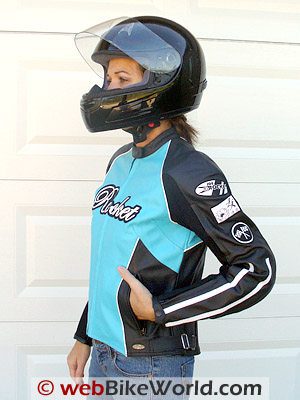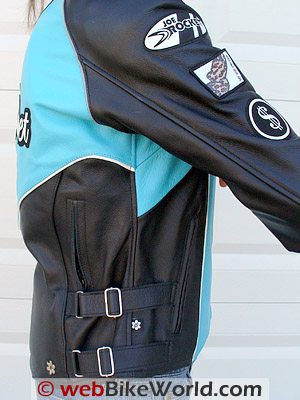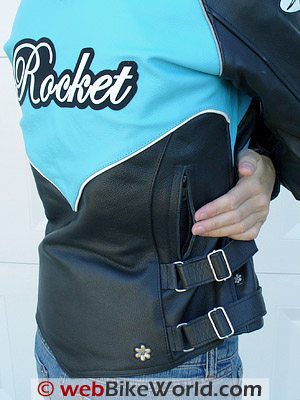 Jacket Fit Tips
Motorcycle clothing is designed for different uses, and this is something to consider before making a purchase.
Motorcycle jackets are cut longer in the sleeves and fuller across the back so they fit properly while in the riding position. For example, touring jackets are normally longer, with multiple layers to accommodate all types of riding conditions. Sport jackets are usually shorter in the front to prevent bunching up and longer in the back to provide coverage when bent over a bike.
Correct fit equates to shoulder and elbow armor resting where it should — meaning on the shoulder and elbow, not below them. The jacket should fit snugly enough to hold the armor in place; it won't do your elbow any good if the armor shifts down to your forearm.
A good fit will also be close around the waist so air cannot go up into the jacket. With your arms resting at your sides, the sleeve cuffs should extend past the wrists.
Sleeve length is often an issue for me; I generally wear a size small jacket, but on many jackets the sleeves are too short before I even reach for handgrips. However, stepping up to a medium to fit the sleeve length often translates to the jacket being too large through the shoulders, which means the armor isn't located correctly.
Also, it's important to note that even within the same manufacturer, sleeve length may vary from one style to another. I first noticed this with Shift brand jackets — one in size small was just right, while a size small in the next style was an inch too short.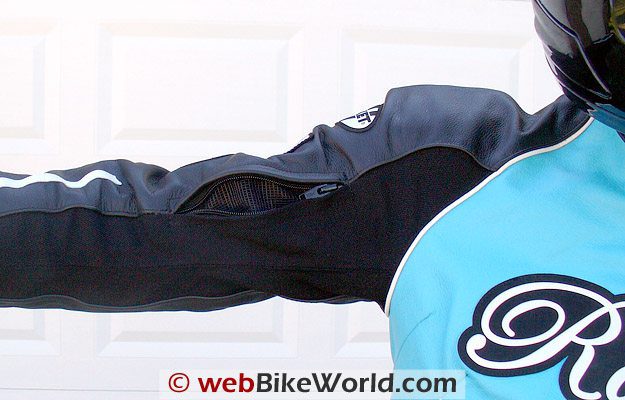 Remember that while gear should fit closely, it should not hinder movement. Try it first, which gives you another excuse to hop on your favorite bike in the shop. Choose a motorcycle with a similar riding position to your own bike and, well, assume the position.
Reach for the bars and notice ease of movement. Does the jacket feel like it binds?  Is it tight across the shoulders?  How is the sleeve length?
If the cuffs rise above the wrists, consider your glove type — gauntlet gloves can remedy this situation and provide coverage for the wrists.
While you're in the riding position, be sure the back of the jacket is long enough to cover your waist. Why?  Well, if you're on a sport bike, there are other…issues that come into play — let's just say that this is another time to just say no to crack!
Why Leather?
Leather really does offer some of the best protection you can find. Not that thin fashion leather, mind you, but thick, quality leather that's at least 1.0 mm thick. Remember this will be the only thing between you and the pavement, so this is not a place to scrimp!
Leather is also windproof, extremely durable, and it (usually) softens over time; once worn in, you won't want to part with it. Did I mention bug guts also wipe off easily?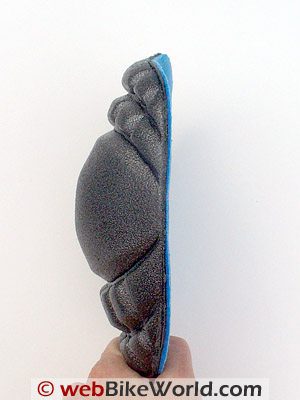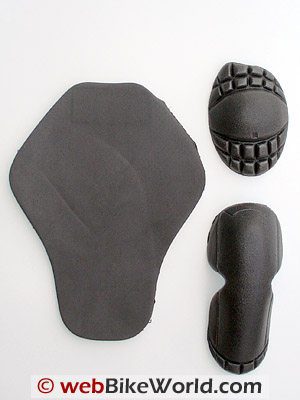 (L) Joe Rocket Jet Set Jacket shoulder armor. (R) Jet Set Jacket armor set.
The Joe Rocket Jet Set Jacket
The Joe Rocket Jet Set Jacket has great fit, function, and fashion — and there are also matching gloves!  According to the Joe Rocket sizing chart, I would need a size medium jacket, but the small fits well.
Let's start with the basics; the Jet Set Jacket is made from 1.2 to 1.4 mm thick cowhide. This thickness should provide excellent protection in case of a slide. Even though the leather is thick, the jacket is not restrictive and it's quite flexible.
Princess seams and double darts create a flattering shape and provide ample room for someone with a figure (ahem, larger than average cup size). Whether the removable vest was in or out, I had plenty of wiggle room in the jacket and could still fit a sweatshirt underneath. Of course, the Jet Set jacket is a little roomier with the insulating liner vest removed.
The waist has a large degree of adjustability, made possible with two 7" (17.75 cm) long and 1-¼" (3.2 cm) wide leather straps on each side which run from the front pockets to the princess seams in the rear. Cinch the jacket in to show off curves; let it out when sitting on a bike so the jacket doesn't ride up.
Raglan sleeves — which are popular in sport wear and extend fully to the collar — allow ease of movement. Joe Rocket pre-curves their sleeves which also makes for a more comfortable riding position because the rider is not working against the fabric or leather.
The Jet Set Jacket has textile-stretch panels that run the entire length of the sleeves on the inside of the arm, which creates both pros and cons. The con is that during cold days, the panel allows more airflow; the pro is during hot days, when the panel allows more air flow.
On cooler days – around 45-50 degrees F (7-10 Celsius), layering the Jet Set Jacket with a long-sleeved shirt was sufficient to keep me warm.
The textile panel is 5 ½" (14 cm) wide at the underarm — this helps to reduce bulk in that area versus all leather — and tapers to 1 ¾" (4.5 cm) wide at the wrist. It also stretches slightly to allow for a thicker sleeve, like a sweatshirt, without being too binding.
Warm Weather Update (7/09):  With temperatures between 85-90 degrees (29 to 32 Celsius) riding under 60 MPH (96 KPH) I was too warm, and in stop-and-go traffic, it was almost unbearable. At speeds over 65 MPH (104 KPH) I was comfortable.

I now understand how gear can either add to or prevent fatigue. In stop and go traffic, when I was hot, I got tired quickly and it became a distraction.Add that to a helmet that drills a hole through my forehead and it's amazing I stayed on the road! I'll be adding a mesh jacket to my motorcycle wardrobe as soon as possible!"
In warm weather, the breathability of the textile panel combined with 5" (12.75 cm) zippered vents over the biceps and two 4 ½" (11.5 cm) zippered vents in the lower back of the jacket work to keep the rider cool. By the way, all zippers on the Jet Set Jacket — both inside and out — are YKK brand.
Each sleeve is adorned with two ½" (1.25 cm) wide, white leather strips and three fashion patches; the top patch also forms the Joe Rocket logo.
Tapered cuffs fit nicely under gauntlet gloves and feature a 6" (15.25 cm) opening with a 5 ½" (14 cm) zipper over a textile flap. A Joe Rocket insignia snap closes the cuffs and extra snaps are included should the need for replacement arise.
White piping accents the front of the bodice and white and reflective piping embellishes the back and provides some nighttime visibility. The front and back each sport a large black and white Rocket logo; these would be even better if reflective.
The Joe Rocket flower also adds subtle, feminine touches on both the inside and outside of the jacket. The neck is finished with a banded collar and covered snap.
Two zippered 6" (15.25 cm) front pockets are angled and easy to reach to warm one's hands or to store items. Another 6" (15.25 cm) interior zipped pocket is 7" (17.75 cm) deep, large enough for a cell phone, iPod, or other small items.
The interior of the Joe Rocket Jet Set Jacket is also nicely finished. A removable insulated, quilted vest, made of 100% nylon, is attached with a zipper and buttons. A permanent 100% polyester mesh lining extends all the way down the sleeves for comfort and breathability.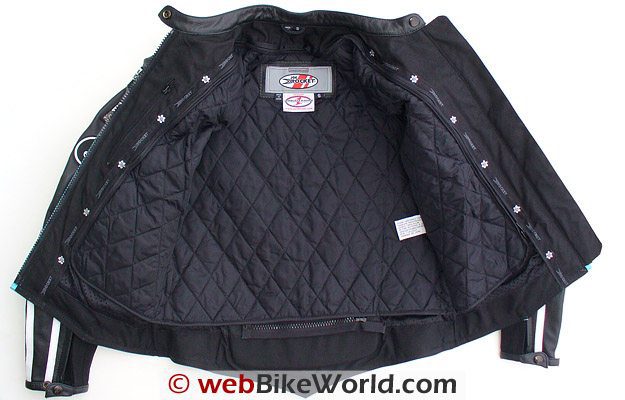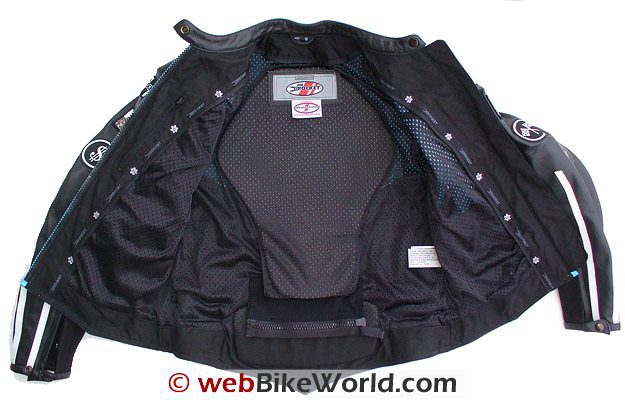 The Jet Set jacket also has an 8" (20.25 cm) zipper for pant attachment; simply sew one side of the zipper to any pair of riding pants.
Protection during a crash is provided by dual-density armor in the elbows/forearm and shoulders, along with a spine pad, which can be replaced with an optional CE-approved spine protector. There is also a permanent 9 ½" (23.5 cm) by 4 ½" (11.4 cm) foam pad installed in the bottom of the jacket; this rests over the small of the back.
The protectors and pad were removed quite easily for the photos, and after seeing them, I plan on upgrading to CE-approved armor, but here's where I'm a little (actually, a lot) confused…
After searching online, it appears that sets of Joe Rocket CE-approved shoulder, elbow, or knee armor retails for only about $5.00 more than their dual-density pieces. I'd be more than willing to pay an extra $10 per jacket for a set of CE-approved elbow and shoulder armor or $5 for a set of knee armor in a pair of pants to get the CE-approved armor rather than dual-density protectors.
This tidbit made me concerned about their other jackets, and I'm happy to announce after checking every women's Joe Rocket jacket currently offered through Motorcycle Superstore, New Enough, and RevZilla, only one other jacket came with dual density protectors. Joe Rocket's twenty-six other jackets listed between those sites come with CE- approved armor. Good news, indeed.
Conclusion
The Joe Rocket Jet Set Leather Jacket embodies style, fit, and protection at an affordable price. Add the fact that it is on closeout – translation: clearance – and it becomes a steal around $215 to $249.
Every color is available in limited sizes; Hawaii Blue is available in all sizes ranging from XS to XXL. Get yours before they're gone!
wBW Product Review:  Joe Rocket Jet Set Women's Motorcycle Jacket

Available From:  Joe Rocket
Suggested Retail Price:  $329.99 to $349.99 (On sale at RevZilla for $239.96).
Colors: Black/Black, Hawaii Blue/Black, Fuchsia/Black, Red/Black
Sizes:  XS – XXL
Made In: China
Review Date: June 2009
Note: For informational use only. All material and photographs are Copyright © webWorld International, LLC – 2000-2013. All rights reserved. See the webBikeWorld® Site Info page. NOTE: Product specifications, features and details may change or differ from our descriptions. Always check before purchasing. Read the Terms and Conditions!
Owner Comments and Feedback