Canada Atomic Textile Gloves Review Summary
Review Summary
A comfortable and very effectively vented riding glove for warm weather applications. The thin leather palm allows excellent feel and fine motor skills be used while riding while also protecting the rider's hands effectively from bugs, rocks, and wind. Easy to get on and off with a short wrist covering made of textile. The only shortfalls? These aren't waterproof in any way and the closure velcro strap is way too small to actually cinch the two halves of the glove together tightly.
Pros
Molded Plastic knuckle and finger armor
Excellent breathability and ventilation
Lightweight
Fit snug around fingertips to allow good dexterity and feel
Can be connected together using snap-on wrist area or velcro
Priced at $79.99 Canadian dollars
Cons
Velcro strap doesn't clamp tightly enough
Not waterproof
Leather seam around thumb is thick and can restrict circulation
Textile Gloves Image Gallery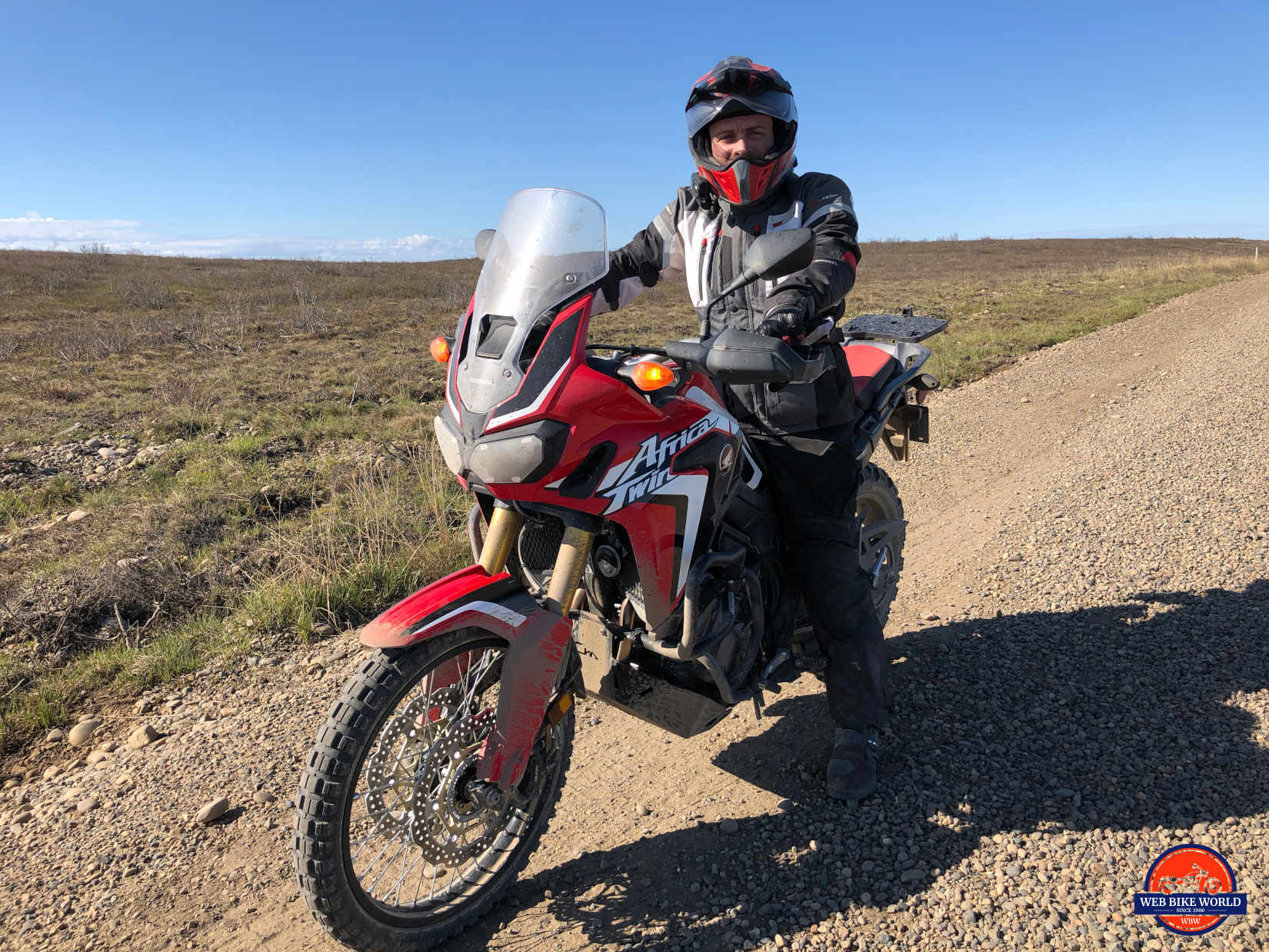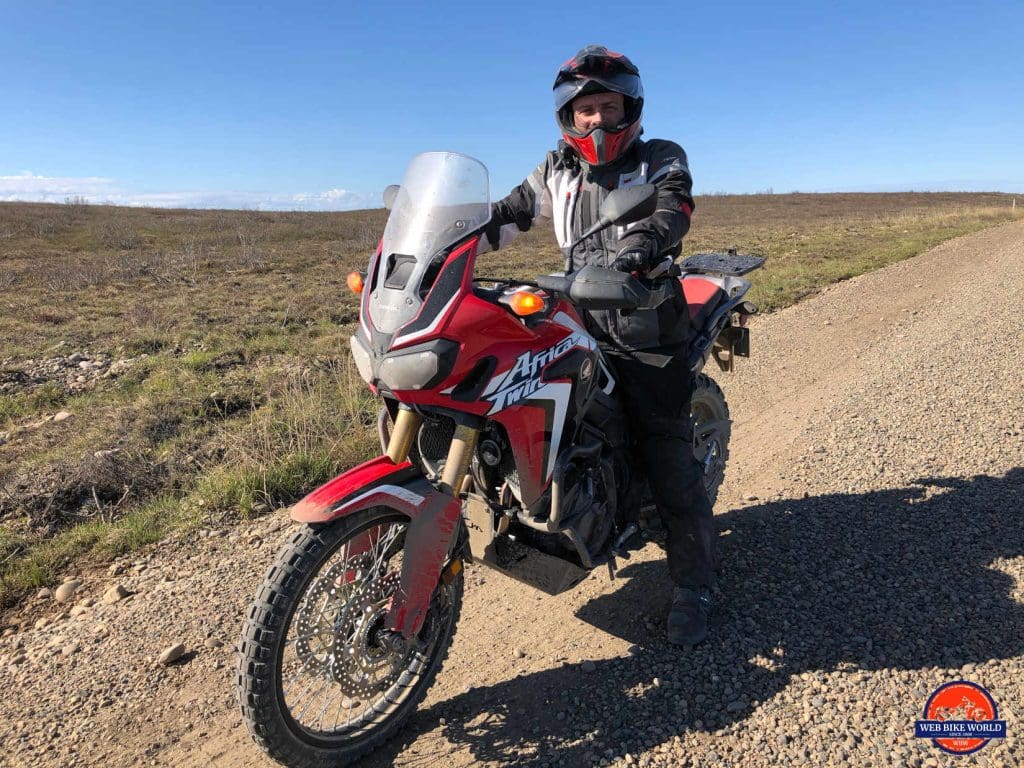 These gloves have been tested more thoroughly than any other piece of gear in WBW history to date (that I'm aware of).
I just returned from a 5600-mile adventure ride while using the Atomic gloves mostly on the way home because the weather turned very hot in that time. Beginning from my home in Airdrie, Alberta, Canada the journey ranged all the way to the northernmost location reachable by road in Canada: Tuktoyaktuk or Tuk for short.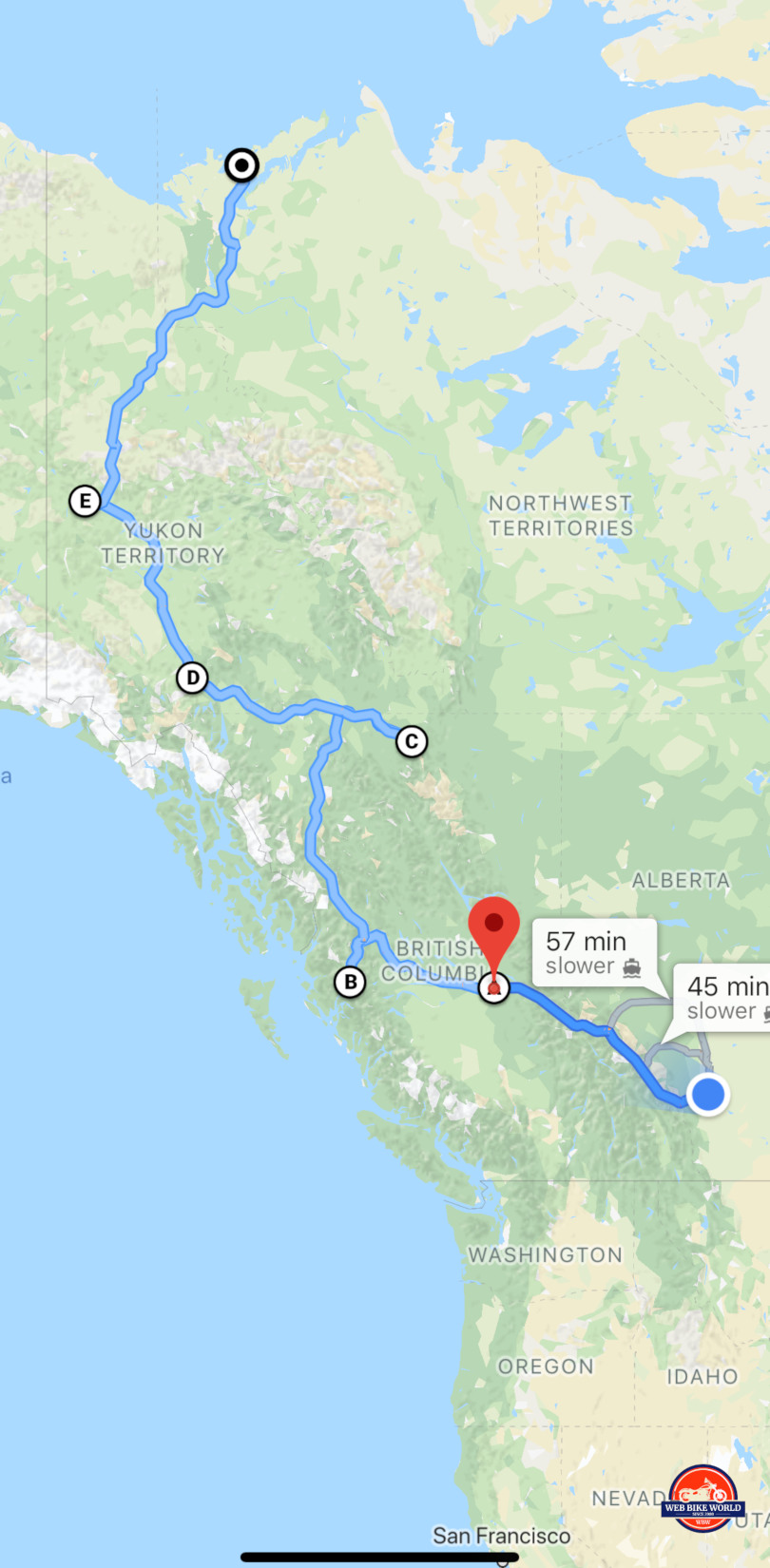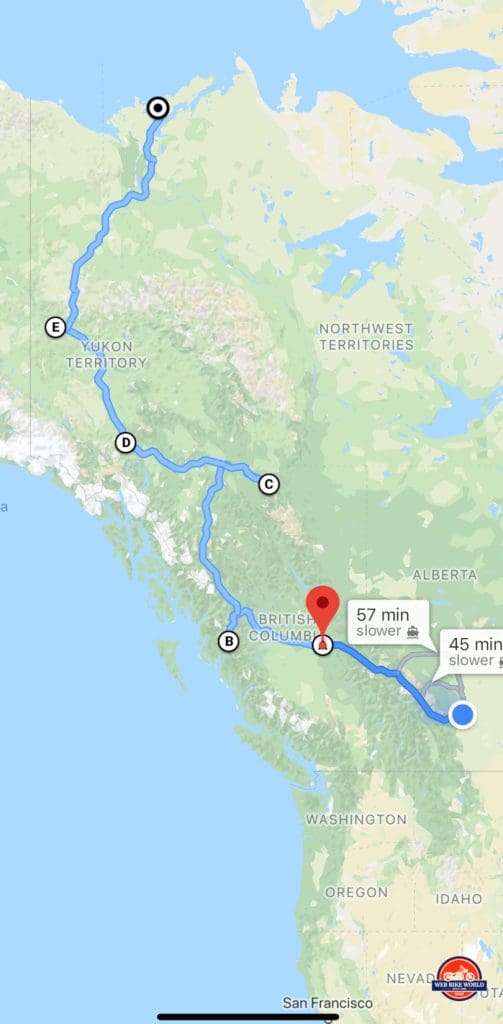 Over the course of that trip, I encountered temperatures ranging from a chilling 30 degrees all the way up to a sweltering 90 degrees Fahrenheit and all the UV radiation accompanying it.
Plenty of rain almost every day for the first week straight, wicked dust on remote gravel roads and literally thousands of insects and flying rocks assaulted me for two and a half weeks almost nonstop.
I only used the Atomic gloves for part of the ride from Dawson City to Tuk due to cold and wet weather, but I wore them almost exclusively on the trip home in very hot temps.
Tuk Tested is an unprecedented higher standard to gauge riding gear worth.
First Impressions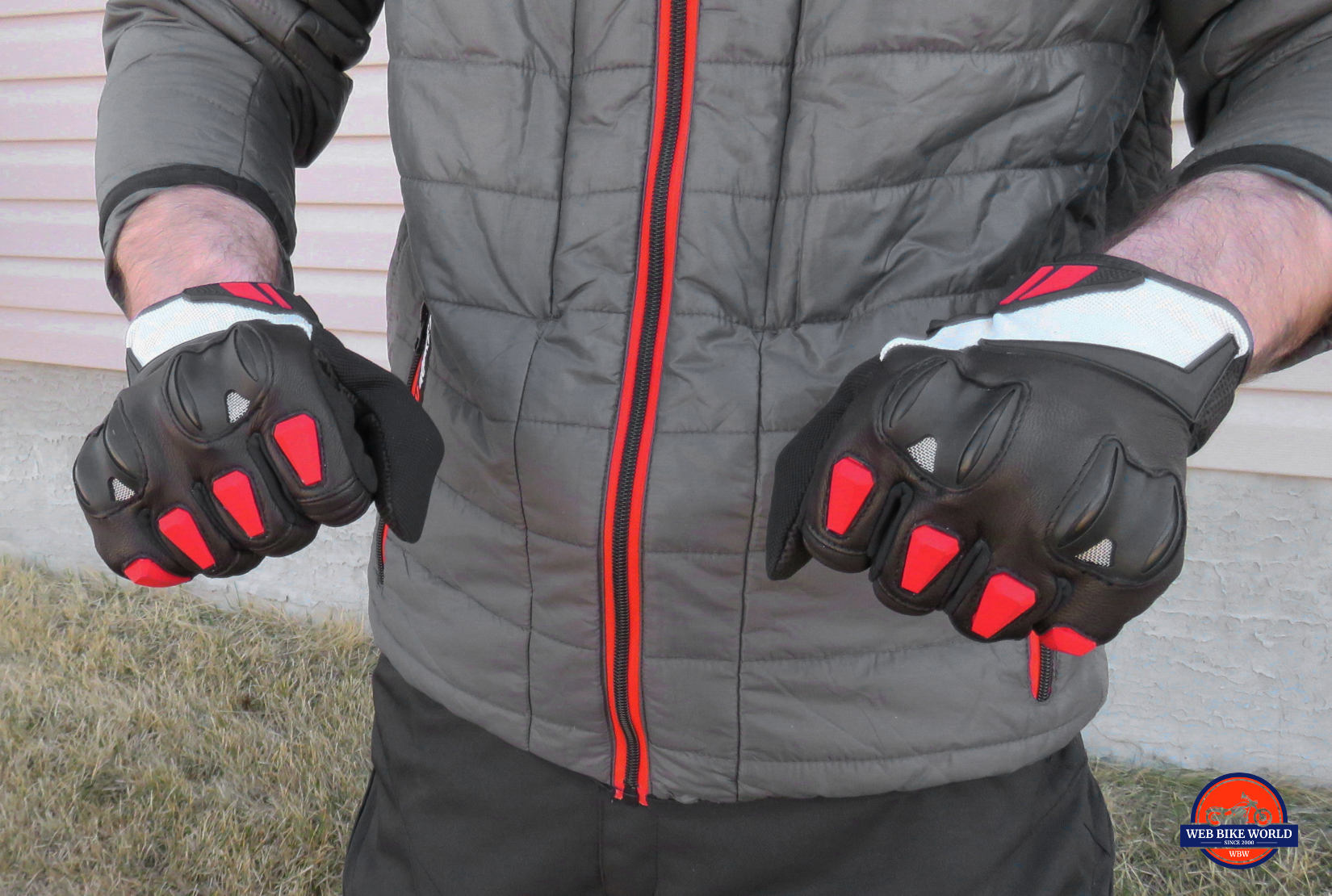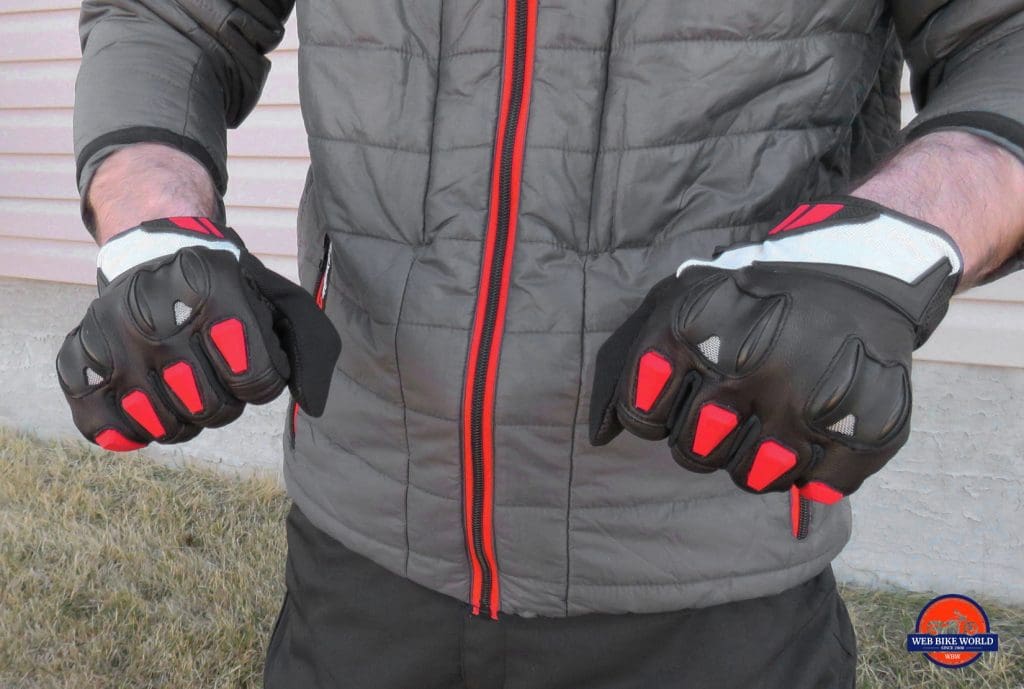 Great looking gloves with adequately nice knuckle and finger armor built in. The mesh vents in the knuckle armor shine and look like they should allow for good cooling of a rider's hands.
I like the predominantly leather makeup mixed with nylon textile used to build these gloves.
Fitment and Finish
Pulling on the gloves for the first time I immediately like the snug fit of the Medium size on my hands and fingers. There's no extra material hanging off the ends of my fingers as is often the case with gloves I try on.
My hands measure 8.5 inches around the widest part of the palm which puts me between Medium and Large, but I opted for the Medium as I would rather they fit tight than loose. I have average length fingers.
Available Colors
Of course, you want your gloves to match your bike as much as possible. Joe Rocket Canada has made the Atomic gloves available in the white and red ones I have, all black, hi-viz yellow and grey.
Wrist Closure Strap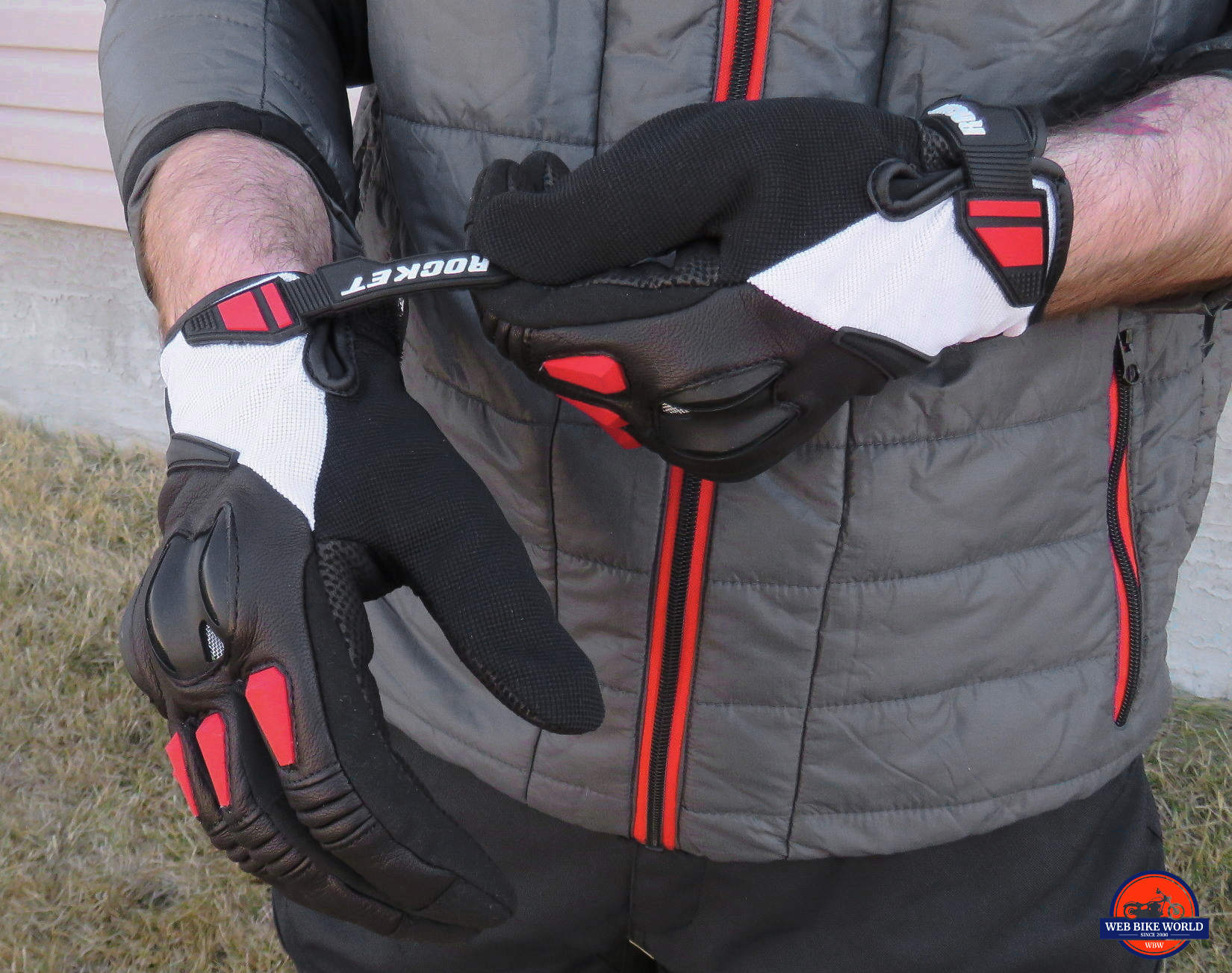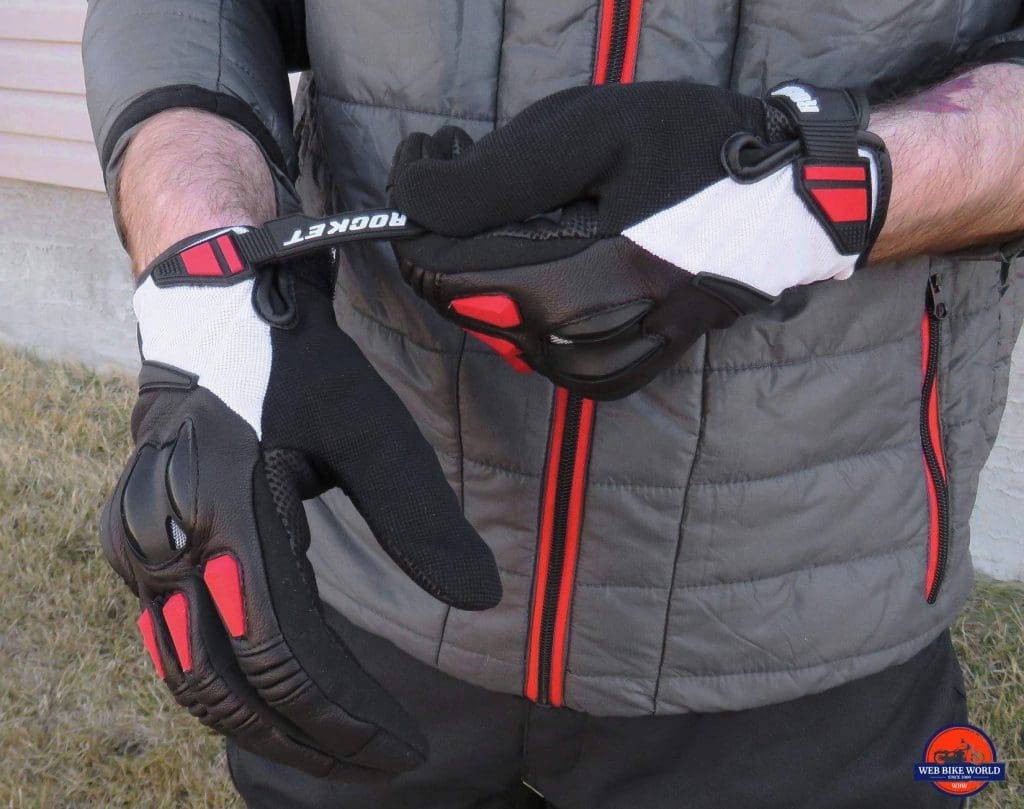 The strap used to cinch up the two halves of the glove on the wrist area is totally inadequate for my liking. It's very short and thin, making it not only somewhat hard to grasp with gloved hands, but it doesn't reach all the way across my wrist. I can't really get the glove opening to close tightly or completely no matter how I try and this is quite disappointing considering I like everything else about the gloves.
Armor
Molded Plastic covers the entire knuckle area nicely and part of the fingers above the first finger joint. The plastic is solid and about a quarter inch thick, but still malleable to the point I never felt like they were intruding on my hands at any point while wearing them.
Many people have said before that the best gear is often the one you don't notice while wearing it and these Atomic gloves are totally unnoticeable so long as the weather is warm and dry.
There's no armor on the scaphoid area or wrist. The mostly leather construction would hold up in a slide well, but really there's nothing going on to protect a rider's palm area otherwise in a crash.
Bugs and Rocks
The plastic armor did its job many times over as large beetles, wasps and the occasional stone bounced off them while I was testing the gloves.
Venting and Breathability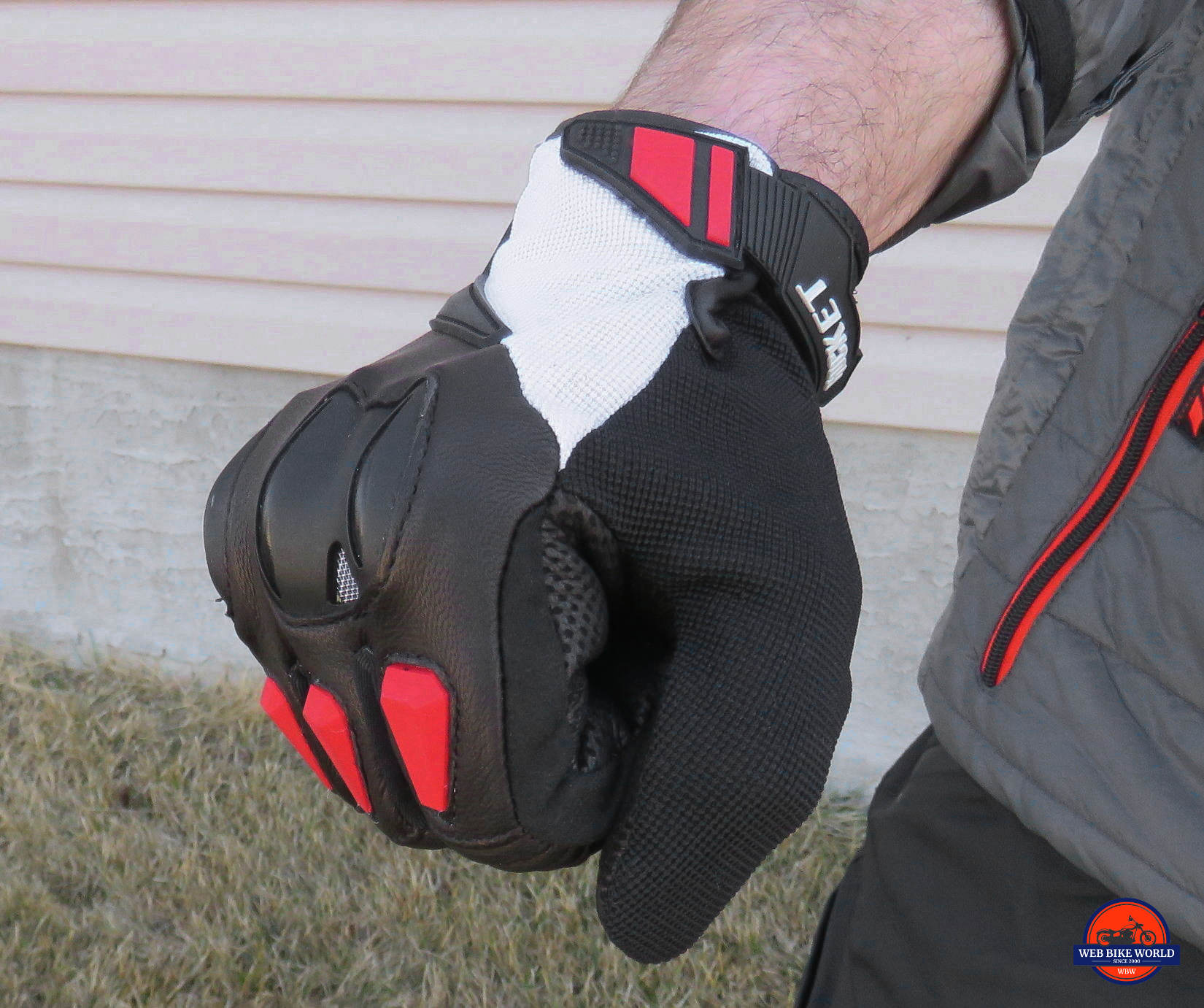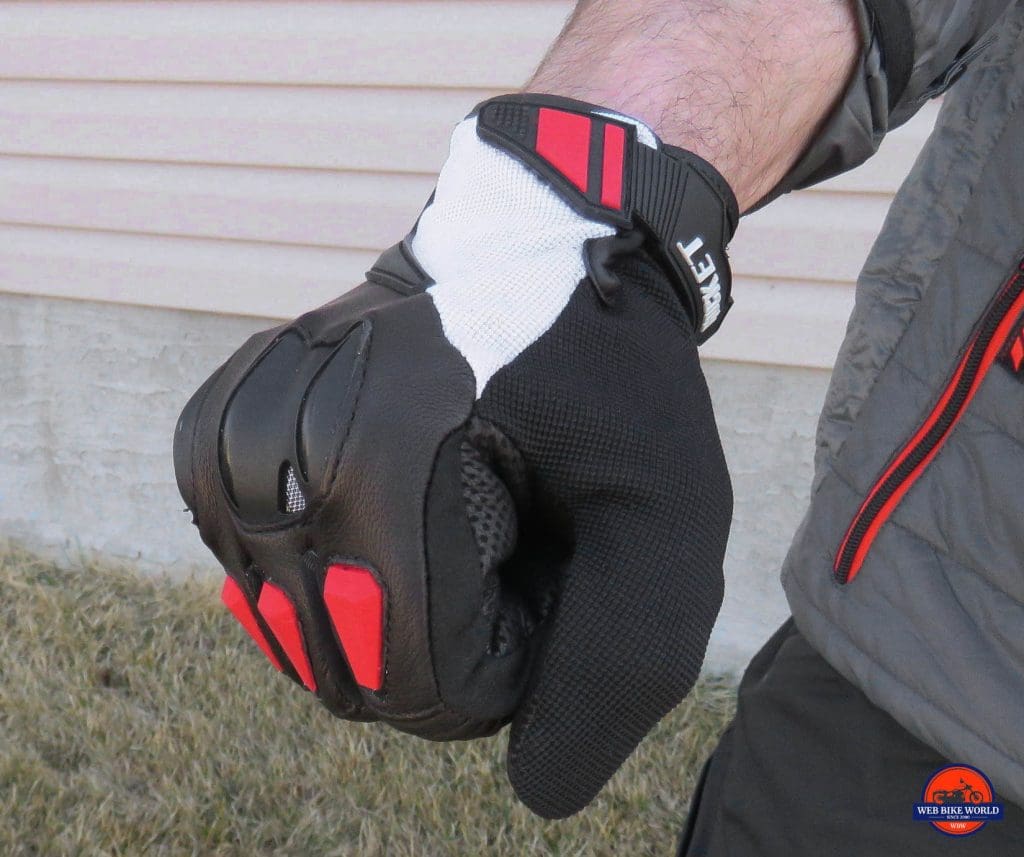 As soon as I got out on the road with these gloves I felt cool air coming in the vents in the knuckle armor. That is a lovely feature in these gloves without a doubt. My hands were never sweaty wearing the Atomic gloves even when temps hit 90 degrees Fahrenheit.
On the other end of the spectrum I found the gloves were reasonably warm even down into the high 50s at highways speed, but anything below that I found myself turning on my heated grips and reaching quickly for my Rukka Virium insulated gloves instead.
Comfort On Long Rides
Using these gloves for over 2000 miles told me a lot about them. A huge must have in a motorcycle glove for me is well-tailored seams in the palm of the glove, especially around my thumb area. The reason being that thick seams tend to cut off the circulation to my thumb and cause it to go totally numb. This is most noticeable on my throttle hand which has to grip more than my left of course.
The Atomic gloves are a bit funny this way. There were days when I didn't notice any circulation issues at all, but then there were others when it really caused me pain, too. I was never too sure which glove experience it would be on any given day, but most often The Atomic gloves didn't produce the much-hated numbness in my right hand, thumb thankfully.
Rain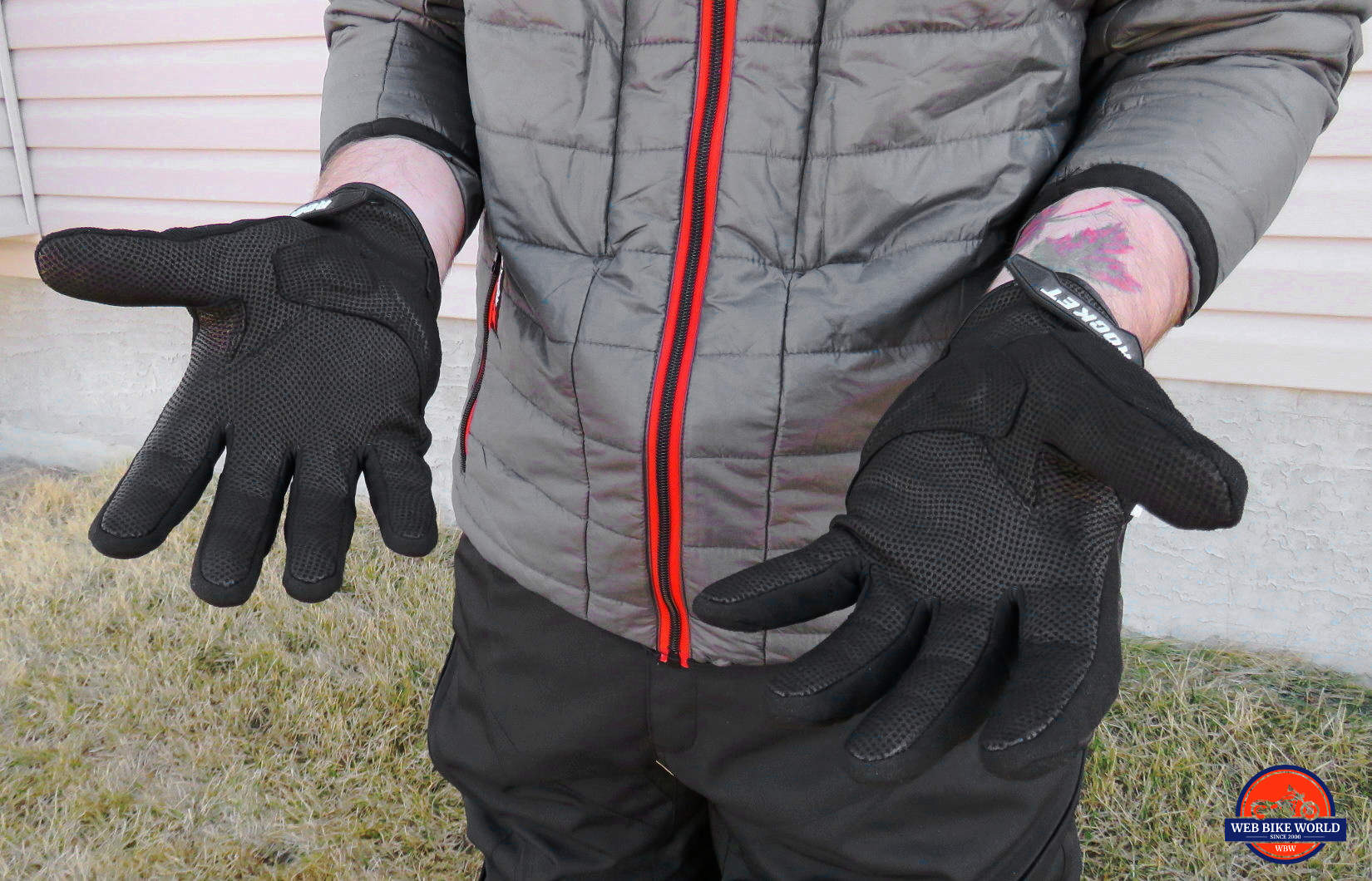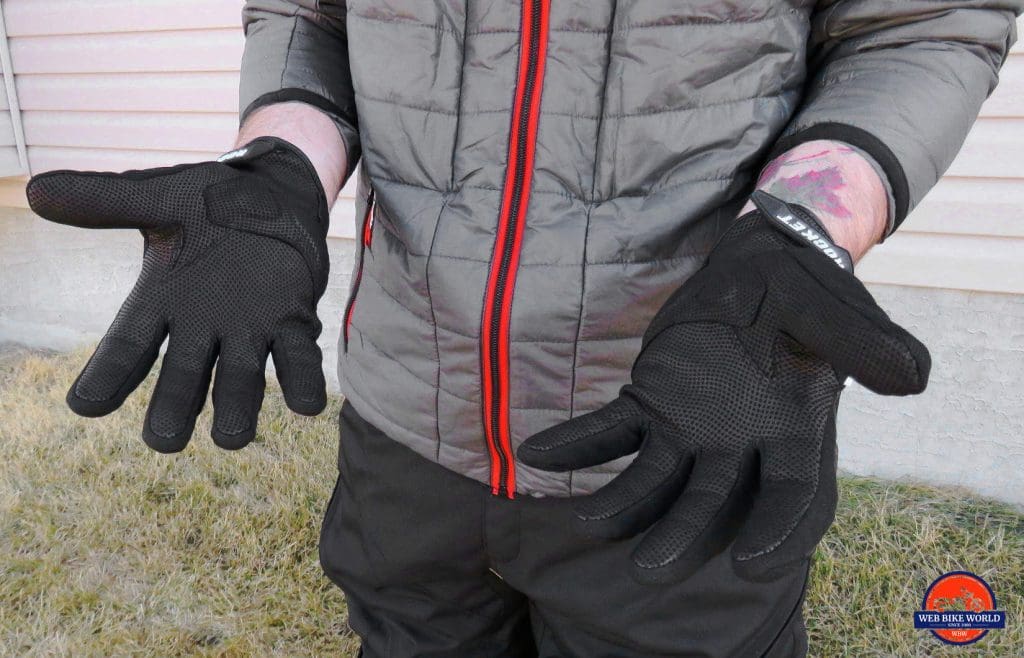 These gloves aren't waterproof in any sense of the word being mostly made of leather. I wondered whether the cowhide palm would stain my hands black once I got them wet, but they didn't bleed ink or discolor my hands in any way even when I got caught in the rain wearing them once.
Thin and Light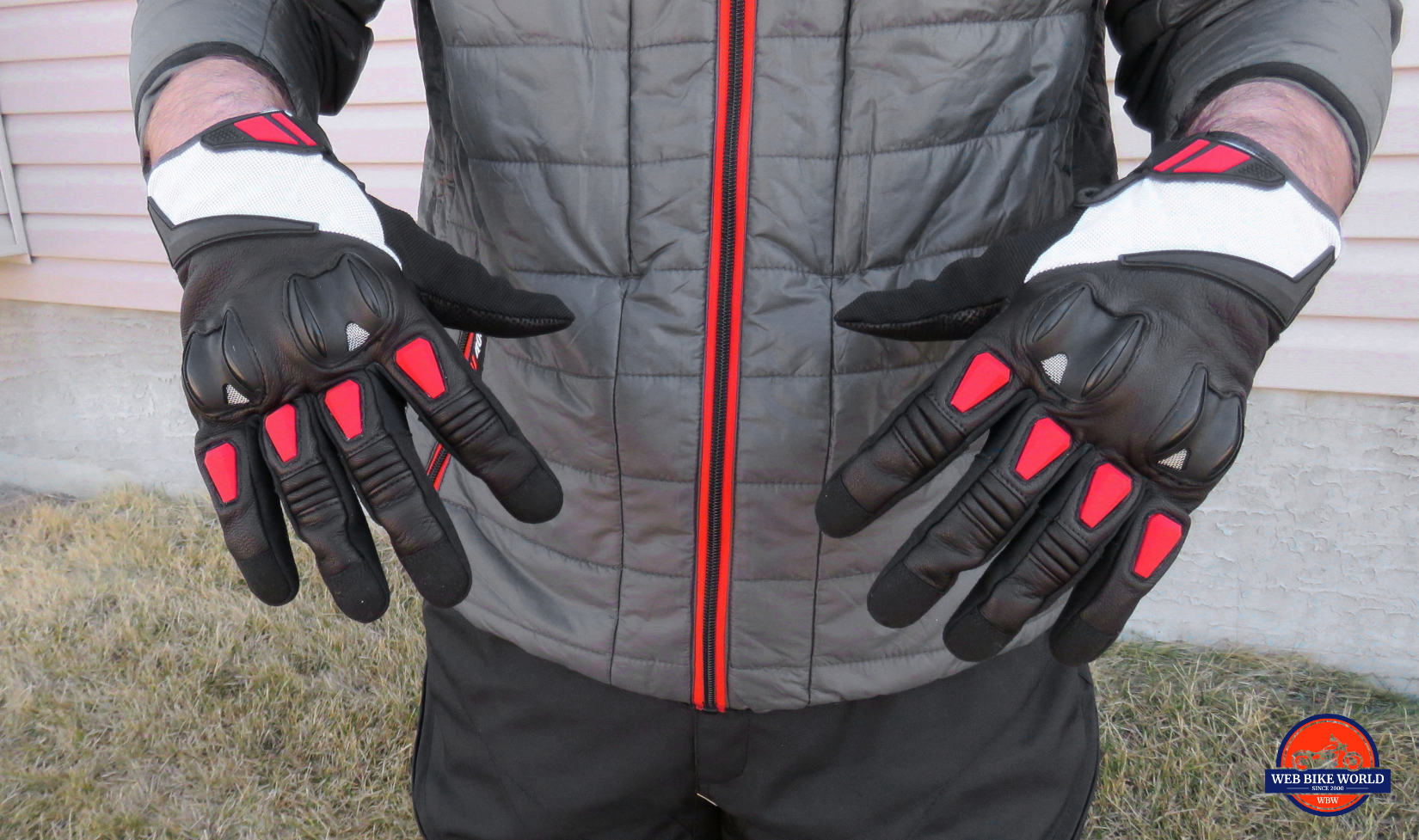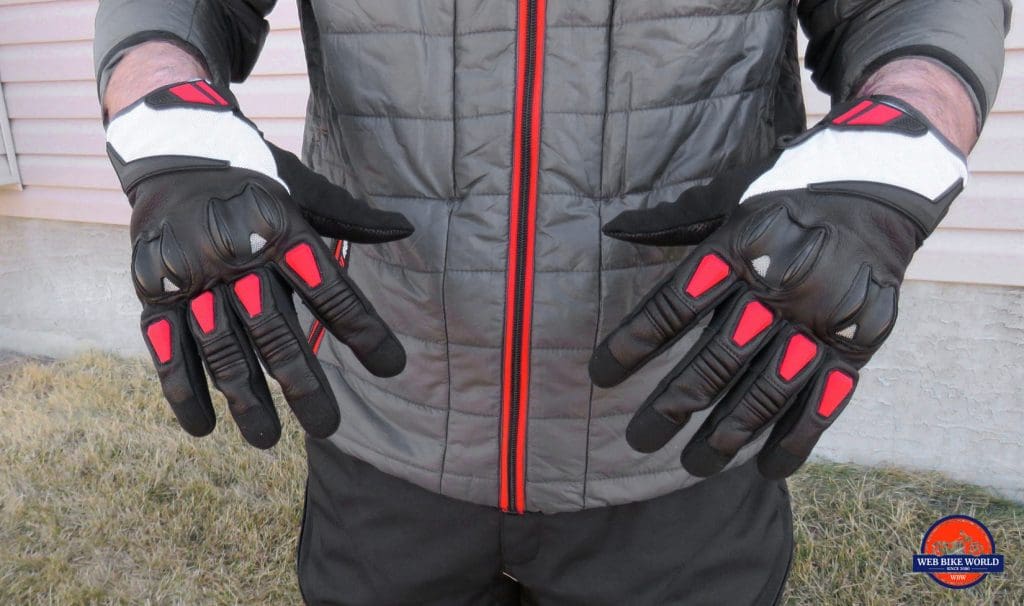 The Atomic gloves are thin and very lightweight, making them easy to keep handy for quick glove swaps to suit the ever-changing weather I experienced during my 3-week ride to Tuk. I found a great place to store them in the rear pocket of my Joe Rocket Canada Ballistic 14 jacket. That pocket would keep them dry if it rained while also easy to pull out once the sun came out in full force.
Don't Lose Them!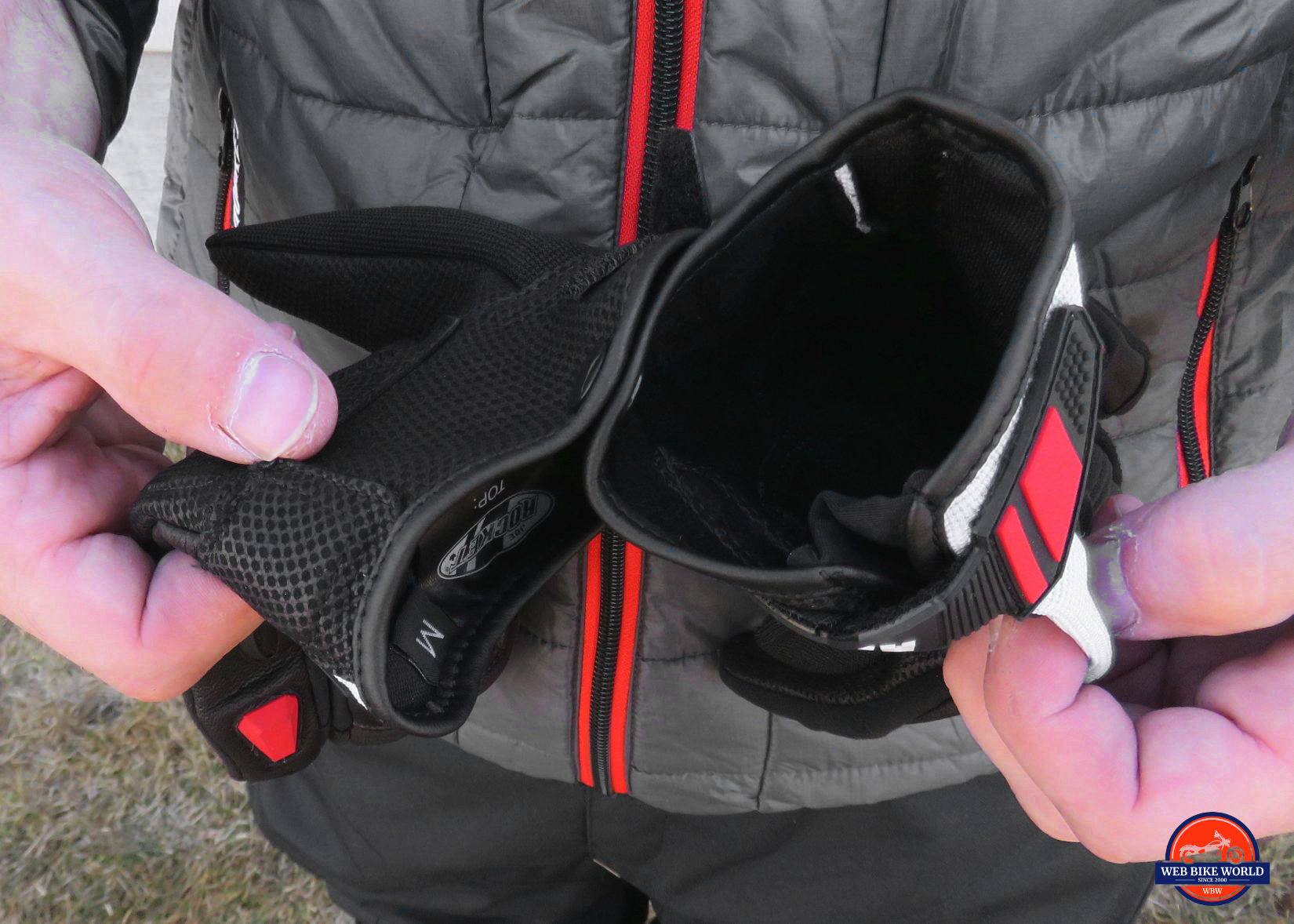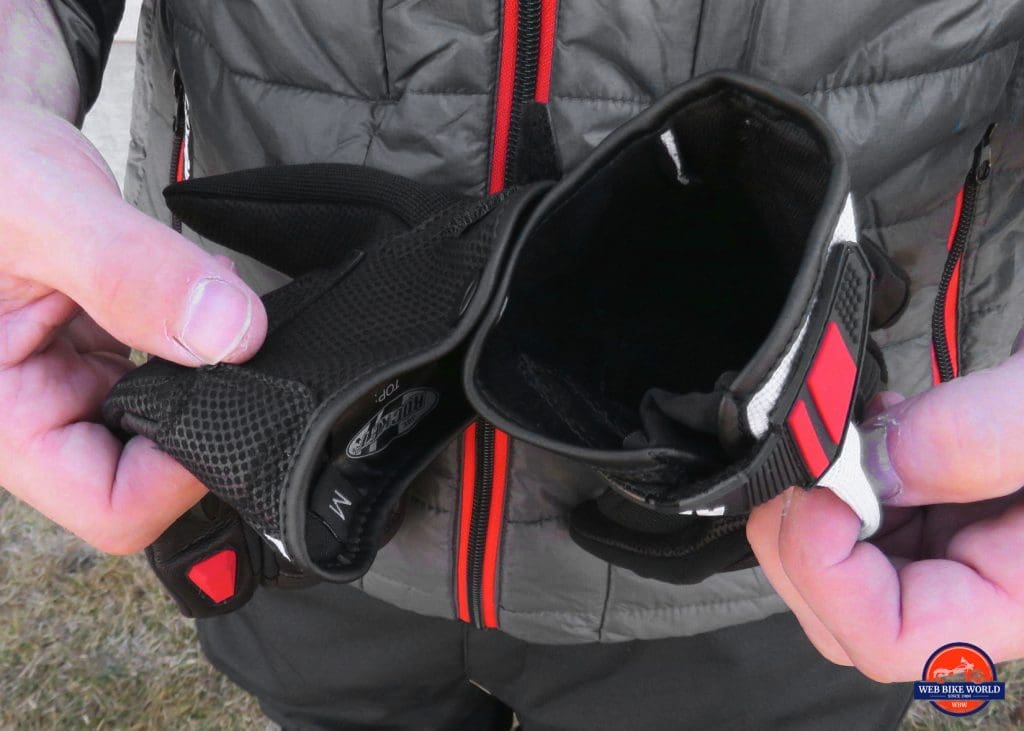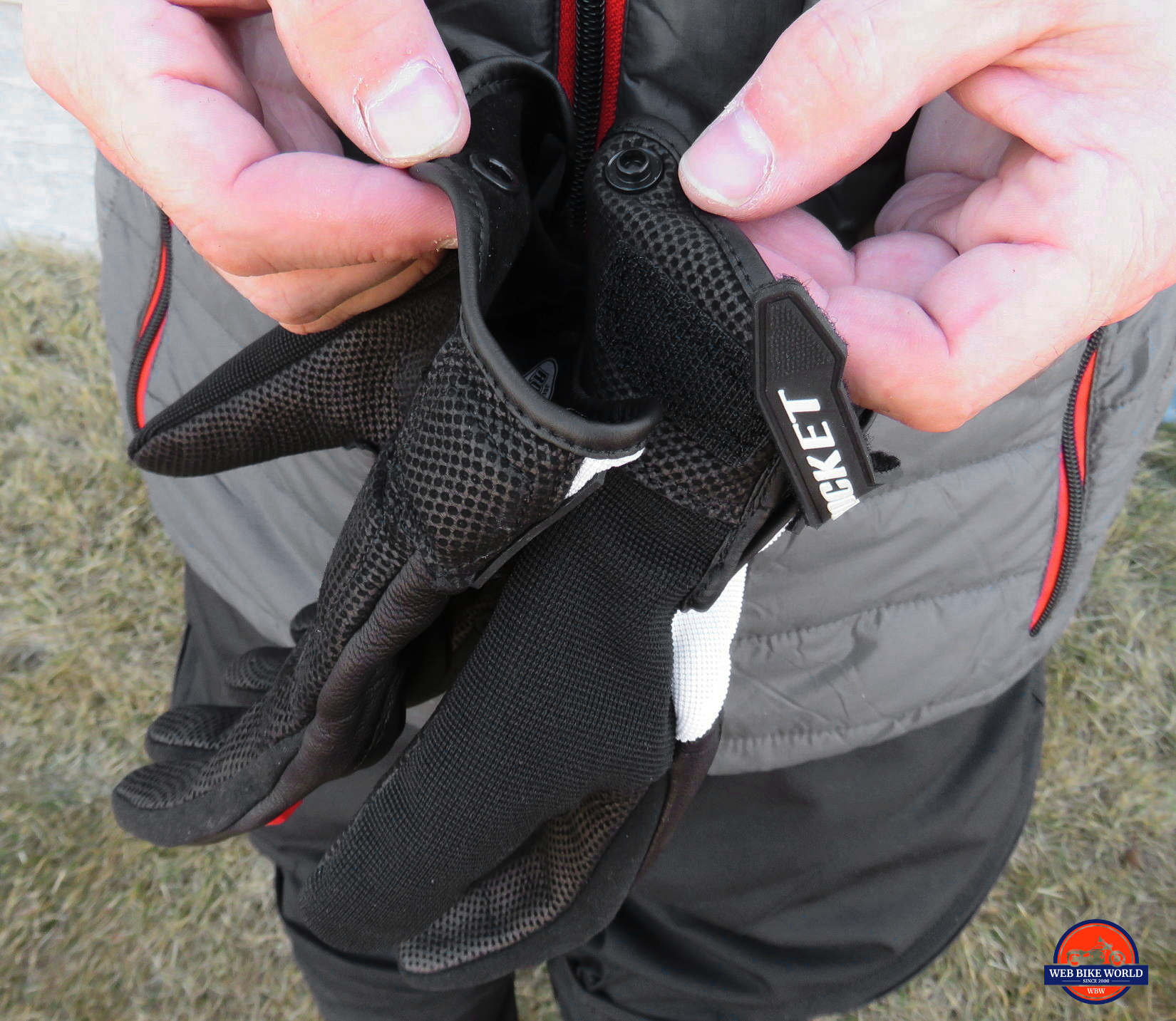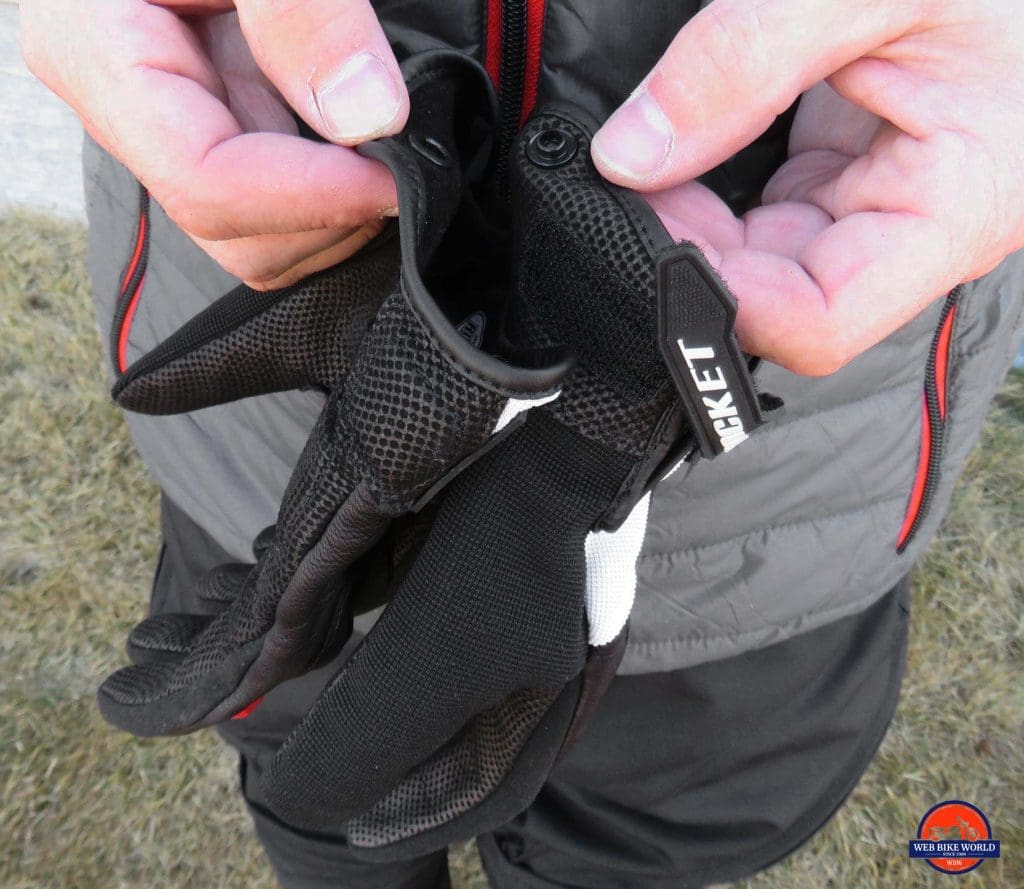 There's a snap on the middle of the wrist area of the gloves that work well for keeping the gloves together. You can also just use the velcro strips, but I found the snap more reliable.
Final Verdict?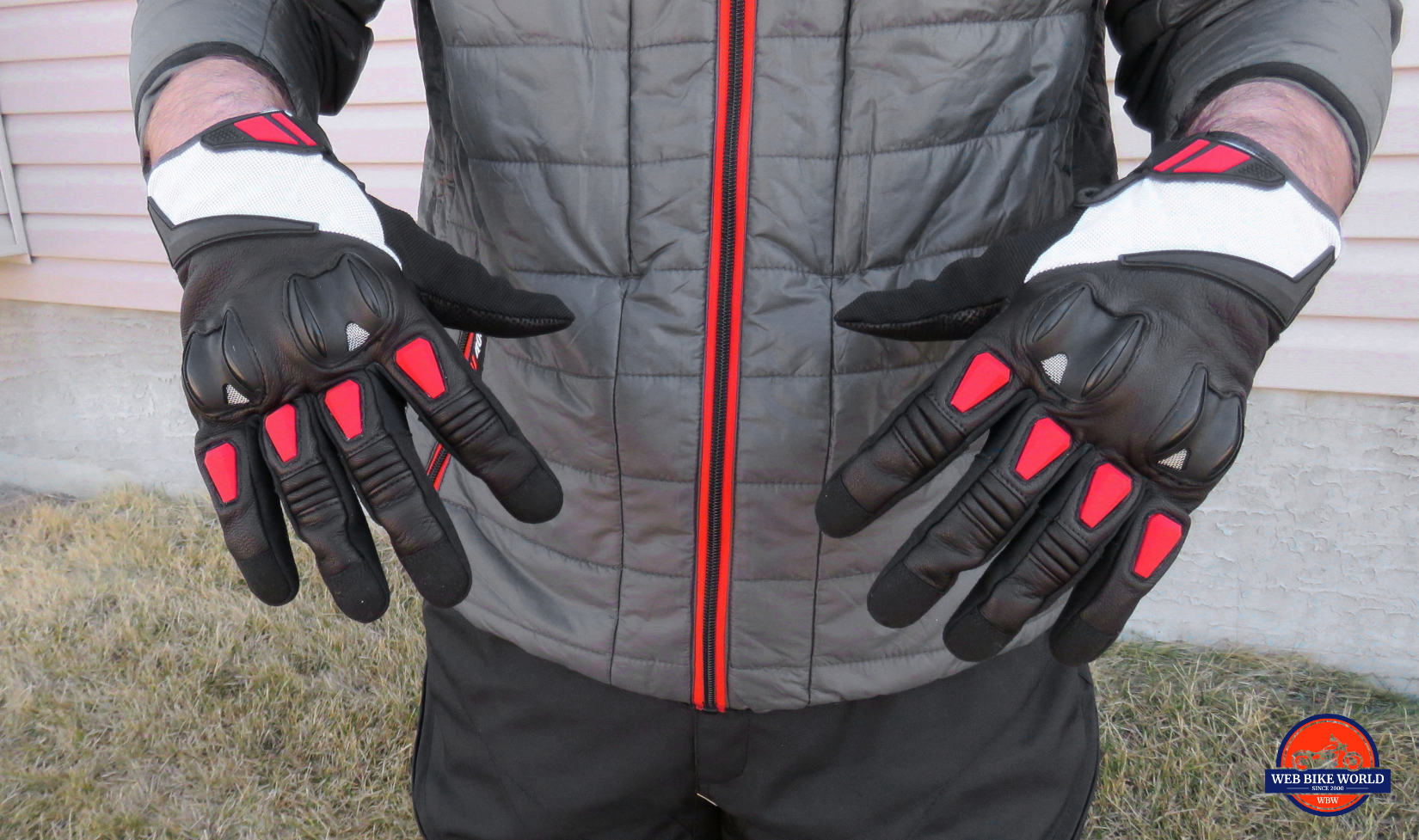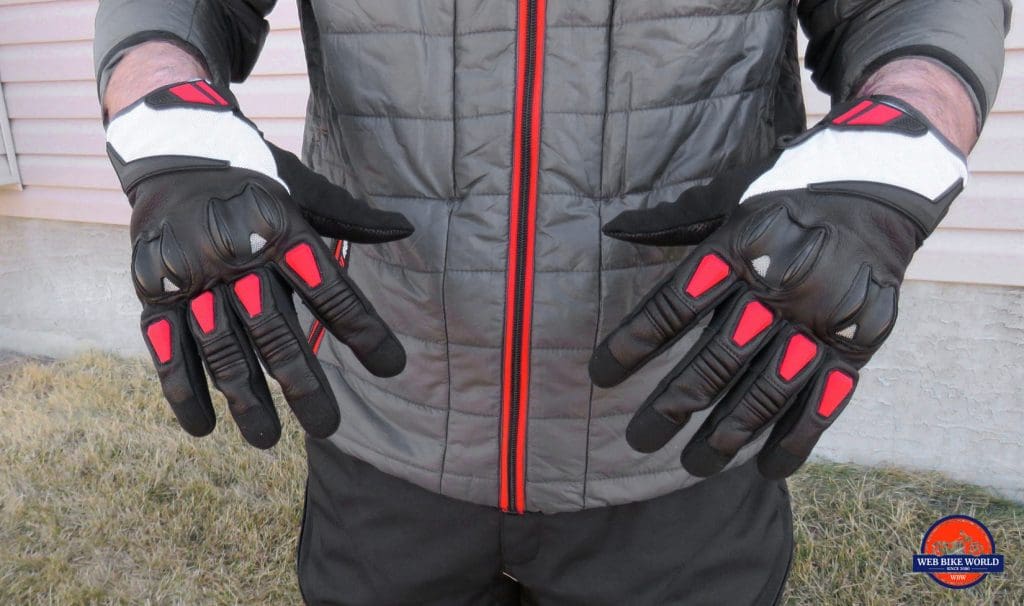 There really isn't much else to say about the Atomic gloves. They're simple, straightforward motorcycle gloves that do a good job of protecting and cooling the rider's hands in warm weather.
I find the $80 price tag just a little hard to swallow in some ways. I would be a lot happier paying around $50 for what they are, to be honest, but $80 Canadian dollars really isn't terrible relative to some other gloves on the market.
It's a shame they aren't available in the US, but there is a very similar glove for all my southern neighbors to enjoy called the Joe Rocket Cyntek glove.
Pros
Molded Plastic knuckle and finger armor
Excellent breathability and ventilation
Lightweight
Fit snug around fingertips to allow good dexterity and feel
Can be connected together using snap-on wrist area or velcro
Priced at $79.99 Canadian dollars
Cons
Velcro strap doesn't clamp tightly enough
Not waterproof
Leather seam around thumb is thick and can restrict circulation
Specs
Manufacturer: Joe Rocket Canada
Where to Buy: Joe Rocket Canada
Price (When Tested): $79.99 Canadian dollars
Made In: China
Alternative models & colors: Black, Grey, and Hi-Viz Yellow
Sizes: S to 3XL
Review Date: June 25, 2018