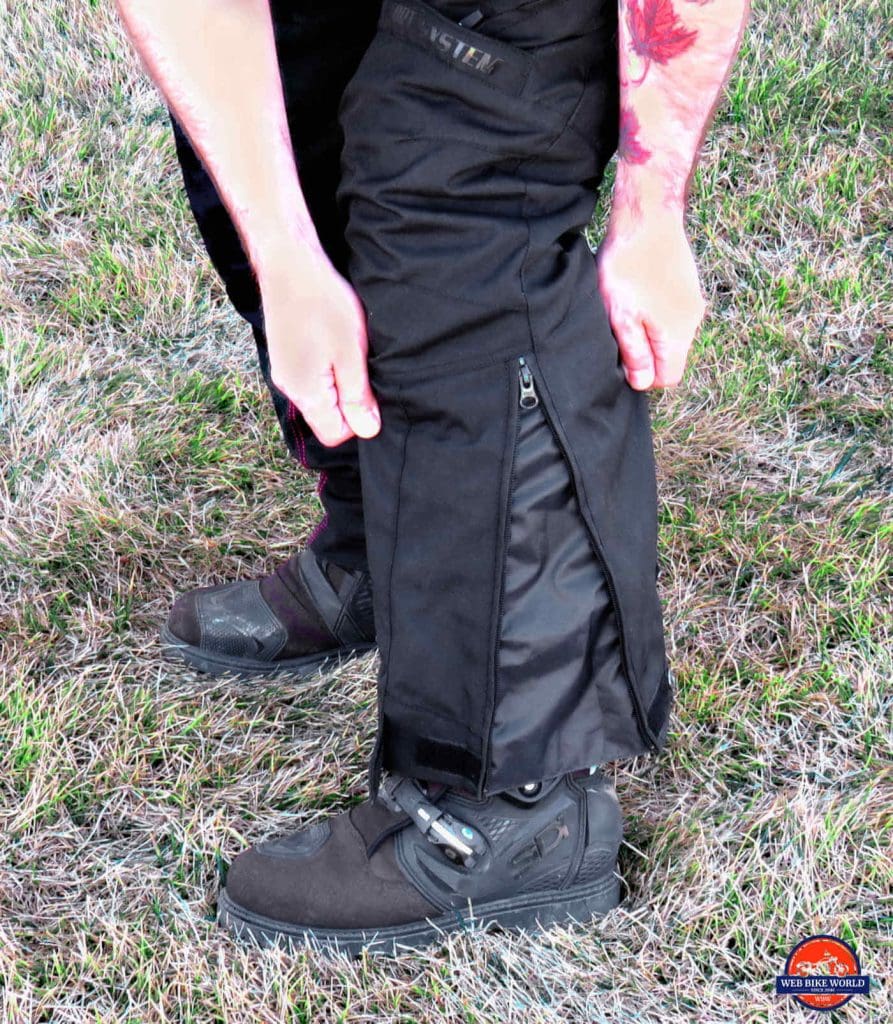 Tuk Tested
What Does Tuk Tested Mean?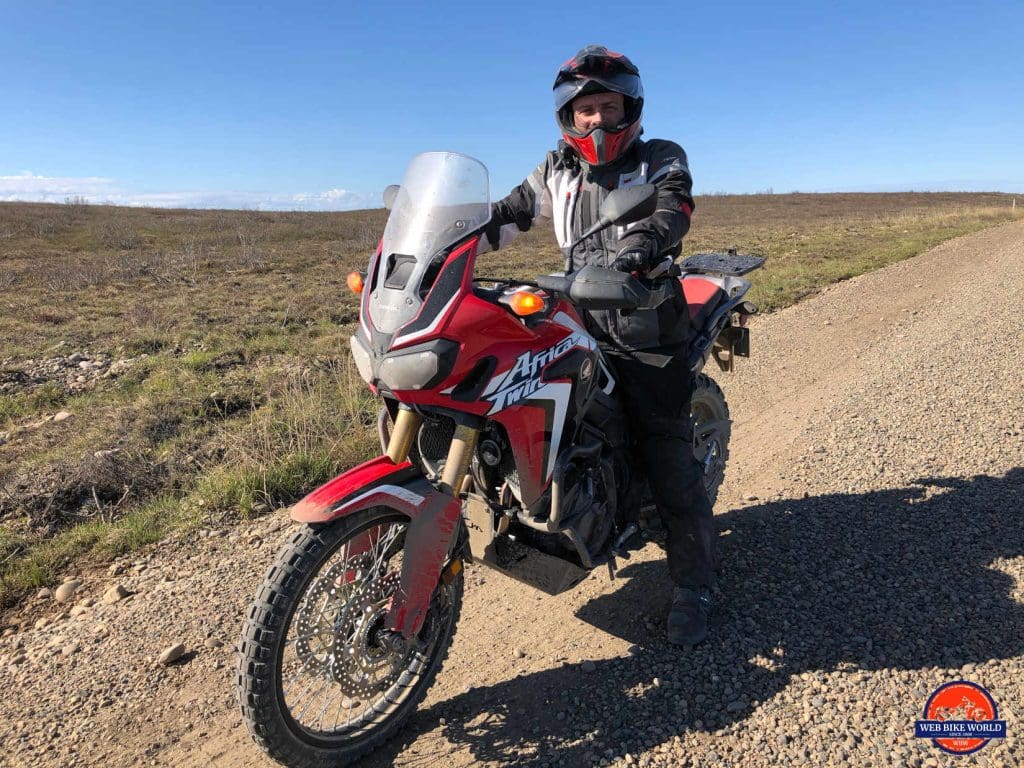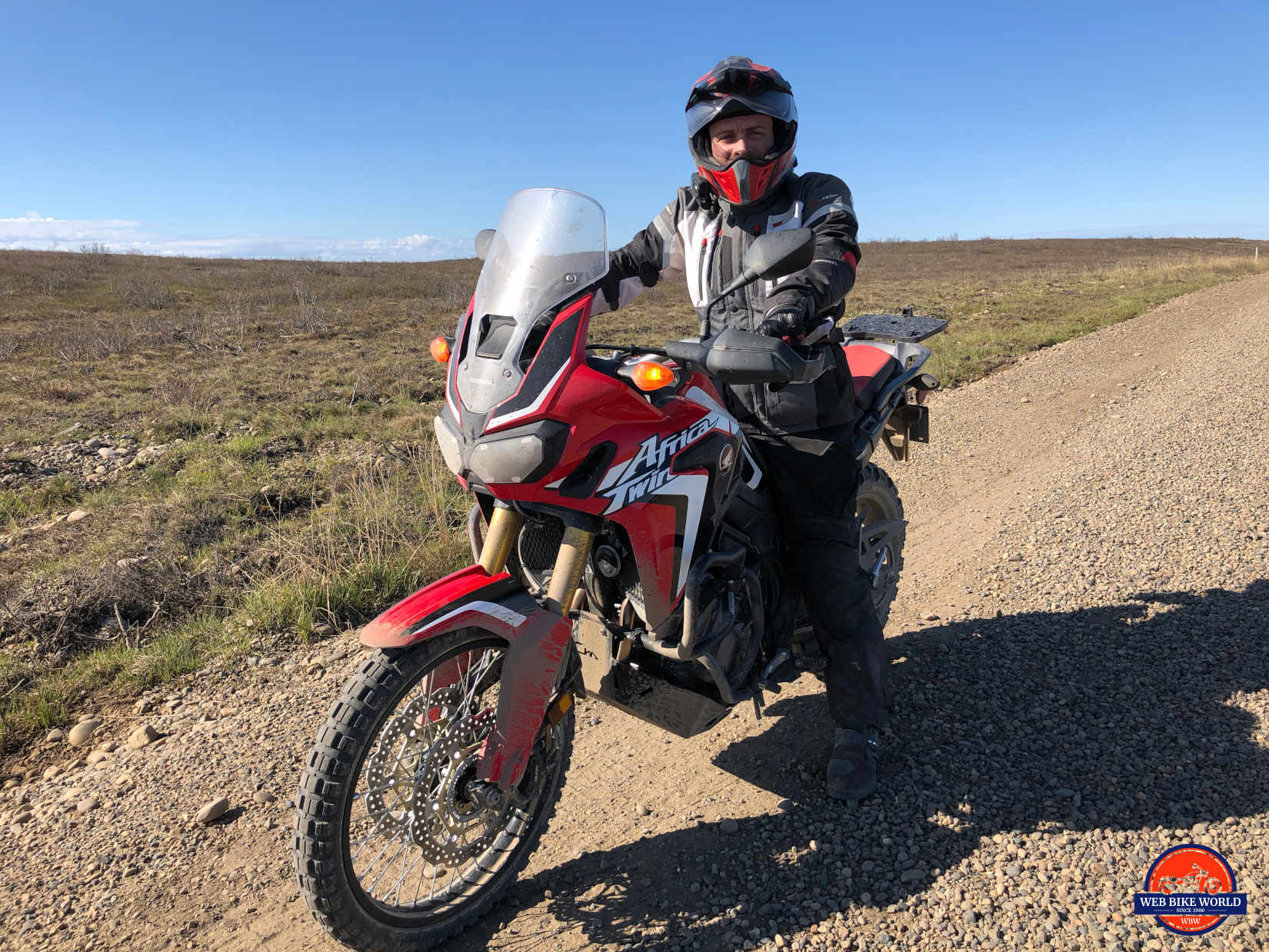 These pants have been tested more thoroughly than any other piece of gear in WBW history to date (that I'm aware of).
I just returned from a 5600-mile adventure ride while using the Alter Ego 13 pants the whole way. Beginning from my home in Airdrie, Alberta, Canada the journey ranged all the way to the northernmost location reachable by road in Canada: Tuktoyaktuk or Tuk for short.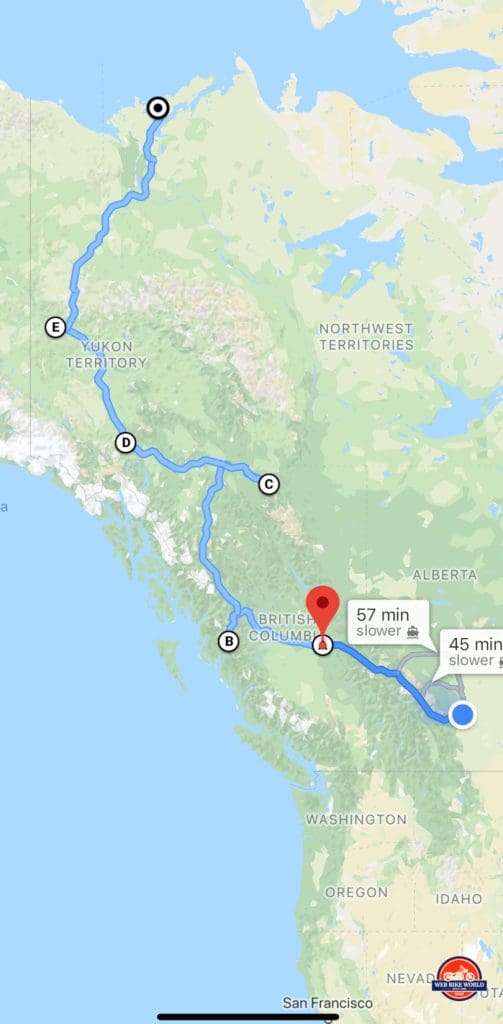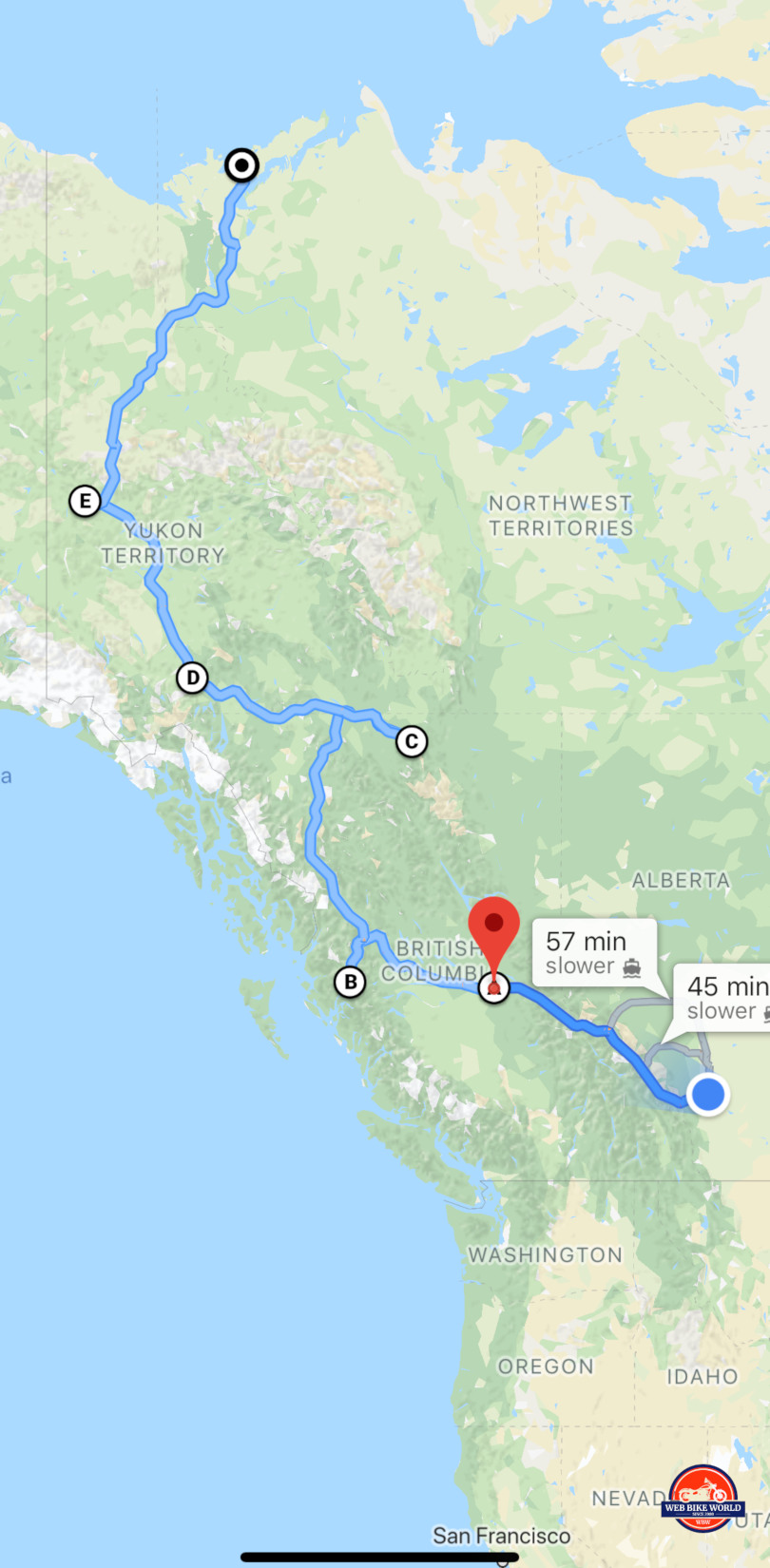 Over the course of that trip, I encountered temperatures ranging from a chilling 30 degrees all the way up to a sweltering 90 degrees Fahrenheit and all the UV radiation accompanying it. Plenty of rain almost every day for the first week straight, wicked dust on remote gravel roads and literally thousands of insects and flying rocks assaulted me for two and a half weeks nonstop.
Tuk Tested is an unprecedented higher standard to gauge riding gear worth.
First Impressions
Simple, lightweight and seemingly straightforward riding pants made of tough Rock Tex 600 nylon with only 2 pockets on the front of each hip. The pockets each have rubber coated zippers and angle downward in a convenient manner to allow hands to rest inside.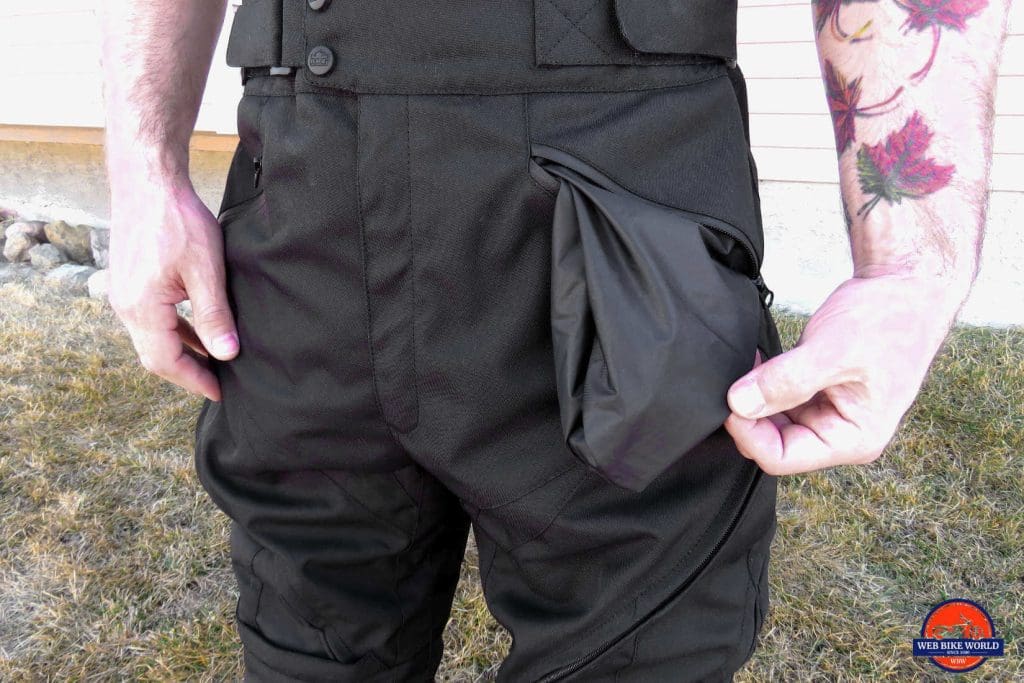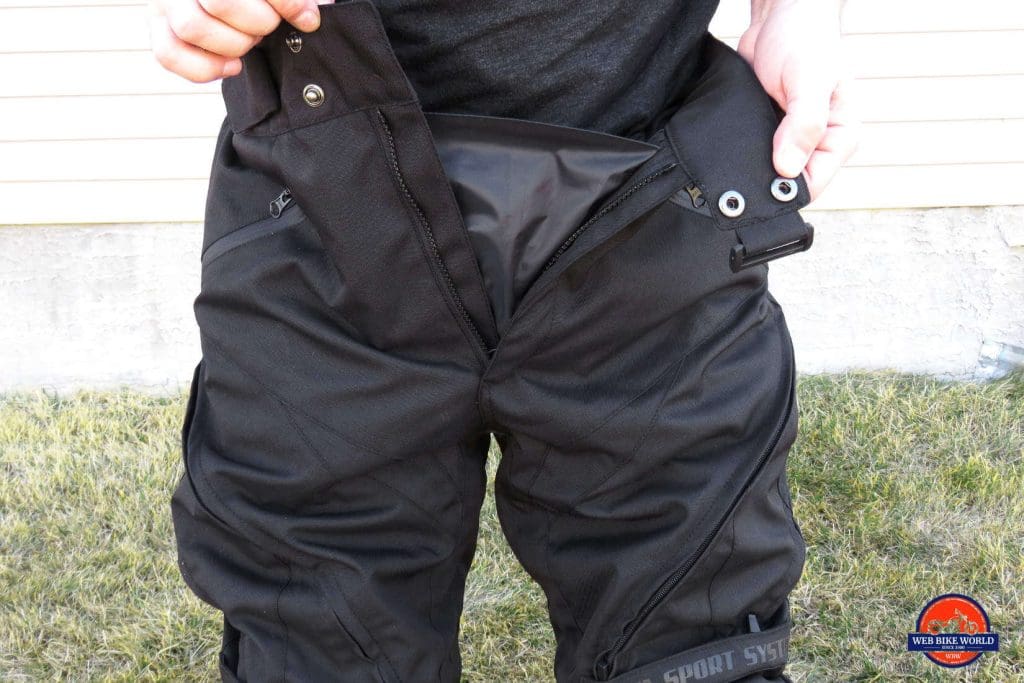 I'm generally not a fan of removable waterproof liners as they always seem to ride up when I pull pants or jackets off and I find they never breathe well enough in hot weather to leave them in. I'm going to keep an open mind with these Alter Ego pants because they have been created specifically with hot weather riding in mind.
Fit and Finish
Fitment
I specifically ordered the short length Alter Ego pants because of my impossible to fit 27" inseam. Coupled with my 34" waist and 42" hips fitting pants has always been a nightmare.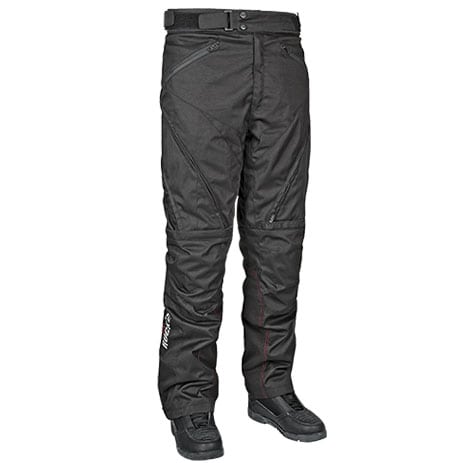 Unfortunately, right away I'm unhappy with the fitment of these size small Alter Ego pants, but not enough to send them back. According to the sizing chart, I should have gone with a Medium to accommodate my 34" waist, but after consulting with Joe Rocket Canada beforehand they sent me the Small and I'm glad they did. I'd be positively swimming in the Medium ones!
The length obviously was going to be 3" too long because even the short sized pants have a 30" inseam, and I accept that. The legs fit me just fine width wise and even the knee armor seems to line up pretty well with my tall Sidi Adventure 2 boots inside. The weirdness comes around the hips and waist area where even with the "Sure-Fit" velcro adjustment system at the smallest setting I have about a 1" of a gap around my waist.
I found a tucked in the thermal liner helped take up that gap nicely though, but when I'm not wearing it the pants tend to droop down on my thighs like I'm a gang banger or someone trying to look cool.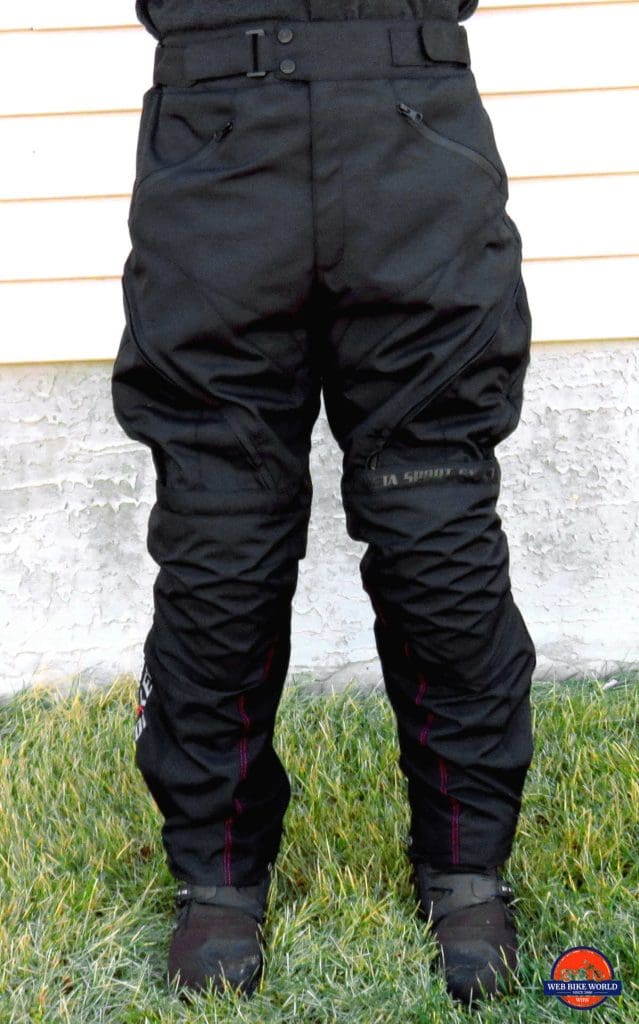 Even stranger is the bulging going on around the sides of my hips. When my wife caught sight of it she immediately started laughing at what she called my new "horse riding pants", baggy breeches or Jodhpurs. I can't deny that it made me snicker too, BUT… at least the bagginess prevents these pants from violating my most private parts, unlike many other pants I've worn. I'd wager the extra length is to blame for the excessive hip bulging, alas.
I'd rather have extra room any day rather than too little room. I inquired with the JRC rep about the "interesting style" of bagginess and whether I've been mistakenly sent women's pants as there seems to be sufficient room for some hips that don't lie if you know what I mean.
Nope, these are men's, short length, Small sized Alter Ego 13 pants indeed. Ok, on with the testing then!
Finish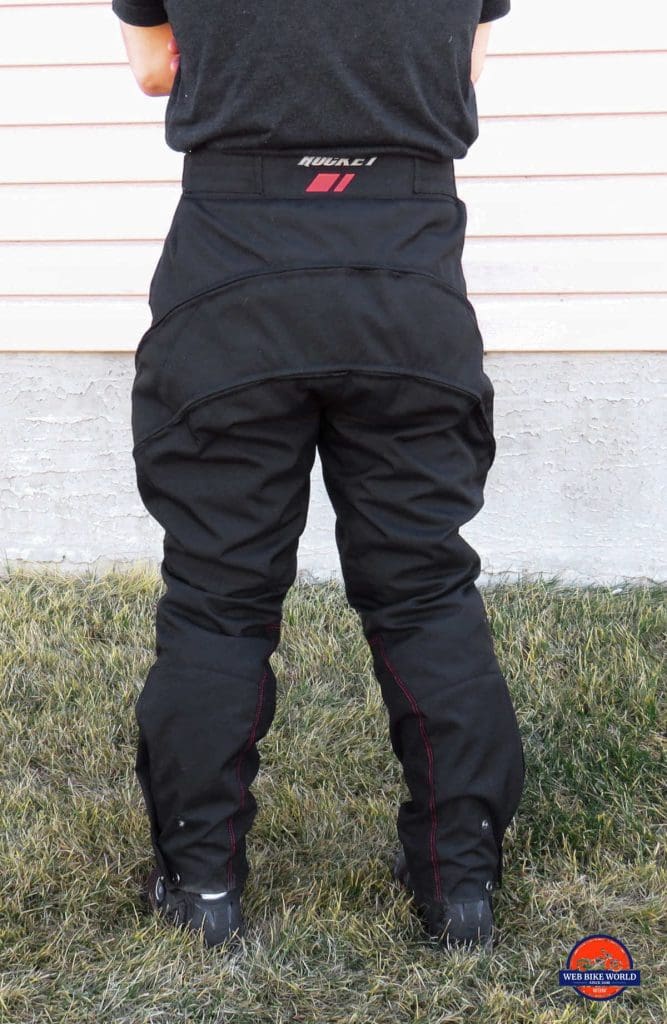 The nylon shell is soft and supple on the Alter Ego making it easy to like wearing that way. The inside liner is a smooth mesh that doesn't bunch up or snag on toes when stepping into the pants or anything irritating like that.
If I'm not mistaken, Joe Rocket Canada laser cuts their material to get really clean cuts and finishes. That's evident on these pants as they are well tailored and the quality is there as a result.
Reflective And Hi-Viz Material
I really like the "Rocket" branding locations on the right, outer shin, and center of the waistline in the rear. These and the "Dry-Tech" lettering double as the reflective material on the pants, but I would have liked to see perhaps some reflective piping running the outside length of each leg just to help out a totally black colored piece of gear stand out on the road in bad weather.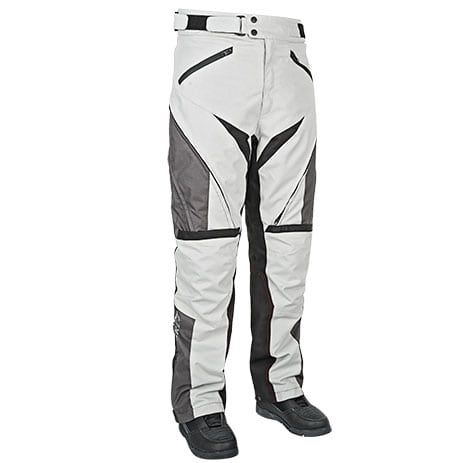 The Alter Ego is available in a "Bone" colored version additionally which would definitely stand out much more, but also look dirty pretty quick.
Waterproof Liner
I was certain this would be the Alter Ego's Achilles heel when it comes to breathability, but it wasn't a problem whatsoever to my delight.
This Dry Tech liner breathes really well in hot weather and I never felt the need to remove it even when riding in 90-degree heat. I actually forgot that it isn't the outer layer on these pants that were waterproof, to be honest.
I torture tested the pants initially in my backyard using a garden hose for five minutes to see if they would leak anywhere, especially around the pockets and zippers. Nothing got through anywhere on the pants.
I needn't have done that though because on my ride to Tuktoyaktuk it rained hard on me for 7 days straight which is all the testing ever needed to know just how good the Dry Tech system is. It worked PERFECTLY! Not only that, I was warm and dry with just a pair of thermal underwear and some nylon sports pants underneath the Alter Ego. What more can I say? Awesome!
Breathability and Venting
Here is the best feature these pants offer without question. They seem unremarkable until you notice the wide strip of material attached with two zippers running from the top of the left thigh above the knee up and around the backside ending up just above the right knee. This is the "Meta Sports System" panel which covers a sprawling area of mesh-covered venting.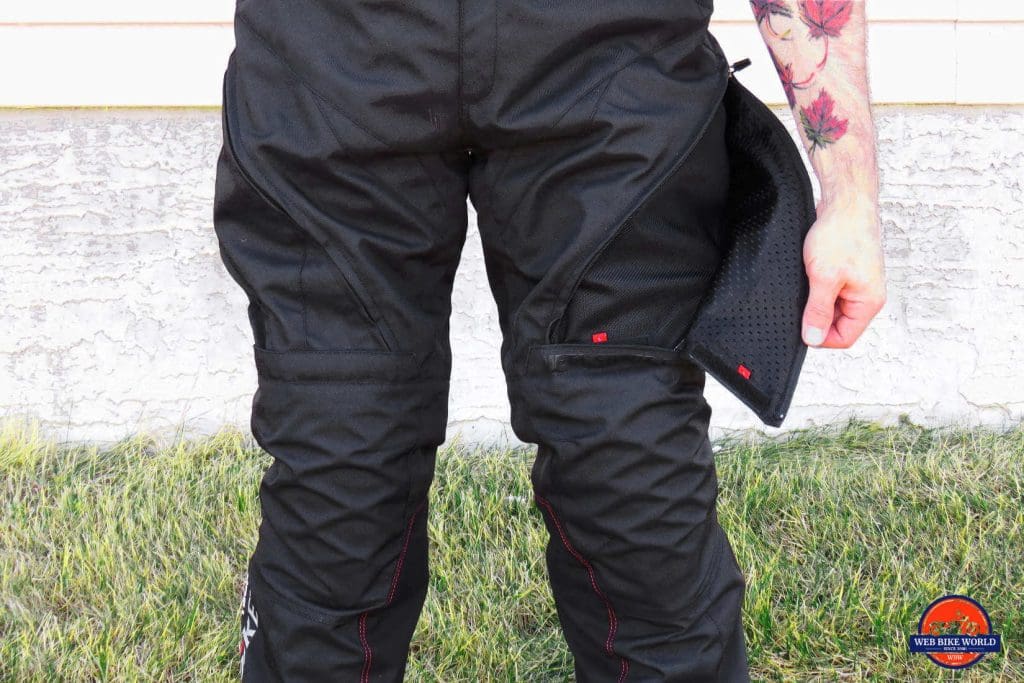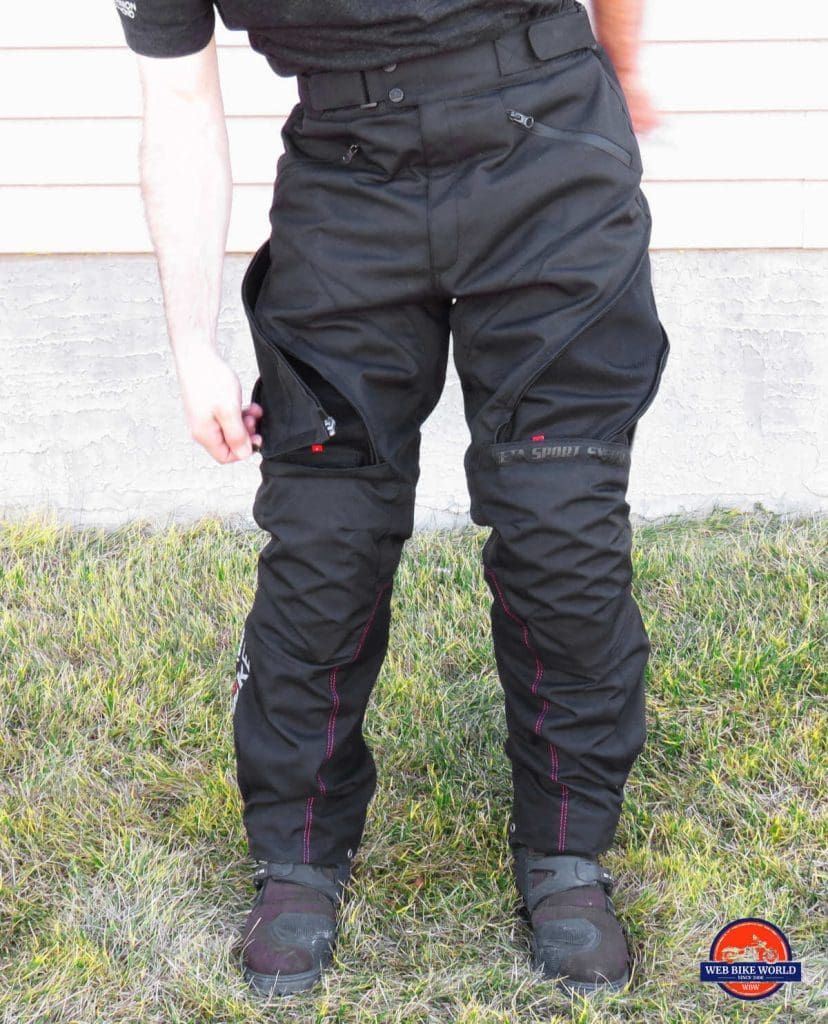 I thought this area would leak in heavy rain, but it never did.
I thought I would sweat to death with the waterproof liner installed in hot weather, but I didn't.
Once temps got into the mid to high 80s only then did I feel the need to remove the panel from the mesh sections covered by the Meta Sport system I just described. As it turns out, the Dry Tech waterproof system really breathes well.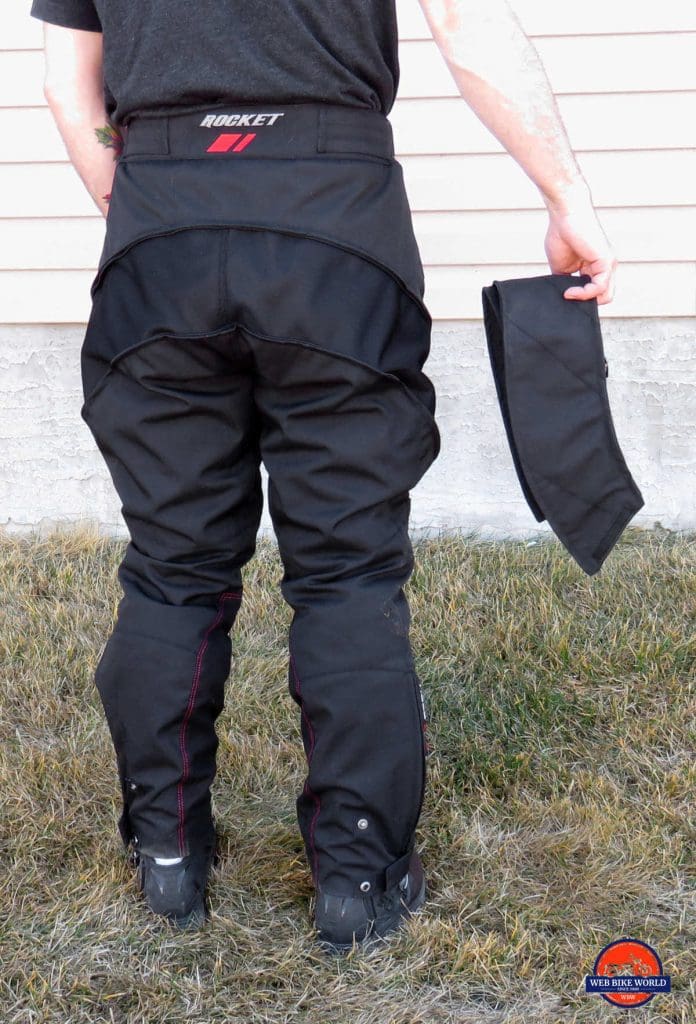 I'm confident if I ever find myself riding in the scalding temps of the Baja 1000 race I could then remove the waterproof liner and the Meta Sport panel to ride in perfect comfort.
The only negative I would speak to about the Meta Sports System is that you have to unzip from one side all the way over to the other to get increased airflow since the zipper opens only from one side instead of from either side to the other. This means you can't have the vent partly open to let in just a little more air. It's basically fully open or fully closed only.
This Joe Rocket Canada riding gear has exceeded my expectations.
Armor
The CE Level 1 armor included is nothing special, but not the worst armor I've encountered in riding gear. It's made from solid rubber and I'm confident it would make some difference in a crash.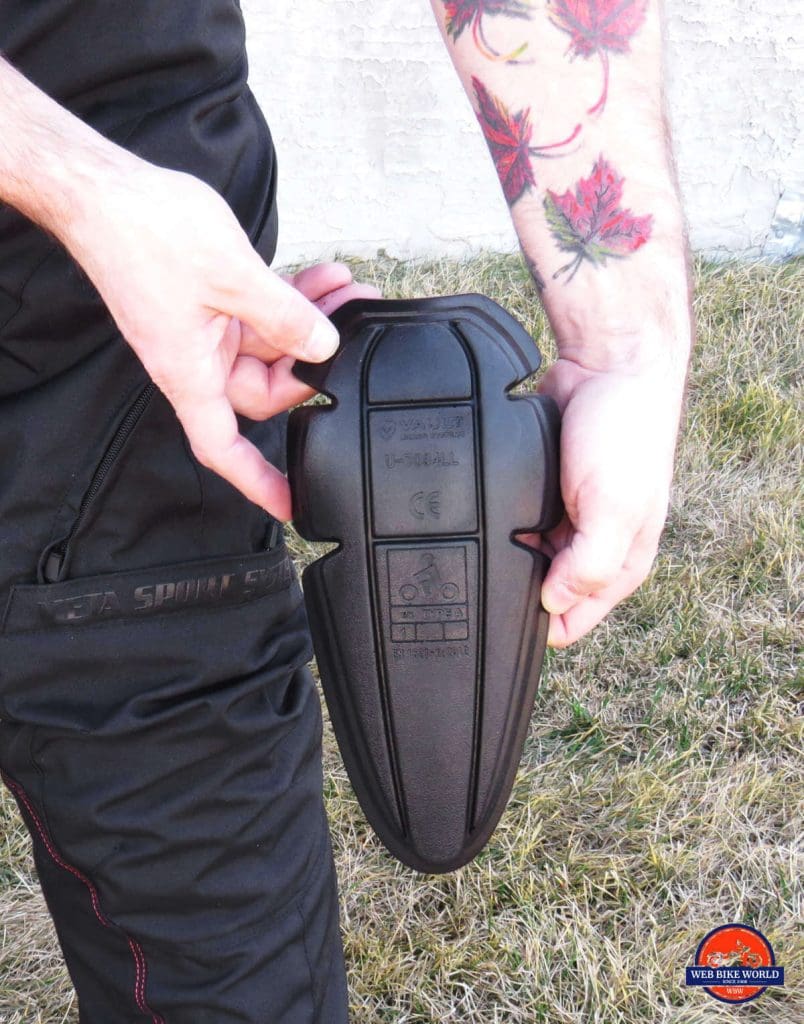 The JRC website claims that the armor is height adjustable, but I couldn't work out how to do anything other than slide the armor into the provided pockets for them in the knee area of the pants.
Final Verdict?
I don't like the way these pants look on me, but there's no questioning how effectively they worked over the course of my 6000-mile ride. They took everything nature threw at them and came out shining and looking for even more punishment.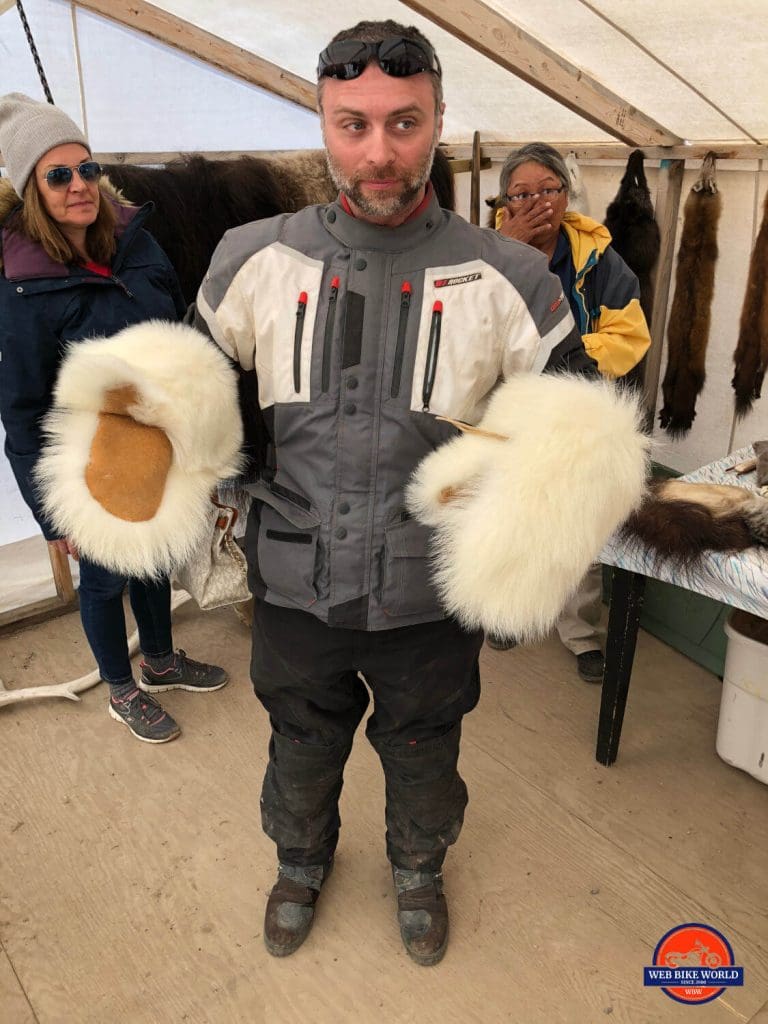 All that extra room around the waist and hips left me lots of options for adding more layers of warm clothing underneath them which is a positive.
The pockets were easy to open and close quickly to fetch my wallet when filling up the bike with gas even when wearing gloves.
The Alter Ego breathes so well in hot weather and keeps warmth in when it's cold too. Joe Rocket Canada has done an excellent job designing this gear and kept the price reasonable too.
The Alter Ego 13 is only available in Canada, but there is an Alter Ego 2.0 available in the US from Joe Rocket Direct as it turns out that looks very similar. I would encourage US readers to go check them out if this review sounds like the kind of riding pants you're looking for.
Pros
100% Waterproof with good wind protection too
Excellent breathability and ventilation even with waterproof liner installed
Two large waterproof pockets that zip closed
Lightweight
CE Level 1 knee armor included
Suede, melt-proof patches on the inside of legs
Priced low at $299.99 Canadian dollars
Cons
Only two pockets total
Don't fit short, skinny people well
Insufficient amounts of reflective material
If the waterproof liner is removed and it starts raining pants have to be removed to reinstall
Fully on or off only Meta Sports ventilation system
Specs
Manufacturer: Joe Rocket Canada
Where to Buy: Joe Rocket Canada
Price (When Tested): $299.99 Canadian dollars
Made In: China
Alternative models & colors: Bone White
Sizes: Small to 4XL in regular, short and tall sizing
Review Date: June 23, 2018
Joe Rocket Canada Alter Ego 13 Pants Image Gallery