A blown Kawasaki H2R has blown away an electric Tesla P100DL, Aston Martin New Vantage, Lotus Evora GT 430, a Red Bull F1 race car, an F-16 fighter jet and a Challenger 605 jet.
Ridiculous and pointless, but fun to watch.
The event was staged during a two-day test race at an aerospace and technology festival in Istanbul, Turkey.
Four-time World Supersport champion Kenan Sofuoglu of Turkey rode the track-only H2R model to victory by 0.04 seconds over the Red Bull Formula 1, F-16 jet and Tesla P100DL.
The former racer-turned-politician also reached 400km/h (249mph) on a H2R in 2016 on the closed Osman Gazi suspension bridge, about 50km southeast of Istanbul.
Blown power
The supercharged Kawasaki Ninja H2 costs $33,000 in Australia while the track-only H2R is $60,000. 
It is the most powerful production motorcycle in the world.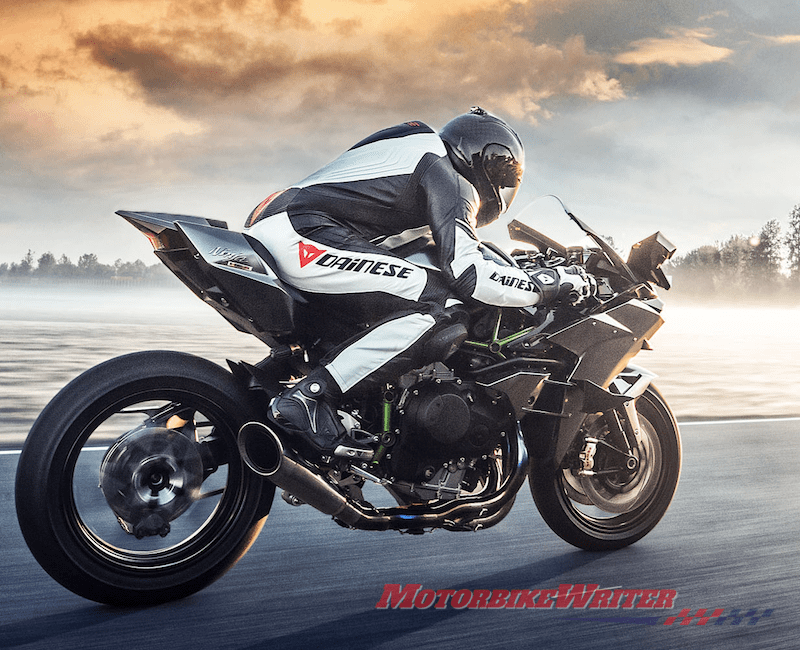 The street-legal Kawasaki Ninja H2 has 147.2kW (200ps/197hp) of power at 11,000rpm and 133.5Nm of torque at 10,5000rpm, but the supercharger boosts that to 154.5kW (210ps/207hp) and 140.4Nm.
The powerful track-only Ninja H2R has 228kW (310ps/305hp) at 14,000rpm and 165Nm of torque at 12,500rpm. With maximum ram air, power is literally blown out to 240kW (326ps/321hp).