Jensen Motorcycle Radio Review Summary
Jensen Motorcycle Radio Image Gallery
Jensen JHD910 Radio Review
A good, solid "meat and potatoes" daily workhorse of a radio that does well with helmet speakers or ear buds on a motorcycle.
The Jensen JHD910 is from the Jensen Electronics "Heavy Duty" catalog.
Jensen says that their Heavy Duty electronics line is "specifically designed, built, and tested to withstand even the harshest road and work conditions".
These conditions include "humidity, electrostatic discharge, vibrations, and temperature fluctuations" — perfect for motorcycle use!
Jensen also claims that radios and electronics from their Heavy Duty line "will stand up to the challenges you face everyday and provide years of maintenance free use."
Want to start a conversation? Ask people what they think about having a radio, an MP3 player or a satellite radio on a motorcycle.
You'll discover that there are two passionate camps. One insists that music and sounds are dangerously distracting, while another camp will insist that a radio or music is almost essential.
We'll leave that debate to others, but note that Harley and Honda sell an awful lot of motorcycles that are radio-equipped, and a lot of audio systems are available on the aftermarket.
The Jensen JHD910 Radio
There are many commuters who seldom ride with a passenger but who might want a workhorse AM/FM stereo radio to make the ride more enjoyable.
Accepting input from an MP3 or a satellite radio receiver would be a plus for longer trips, too. No more cheap battery-powered radios that run out of juice on longer trips or power converters that fall out of the cigarette lighter socket at every major bump.
And no more teeny tiny buttons that are unusable with gloves or displays that are impossible to read, with tiny lettering, no backlighting at night or washout during the day.
The bike should provide the power, but avoiding the size and mounting issues of an adapted car radio drastically cut the field of candidates.
What really brought focus to the capabilities of the Jensen JHD910 were the needs for the radio to be both weatherproof and affordable. Having the built-in NOAA weather bands was a surprising bonus feature that long-distance and dual-sport riders would love to have.
Jensen recognized that there's a market for radios for outdoor-oriented people and introduced the JHD910 Heavy-Duty Mini-Weatherproof AM/FM/Weather Stereo in December 2006. This is not a radio for the extreme audiophile; the people who buy the Jensen are generally in outdoor and noisy environments, just like a motorcycle rider.
The packaging clearly shows that the JHD910 was designed for mounting on a golf cart, ATV, commercial or ride-on mower, utility cart, and skid loader.
A quick web search also found the JHD910 installed on open boats, fork lifts, and all sorts of other outdoor equipment.
There was a person who wrote that his JHD910 died when the watercraft it was mounted on capsized. The packaging says that the unit is weatherproof, not immersion proof.
The unit purchased for this test came from the parts counter at a farm tractor dealer and the parts person said that they sell steadily in the world of farmers.
The radio and associated hardware came in a blister-pack with a list price of $233.95, but the tractor store wanted $199.00. Web searches found prices from $183 to $299, with the majority in the $200-$229 range.
There are a lot of people riding with IPods that cost more, so the price seemed to be reasonable, especially for a niche market product. Also available from Jensen are waterproof speakers, a mounting kit and an antenna, but none of these were used for this report.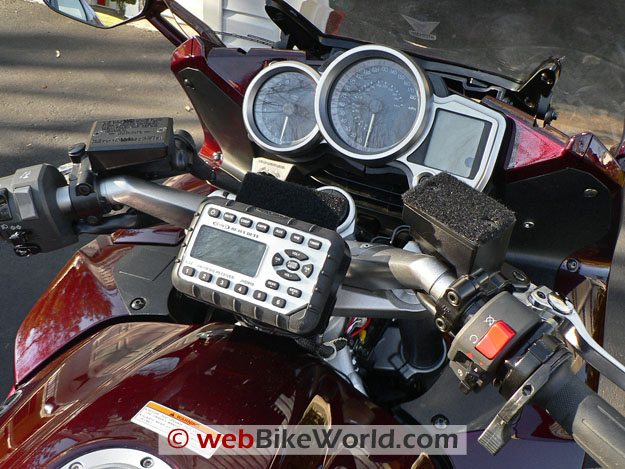 Installation
The JHD910 radio was mounted on a 2007 Yamaha FJR1300 and while easy to accomplish, the planning took a little thought.
The instructions are a simple 12-page stapled document (also available in this .pdf document), but they provide the basics of what is needed to install the unit without lots of fluff, warnings, cautions, and other political correctness.
The radio itself is roughly the width and thickness of a common 2X4″ wooden stud, cut to slightly more than five inches in length, so the first consideration was where to mount it.
Because the waterproof buttons must be firmly pressed to operate the radio, the mounting should be solid and not on one of the GPS/cell phone ball-mounts that can tilt when pushed.
The bike already had a custom aluminum sub-panel bracket for mounting a GPS, heat controller, and power outlet, so the heat controller was moved elsewhere and the GPS had to learn to share space with the Jensen.
The width of the radio on this bracket still allowed more than a half-inch of clearance to the handlebars at full travel in each direction.
The radio could have also been mounted easily on the left inner fairing panel, over the clutch reservoir, or over the steering stem.
The radio has 4 tapped holes in back for mounting screws.
The little stamped-steel mounting bracket that came with the radio was only used to drill the pattern of mounting holes and then discarded. Making this change is highly encouraged.
Stainless steel hardware is provided with the JHD910 radio rather than the cheaper stuff that could have saved Jensen a few cents but which would rust. Blue Loctite was used on the various fasteners.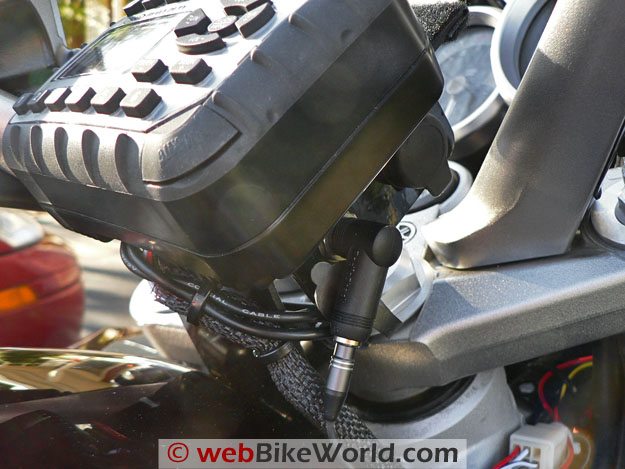 This close-up shows that the radio was clearly intended for outdoor use. The rubber cover for the AUX inlet plug where an IPod or other device can be connected can be seen at the upper top corner underneath.
The braided cover on the wire harness did not come with the radio. The side-mounted black plug is an audio adapter for routing the output to helmet speakers, an intercom or mixer.
The basic electrical connections were straightforward and Jensen really helped by using intuitively colored wires for the various connections.
The unit simply needed a ground connection for the black wire and a 12V source of power for the red wire that has an in-line fuse. However, the installation had to also take into account the need for an antenna and whether speakers would be used.
The antenna uses a universal style plug connector and car parts stores have wide selections of antenna styles, from concealed to 31-inch whips. A whip was chosen because they have better performance at longer distances that can make a trip more enjoyable.
The antenna was attached to a simple aluminum bracket that was bolted to the top case mount. It's not pretty but will suffice until a planned comparison with a concealed antenna can be installed.
I had to use an antenna cable extension because the coax was too short to reach the radio at the front of the motorcycle.
Whether to use speakers or headphones is an entire debate unto itself. We temporarily mounted a set of car speakers and while in the garage the output was similar to what would be expected from a basic car radio.
The sound was sharp and clear, but we knew from the specifications that the 15W (total) output was clearly not meant to drive huge speakers and we went into this project knowing that was not the direction that we wanted to go.
Honda went to great lengths to optimize the radio on their $22,000 Gold Wing by carefully integrating a set of six speakers and installing a windshield that almost complete cuts wind noise.
Even so, sound from the rear speakers can get muddy at rush hour with all the car tire noises and sound from the front speakers may lose a lot, too.
This is especially true when riding with ear plugs on the highway at rush hour and it's doubtful that any aftermarket installation can do as well as the Gold Wing speakers.
As a test, the temporary speakers were taped to cockpit fairing panels where they actually worked pretty well when riding on back roads. However, from the planning stages we intended the Jensen output to go to helmet speakers or ear buds and putting the sound in the helmet resulted in a quality improvement that was as different from the sound coming out of the speakers as black is to white.
We could hear everything crisply, at low volume settings, and the sound wasn't overwhelmed by road noise from other cars when on the highway. The speakers were removed, then the grey and white speaker wires were capped and stowed.
Give Jensen kudos for providing both an output to earphones, as well as to the speakers. However, it was surprising that the style of output plug they provided was a ¼" stereo jack.
Largely initiated by the Apple IPod, the industry standard for active users has become the smaller 1/8" or 3.5 mm jack. Jensen must recognize this, because the AUX input port takes the smaller style plug and they even provide a male-male patch cable to plug an IPod into the AUX port.
It wasn't really a problem, because adapter plugs are readily available from Radio Shack (Part Number 274-371, $6.37) and probably most stereo shops, but it did add an unplanned trip to the store.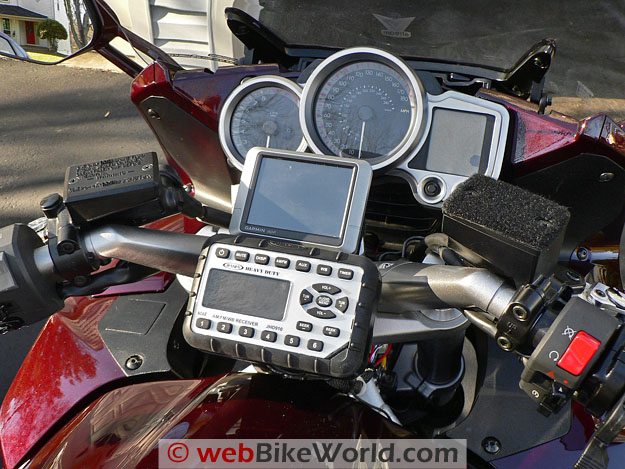 Operating the Jensen JHD910
The JHD910 works very well. There are a couple of improvements that we'd like to see, but the Jensen Weatherproof Stereo hit the requirements listed at the beginning of this article, and did it for less than the cost of a new IPod.
Gloves have no problem with the buttons and washing the radio with a hose did not faze it. The large letters on the LCD display can be seen in any light and the display has various levels of backlight brightness and even amber or green illumination for night operation.
When the radio was turned on for the first time, the volume was at mid-range (19th click of 40) and quite loud in the earphones. I turned the volume down and later turned the radio off. When I turned it on back on, the volume was again at mid-range — aggravating.
Being guys and anxious to play with the new toy, we tried to live through this and didn't learn until later that the aggravation was our own fault.
The instructions showed how to easily adjust the turn-on setting of the volume and unless the user wants to be blasted every time the radio is used, making this change is highly encouraged.
The volume on the Jensen JHD910 is adjusted by pressing its buttons, and I'm disappointed at how little change there is for each press of the volume buttons. Rather than #1 being a level that is barely audible, the volume is higher than expected.
But then there is little change in volume after several more button presses. It worked and did get louder, but the relation between button presses and volume was a bit odd.
The next change that we made right away was to turn off what Jensen calls the "Beep Confirm." In the as-delivered setting, every time a button is pressed, a very loud chirp comes from the headset. Again, refer to the instructions, as Jensen provided just enough text for what you need without losing the reader in detail.
Headphone and Audio Output
The earphone audio output is crisp and clear, especially in FM and AUX modes. In our installation, there was the slightest amount of engine noise in the AM bands at first. We had run the antenna cable right past the left set of engine spark plugs and coils beneath the tank.
Moving the antenna cable stopped the noise but the amount of noise was so slight and the routing so convenient that the cable was put back in the original routing, close to the original routing and the slight difference almost totally eliminated the minimal noise that was apparent.
Just like in a car, the AM/FM button changes bands between FM1, FM2, FM3, AM1, and AM2 (Euro and international versions are marked as FM and MW). That means that the rider can select from 18 preset FM stations and 12 AM stations.
To set a station simply requires finding the station and then holding the preset button for more than one second. With this many buttons, a band can be assigned for different uses, such as FM1 for use in one area and FM2 for use in a different area.

Radio Reception
The reception range is excellent and the Jensen JHD910 is better at bringing in marginal stations than the stock radios in a car and a van that I comapared it to.
While the radio does not have an actual display of signal strength, there is one icon to show that a signal exists and another icon to show that in FM the signal is strong enough to be in stereo
In fact, Jensen could have set the gain lower for the "SEEK" buttons, because they stopped for almost any broadcast that could be picked up.
With our radio and antenna installation, the SEEK button usually required more presses than expected because the search stopped for so many stations between the nearest and strongest ones that we actually were trying to get to.
The JHD910's weather bands were also a pleasant surprise. Weather bands are intended to be local, so they are broadcast at very low power. The radio can also be set to provide weather alerts, a useful feature that can provide advance notice of pop-up summer thunderstorms.
From inside the garage, we were reliably listening to stations broadcasting from more than 60 miles away. On the road the reception seemed even better and little checks on the weather now and then have become part of the ride.
For dual-sport owners, this can have an added value, as the U.S. National Oceanic and Atmospheric Administration (NOAA) weather bands also broadcast water depths in streams and rivers.
A list of NOAA broadcast stations, county-by-county coverage and other features may be foundhere on the NOAA website. Note that the U.S. weather band function is disabled on international versions.
The AUX input works well, too. Connect the supplied jumper cable, press the AUX button, and both a Pioneer Inno2 XM/MP3 and an IPod Nano worked flawlessly.
The one thing to remember is that the JHD-910 is not a mixer that gives priorities to the various sources of audio (AM/FM/WB/AUX).
This means that if a GPS or radar detector were to be connected, the rider would have to choose between listening to the radio, or listening to nothing until a sound came from one of those devices.
However, if the bike has a rider communication system, the output from this radio could be used as an audio source.
Jensen JHD910 "Heavy Duty" Radio Specifications
Front panel audio aux-in for use with iPods, MP3 players, and portable CD players.
Electronic U.S. and European AM/FM tuner.
12V DC Power. No batteries required.
Two Wire Power Connection allows unit to maintain station presets. Clock will run up to 30 days when vehicle battery is disconnected.
Completely waterproof; locks out water, dirt, and grime. Unit will withstand even the harshest weather conditions.
7-Channel NOAA weather band tuner.
Weather Alert automatically switches to WB mode when NOAA warning broadcast is received.
Corrosion and UV-resistant faceplate.
Programmable station presets (12 AM and 18 FM).
Built-in Jobsite Work Timer.
Electronic Seek up-down / Volume / Bass / Treble & Balance Controls.
12/24 hour clock.
Backlit controls with selectable amber or green illumination color.
Daylight readable display with wide viewing angle.
¼" Headphone jack pigtail & 2-Channel Stereo Speaker Output.
Universal mounting provisions.
2-Channel amplified audio output (15W).
One-touch Audio Mute.
E-mark certified.
Chassis Size: 5-3/16″W x 3-3/8″H x 1-7/8″D (132 mm x 85.7 mm x 47.6 mm)
Conclusion
In conclusion, this is a good solid meat and potatoes daily workhorse of a radio that does well with helmet speakers or ear buds on a motorcycle.
It's larger than an IPod but does more, requires an external antenna to be mounted but gets great reception as a result. The Jensen doesn't have all the features of the expensive factory radios, but it doesn't have their prices and can be integrated into other audio systems.
For daily riders and dual-sport riders, this could be the radio for you.
More: Bob's Motorcycle Radio Antenna Comparison
Master Listing of All wBW Motorcycle Product Reviews
w

BW

 Review: Jensen JHD910 Motorcycle Radio
List Price (2009): $233.95
Made In: Unknown
Colors: N/A
Sizes: N/A
Review Date: January 2009
Note:
 For informational use only. All material and photographs are Copyright © webWorld International, LLC since 2000. All rights reserved. See the webBikeWorld® 
Site Info page
. Product specifications, features and details may change or differ from our descriptions. Always check before purchasing. Read the
Terms and Conditions
!
Owner Comments and Feedback
---
From "W." (10/09): "I just wanted to mention that on the Jensen website they are now offering a handlebar mount for the JHD910 radio for either 7/8″ or 1″ bars. Keep up the great work!"
---
From "P.S." (3/09): "Just thought I would pass this report onto you. Based in part to your webBikeWorld report, I found a Jensen JHD910 on eBay.
Price was good, shipped to my house was under $200. Pricey just for a radio, but my bike was limited for space and I couldn't find a place for a Boss Marine head unit (my trunk has an auxiliary gas tank so no room there, and I didn't want to put a head unit into one of my saddlebags).
Back to the report. I noticed discoloring or shading on the LCD display of the Jensen after I peeled off the display sticker. Mine looked sort of like a fish finder display, with the background being slightly darker than the curve running through the display.
Looks like the glass within the LCD display was sandwiched too tightly. For a $50 or $100 unit, I could let this slide, but for $200 I wanted it right.
I had bought the new eBay piece through a great motorcycle dealer down in San Diego, North County Yamaha. I explained my concern, and they told me to ship it back ($10 or so) and they would order another one and ship it back to me.
Instead I opted to ride down the 70 miles to their shop and exchange my unit for a new one after they had ordered and received a new unit for me from Parts Unlimited.
I rode down and met up with (the) Parts & Accessory Specialist. Nice guy. I showed him my current unit, he pulled out the new unit and opened the package. Once the sticker was removed, sure enough, the replacement had discoloration in the LCD display, different pattern, but still there.
So, (he) promptly offers to order another one, inspect it before shipping to me at no cost.
The next day (he) lets me know that the new replacement unit has arrived, BUT this unit also has another LCD discoloration, different pattern. They offered a refund of my money, but unfortunately this is the best unit for my needs.
Currently by my request, (he) is making a judgment call and picking the "least offensive" discoloration of the three and sending that one to me.
So for future owner consideration, please don't be surprised if there is a discoloration on the LCD display."
---
From "C.P." (1/09):  "I just installed this radio on my FJR last night using a RAM mount on the steering stem nut. I have a "hogtenna" powered stealth antenna, installed inside a side panel. Radio is great! Pulls in stations while in the garage I never could before with my old setup.
Buttons are glove friendly, sound output is great, using helmet speakers of questionable quality. I'm really happy with this radio, so far."
---
From "G.M." (1/09):  "Another great review of an interesting product. The radio seems well priced for the features and waterproof nature of the device. I like the weather band breaking in with alerts, a nice touch.
I do have a couple of follow up questions: 1) Do you have a photo of the antenna installation?
I would think how that looks might have an effect on whether one would want to install the unit, or to use the "concealed antenna". I did notice you promise a comparison of them later on.
2) Do you mind sharing which helmet speakers you use?  I have a pair I purchased for $20 on line, fine midrange and treble, no bass what so ever. So most often I use earphones, but they sometimes get loose in my ears and lose their bass, so there are issues with the headphones as well.
I refuse to mess with them (or my IPod) while riding, so I have to pull over to make adjustments.
The helmet speakers were the only helmet speakers I could find on line that were not part of an intercom system. Maybe this is a subject for a future comparo?"
Bob's Reply: "The antenna installation so far is a simple 31″ auto antenna that was purchased from a car parts store for $9.99. The length is appropriate for the AM/FM bands, which is why this is what is used for most car radios.
For this quick and simple installation, we followed the time-honored military axiom of 'beat to fit and paint to match'.
It is mounted on a 1.5″X1.5″ piece of aluminum angle that was purchased at Home Depot, cut to fit the front of the existing Givi topcase mount, and painted to match.
The mount is set off to the side to allow opening the 52 liter Givi topcase.
The installation needed a 3 foot antenna extension to reach from the front of the bike.
Because the whip antenna is so conspicuous, we also bought a automotive 14.6" antenna ($19.99) to try concealing in the front left of the FJR's fairing but it just hasn't gotten there yet.
There will be an update when we have something but the forecast is for snow this week.
"S" is absolutely right, in that a radio is no better than it's antenna, so it will be interesting to see how the two antennas compare. Stay tuned!  (Bad pun intended).
Regarding the speakers, several types of earbuds have been tried and the word "headphone" was used generically (in my review). But then Skullcandy does the same in advertising on their website.
As mentioned in nearly every WebBikeWorld helmet article, hearing protection is recommended. Helmet fit may be enough noise protection for a few riders, but for the rest the loud ambient noise would only be covered by turning up the volume of in-helmet speakers.
Many well-fitting earbuds (not all) can be used to both block the ambient noise in place of ear plugs.
Of the three types of ear-buds, the ones used regularly are the Skullcandy TiTans. While not as good as the Etymotics ER-6 in a quieter environment, their performance in a helmet on the highway is almost indistinguishable, at $49 they cost less, and the cords are more robust.
Most important, they happen to fit and give excellent noise reduction for this evaluator. The other two sets used with the Jensen radio were an Apple-provided set from a Ipod Nano that was less than 2 weeks old, and an inexpensive set of Skullcandy earbuds.
The cheap earbuds proved there really is a difference in quality for the difference in price."
See Also:  Bob's comparison of different motorcycle radio antennas.
---
From "M.S." (1/09):  "First of all, I want to thank all of you at wBW for the valuable product reviews. I really do appreciate your candid opinions on the products that you review.
A while back, someone at wBW made a wish list of features that they would like to see in the perfect motorcycle helmet. The review of the Jensen radio made me think of features that I would like in the ultimate helmet.
When I was a kid in the 1950's, I had a "Steve Canyon" jet fighter helmet (or was it Cannon). I have often wished for a motorcycle helmet that looks like that.
It would have the tinted visor (with the cut out for the nose) with a knob on the top to raise and lower it and inside there would be real, genuine Henry Kloss headphones with a spiral cord like the old telephones and a 1/4″ stereo jack on the end.
I hate the way the wire to the ear buds flap in the breeze.
It looks like I've found the perfect radio, now I just need to find the helmet. Thanks again for all your help. P.S. I also want to see a helmet that looks like a caricature of Elvis Presleys' hair, sideburns and shades. That would get you noticed, yes sir."
---
From "S" (1/09): "I've had the Jensen radio installed on my BMW '07 K1200GT for about six months now and as far as the quality is concerned, it's a very robust unit.
However, reception seems to vary dramatically depending on what kind of antenna that's used, and how much counterpoise by either the bike frame or mounting surface provides.
The radio is solid, and you can connect an ipod/MP3/CD player/Sat. radio into the Aux. port and enjoy all through the same speakers.
But in my opinion, the radio is solid for a mobile installation….but greatly dependant on antenna choice in terms of one's ability to pull-in stations."
Other WebBikeWorld Motorcycle Radio Posts
wBW Motorcycle Radio Info