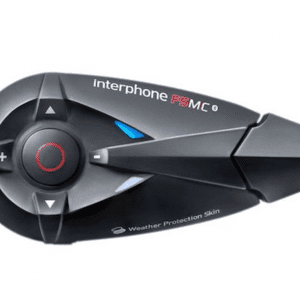 Interphone continues to revamp its Bluetooth communication unit in F5MC Stereo Bluetooth Intercom, trouncing all the previous versions of the initial product, up until the F5XT.
The F5MC is a battery-operated unit and can be charged at an USB outlet. It can be connected to a microUSB or a USB port on a laptop or a computer to charge the unit fully within 3-4 hours. Check price here.
At a time when a rider risks being ridiculed for not wearing a Bluetooth unit, the F5MC is a very tempting option for beginners with the number of features and choice of available intercom units available in the market.
So, rider, should you go for it? We shall see…
What Would You Love
The F5MC can connect with 6 other devices, 4 in a full duplex mode of communication. This extends the range of intercom communication up to a mile.
Voice activation feature is default in the F5MC, so you no longer have to fiddle with the unit with your fingers in gloves.
Automatic volume control (AVC) keeps your ears safe from surges in volume or making convoluted speech audible, which is a bonus feature.
The unit also has FM radio with 8 stations already programmed, and boasts the availability of separate profiles for your phone and GPS unit.
AnyCom, a feature that is supposed to be unique to the F5MC, is able to interface with any other Bluetooth communication unit. But only if you pair it with any other unit as a phone.
Autoreconnect is another important feature. If one of your buddies rides out of range and comes back later, you do not have to pair it again to establish connectivity. This system automatically pairs itself when that device is detected (scanning mode).
If your passenger is getting bored with the sound of air, the rider to passenger music streaming can surely entertain him or her.
Body
This piece is quite thick. Like 'thick' thick. And then it has thick buttons that can be 'felt' quite easily. This is essential when your voice activation module breaks down and you need to find the buttons with your winter gloves on. Functionality at the foremost.
The F5MC is very simple to install. It comes with two mounts – a clamp mount and a sticky mount. The clamp mount slides in the shell and the EPS liner, while the sticky mount is usable when the shell and EPS liner has a non-compatible outline. A single wire insert can be easily routed underneath the liner which connects with the boom and the speakers. Most helmet manufacturers provide an extra cutout in the pads near the ear so that the speakers from any Bluetooth communication unit can fit in fine without considerable tinkering or problems.
The shape is definitely stylish and looks quite modern. So with an equally modern looking helmet, you are well on your way to looking quite trendy.
Special Features
The speakers in this unit are particularly huge and they provide clear, robust sound. The multipoint technology lets you connect two phones to the unit. The F5MC is also compatible with GPS units for voice guidance.
Two different voice activated directional booms come in the box – one wired and one removable, Velcro-attached. Nice options.
Text to Speech (TTS) function reads out the caller ID so you can choose to answer the call or ignore it. It has to sync with your phone to be able to do this though. This also eliminates the beep tones that were present in the previous versions of this unit. TTS 'talks' to you and notifies about incoming phone calls, music play/pause and intercom connect/disconnection.
A2DP stereo lets you stream music from other Bluetooth stereo music devices you might be carrying, such as a smartphone or a Bluetooth enabled tablet. A 3.5 mm stereo adapter is also included to connect legacy devices physically to the F5MC.
It has an impressive 700 hours of standby time on the lithium ion battery and 12 hours talk time, thanks to Bluetooth 3.0 technology.
The unit is 100% certified waterproof, approved by IP 97. So in the rare case that you actually manage to drop the unit in a glass of water for whatever reason, it will stay safe.
There's also a twin pack for couples. How thoughtful.
Another surprising and pioneering feature is the handle bar remote that allows you to operate the unit from the handle bar itself. Now you do not even have to take your hands off the handle bar to operate it. It is sad that you have to purchase it separately.
Customer Reviews
Apparently, some customers are miffed that technology changed too fast. This unit is compatible with Bluetooth 3.0. But with 4.1 being widely accepted (and backwards compatible), their beef is that Interphone should've incorporated the newer tech instead.
Another annoyance with this unit was that it does not have a wall unit adapter.
Barring these two things, the unit was quite well received.
Bottom Line
You may hold Interphone responsible for staying behind the times all you want, but you can't ignore this impressive piece of technology they have brought out in their line of Bluetooth intercom units.
Stylish, robust and feature rich, the F5MC is as worthy a purchase as any newer unit from any other brand, if your sole concern is connectivity and outstanding user-friendliness.