Interphone F5 Review Summary
Interphone F5 Image Gallery
Interphone F5 Intercom Review
The new Interphone F5 has excellent sound quality and it's easy to use with an internal voice guidance (spoken status announcements) in a variety of languages.
It has an uncanny ability to filter out background noise while sending clear voice signals to the pillion or other riders.
The traditional-style Interphone mount is fairly simple and rugged.
It has a built-in FM radio and auxiliary port for non-wireless device connection.
It uses Bluetooth 3.0, can connect up to 6 intercoms for real-time (conference) conversations.
The intercom module is water resistant to IP67 and it is manufactured in an ISO9001:2008 certified facility.
The intercom module firmware can be upgraded via free downloads from Interphone.
The only nit to pick is with the spoken status announcements.
While helpful and useful, it takes more time than necessary to move back and forth through the system and the button presses don't always seem as consistent as they could be.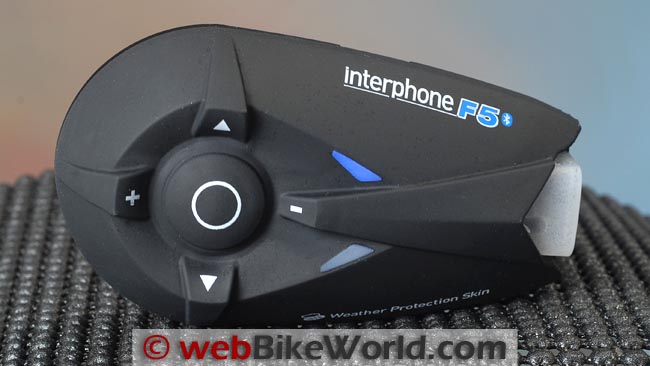 Background
There — you pretty much have a review of the new Interphone F5 intercom in a nutshell, just by reading the Summary!
I'll secretly confess that the Interphone F4 (review) was one of my favorite intercoms.
The F5 beats it in several key ways, but I have to say, even after using the F5 for a couple of months, the F4 is still a valid solution.
But, time marches on, and the F5 does things that no one even knew existed back when the F4 was released.
Like Bluetooth 3.0 for faster transmission speeds and more bandwidth. And lower power consumption for longer battery life.
Motorcycle intercoms have become much more user-friendly since we first started reviewing them about 6 years ago.
Quite frankly, Bluetooth intercoms were horrible at first; owners basically needed to carry the owner's manual to figure out how to use the things…and even then it was difficult.
If you did somehow stumble into a connection, it was quickly lost. Especially if you wandered more than a couple of meters from your pillion!
Then came Bluetooth 2.0, which featured bike-to-bike communications and the next generation of intercoms with somewhat more reasonable user interface designs.
Wired intercom systems have pretty much gone the way of the carburetor and Bluetooth is the new "it".
Fortunately, we're now also starting to find that there is some standardization for features, functions and the operation of a motorcycle intercom system.
Pick up just about any motorcycle intercom system today and if you've used one, you've used them all.
The owner's manuals are a fraction of the size they were back in "the old days" and pairing is a snap.
Although the buttons or dials may be placed differently on the intercom module, depending on the brand, those button presses pretty much do the same things, no matter which module you own.
We even now have mystery computer voices, speaking instructions in the language of your choice, making suggestions, feeding you updates and altogether replacing the owner's manual.
Next steps? Let's dream for a second — suppose all the helmet manufacturers got together and developed a standard intercom placement system.
This might consist of a slot at the lower rear of the helmet, where an intercom module of a certain size would be plugged in.
The helmet would be wired and ready to go — snap in the module from the communications provider of your choice, plug the speakers into the already-installed receiver in the cheek pad, stick the microphone into a pre-wired connector in the chin bar and you're all set.
Nice, eh?
Then the intercom manufacturers could concentrate on improving features, functions, battery life and the rest, knowing that their systems would fit any new motorcycle helmet.
OK, dream over…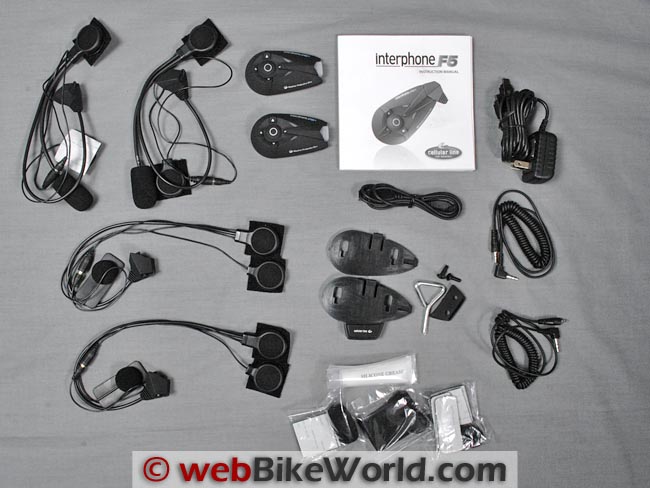 Interphone F5 Intercom Review Format
On one hand, the convergence on feature/function standardization has made it easier to review a motorcycle communications system.
When we first started reviewing intercoms, we'd have to describe every feature and how it worked and describe the differences between on type and another.
But now, since most of the functionality is standard operating procedure (e.g., press and hold the on button to put the device into pairing mode), that level of description is no longer necessary.
On the other hand…the systems now have so many features and a seemingly infinite number of other devices to connect to, we have to spend more time discussing what works, what doesn't and what happens when it connects.
That is very difficult — especially for someone like me, who doesn't even own a "smart" phone or Bluetooth GPS.
So I'll cover the basics and the description of the Interphone F5 in this Part 1, then hand the pair over to H.B.C., our intrepid electronics whiz, who will put the system through its paces by connecting with all those other 21st Century devices.
H.B.C. is planning his yearly ride through the southern U.S. states — good timing for further evaluation of the F5 pair.
[UPDATE: Here's H.B.C.'s report in the 
Interphone F5 review Part 2
.]
In the meantime, if you have any questions about a feature or function of the Interphone F5 not covered here, feel free to send me an email at the address in the Owner Comments section below.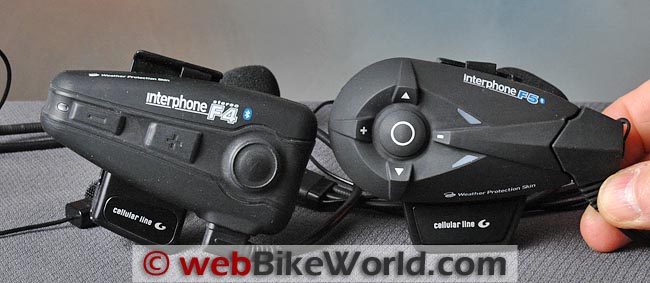 Interphone F5 Intercom Features
The Interphone F5 is indeed the fifth generation of this popular intercom and we've reviewed them all on webBikeWorld.
The F5 was the first motorcycle intercom to hit the streets with Bluetooth 3.0; others are still catching up.
We've been using this pair for a couple of months and in that time, Interphone lost and then re-gained U.S. distribution, so there should be no problem finding a pair.
Some of the features of the Interphone F5 include:
Full duplex "real time" communications with up to 6 riders spread out at a maximum distance of 2,400 meters (2.4 km). Bike-to-Bike distance is 1,300 meters (1.3 km). Note that this is line-of-sight communication.
Stereo speakers.
"Voice Wizard" spoken instructions in choice of 13 languages.
Outstanding extraneous noise filtering.
FM radio built in. Tuning range: 88 Mhz to 108 Mhz. Includes RDS 8-station memory. Automatic muting when phone call is received.
GPS Bluetooth compatible.
Mobile phone earset and hands-free profiles. A2DP/AVRCP profile for MP3-equipped Smartphone. Voice-activated call/answer/call rejection commands. Last number redialing.
Auxiliary Input in rear of module for standard 3.5 mm connection.
Bluetooth 3.0, firmware updated via download from Interphone website.
Talk time 11 hours. Stand-by time over 700 hours. Charging time 3 hours.
NOTE: The Interphone F5 is compatible with other Interphone "F" series intercoms.
Automatic volume control with AGC (Automatic Gain Control) technology.
Certified IP67 water-resistance (dust-tight and can be immersed up to 1 meter; more on IP standards).
Kit includes both boom mic and wired mic. Either can be connected to the headset via standard 3.5 mm jack.
Firmware upgrades via the Interphone website.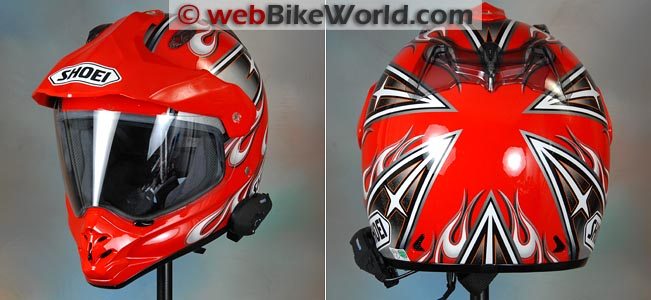 Helmet Installation
Our use of the Interphone F5 over the last couple of months involves use of the intercom function, of course.
Also, we've tried cell phone pairing and usage, listening to the built-in FM radio and connecting with an MP3 player via Bluetooth streaming and the wired connection port.
Connections with GPS and other devices will be covered in Part 2 of this review.
The F5 is very easy to set up and use.
The single or dual kits come with a charger with a locally appropriate electric plug. It's a dual charger, so both modules can be connected to the paired wires. It takes about 3 hours for the initial charge.
The module clips on to the sturdy Interphone helmet mount that slips between the shell and liner on most helmets.
The module can also be attached to the helmet via double-sided tape.
Interphone provides both a boom microphone with speakers unit and a wired mic with speakers, so the system can be used right out of the box on either an open-face, full-face or flip-up helmet.
There are no pins or special connectors on the intercom module or the helmet mount; everything is self-contained in the module, which is then attached to the mount.
It's a secure system and it would be very unlikely for the module to accidentally separate from the mount.
Connect either the boom or wired mic to the back of the module and you're ready to go.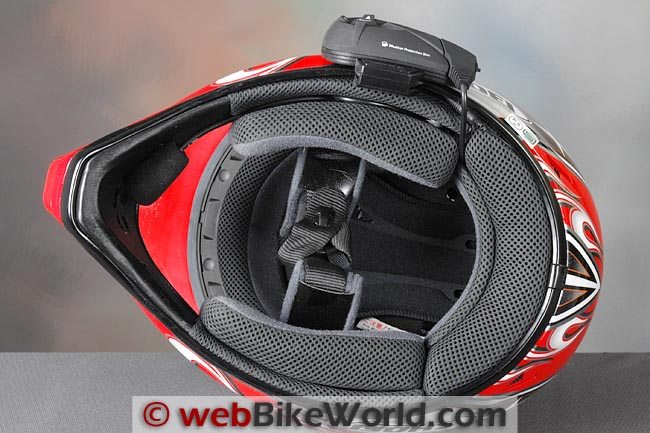 Buttons, Presses and Menu Choices
The Interphone F5 functions are easy to access and use, with a single large central main function button (MFB) surrounded by four smaller buttons.
The buttons are arranged in a "North, South, East and West" orientation. Two LED lights to the front of the button array serve as the indicators.
Press and hold the MFB to fire up the intercom, or hold it for about 5 seconds until the LEDs flash the traditional red/blue to indicate "ready to pair"; this is illustrated in the video.
As soon as it comes on, the "Voice" tells you the status of the battery charge.
Continue to press until the red/blue LEDs flash to put the Interphone F5 in pairing mode. The F5 very quickly paired with other F5 modules, Interphone F4 modules, cell phones and any other Bluetooth device we tried.
It will store up to 8 different pairings; when (if) the 9th is connected, the first will drop out of the list.
There are 5 main functions in the F5, including Intercom, Phone, FM Radio, Music Streaming, Auxiliary Input and Setup.
The "Voice" tells you everything you need to know. Press the up/down buttons to rotate between the functions and then press the center button to enter any of the functions.
She'll let you know (the voices are female) exactly what to do but there is a pause between when you first get to a function and when the voice speaks.
Otherwise, the F5 operates pretty much like expected for a modern Bluetooth device.
Again, this standardization is a good thing and quite different from the first intercoms we reviewed, each of which had strange series of button pushes that had to be memorized to get it to do anything.
Even the red/blue flashing for pairing wasn't standard back then!
UPDATE: As of June 2012, the latest firmware update allows the option of turning off the status announcements and help system.
Pairing and Functionality
The F5 easily pairs with every Bluetooth device we have handy. If you're listening to the built-in FM radio, aux input or music streaming, it will be interrupted for a cell phone call or, according to the manual, for GPS instructions.
The F5 will pair with the fancy modern GPS units that have Bluetooth music streaming, but how that actually works will have to wait until H.B.C.'s report — he's the guy with a closet full o' gizmos!
We did pair the F5 with a couple of different cell phones.
It takes and makes calls just like you'd expect for a Bluetooth device. Since I never have an active cell phone when I'm riding a motorcycle, I don't use this feature.
When I'm riding, I want absolutely nothing to do with cell phones, sorry. It's the only peaceful bliss I get!
Each F5 will pair to its own cell phone(s), if desired. And we did pair the F5's with various Bluetooth-enabled MP3 players and it works just fine, with the ability to advance tracks, etc., again just like expected for a modern Bluetooth device.
Note that the dual-kit box claims that the F5 units are paired at the factory.
We didn't notice this when we opened the box and paired them anyway — that's what we get for not reading the instructions first!
But, it also demonstrates once more how easy it now is to use a standardized Bluetooth intercom system — everything works as expected and pretty much just like any other modern Bluetooth device.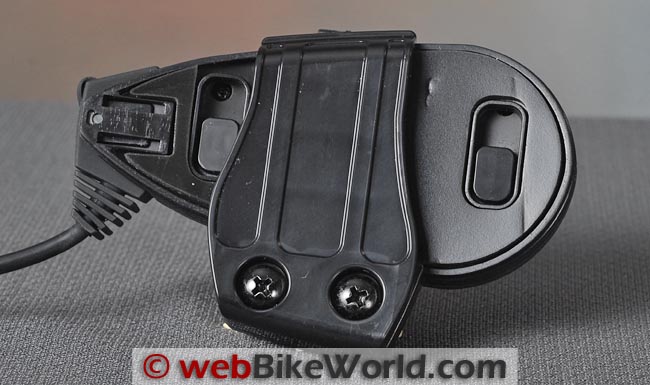 Interphone F5 Sound Quality
The sound quality of the F5 is excellent to outstanding and the volume can be raised very loud.
Note that all of the webBikeWorld reviewers wear ear plugs when riding, and that includes when evaluating intercom systems.
We had no trouble hearing the intercom when riding at speeds up to around 60 MPH when wearing ear plugs.
Of course, this will vary, depending upon your individual hearing ability and the noise levels of your helmet or bike.
The speakers seem identical to those used on the F4. They're approximately 8 mm thick.
Note that as in all motorcycle intercom systems, placing the speakers as close to the ear as possible is important for volume and sound quality.
This means that some helmets with deep ear pockets may need to have foam spacers for mounting speakers.
One feature that is noticeably different in the Interphone F5 compared to any other intercom we've reviewed so far is its ability to eliminate or filter out any unwanted background noise.
This includes wind noise, helmet noise, engine noise, rider breathing, etc.
This is a problem frequently reported by webBikeWorld intercom users, but the F5 is almost spooky in the way it sends only the voice and discards all the other background clutter.
As far as I can tell, there's no VOX, at least as one might think of a typical VOX system. The voice communication is there in real time, no waiting for a VOX to kick in.
This is supposed to be true also for up to 6 intercoms, where everyone can talk in real time, just like you were all on a conference call.
In fact, Interphone calls it "Conference Pairing", although the manual also suggests that conferencing in more than 4 users may result in delays and lost transmissions as people speak over one another.
We have only one pair of F5 intercoms, so unfortunately we won't be able to evaluate the Conference Pairing system.
But if you want to comm with a fellow rider when you're on the road, this system is one of the best we've tried, even at speed.
Of course, once you hit a certain speed on the open road, the wind and engine noise in the helmet will overwhelm the ability to hear the speakers (especially when wearing ear plugs).
But you should certainly not be carrying on a conversation at 80 MPH anyway…
Conclusion
The Interphone F5 system is, well, just like the F4…only better!
It's just as easy to use; everything works exactly as described; the sound quality is excellent and the ability to reject unwanted background noise is outstanding.
And, the F5 almost instantly pairs with everything we've tried.
The "Voice Wizard" voice prompts  are a very useful addition; be patient and listen to the prompts and "The Voice" will tell you everything you need to know to get the system up and running smoothly.
Also, the addition of the two types of microphone headsets — both the boom and the wired mic — is a very nice bonus.
Part 2 (which will be available within the next several weeks after H.B.C. takes the units on the road) will describe the F5 in more detail. But I have no hesitation in recommending the Interphone F5 based on our experience.
It has all of the functionality we need, yet it's very easy to use, which is a big plus in my book, especially when you don't use an intercom every day.
If you're looking to replace your Interphone F4 system, replacing another brand or searching for your first Bluetooth motorcycle intercom, you definitely should check out the new Interphone F5.
Part 2: Interphone F5 Comments, Ride Report and Final Conclusions
w

BW

 Review: Interphone F5
List Price (2012): $499.95 (Dual). $299.95 ea.
Note:
 For informational use only. All material and photographs are Copyright © webWorld International, LLC since 2000. All rights reserved. See the webBikeWorld® 
Site Info page
. Product specifications, features and details may change or differ from our descriptions. Always check before purchasing. Read the
Terms and Conditions
!
Owner Comments and Feedback
---
From "J.M." (February 2013): "Thought I'd share my experience using the Interphone F5.
I recently purchased two Interphone F5's to update from my existing Interphone F4 (review) (pair) when one of them died (faulty connector socket).
I haven't used it much, as every time I touch it I get lost in menus, can't achieve what I want and end up so distracted that I almost crash my bike.
I will say that the connection to my iPhone seems much more solid than what it is when using the F4, however the menu system makes using the system for anything other than intercom purposes a pain.
Whereas I used to touch the main button, say "call Joe Smith" and the phone's voice commands would place the phone call, I now seem to have to work my way through a maze of instructions, all while riding one handed.
Frequently the instruction says to "hold the MFB until the beep" to achieve a command… sadly that seems to be 2 seconds and 3 seconds will see the unit turn itself off and you have to start again…
A hands-free system is supposed to be just that, hands free.
I'm still trying to work out how to answer the phone as pressing the MFB seems to reject the call and unlike the F4, the F5 comes with insufficient operating instructions. I cant even find the key commands I use every day.
I primarily use my Bluetooth for listening to music and GPS instructions from my phone (which the F4 would do simultaneously).
Also, taking calls or making calls to update my partner where I am; i.e., "I'm just leaving work I'll be home soon", or "I'm just heading over the spur if you don't hear from me in half an hour send an ambulance."
It seems that the simplicity, but also much of the every day functionality has evaporated, unless you're out with a pillion.
For what it's worth, the best setup I've had so far was my F4 with my old Nokia phone.
It would read SMS text messages and emails from my Gmail account, I could hit the button and say "drive to 31 Alfred St., Paddington" and the GPS would take me there with no fuss. I believe it would even type texts for me.
But I "upgraded" to an iPhone shortly afterwards so never got to explore all the voice functions that Nokia offered.
The Bluetooth also seemed more solid and consistent than the iPhone but that's all the phone not the unit. How can I get to Siri with the F5?
If I manage to work all these issues out I'll come back and retract my findings thus far, but for anyone who's looking at an update from the F4 to the F5, I wouldn't bother."
---
From "D.W." (October 2012): "I purchased the Interphone F5 as the first helmet intercom (Bluetooth or otherwise) I have ever owned.
My primary goal was to listen to music from my iPhone and also to here that an incoming call was happening.
Knowing that I missed the call as opposed to remembering to check the phone every time I stopped the bike, which I would never remember to do.
Initially I really wasn't that concerned with FM Radio (I listen to AM talk mostly), the Intercom, or connecting to my GPS as my only GPS (Garmin eTrex Vista Hcx) doesn't have Bluetooth and it doesn't speak so it has nothing to say.
The F5 worked very very well and combined with the voice prompts on the iPhone 4 I could easily ask it to play various podcast or playlists by pushing the bottom button momentarily while in "Phone mode".
Then I got a new Bike. BMW had a promotion where you get a BMW Navigator IV for free, so I figured I just had to buy the bike 🙂
I believe that underneath the skin the BMW Navigator IV is a Garmin 660 or close to that series.
When I tried to connect the GPS and the F5 I found that I couldn't figure out how to get the phone connected without connecting it through the GPS which ruined the voice prompt Siri stuff on the phone.
If I connected the GPS to the F5 while the iPhone was connected it would forget the iPhone. If I connected the GPS first then when I connected the iPhone the GPS got forgotten. Is this right?
Am I doing something wrong or are they normally designed this way?
I had assumed I should be able to connect the GPS and the iPhone separately so that the functions would be independent. but maybe they don't typically work this way.
I could not get my question answered, or likely understood in many forums, etc., so I thought I would ask you guys.
GPS->F5<-iPhone; Can't figure out how to do this. Is this possible?
iPhone->GPS->F5; Don't want to do this, it limits the usefulness of the iPhone->GPS->iPhone
Also, I have heard comments like "iPhones like to gobble up all available Bluetooth connections". So I don't know if the iPhone is the issue or what to do with it."
Editor's Reply: There are a near-infinite number of connections that can be made with the proliferation of devices and the rapid evolution of technology, so unfortunately we don't know the answer.
Perhaps a webBikeWorld reader will have some insight into solving this issue.
---
From "S.F." (September 2012): "I really enjoyed your BT intercom reviews, and I purchased the Interphone F5 system based on your review.
I chose it over the Midland BT Next because it had BT 3.0. I installed the F5s in my Shoei X-11 helmet (review) and my wife's Shoei Qwest helmet (review).
We ride on a Harley Road King with medium loud exhaust.
The intercom function worked great for my wife. She could hear me perfectly. I however could not hear her clearly.
I attribute this to either my hearing loss or the X-11 which is probably noisier than her Qwest.
I am however disappointed that the intercom mode disables all other audio.
I want to use the system primarily for intercom on a cross country trip, but I also want to receive GPS instructions from my iPhone 4S running Navigon. I now see this is not possible with the F5.
Are there another systems like Midland's BT Next that allow you to receive GPS commands from a phone while in intercom mode? I couldn't figure this out by reading the reviews you posted."
H.B.C.'s Reply: First off, your audio environment situation is pretty much what a lot of riders and passengers encounter based on motorcycle, helmet and any personal hearing issues (myself included).
So you are certainly not alone on this one.
And even when an informed decision is made regarding a specific system, there is no guarantee that it will be the answer to requirements especially when it comes to the riding environment.
That's one reason we try to use the different systems on as many motorcycles as possible.
Regarding the choice: actually the Midland BT NeXt (review) does what you want the system to do.
Its primary and secondary pairing channels let audio sources like wired music, GPS or an incoming call via a phone paired with the secondary channel come in and remain in the background, without disrupting an active intercom session.
So in theory, if your phone was paired to the secondary channel, audio like the Navigon instructions would come in as background audio (or at normal volume if nothing else is active, like the intercom).
On a related note, Bluetooth 3.0 based systems and Multipoint have greatly enhanced multi-pairing and multi-tasking abilities.
But unless a system can be tailored via specific pairing procedures and multi-channel services, the limitation you have remains, except as noted above and, below.
So another solution is to use a device like the Sena SR10 Bluetooth Adapter (review).
With the phone or other audio devices connected to the SR10, which is then paired to the headset, audio via the SR10 is streamed in mono to the headset.
And if the SR10 is paired properly using the correct profile procedure, that audio is in the background and the intercom is not interrupted.
Note, however, that a phone or GPS paired directly to the headset will still typically interrupt anything else, unless the Selective Pairing process has been completed.
The optimum configuration, at least right now, is a pair of the Sena SMH10B (review) headsets and an SR10.
This combination of hardware and software (selective pairing abilities) provides options not available to other headsets (except the BT NeXt).
The SR10 does work with virtually any headset, but it uses the Headset/Hands-Free profile exclusively, which will be treated as priority audio, interrupting the intercom — which is why the Selective Pairing feature of the Sena products is so valuable.
---
From "P.B." (August 2012): "I have been attempting to use the Interphone F5 / Zumo 660 / Samsung Galaxy S2 combination for some months.
I have the latest R96 firmware (even exchanged the unit with motohaus) and the phone and sat nav are up to date with software.
From my experience, the volume is way too low, (even in a quiet, well fitting Shoei) to hear the sat nav at speeds above 45 mph.
Volume is slightly better with automatic level off – but then a bit noisy at stand still!.
Music played fluctuates between just bearable and nothing more than an indecipherable tick tick noise as it feels.
I have been in discussion with importers who blame Garmin, but the 660 was out way before the F5 and as there aren't that many motorcycle sat nav units, surely interphone et al should make sure that their units work in the real world.
Life's too short to spend months trying to get something to work.
I only really want a wireless sat nav connection; phone and music would have been a bonus; intercom no use to me as I ride solo most of the time.
And following my experiences, none of my riding friends are keen to spend a large amount of cash on a hit and miss item."
Editor's Reply: Invariably, if there is a problem with an intercom in a communication system with more than one type of device, the problem involves a Garmin product.
I don't know why, but we receive more email about intercom problems (of any brand) with a Garmin GPS involved than anything else.
Also, there are so many different electronic devices available today that it would be impossible for each manufacturer to test all of the different connections and combinations. Unfortunate, but that's the way it is…
---
From "G.B.B." (August 2012): "Hi guys thought you might like to include my thoughts on the Interphone F5.
I have used intercoms and more particularly Autocom and Scala products extensively over the last few years so feel quite qualified in commenting on the new Interphone F5.
Having owned a Scala G4 last and actually pretty happy with it I purchased the F5 based on it's better aesthetics and some early reviews.
Form: There is no doubt in my mind that the Interphone F5 is the sleekest and best looking unit out there at the moment.
They have got the curvature of the product right so that it seamlessly integrates with the shell of the helmet, the positioning of the buttons is very good and easy to learn and it just generally looks better in my opinion than the Scala, Sena etc…products.
Installation: The wiring from the unit is beefier than the Scala G4 and made easier by having one of the earpieces on a separate jack plug for when you come to that part of the installation.
Although this connector has to be placed carefully in some helmets to avoid it becoming a pressure point when the helmet is in use.
I purchased the slimline speakers for full face helmet as an optional extra for easier fitment and they are way better quality than my original Scala G4 speakers.
For mounting the cradle I used the sticky base on my SCHUBERTH SR1 helmet and it was a good strong fit.
I prefer that the F5 slots into its base from above as I was aware that some people had inadvertently knocked their Scala off its mounting due to it being a "West > East" slide fitting.
One guy lost his whole unit too apparently !!
Voice Menus: Well, the handbook is practically useless so I hoped the voice menus would be up to the task. They were.
Very easy to get to know the unit by following the voice commands.
However, once you've got used to them they quickly become annoying and slow to listen to.
I managed to switch the function so that less prompts are given but still they are intrusive and sloooooww…
You can press buttons to shortcut whilst the voice is talking to you to access the particular function but you're never 100% sure that what you are doing will be replicated as intended and indeed some of the time it wasn't.
Pairing: easily carried out to my iPhone 4 and my friends Samsung Galaxy (latest one S3 I think!)
Music: With the slim full-face headphones (optional accessory) the quality of music on the F5 was noticeably better than the G4 standard speakers.
Any speaker is going to suffer at higher speeds but the absolute best bit of advice I can give anyone with any system is to position the earpieces directly against your ears.
Not necessarily in the little cutouts some helmet manufacturers provide – they will usually be too far away from your ears.
You need speakers absolutely right against your ears. The volume and quality of sound is night and day if you do this on any system.
Spend time getting the positioning right, go for test rides etc.. until you get it just perfect. The hard work will pay off trust me!
For comparison, I understand that the new Scala G9 (review) has better speakers than the G4 and indeed you can upgrade the G4 base to the new G9 style to take advantage of this but it is a bit pricey.
Instead we bought a pair of auxiliary headphones and followed the YouTube vid (easy to find) and replaced the headphones on our G4s and the volume and sound quality is absolutely awesome with these installed.
Phone: I have received two calls on the F5, both were clear from a listeners point of view and the person on the other end couldn't believe that I was on a bike, but did say that my voice sounded a bit "metallic"
Intercom: Initial thoughts whilst stood at opposite ends of my garden — wow what a disappointment.
The voice sounded noticeably computer filtered, not at all clear like the G4. Perhaps it would improve on the road, we thought, maybe this is a result of the noise cancelling technology.
It did indeed improve on the road and background noise cancelling was 1st class but the actual reproduction we agreed wasn't as good as the Scala.
There is no VOX on the F5 and whilst I didn't think that we be much of a problem in use unfortunately it is. It takes so long on the F5 to connect to your other rider it really was a let down.
First of all you have to press the centre button, luckily this will default to 'intercom' but then you have to long press until a beep and then wait a good while for it to connect.
We didn't actually time this but feel that 15 – 20 seconds including removing your hand from the bars to press and then press/hold the button again is about right.
Compared with the Scala G4 in either Vox mode (say something loudly to open the connection) or a single push of the A button, and connection would take place in around 5 seconds (I used to count!).
The connection on the F5 then stays open until one of you presses the middle button again, whereas the G4 would close the connection (in Vox mode) after 30 seconds if nobody had said anything.
There is also a flaw currently in the software that was supposed to be addressed in an Interphone update that the intercom should return to a previous function (like music streaming) at the end of an intercom call.
It does but for only one person – the person who didnt make the intercom call !
So the poor guy initiating the call has had a long drawn out hand-off-bars-button-pushing-exercise.
Then a long wait to connect and then has to push the button again to end the call and then mess around trying to get back to music streaming by more button pushes.
The G4 on the other hand can be initiated in Vox mode without hands leaving bars, no button pushing, will disconnect if you keep quiet for 30 secs and return to music streaming for both people.
It was a major PITA on our trip across France a few weeks back where I couldn't give quick warnings or directions with the F5 without leaving the channel open continually.
Intercom Range: About the same as the Scala G4 but with the aerial up the G4 is perhaps a little better.
You'd have to question why you are riding so far apart with any system normally though but lets assume one of you is stuck at some traffic lights or similar.
The F5 appears to be upset more by objects in the way, large lorries, buildings that sort of thing.
FM Radio: We didn't really try these other than in the back garden but they worked ok there.
I think on the move most systems seem to suffer with a crackly signal from time-to-time.
The G4 seemed to when I tried it once but I'm not a great radio listener so cant comment on the F5 in real-time usage.
Music Streaming: Worked as anticipated, no problems streaming from either iPhone or Samsung Galaxy S3. Quicker to select next or previous track than the G4 as its a single button tap rather than a long button hold.
Battery Life: This is another "fail" for me, I'm afraid, and is mentioned in other reviews.
I had rather got spoiled by the G4 never giving up on me even on a 13 hour ride using the intercom, music streaming practically all the time!
So we were beyond shocked when my riding partners F5 said "Battery Low" by early afternoon and was dead an hour or so later.
Mine lasted a little longer but we decided that I had not had mine on as loud as his (he was wearing plugs and I wasn't) and hence probably using less battery.
Still, though, I lost all communication, music and more importantly sat nav instructions for the last 2 hours of our journey.
Unfortunately this became a regular feature of this trip despite charging them properly the first time we used them and ever since. we never wuite got a full days use out of them often less.
I have to say that I am pretty underwhelmed overall with the F5, the intercom, button pushing etc.
But the deal breaker is the battery life compared to the Scala G4.
And I'm afraid that is why I have returned to the G4 and a good job too as we have a long trip planned in a few weeks and I'm looking forward to the ease of use and long battery time again.
Sorry Interphone F5 you're very pretty to look at but not very functional for us.
(Follow-up from G.B.B.): I'm probably looking at it slightly differently in that on our long journeys across Europe we are most always streaming music.
So to go into and out of intercom mode takes some button pressing compared to Vox on the Scala.
I'm not sure I would keep the channel open on the F5 were I not listening to music in any case as we found the battery life really poor to be honest."
Editor's Note: If the F5 is kept in intercom mode (i.e., not switched back and forth from music streaming), no need to press the button to talk, it communicates in real time, duplex with the other intercom unit.
Also, Interphone has recently released a firmware upgrade that allows switching off the spoken help announcements if desired.
---
From "G.L.R.C." (June 2012): ""Purchased F5 in May and have been struggling to synch with a Garmin Zumo 660 (motor bike GPS).
Basically there is a conflict when using the Zumo when used in combination with a cell phone.
The Zumo allows calls thru the unit so becomes hub for both directional guidance and phone calls.
And you have to choose between either connecting thru Zumo for phone calls but then the voice activation does not work via the headset button, or connecting phone and GPS separately.
However, under the second option, all Bluetooth activity on Zumo will not work (including directions) causing line to break up and disturb any Bluetooth phone functions happening at that time.
Eventually I wrote to Interphone and was told that I must turn off the A2DP on my phone (a Blackberry Bold).
That's because the Zumo does not allow this to be turned off and this causes a conflict.
The Blackberry also does not allow this to be turned off.
So I sit with one of the top motor bike GPS units and a conflict which does not allow some key functionalities of the F5.
Interphone should have cracked this before launching?"
Editor's Note: Just as a note, whenever a Garmin product is involved, there is usually some type of conflict.
I have lost count of how many emails we have received over the years from owners complaining about various problems trying to connect a Garmin GPS into their intercom systems…
---
From "J.R." (June 2012): "I'm currently stationed (Army) in Germany and I recently bought a dual pack of the F5 intercom system.
The price (on sale) was about 290 Euro so it's about average when compared with prices in US Stores.
As many other reviewers have stated, the F5 comes with two headset mounts, for open faced helmets and full face helmets which, for us, means that we can set up 4 helmets since we switch often.
Pairing with the iPhone and with the second F5 intercom was easy.
One major problem was that one of the boom mics was defective and did not work.
Since I bought the unit here in Germany, the warranty claim has proven very difficult and I have gotten very little help from the Intercom website.
Despite this setback we set up both Intercoms on an open and full face helmets for a 8 hour trip each way from Grundstadt, Germany to Saalbach, Austria.
Our ride started at 8 am on a rainy morning. I was concerned about the boom on my open face helmet getting wet and therefore causing damage but the mic still works well today.
Riding up to the link up point which was about 14 miles from where we live we were able to talk and understand each other very clearly. My wife was wearing a full face helmet.
We both ride H-D's that run about 98db at idle and a bout 115db at highway speeds. We had no issues until we got on the highway and over 50 MPH.
I was still able to understand my wife, receive phone calls and talk just fine, however her helmet, since it was poor fitting allowed too much air into the ear sockets preventing her from being able to hear me.
Obviously this is a helmet problem and not the unit's problem so a good tip is to ensure that your helmet fits correctly.
My open face helmet fits perfectly and had no issues with talking or listening to music/phone at 75mph.
There were a few glitches during the 8 hour ride that caused a little frustration.
The system, at random, kept saying "connected to phone", this itself caused no other issues other than a bit of annoyance and this went away after an hour or so although the same issue happened on the return trip.
The second issue was music playing.
The sound was just fine, however, when we used the "music streaming" and then we connected to the interphone to talk to each other we could not get the unit back to playing music.
It only worked if we went to the "phone mode" and used the voice command to play music directly from the iPod.
She had no issues on the return trip using the "auxiliary input" This might be an issue of simply not knowing how to use the system but then again, there might be an issue with the software.
The third issue was that the system would "forget" the device and simply could not pair back to the second Intercom until turned off and turned back on.
This only happened once but we had to stop and reboot the systems.
Finally, there seems to be a big difference in the battery life of each unit. Mine died at 8 hours.
At about 7 hours I got the "battery low" message and about an hour later the "battery very low, please recharge" message.
Towards the end of the 8th hour, it would not find her intercom, play music, or respond to commands.
Her headset, in the other hand, at 10 hours still going with not even the "battery low" message.
My unit died on me during the return trip which lasted longer due to traffic and construction in German Highways.
During this trip we rode through heavy rain, very cold weather through Austrian mountain passes, and windy conditions with seemingly little adverse effect to the Intercom F5 units.
The glitches, were mostly annoyances and if this is posted maybe someone can shed some light into possible solutions to them as well as to a good place to buy a replacement boom mic.
I'd welcome emails or post from other users so we can compare notes."
---
From "A.V." (June 2012): "I never owned a Bluetooth headset before, and a few weeks ago my friends and I decided to buy an Interphone F5 to use during our trips and travels.
We now use it very often and we love it. It's also also easy to use.
The new firmware R95 is also very useful as we don't really need the voice prompts anymore. I'm definitely happy with this product and I would purchase it again."
---
From "B.D." (May 2012): "The latest firmware R95 (new update, May 2012) has a Pro-User function which limits the voice prompts.
Once the R95 upgrade is installed, you can enable/disable the "Pro-user" function; this new feature will let you disable the vocal help you can hear when changing from one menu to other.
This feature is useful for users that know very well all F5 menu/commands, to have a quick change between menu. I know some people commented on that slowing down menus, haven't tried it myself as I just got my F5."
---
From "B.N." (May 2012): "I bought a dual set to talk with my riding partner and to hear GPS directions in my helmet. I have three comments:
1. It is very expensive for what you get.
2. It often drops the pairing between the intercoms and between the intercom and my smartphone.
3. There is no provision for using earbuds instead of the helmet speakers.
I use noise-isolating earbuds to protect my hearing while riding, but the 2.5mm plug on the Interphone is incompatible.
This is a glaring deficiency and I'm considering returning the entire unit because of it."
Editor's Reply: The price is equivalent to other high-end intercom systems, and the F5 has probably the best sound quality.
It is illegal in most states and countries to wear earbuds when riding or driving, thus very few intercom systems have the ability to connect in-ear speakers.
We had no problems at all with dropped connection between intercoms and, in fact, this is rare with modern intercoms, so something may be wrong with your system.
---
From "J.B." (April 2012): "Just returned from a 15 day ride. My daughter and I rode 7 hour days. All the time we constantly talked on the F5 intercoms.
My unit also was paired to a zumo 550 for navigation.
My daughter's unit was also paired to her droid for stereo music (she didn't get to listen to it much).
At the end of the day the units were going strong. Recharge at the motel was fast. Distance between bikes was never an issue. I once circled a residential city block and we still had good reception on intercom.
Ten hour days of riding with just the GPS talking didn't use up much battery either. Recharge time was just minutes. Intercom communication was always loud and clear.
Bucking a strong headwind and going the max on the super slab (total wind speed more than the century mark) pushed the F5's volume to non-intelligible with the GPS doing the talking.
One day I rode with a friend that didn't have an intercom and it was a real pain to communicate."
---
From "T.R." (March 2012):  "I'm a long time user of the F4 and have been really pleased with its performance.
I see from your review of the F5 that the manufacture appears to have addressed one of the two design flaws with the F4: the connection of the speaker/mic cord to the head unit.
Numerous F4 owners including me have had replace the speaker/mic assembly due to failure of an internal wire right at the connection that goes into the bottom of the F4.
This results in the loss of sound in one or both speakers. I hope this new style connection on the back of the F5 is more robust.
The second serious flaw with the F4 is the plastic retaining clip on the helmet mount (both clip on and stick on style mounts).
I've broken 3 of these despite being extremely gentle when removing the head unit from my helmet. I suspect from looking at the pictures that the F5 mount has the same problem.
If you have the opportunity to pass this feedback along to the manufacture, please do so."
---
From "J.L.W." (March 2012):  "OK, I admit it, I'm an old fuddy duddy.
It seems to me, however, that a motorcycle is one of the few places in the world where you can escape cell phones, i-pods and be alone to enjoy the ride, the scenery and even your own thoughts.
When I put on my helmet the world goes away which is exactly how I like it.
If I wanted to talk to other people. I'd drive a car. And, no, I don't always ride alone.
In fact, my usual Sunday ride includes 3 other guys and somehow we manage to have a good time without cell phones, intercoms etc.
If someone needs more entertainment than the ride itself provides, they've got some serious introspection that is way overdue."
Other WebBikeWorld Intercom Posts