Indian Motorcycle has revealed an Indian Scout transformed into an historic hillclimb bike called the Black Hills Beast.
It continues a strong tradition of Indian and Victory motorcycles, both of the Polaris group, in building concept motorcycles.
However, don't get too excited about this becoming a production bike as few of the outlandish concepts these manufacturers have revealed have made it into production.
This concept was built by Doug Siddens and Nick Jaquez of online Indian Motorcycle forum IndianMotorcycles.net.
The build started relatively easily with the addition of several new Indian Motorcycle accessories including the 1920 Solo Saddle Seat and a set of the accessory laced wheels.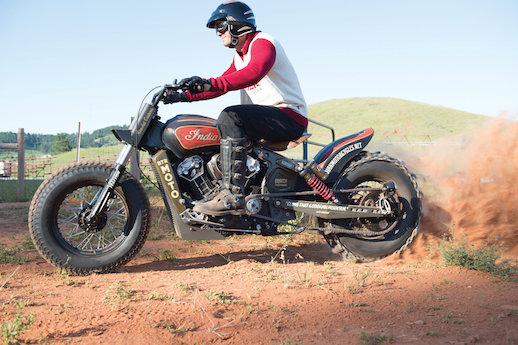 Custom details that set the bike apart include an elongated custom swingarm, custom handlebar, custom radiator shroud and front number plate with an LED headlight.
Instead of belt drive, it comes with chain drive and chains also adorn the rear tyre for maximum grip when charging up a hill.
"Building a hill climber seemed easy enough, but it posed some unique challenges," Says Doug. "Enthusiasts know what a hill climber looks like – so some of the mods were logical – but scaling them to fit the new Scout was the key and took a lot of work and planning."
The bike was unveiled last month at the 75th anniversary of the Sturgis Motorcycle Rally and the name is a reference to the nearby Black Hills with their famed motorcycle roads.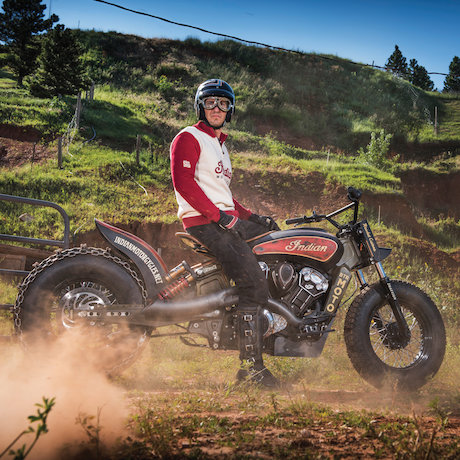 Additional support for the Indian Scout Black Hills Beast came from Aeromach (Floorboards and heel shifter), Dobeck Performance (Engine tuning), Fox Shocks (Suspension), RPW USA (Exhaust), Starr Studios (Paint), Ricochet Customs (Powder coating), BTR Moto (Swingarm and tire chain), Zippers performance (Chain Drive Conversion) and Traxxion Dynamics (Front Suspension).
Indian Motorcycle will continue to play with this gritty work of art through upcoming celebrations of custom Scout motorcycles, as part of the Scout Custom Series launched last year with the Wall of Death Scout, and now including the USO Scout and the Black Bullet Scout inspired by land speed racing.