Dan Harwood has had a couple of big surprises in his life recently – the first was discovering he had testicular cancer and the second is finding Mark Holden at his front door telling him he's just won an Indian Chief Vintage.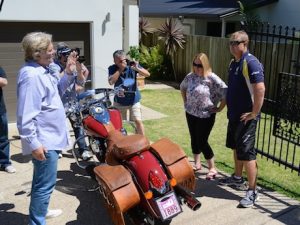 The 34-year-old Redcliffe father of three won the Indian in the Blue September competition to raise awareness of cancer in males. He had no idea he was even entered. His wife, Renee, had entered the competition for him. "I thought it would be the ultimate pick-me-up for him," she says.
Dan found a lump about a month. He was diagnosed with testicular cancer and has had surgery. "I've had one dose of chemo and I reckon I should be fine," he says.
Blue September ambassador Mark Holden, who has also battled cancer, says Dan's early detection of his cancer was critical to his survival. "That's the message of Blue September. Men don't tend to take care of their bodies and notice unusual lumps," he says. "Dan has saved his own life with early detection.
"It's great to see an Aussie battler, a family man who has had his struggles get some good luck at last," says the former Australian Idol judge and now Dancing with the Stars contestant.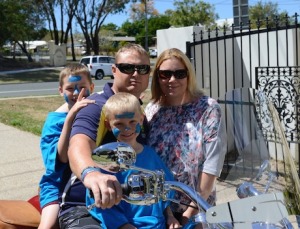 Dan says he had always wanted an Indian Chief since the brand was revived by Polaris last year. "I'm a bit shocked at the moment," he says. "I don't know which colour I'll pick yet. Let me think about it. The first place I'll take it is for a ride down by the sea. That would be awesome."
Dan has been riding for about 10 years and has progressed from dirt bikes to a 2001 Suzuki Bandit. "But ever since Indian came back out I've wanted to get one," he says.
Indian Motorcycles, a major sponsor of Blue September, donated the 2014 Indian Chief Vintage motorcycle worth $31,490. Entrants had to donate at least $10 to Blue September and write in 25 words or less why they deserved to win the bike.
Blue September, which has raised more than $3million since its inception six years ago, raises funds for Australian Prostate Cancer Research and Australian Cancer Research Foundation.