World motorcycle traveller Jacob Laukaitis has compiled the above video of a 850km motorbike trip across three states in India with a complete stranger he met on Facebook during a motorcycle trip in the Balkans.
We featured another video by Jacob last year after he spent several months riding around Bali.
The 22-year-old from Chins calls himself a "digital nomad" who who can work anywhere if a computer and Wi-Fi connection are available.
"This allows me to travel across the world nine to 10 months a year which, in the last two years, allowed me to visit over 30 different countries," he says.
Every year he and his co-workers at ChameleonJohn.com – an online coupons company he co-founded some time ago – go on an exotic team-building trip.
This time they headed to India.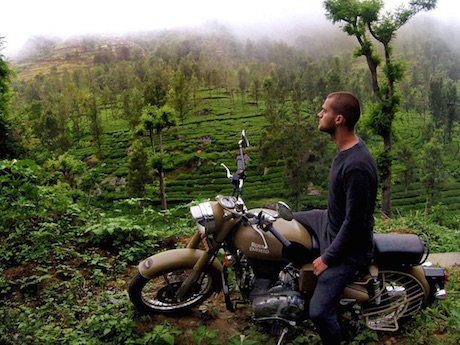 "We went to one of the most beautiful hill stations in South India called Ooty," he says.
His Facebook friend rode pillion and Jacob says he "enjoyed talking way more than looking at the road".
Jacob doesn't own any bikes, preferring to rent for each trip.
"I've only ever bought one motorbike for my 8000km trip around the Balkans simply because there was no good way to rent it for a trip that big. It was a Honda Dominator NX650, 1992."