Jacob Laukaitis spent a month exploring Bali on a motorcycle and declares it is a paradise for riding. Watch his fantastic video as evidence.
While one Aussie tourist dies every nine days in Bali, typically in a drunken scooter crashes, Lithuanian-born Jacob declares he didn't die once!
"I had the experience of a lifetime: trekked to the highest peak on the island, motorbiked more than 1000km and explored a massive abandoned hotel," he says.
The 21-year-old calls himself a "digital nomad" who who can work anywhere if a computer and Wi-Fi connection are available.
"This allows me to travel across the world nine to 10 months a year which, in the last two years, allowed me to visit over 30 different countries," he says.
Every year he and his co-workers at ChameleonJohn.com – an online coupons company he co-founded some time ago – go on an exotic team-building trip. Since they had already been to Koh Samui, Thailand, they decided to go to Bali.
"As for the bikes, I actually rented two different motorbikes and none of them were branded," he says.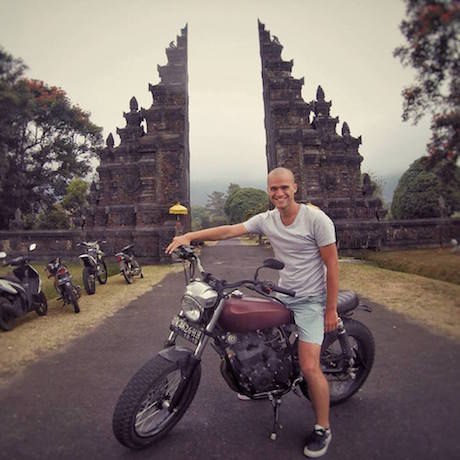 "It seems that in Bali everybody has either a scooter or an antique custom motorbike with massive exhaust fumes. Mine were only 200cc, no rear mirrors, no speedometer or even fuel meter. But the sound and the feel were amazing.
"There weren't that many costs involved apart from the rent itself, which roughly cost me $20-$25 a day.  So whatever I had to spend on repair, I'd be paid back in full."
To ride a bike in Indonesia you need to have an international driver's licence.
"I didn't have it and the police didn't stop me even once throughout the whole month. One way or the other, you'd have to pay anywhere from $10 to $40-50 and be off.
Jacob warns that road rules in Bali are nearly non-existent.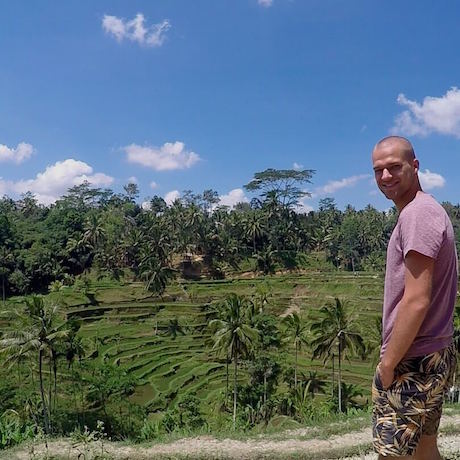 "People don't care about traffic lights, road lines or anything else. They even ride on pavements," he says.
"Essentially if you see a place where you can ride – you go for it.
"For a lot of first-time riders in Asia the road conditions in Bali seem to be super dangerous. However, I've got more than two years of driving experience in about seven Asian countries, so for me the roads in Bali are very good. Even though the traffic is very hectic, people drive relatively slowly and quite carefully, so I wouldn't say it's very dangerous.
Jacob doesn't own any bikes; he prefers to rent.
"I've only ever bought one motorbike for my 8000km trip around the Balkans simply because there was no good way to rent it for a trip that big. It was a Honda Dominator NX650, 1992."