Riders will be able to import a new motorcycle or other vehicle from 2018 without having to deal with a dealer so long as the model is not already imported into Australia.
The Federal Chamber of Automotive Industries (FCAI) has warned that the Federal Government move will take out the "buyer beware" sentiment, leaving motorists exposed to "high-risk situations".
On the other hand, it could drive down prices of new vehicles by creating tougher competition and encourage people to buy more modern, efficient vehicles, with up-to-date safety technology.
Private low-volume importing of motor vehicles was popular a few years ago when the Aussie dollar was high, but has dropped off with the massive decline in the exchange rate making it uneconomical.
READ HOW TO IMPORT A MOTORCYCLE
So far there is nothing definite, especially regarding motorcycles, but quads are not eligible for import.
However people will only be able to import vehicles that are not already imported by official distributors, have comparable standards to Australia, are no more than 12 months old and have no more than 500km on the odometer.
They will also be able to import only one vehicle every two years.
The Department of Infrastructure and Regional Development will make information on the process available on its website, and this will include buyer purchase coverage for warranty and safety recalls.
The Australian Government will also amend the Customs Tariff Act 1995 to remove the $12,000 special duty on imported used vehicles from 2018.
While cars are restricted to countries that have comparable standards for right-hand drive, there would be no such restriction for motorcycles which have universal controls.
However, they may still require some modifications, in particular lights, speedometers (from imperial to metric), exhausts and number plate holders. Specialist companies such as Queensland Imports handle these compliance issues, as well as various government taxes.
Together with freight charges, that could make importing new motorcycles uneconomical. In fact, they could end up costing more than bought locally.
And importers can expect little support from local distributors when it comes to safety recalls and warranties.
So, rather than new vehicles, importers are expected to target expensive, limited-edition, exotic, rare, classic, collectible and special-purpose vehicles.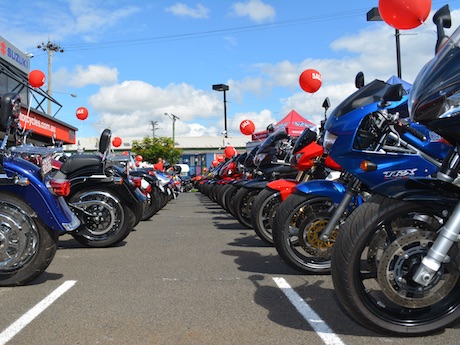 FCAI warning
FCAI Chief Executive Tony Weber says consumers are offered "the highest possible level of consumer protection when it comes to purchasing a new motor vehicle through an Australian dealership".
"Brands selling in this country make substantial investments in Australia by way of dealerships, workshops, technology and training to support and service their products. This means consumers can be certain their vehicles can be serviced and repaired appropriately, and that recalls are captured so consumers are informed if something needs to be fixed.
"This system is also underpinned by Australian Consumer Law."
He says the Government failed to acknowledge that Australians who personally import a vehicle made for another country may end up with a "vehicle that does not meet their needs or operate as required in Australian driving conditions".
Meanwhile, the FCAI supports the closer harmonisation of ADRs with international standards and is calling on the government to commit more resources to hasten their completion.
"The best way to continue to deliver a greater range of choice in new cars and motorcycles is to accelerate the removal of unique regulatory standards and administration," Tony says.
"If the Government is so concerned about car affordability, it should look at the taxes and other government charges that make up around 20% of the price of new cars in Australia." The same is true for motorcycles.