IMC Camos BTS 300 Bluetooth Intercom Review Summary
IMC Camos BTS 300 Bluetooth Intercom Image Gallery
If Santa Claus was remiss this year and you are still looking for a bright, shiny, really useful toy (tool) to add to your motorcycling inventory, the IMC Camos BTS 300 might be just the thing…
A new design and engineering effort, the BTS 300 is the premier Bluetooth system offering from IMC Camos and it was worth the wait.
Seemingly complex, in reality it is easy to configure and use. It has tremendous flexibility, versatility and potential.
While a few issues remain, the Bluetooth system yardstick has once again been moved well along with the release of the BTS 300.
The availability of supporting Bluetooth adapters that really enhance the system is just icing on the proverbial cake.
First, The Rules
For those who have not been following the wBW trail of Bluetooth Intercom Reviews, this is the second in a recent ongoing series of articles that started with the Midland BT2 system.
There have been some real changes and advancements made to Bluetooth systems and wBW will be there to keep you informed – no gimmicks, no tradeoffs, just the real deal.
The tried and true criteria — form, fit and function — will always be considered, assessed and rated.
For the wBW evaluations, recognized categories such as packaging/presentation, design, execution, features, setup, configuration options, performance, reliability, maintenance and support, cost and value will also be used.
Adding the BTS 300 system into the evaluation queue once again opens up new territory to explore given some of the unique engineering, design and functional features found in in Bluetooth motorcycle intercom systems.
Ever anxious to explore the obvious and the not so obvious of every system, the evaluations have been ongoing even though winter has now encroached on fall's territory.
So with the really good riding weather now behind us for a couple of months up here in the Great White North, a week-long escape to the Blue Ridge area of Virginia over Christmas provided the means to resume riding and thus continue evaluating all of the systems on hand.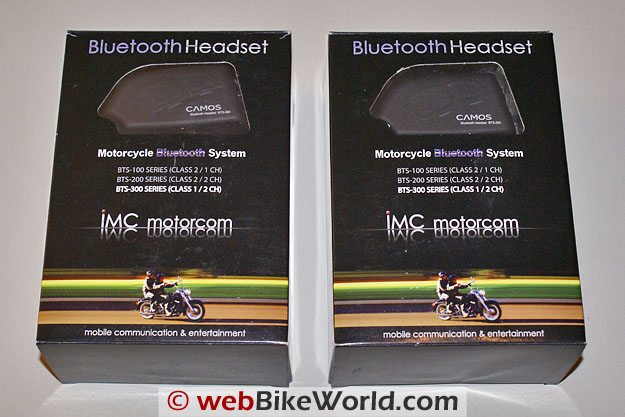 Background
To say that the original webBikeWorld IMC Camos BHS-600 review, published in September of 2007, invoked a lot of comments and feedback would be a real understatement.
A wealth of gripes, constructive criticism and technical, configuration and functional information can all be gleaned from the Owner Comments section in that review.
The BHS-600 was obviously not perceived or received positively by many, at least initially, and many users seem to have experienced the "one step forward, two steps back" syndrome. In examining many communication systems, including those which are Bluetooth-based, this user experience situation is not unique and continues to exist.
Time marches on however and as we charge into 2009, the motorcycle communications and Bluetooth market segments continue to expand.
The technology evolves and its implementation allows a wide host of features and capabilities to be incorporated, and retailers are then able to present multiple iterations and improved products at very competitive and attractive prices.
Keeping in mind the original article, some say that a good offence makes for a good defence…
Enter the IMC Camos BTS 300 system, available in two variants – the standard BTS 300 for full-face, clip or three-quarter style helmets and the BTS 300H that is used with half- or shorty-style helmets.
According to the marketing material, the IMC Camos 300 features an improved case design, larger buttons and an improved headset design. Configuration, including pairing, is touted to be both easier to accomplish and more logical, taking only seconds.
A large mute button makes it easy to mute the music and/or the intercom when conditions call for silence.
This totally new model comes courtesy of IMC GmbH, located in northern Germany. The company specializes in high quality mobile entertainment and communication products, with a number of international partners. The BTS 300 system falls under their MIT/MIP series of intercoms.
A well established entity, IMC has a pretty substantial list of worldwide affiliates, including the US and Canada, that offer up their products. Benchmark Helmets in Newport, California provided the components used for this evaluation (see Summary Table below).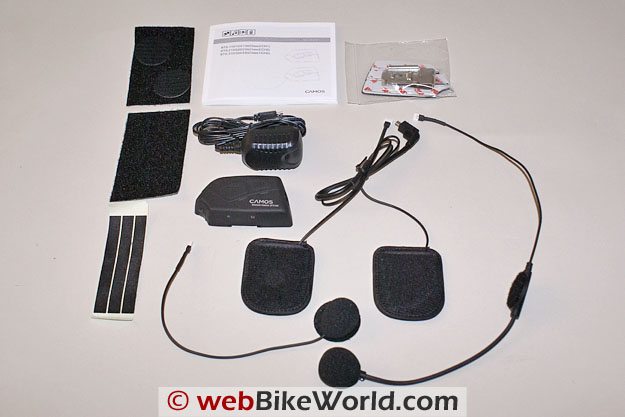 The Chase Is On
Getting the package from the guy in brown was its own adventure last fall. I had returned from an off-road ride later than expected (you know how it is) and found the yellow delivery slip stuck on the door – drats.
As the most expedient way to get delivery that day was to track the vehicle down, that is what was done. They have a schedule, I have persistence and the GS Adventure has plenty of cargo space.
Inside the well-packed box were four kits: two BTS 300 systems, a CAMOS Bluetooth 2.0 BTA-R that supports 2-way radio and 3.5mm audio and, a CAMOS wiREVO bundle containing a S300 Bluetooth stereo headset and a D1000 Bluetooth stereo dongle.
While the urge to tackle everything at once was strong, the BTS 300 system had to take priority.
Although as this whole thing progressed, the other pieces were brought in to play anyway in order to evaluate other peripherals and allow concurrent performance evaluations on these components. The Bluetooth adapter kits are covered in more detail in a companion piece.
Each BTS 300 box contains a Bluetooth module; an AC charger with a North American plug; one micro-USB headset with dual stereo speakers and two microphones.
The mics include one boom and one soft wire suitable for open, flip or full face helmet use.
Also included are two mounting brackets: one adhesive and one clip style; an instruction manual; and, an accessory package to help in mounting the systems.
With a long list of features, the IMC Camos BTS 300 Bluetooth system is pretty much a complete package. Bluetooth version 2 based, the system supports headset, hands-free and A2DP protocols and provides high quality stereo output.
Three simultaneous connections: stereo music, cell phone connectivity and intercom can be made.
This level of connectivity is facilitated by using two discrete Bluetooth channels operating at Class 1 power (100mW). Channel One provides for the operation of cell, GPS and 2-way radio devices on an interrupt priority basis with Channel Two providing a duplex intercom with a claimed rider to rider range of up to 500 metres.
The Tour
The Bluetooth 300 module has its own unique angular shape but is constructed like many others – a hard housing with a tactile rubber-like coating or 'skin' for cushioning, vibration control and resisting the elements.
With all of the controls operated by pressure through the outer skin and with the mini-USB port as the only opening, the unit is well sealed even with the headset plug inserted.
So the claim that the module is waterproof is likely quite valid — although it has not been through that particular test yet.
Six tactile pressure controls, identified as 'keys' are arrayed on the top, face and bottom of the module. While the keys are logically grouped and positioned for easy access, their placement can pose some challenges. With six input points, the user has to be careful just where the fingers are placed when operating or handling the module.
On top are the "-" and "+" keys, used for turning Channel 1 and Channel 2 respectively that provide on/off, pairing and volume control.
The two large face controls are the 'T' or talk/redial key and the 'M' or mute key that allows both channels to be selectively muted – a valuable feature if audio faculties need to be directed to other sources, such as emergency traffic.
The two bottom controls, voted the most likely to be inadvertently pushed, are the 'R' key which resets the system and the 'M' key, used for setting one module as the lead or 'Master' mode on Channel 2. So guess what this means? No more dip switches!
Getting Started
An observation made during previous wBW articles regarding the Camos systems is still valid. The BTS 300 system is more complex than most, especially given six discrete input keys and, the instructions are (still) poorly written/translated with lots of spelling errors…logic and process is sometimes hard to follow.
Although many will argue the point, complex designs should not result in complex or hard-to-understand user instructions. With an ever-increasing global market, it is important (read crucial) to have well-written and easily understood instructions for any product, for many reasons.
The small pocket-size Instruction Manual (that bore the marks of recent revisions) was read carefully at least once, then for a second time while actually walking through the system for familiarization, which really served to identify many of the changes not captured or updated in the kit manual.
A better source of information is the IMC website (see below).
There are some other related documents that might be useful, but downloading the three page BTS-200 / BTS-300 Quick Start Guide is a good choice. It is better written than most of the stuff, easy to use and worth keeping handy.
Installation is simple. The two piece headset harness gets fitted inside the cheek-pad pieces of the much-used and test-abused Arai XD helmets with a microphone of each type mounted up in each helmet and plugged into the headset harness, which itself is then connected to the module via the mini-USB port, which also doubles as the charging port.
Preferring a larger clamp style mounting bracket, I was skeptical of how well the spring clip mount would work. In reality, this simple tensile metal bracket is quite flexible but deceivingly functional. It should provide the needed support and security on a wide variety of helmets.
To mount the system, slip the clip between the outer shell and the liner and slide the main module over the detents – the pressure fit is quite solid. On my XD helmet the clip and module assembly still seemed a bit loose and it could be wiggled a bit. Sensitive to comments made in the original BHS-600 article, I was looking to make it a bit more secure.
Following is a series of 3 photos detailing the installation: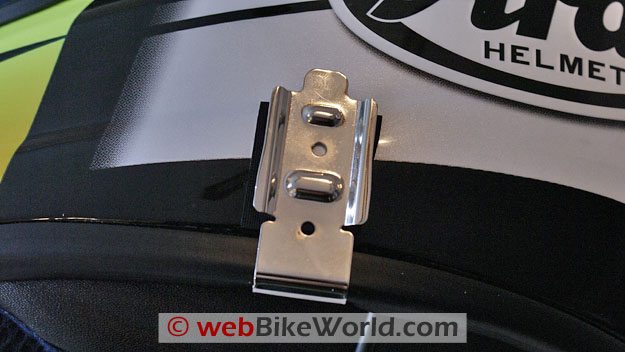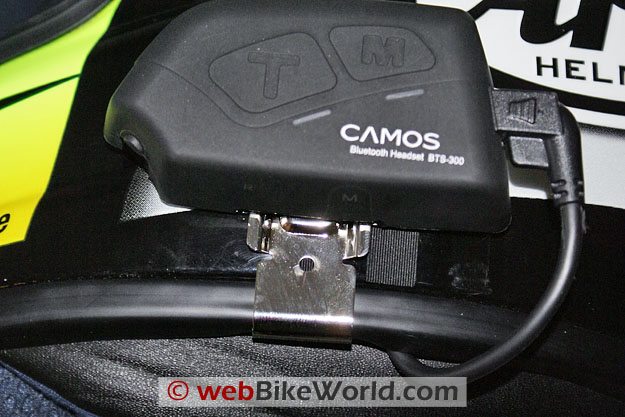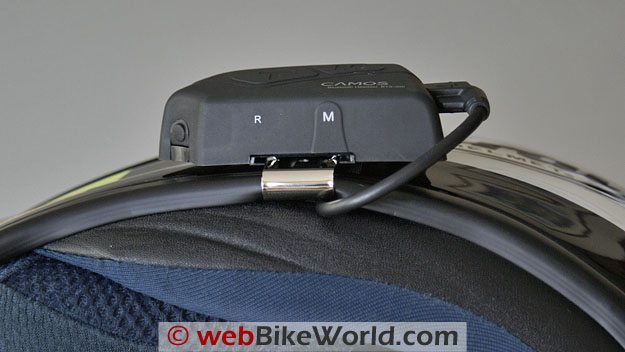 Two of the small anti-skid strips supplied in the accessory bag got applied to the appropriate spot on the shell and the clip bracket slide into place over them. They helped a fair bit, but the assembly would still move if pushed or bumped.
Wanting to keep it totally fixed, a small square of double sided tape was used between the shell and the clip.
This simple patch did the trick. Over the course of almost two months the BTS 300 has not moved out of place, unless done on purpose.
Curiously, the assembly on the other XD worked fine just using the clip and the anti-skid strips. The other advantage of using these strips is that they cushion the assembly and protect the shell from the clip.
If a more permanent fixture is desired or needed, the adhesive plate bracket can be mounted to the helmet directly and the module slide onto that plate. Just be sure you know exactly where the mount with its strong adhesive needs to be positioned before exercising muscle pressure.
A bit chunkier than most other Bluetooth helmet systems, the module is unobtrusive and sits above the lower edge of the helmet. So positioned it does not interfere with riding gear, especially now that heavier outer clothing is being worn. Even the L-shaped mini-USB connector is out of the way on the back end.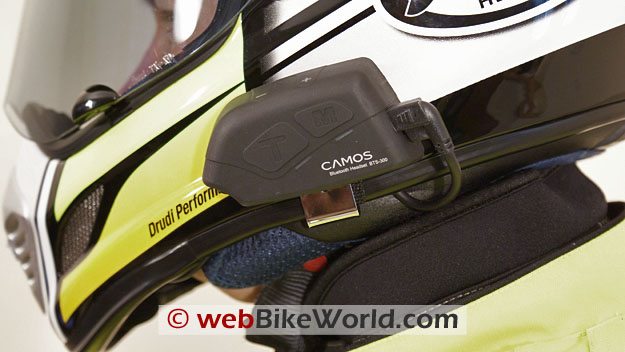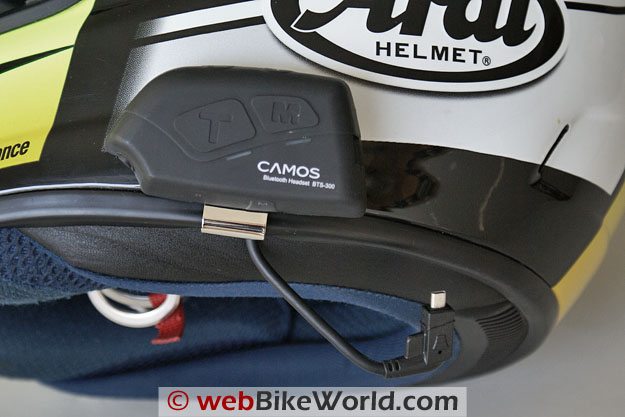 On the Road
In terms of function, the BTS 300 is an excellent system, although not without one or two weaknesses described below. Having said this, and in defense of the BTS 300 though, once the system is mounted up, its functions clearly understood, and (said) limitations factored in, there is little to complain about.
The ability to individually activate Channel 1 (Bluetooth peripherals) and/or Channel 2 (Intercom) is a design feature that I really appreciate. When riding alone only Channel 1 need be turned on, with resulting power consumption savings – I was able to use the BTS 300 all day (7+ hours) in this mode.
For rider to rider or rider and passenger use, Channel 2 is turned on and typically after a minute or two the two systems will pair up and again typically, the Intercom will be active. I have to say typically here because sometimes the Intercom link would not enable until Channel 2 on one or both of the systems got restarted.
The VOX feature itself is a little frustrating. The two systems used for the evaluation have a tendency to cut out in mid-sentence under some circumstances.
The intercom works well while riding at highway speeds or in other environments where the noise levels are high, but at low speeds or when just talking at a stop, active sessions would end abruptly.
While I appreciate the low audio tone set and the termination tone that sounds five seconds before the Intercom mutes, it is the timing of it all that gets frustrating. According to the manual the VOX should only mute after 30 seconds of inactivity or if input levels drop below the threshold; that timing is irrelevant in this situation.
Adjusting the microphone sensitivity through its three discrete settings did help mitigate the issue somewhat in making it easier to trigger the VOX, a fact that has tradeoffs as well. I know that each system has to be used, understood and tailored for optimization, but being very familiar with VOX-based systems, this issue is a real puzzler
Distance wise, a clear voice link is provided between 100 and 150 metres (330-500 feet). Beyond that noise levels increase and audio becomes scratchy or breaks up completely. Only on one or two occasions were ranges in excess of 150 metres noted. As with the Midland system any little change in elevation or riding through built-up or forested areas takes its toll quickly.
By comparison the Interphone Intercom and Cardo scala-rider Q2 systems have far better range and work though virtually anything. I also suspect that both these systems are running slightly higher output power for the Intercom feature and have benefited from other output efficiency tweaks.
Audio inside the helmet is very good, bordering on excellent. The two speakers provide superb dynamic range and when using a higher power output peripheral, the quality becomes even more evident. With ear protection in place I did find myself trying to get more out of the '+' volume button and only getting the 'maximum setting' tone.
A set of sponge spacers served to push the speakers out closer to the ears which pretty much resolved my volume concern. In quieter environments there is more than enough volume to get the helmet, and its occupant, moving (mentally) to the music.
Just remember that when working through these fitment activities to leave sufficient space for the all important ear protection devices. Depending on what type of protection is used, 3-5 mm of clearance or more might be needed.
While close to an excellent rating, the BTS 300 headset is not on par with the AKE High-Sound headset used for the AKE systems evaluated earlier this year (wired or wireless) which is my current benchmark for superior helmet audio. But, the BTS headset is close — very close, at least to my ears.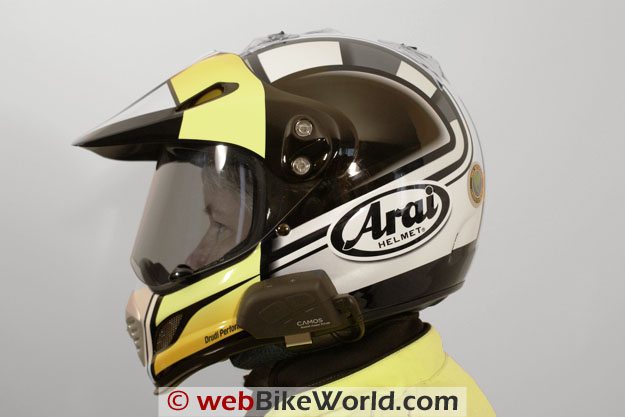 Peripheral Plays – The Overview
The typical device mix used for this evaluation included an HTC Touch Bluetooth-enabled PDA device, one or both of the provided Bluetooth Adapters (BTAs) and a host of media devices, large and small. Between the wired and wireless devices on hand there is no shortage of options or lack of flexibility.
Channel 1 of the BTS 300 will support two 'simultaneous' device connections, but some care has to be taken so that the two devices are not using, or trying to use, the same Bluetooth profile at the same time. If the basic rules are followed regarding use of one A2DP compatible device and one hands-free or headset profile device, everything works fine.
In pairing up and using the HTC Touch for both wireless stereo and hands-free use, this pretty much takes over Channel 1, although it was still possible to add a second device, such as the zumo 550 GPS. However, the Garmin zumo audio cannot be enabled unless the hands-free profile on the HTC is disabled first.
In this configuration, a full A2DP stereo stream is provided from the HTC to the headset and if any audio is generated via the GPS output, the music will be muted and the priority stream from the GPS heard.
When this ends, the music stream will resume in about three seconds.
The two Bluetooth adapters provided are being heavily used with our two BTS 300 systems. Both act as stereo Bluetooth hosts for non-Bluetooth devices and one can be switched between mono and stereo for specific applications. This will all be described in Part II.
I have to admit that many long time GPS users, including zumo owners, have been well aware that adding a simple A2DP compliant Bluetooth adapter provides a wireless solution, but by the same token, there are just as many that don't. No excuse now.
Another example of the device's flexibility is its hosting of a Motorola FRS/GMRS radio to add a longer range, common radio capability to the BTS 300 system.
I was surprised by how smooth and how fast voice sessions are switched – virtually seamless with little delay at all.
It is worth noting that Bluetooth enabled personal radios are available in Europe, but typically not in North America. With this interface activated via Channel 1 and with the PTT switch from the kit mounted on the left hand control for thumb access, a longer range group communications capability is enabled.
Adding a common radio system to the mix provides great flexibility when moving from single, rider to rider and rider to 'n' modes. This feature, albeit using an optional device, is another big plus in my mind. I look forward to using this capability on a more regular basis, once another BTA interface kit for the other radio is acquired of course.
Going through all the other user features available with the BTS 300 system and companion Bluetooth devices would take a whole lot more space than the Editor will (ever) give me, so Part II details the individual configuration activities and system specifications, while a companion piece highlights the two Bluetooth adapters used.
The Bottom Line Ratings
Packaging: Very Good. Simple industry packing in small black boxes, everything is well packed and a manual of sorts is included with each kit. The manuals themselves detract from the overall kits due to poor grammar, spelling errors and incomplete sections.
Design: Excellent. A lot of thought, experience and I suspect feedback has been applied with good results. The only weak component part is the clip bracket – it could be a bit larger and stronger. A big plus is that most of the Camos components can all be charged with the adapter included with the BTS 300…a great feature for traveling.
Execution: Excellent. Look and feel of everything is first class, components are sturdy, connection points are well placed and connectors robust – everything has stood up very well so far. While the clip is a bit weak and should be stronger, it does keep the system in place.The system does not intrude on clothing being worn. Multiple controls make for a busy surface, but with some familiarization the four essential user keys are manipulated without difficulty wearing light to medium weight gloves.
Features: Excellent. The BTS 300 is a feature-rich system with common and unique capabilities that put it ahead of most systems on the market today. A dual channel system is just what I was hoping to see sooner rather than later.As an observation, if it had an input jack, like the Midland BT2 or scala-rider Q2 Multiset, and the ability to utilize Channel 2 as fully as Channel 1, it would be no contest.
Fit: Very Good. Outside of the clip bracket issue, there is virtually nothing else to complain about regarding fit and fitment of the system components. The BTS 300 has the least intrusive mounting profile of all the systems I have used or evaluated.
Setup and Configuration: Very Good. The only point that keeps the BTS 300 system from getting a higher rating is the documentation. Once the system is understood, it is extremely easy to configure and adjust, even though you still have to push some buttons.
Performance: Very Good to Excellent. There are some real performance pros and cons with the BTS 300 – I agonized over this one. If the maximum rider to rider link range was close to being realistic, if the VOX worked 100 percent (like so many other systems have achieved) and if the simultaneous connection feature worked seamlessly, this rating would have been far higher.Something that does rate an excellent is battery life – they just keep going and going, longer than the use times identified in the documentation. This is good – sustained performance with Bluetooth is closely tied to power levels, even acknowledging that power efficiencies are greatly improved with Bluetooth version 2.0.
Ease of Use: Excellent. Using the BTS 300 system on a daily basis is something that I can and will do readily. With a bit of practice in using the controls and learning to accept and thus work with some of the limitations identified, life with the BTS 300 is just fine. Go ahead – call me a moto-techno-geek.
Reliability: Very Good. Battery life is proving to be excellent, actually better than expected. What does bring this rating down is the (apparent) weakness of the VOX and/or sensitivity settings and overall connectivity of the Intercom capability.
Maintenance and Support: Very Good. Maintenance has been limited to charging the batteries, infrequently. A low battery alert will be provided by the LEDs and its status can also be checked by using a key sequence described in the manual.With detailed and timely support provided by Spencer at BenchMark Helmets and the Service and Support pages on the main IMC website, all my information requirements have been addressed.
Cost: Very Good. The IMC Camos products are not cheap. But in comparing design, construct, features and function, the higher purchase price is deemed to be worth it.
Value: Very Good. Even with the observations made and known limitations, the BTS 300 system represents very good value. Purchasing one or both of the Camos Bluetooth adapters as part of the purchase is a worthwhile investment that will pay dividends.
Conclusion
Has progress been made with the release of the BTS 300? Yes. Is there a lot of unexploited potential in this design? Yes. Do we have a perfect product? Not yet…
So, what is needed? Increased rider to rider range, a little more attention to VOX sensitivity and device switching and, the ability to use Channel 2 for other devices, like the BHS systems.
Depending on how much versatility you want and how much you use the intercom will largely dictate how good or bad performance of the BTS 300 is assessed by other users.
The BTS 300 system moves the yardsticks along in a big way, but whether it is the game winning play cheered by the crowd remains to be seen.
My bottom line: the IMC Camos BTS 300 is an excellent system that deserves serious attention. These systems are not being relegated to the shelf and they are being used.
Also In This Series:
▪ Part I: Camos BTS 300 Review
▪ Part II: Camos BTS 300 Configuration and Specs
▪ Part III: wiREVO BT Stereo Headset & Adapter Q&A
▪ Part IV: IMC Camos Bluetooth Adapter
w

BW

 Review: IMC Camos BTS 300
List Price (2009):  $279.95-$289.95
Review Date: January 2009
NOTE:
 The webBikeWorld evaluators wear properly fitted ear plugs for intercom evaluations. This is reflected in the opinions on sound quality and speaker volume. Your experience may differ. Always protect your hearing when riding a motorcycle (
more
).
Note:
 For informational use only. All material and photographs are Copyright © webWorld International, LLC since 2000. All rights reserved. See the webBikeWorld® 
Site Info page
. Product specifications, features and details may change or differ from our descriptions. Always check before purchasing. Read the
Terms and Conditions
!
Owner Comments and Feedback
---
From "L.D." (1/10): "In your Camos Bluetooth review, Part II: BTS 300 System Configuration Options, in the section "Configuration Seven – BTS 300 and wiREVO Bluetooth Adapter and CAMOS Bluetooth Adapter", you indicate it is possible the pair both the Camos BTA with GMRS radio plus the wiREVO BTA, connected to a Zumo with Bluetooth disabled for audio out, on the BTS 300 channel 1.
I have the BTS 300 and will get the adapters to do this if it's really functional. As lead rider that setup would be perfect for getting GPS instructions then informing the group on GMRS.
The catch is: In the Configuration 6 section of the same article it seems to indicate that if the Camos BTA using GMRS is on channel 1 of the BTS 300 no additional pairing to that channel is allowed.
Bluetooth communication is a tough nut to crack and retailers of these system are little help. I appreciate it if you can clear up my misunderstanding and any advice you offer. My needs are relatively simple so I'm trying to avoid the complexity of a hub based solution."
HBC's Reply: Thanks for the query and your observations. In Configuration Six (BTS 300 With CAMOS Radio and Stereo Bluetooth Adapter), I stated "If no other devices are needed on Channel 1, then the stereo/mono BTA and a paired radio, along with the supplied PTT switch can be used for longer range and group communications while still maintaining the Intercom on Channel 2."
While hoping to provide a more totally positive solution to your situation, I must admit that the limitation identified under Configuration Six and stated above, whereby Channel One is totally occupied/dedicated to a functioning Bluetooth Adapter hosting a transceiver (ie – FRS/GMRS radio) is reality.
This prevents a second device like a GPS (either paired directly or via another Bluetooth Adapter) from being paired and used on Channel One.
But while Configuration Six stated the limitation, the wording in Configuration Seven did indeed appear to provide options in using one or two Bluetooth Adapters to make things work. Unfortunately I did not specifically reiterate the limitation(s) identified under the previous configuration. My second paragraph was meant to review the singular options possible in using the system with or without Bluetooth adapters.
While I continue to test other configurations (tried it all again this evening but even being in a new year hasn't brought about success). I have had additional information provided by the distributor but no other solution to this issue has been offered up or found (yet).
I have also been informed on separate occasions that an adapter box of some sort will likely be added as an option, although I do know that further delay was incurred this summer due to technical/production issues. This switch/interface/control module could or should provide the solution both you and I, among others, are seeking for this system.
So, to the best of my knowledge and given my testing to this point, unless you have a passenger who is paired to the GPS for listening/monitoring and passes information along via the Intercom, allowing you to pass that information along to others via a common radio, what you are hoping to do with one BTS-300 cannot be done, at least right now.
Having multiple wireless/Bluetooth channels available for mono/stereo pairings provides flexibility, but in this case, changes made to the BTS-300 over older versions actually seem to have diminished overall flexibility by not allowing both Channel One and Two to be configured as desired, which could/would provide a solution of sorts for your requirements (and mine).
I have just sent another query off to the distributor regarding possible changes or new options that might be forthcoming. I will pass any updates along to the Editor for posting.
---
From "B.D." (12/09): "I bought two BTS-300 being impressed by the features they suppose to have. In theory the features looks great but in practice the story is different.
I was using the two units during a 7k trip trough Europe to connect to my phone for music, to GPS and to chat to the pillion. We have seen a lot of problems, some very annoying, some less:
1. The period the connection is established when either driver or pillion speaks and the vox establishes the connection is 7-8seconds, too much for us.
2. If listening to music through 1st channel and interrupted by the pillion speaking, the music is interrupted which is fine but the STOP command is sent to the player (my phone Nokia 8800 or Nokia 5800). When the conversation stops and the music starts again the problems is that the music track starts from the beginning. This is very annoying since I end-up listening the same track a lot of times. Instead of STOP command the BTS-300 should send PAUSE command to the phone.
3. I miss the GPS instructions because the unit is activated too late. I could only hear only leftovers.
4. While listening to music played from the phone (A2DP) and receiving a phone call, the volume locks up so that after terminating the call I'm unable to adjust the volume anymore. Only restarting the channel will make the volume usable again.
5. Various locking situations happen that can be solved only by repairing the units again and again.
The only good point in using these units is listening to music which is at a very good stereo quality. Me and my wife actually ended up in switching off the intercom and using the units for only listening to music.
I bought also wiRevo D1000 adapter (review) (very good) and wiRevo A100 (ipod adapter – also very good) but connecting sound and GPS on both BTS-300 units together with intercom between them did not work as presented by specs.
I am a SW engineer happening to work in the Bluetooth area and I consider the quality of the product very poor. It reacts very slow and lacks testing in real conditions. I'm still expecting a good product that can be used by motorcyclists with minimum effort and that will work as presented by manual."
---
From "T.H." (7/09): "Got a pair of Camos BTS-300. I use it as a wireless rider-to-passenger intercom and as a headset for my cell phone and navigator. The specs look promising, but in real use the system was a huge disappointment.
First, the VOX doesn't work as it should. When the line cuts out, it takes a minimum of 4 (four) seconds to get the line open again. The beep sound from the VOX notifying the line will open soon is heard after the four seconds, not immediately when you shout to the mic.
The voice must be louder than what I feel natural, despite having the mic touching my lips. If the connection didn't wake up, you shout again and wait for another 4 or 5 seconds. It takes easily 3 rounds and 15 seconds to get the line open. How are we supposed to have any conversation over such a system? How can I warn someone about something over such a system?
To avoid this you must shout to other's ears something between 30 seconds to prevent the line from cutting out. This feels very stupid after 10 minutes or so. This is not the case in higher speeds since there's enough noise to keep the line alive. The VOX feature cannot be turned off for a permanent link. Using the intercom is too much about keeping the line alive, not about having conversation. Eventually we were totally frustrated and simply gave up. No intercom like this anymore, thanks.
Second, the 4 second delay affects the navigator instructions also. What you won't hear is the first 4 seconds unless the connection is already open. To test the navigator with my Camos, I put my navigator into my backpack, selected a destination and took a ride listening to the instructions. It didn't work. What I heard the most of the time was some leftovers of the sentences that weren't helpful at all.
Third, the mic in the BTS-300 isn't up to the job. It's noise cancelling capabilities are pretty much non-existing, picking up too much noise from the environment (like exhaust noise) and puts it on the line with some delay. It sounds really odd and makes difficult to hear what the other is saying. You want the line cut out after a while.
And forget about using the cell phone over this headset, your voice is badly messed up by the mic. It's possible to adjust the mic sensitivity, but I didn't see it really affecting anything.
Fourth, the connection to the navigator is overridden by the rider-to-passenger connection. It's either intercom or navigator instructions, not both.
To sum it up, this system's design and operation is far below what can be expected from such of a pricey system. I doubt if the design has been validated on the road at all.
The only good thing found so far is the stereo music sound quality. As a wireless headset for music this system is pretty good albeit far too expensive, but as an intercom or a headset for your navigator or cell phone it's not up to the job. Eventually after a week or so we got rid of the system and haven't looked back."
---
From "C.C." (6/09): "It appears the MotoSonic 700BH, MotoSonic BTS-100 and the Harley Davidson Road Tech Bluetooth 2.0 Helmet System are all cut from the same cloth. They function pretty much the same way, with the MotoSonic and HD versions looking more like the older Camos BHS600 but functioning similarly to the BTS-200.
To my knowledge, the MotoSonic BTS-100 is the HD unit. My best guess is that Camos BHS600 was version 1, the new MotoSonic and HD versions are version 2 and the latest Camos units are version 3. Interesting the HD Bluetooth dongle seems to be the same as the Camos unit and appears to be interchangeable.
Also they all use the same power system which I believe is a USB 8-Pin Mini B interface, but I haven't confirmed that yet. An interesting note is that the motosonicusa.com site has some very good video walkthroughs that applies to the Camos units. Not sure if it helps anyone, but was interesting to me."
---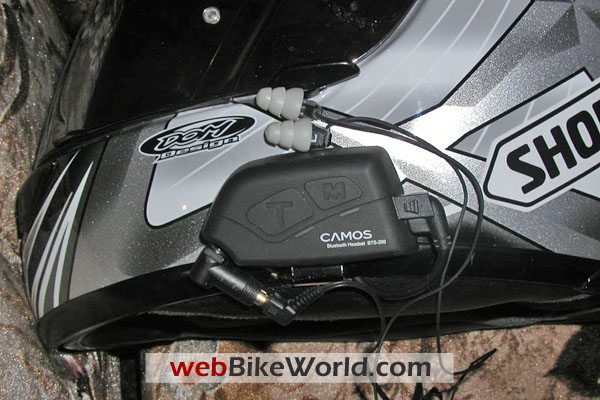 From "I.F." (2/09): "This is a reply to "T.Z." (below) (addressing the issue) about Camos not having a stereo jack for earbuds.
Here's what I did to my Camos BTS to be able to use an earbuds. It's not an easy mod, and I think IMC MUST make it standard!
I bought small 2.5mm 5 connectors jack (~$0.50). This type of jack wired properly disconnects the main speakers when an earbud's plug is inserted.
I disassembled Camos and found enough space to put the jack where the microphone (in "H" models) goes out of the unit (look at the attached pictures). I also precisely cut a small PCB board to tight fit in the available space and soldered the jack to it.
The biggest challenge is to find and cut the correct wires on the original Camos PCB board. They are extremely thin, and I don't recommend to do this mod, unless you have proper tools (very-very small low wattage soldering iron is a must!) and a lot of experience in electronic devices! Then, I used plenty of silicon to keep the unit waterproof.
Now, I have the helmet with the original speakers in it, which I use in town, and when I fit a highway I just plug my ER6i in Camos and enjoy a high quality sound! ER6i are very small and comfortable, so I can even wear them in the helmet with the original speakers."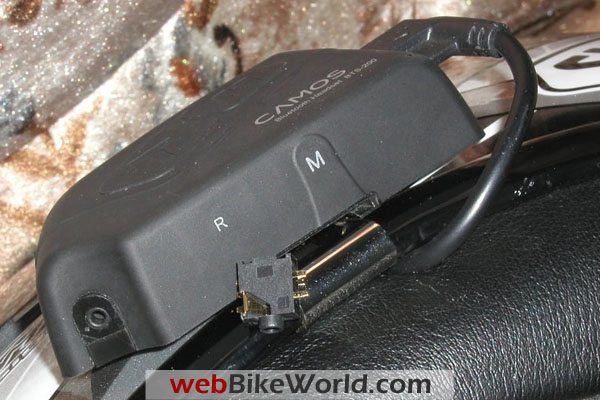 ---
From "T.Z" (2/09): "I am very interested in the Camos BTS 300 but there are two limitations that keep me from pulling the trigger. One is that there does not appears to be a way to plug in in-ear style headphones such as the Etymotics style earbuds.
I don't understand why IMC does not make a simple adapter for this by eliminating the speakers and providing a female 3.5 stereo jack instead. There are micro USB to 3.5 mm adapters available but I believe you would lose the microphone function. In any case I am sure that cutting off the speakers and wiring a 3.5 mm female adapter inline would resolve this issue.
My real question is this? How could I get both my Valentine1 Radar detector and my MP3 player to connect using one BTA adapter? I am under the impression that these two devices could be connected to a two into one adapter cable and the adapter cable could be connected to the WiRevo. Have you tried any configurations like this?"
HBC's Reply: 1. Use of personal in-ear headphones with BTS 300 – this is a real limitation of most BT systems and something that (could) be could easily addressed via an output port, or as an optional harness of sorts. I agree that a micro-USB to 3.5/2.5 adapter could be adopted and it know that some other users have done just this with other systems…and if done carefully, the microphone connection should still be useable.
2. I have not specifically tried running two wired devices via a 2-into-1 adapter that is plugged into the BTA, but I have used it on many occasions for wired systems. In theory it should work, but you would have to live with the (probable) concurrent audio streams and manage the devices manually: as far as the BTA is concerned it will just be streaming from one source.
3. I am still playing around with using two BTAs with the BTS 300, with each using different profiles, and that is a possible option, albeit more expensive.
4. Configurations – I will do the 2 into 1 configuration and see how it goes, but I don't see any problems with it, other than the concurrent inputs. For what it's worth, I believe that Camos is working on an interface box, which should address your situation.
5. On a related note, the Blue Virtu BAT-01 control module that I reviewed for wBW back in June 2008 does exactly what you want to do. Unfortunately, the product is no longer distributed in North America.
If you do the 2-into-1 test, let me know how you make out…I will send any configuration updates to the Editor for posting.
And for what its worth, as a broadcast to the Bluetooth manufacturers: these issues are requirements…
---
From "J.T." (2/09): "Great investigative articles; objective and coherent. I have some questions about configurations:
I ride with a pillion passenger and have a Zumo 550. So, my main requirements are: rider and passenger hearing the GPS voice prompts and MP3 and simultaneous intercom between rider and passenger.
From the review it looks like the BTS 300 supports both individually via two radio channels. I didn't see any mention of the passenger hearing the Zumo /MP3 nor simultaneous intercom. Can it do both?
I have looked into the J&M HS-BLU277EDR-FF system and it does support both at the same time. However, there is one Bluetooth unit on the rider helmet and a connection cable that ties the Bluetooth unit to a headset in the passenger helmet.
For my application that does the job but the downsides are:
The hard wire connection to the passenger helmet.
Stereo is not supported in the wireless connection. Monaural sound only.
No return policy from J&M. Meaning all sales are final. If there's a problem you eat $500.
They actually discourage the purchaser by mentioning poor performance and high price tag. Go figure."
HBC's Reply: (Some of this information is…in the owner's manual). However, it raises some other (frustrating issues) that many users are experiencing or have found between the older BHS models vis-a-vis the BTS 200 and 300 units. So, some of the information provided below might address those points as well.
1. Sharing of audio – the current BTS 300 allows each system user to have two devices configured on Channel 1 and have the Intercom on Channel 2, but audio from phones, music players and/or GPS peripherals can only be heard on the system they are directly connected with. In other words, no sharing of an audio stream.
2. From an individual system perspective, even with the 'simultaneous' connections, an incoming call on Channel 1 will cause any other stream on that channel to mute, as will the Intercom on Channel 2, if active. Once the Channel 1 VOX circuitry is silent, the Intercom will be available and the music (should) resume depending on the peripheral.
3. The BTS 300 has multi-channel capability in that it will support Channel 1 and Channel 2, but its flexibility is limited to the profiles being used (Wireless Stereo, Headset, Hands-Free, etc) and it is based on a single chip design rather than a true dual chip design of the older BHS models, which obviously had greater flexibility of use between the two channels.
Point to note – with the BTS 300, the BT Adapters will only work on Channel 1, whereas with the BHS models, either Channel could be configured to pair with a BTA.
4. Sharing audio, even on a directional basis (ie – from rider to passenger) is a great feature that can be overcome per se, and should be, other than wiring up the passenger as some earlier units did. There are one or two systems on the market that allow sharing in a limited way (I did get the Midland system to do it) but typically not without some limitations, again usually due to channelization.
5. For what its worth – I spend a fair bit of time chasing down various threads related to the Camos systems…a lot of users, especially those who also have or had the BHS systems, are frustrated at the relative lack of flexibility in the new BTS models.
To some degree I agree with them. But whether consumers are willing to pay for a (possibly) more expensive unit that has more aggressive engineering and additional features is always a consideration that the manufacturers and distributors must keep in mind. In reality as costs come down in some areas, it should allow 'more' to be built in.
6. I do know that IMC is working on a controller or input/output box of sorts that might be similar to the devices currently offered by AKE. This type of device will typically provide the ability to share audio from single sources…
The question posed is relatively black and white, but the overall issues are not. Hope this helps."
Other WebBikeWorld Intercom Posts