Strongarm 13 Jacket Review Summary
Strongarm Jacket Image Gallery
The Icon Strongarm 13 is a very cool "custom" jacket. It has over-the-top staying but it's actually very comfortable, includes vents and even armor! Don't get scared guys — the Strongarm 13 really is a men's jacket, but #13 was lucky for me. The jacket wasn't supposed to be mine, but it runs a touch small, as we discovered, so I inherited it!
I hadn't seen one before, but as soon as I tried it on, I couldn't resist the outrageous emblems sewn all over it and the "in your face" tough luck theme. I wonder if Icon is selling many of these, because the jacket doesn't seem to be marketed very well; we only discovered it after noodling around on the Icon website.
They probably had some made up as a custom item and it's still listed in the Icon catalog. And there are still some in their warehouse, so my guess is if you want one, act soon. Bit if you don't like the Strongarm 13, note that it also has a doppelgänger, the Strongarm 7.
It has a "Born to Win" green and four-leaf-cloverish good luck theme, so victims on either side of the Phickle Phinger of Phate can have their choice of fun. But motorcycles have that rebel reputation to live up to, and the Strongarm 13 suits my outlook on life.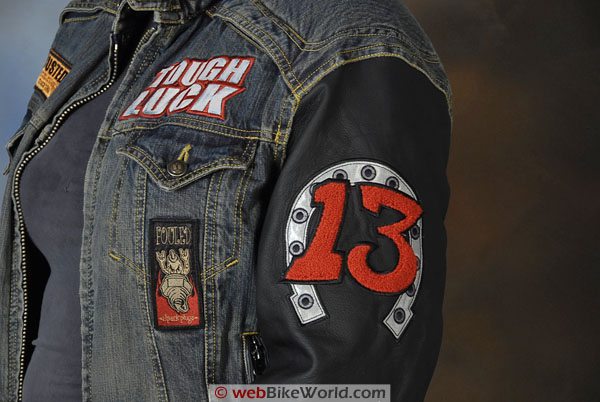 The Strongarm 13 Jacket
The jacket just looked like a lot of fun when I first saw the photos and I didn't know what to expect.
But it's actually a darn nice motorcycle jacket.
Perhaps not for everyone, surely, but it has leather sleeves, CE-approved shoulder and elbow armor, believe it or not, and a nice zip-out red vest liner with little imprinted devils for that final touch of nastiness.
This is as close to a custom piece of motorcycle apparel as you can get and still buy it from a retailer.
I don't know where they got all the little patches and emblems — they probably had them made up, and anyone who has done that knows it isn't cheap.
It's all 1950's beat-up oily peanut tank Panhead Sportster-looking.
Denim and leather! THE iconic fabrics of motorcycling!
And how about the big "13" in the horseshoe, along with the scared (scalded?) cat, embroidered right into the leather arms?  Too cool!
The denim is very heavy (Icon says 14 oz.), but it's been beaten and treated and "dirtied" to look like the vintage stuff.
The leather sleeves are 1.2 mm to 1.4 mm thick, and the elbow and shoulder armor is easily removable.
The jacket even has vents — two zippered vents in front and two zippered exhaust vents in the rear, although I'm not sure they do all that much.
Icon also says the shoulders use Aramid fibers for abrasion resistance, but I'm not sure where or how.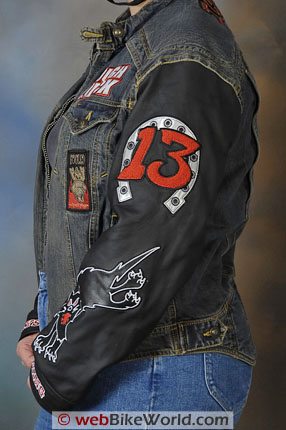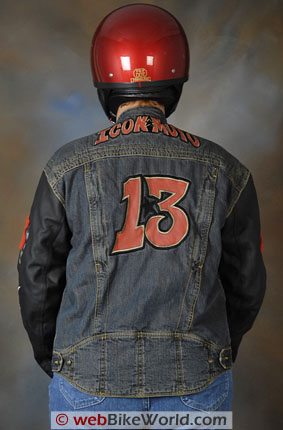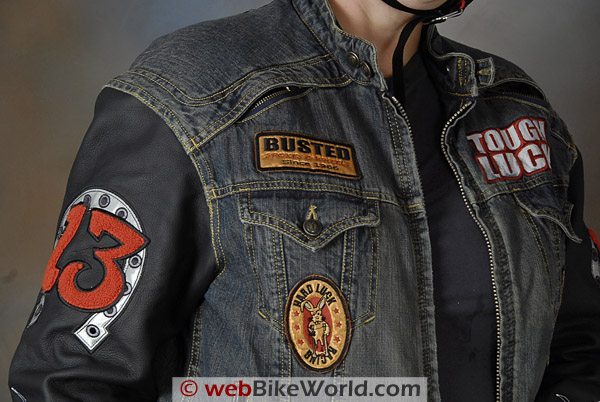 Sizing
Both the Strongarm 13 and Strongarm 7 come in a wide range of sizes, from S (chest 36/38, sleeve 31) to a big 4XL (chest 52/54, sleeve 37).
The price may seem a bit high at $275.00 list, but for the type of detailing and semi-custom embroidery and handwork, it really is worth it.
By the way, if you like the idea of this jacket but you aren't too crazy about the wild 7 or 13 graphics, Icon also has a plain Strongarm II with just the denim and leather sleeves.
They also have the Strongarm Fate, which is sort of in-between the two and also has a slightly different style, with quilted shoulder pads and some cool red skull graphics and "Icon Moto" that are laser etched up and down the sleeves.
Conclusion
While the Strongarm jacket series may not be for everyone, I think the Strongarm 13 is both very cool-looking and it's also a pretty decent motorcycle jacket for spring, summer and fall weather.
It brings together the past and present in a way that no other jacket can, that's for sure.
w

BW

 Review:  Icon Strongarm 13 Jacket
Available From: Icon
List Price (2008):  $275.00
Colors and Sizes:  S-4XL
Made In: Unknown
Review Date: May 2008
Note:
 For informational use only. All material and photographs are Copyright © webWorld International, LLC since 2000. All rights reserved. See the webBikeWorld® 
Site Info page
. Product specifications, features and details may change or differ from our descriptions. Always check before purchasing. Read the
Terms and Conditions
!
Owner Comments and Feedback
---
From "E" (August 2008):  "I also picked up a Strong Arm II jacket a while back so I could fit in with my Harley and 'outlaw' buddies.
I picked up the plain one without any graphics or logos, save for the small Icon rockers on the top of each sleeve and the small icon logo on the back of the neck.
The jacket is made surprisingly well considering it's price (about $100 on closeout).
I wore the jacket down to Key West one year (riding from New York) and stopped in at Daytona, I fit in much better than I would have were I wearing any of my 3/4-length touring jackets like my Belstaff Discovery or Olympia AST.
The jacket's thick leather sleeves would probably do very well in a get off….as long as they remain attached to the denim torso of the jacket.
The CE turtle shell armour seems very protective and not at all noticeable in the elbows and shoulders.
The vest liner is pretty useless and makes the jacket a bit cumbersome to put on and take off.  Luckily it flew out of my pannier when it's lid decided to open up on I-95 somewhere around Miami.
(To those nice gentlemen who stopped to make sure I was alright, I thank you and to the gentleman on the Ducati who noticed the liner fell out, stopped to pick it up and caught up to give it to me, not so much).
To those of you who are churchgoers the Strong Arm jacket has a small hidden pocket inside the left inner pocket with a small St. Christopher medallion…who for some reason lost his "sainthood".
Me, well I'm Jewish but its a nice little addition nonetheless, I made a keychain out of it and gave it to a Christian riding friend of mine.
Icon's sizing runs very, very small.  Order at least 1 size larger than normal, and if you have any resemblance of a gut (95% of us living here in the fast food nation) go up 2 sizes.
I ordered an XL and it was very tight, I went to an XXL. However my Olympia AST and Firstgear jackets are all L in size.  So keep this in mind when ordering.
I'm a nitpicker, sue me, the hue of the blue of the denim portion of the jacket is darker than a set of blue jeans but lighter than a set of "dark" blue jeans.
So if you care about the jacket matching your Levi's you'd be hard pressed to find a pair that will match, not even Icon's own blue denim pants match.  I'm sure the sun will lighten the hue a bit though.
The Strong Arm jacket can also be had in black denim as well.
The jacket offers a pair of nicely placed vents in the shoulders as well as an exhaust vent in the rear of the jacket.
Button the neck collar and lower the main zipper along with the shoulder vents and the Strong Arm will cool you down very well when the mercury begins to head north.
Overall a very nice jacket for the cruiser or even the cafe racer rider.
It is not suitable for the long haul where you may run into rain or cold weather but is very nice for a local ride to the neighborhood get together or bar (don't drink and drive, we drink soda at the local biker bar get-togethers)."
---
From "T.M.":  "I've had my Icon Strongarm jacket (plain style) for about a year now.
It's a great jacket for the price and fits me really well.  The construction seems really solid but I'm not sure how well it would hold up to a crash and I hope to never find out.
The only drawback seems to be the thin back pad.
Overall it's a great jacket and vents really well. Worth the money."