Teknic Tornado Motorcycle Gloves Review Summary
Motorcycle Gloves Image Gallery
This is a comparison of inexpensive (sub-$60) textile waterproof gloves for cold weather riding: the Icon PDX vs. Teknic Tornado.
There's a clear winner here…but only if you're counting features.
That feature leader unfortunately has a fatal flaw though: a leaky thumb.
It could be just a rare coincidence that our pair failed the "Bucket Test", but we can only report what we find.
The other pair kept my hands dry, but the lack of a secondary retaining strap gives these a fail also.
But wait! There is indeed a surprise winner here! Read on…
I was searching around for a pair of basic waterproof textile gloves for cool and wet weather riding, but I didn't want to spend a fortune. Less than 80 bucks would have been good; under $60.00 even better.
So when I found these two — the Icon PDX and Teknic Tornado — each with the same list price of $59.99, the light bulb went off. Comparison time!
It's always difficult to tell from the manufacturer's flat Photoshopped web photos what the actual product will look (and feel) like when it arrives and such was the case with these two. For example, I thought both of these gloves were designed for winter, or at least for cold weather, but that didn't turn out to be exactly correct.
After a closer second look, I discovered that Icon doesn't say a word about insulation, although the PDX gloves aren't what I would call summer gloves either. They sure look like cold-weather gloves to me though, but after my experience with them, I feel that both of these gloves are better suited for cool and wet weather of Fall and Spring.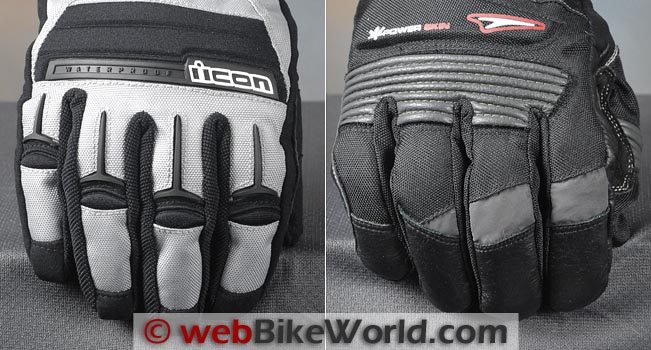 The Faceoff: Icon PDX vs. Teknic Tornado
My biggest concern was finding gloves that are truly waterproof. That's not as easy as is sounds, despite the manufacturer's claims.
The Icon PDX gloves have, in fact, proven to be completely waterproof. They not only passed the webBikeWorld "Bucket Test" with flying colors (and dry hands), they survived a very wet test ride during the height of Hurricane Sandy. Unfortunately, they are missing a few key features, as you'll see.
Teknic has a good reputation as a go-to place for riders and racers. The company has a reputation for quality, well-designed motorcycle gear. Their Tornado textile gloves have all of the features that are missing from the Icon PDX gloves, including insulation. But — and it's a big "but" — the Teknic gloves immediately failed the "Bucket Test" with a leaking right thumb. Very disappointing.
OK, so as long as I'm getting ahead of myself, here's a quick rundown comparing the main features of each:
w

BW

 Comparison: Icon PDX vs. Teknic Tornado

Icon PDX Gloves
Waterproof; passed the wBW Bucket Test.
Textile outer shell.
No secondary wrist strap.
No hard knuckle protectors.
Not insulated.
No reflective panels.
Comfortable liner.
Snug fit feels slightly small.
Unique no-seam fingertip design.
Thin leather palm and thumb wear patches.
No visor wipers.
Size range S to 4XL.
Colors: Black, Gray, Red, Blue.
List price $59.99.
Teknic Tornado Gloves
Not waterproof; failed the wBW Bucket Test.
Textile (Cordura) and leather outer shell.
Has a secondary wrist strap.
No hard knuckle protectors.
Insulated (DuPont Thermolite Plus).
Large area of reflective panels.
Comfortable liner.
Roomy fit feels slightly large.
"Box" type fingertip design.
All-leather palms with extra wear patches.
Visor wipe on left index finger.
Size range S to 3XL.
Colors: Black.
List price $59.99.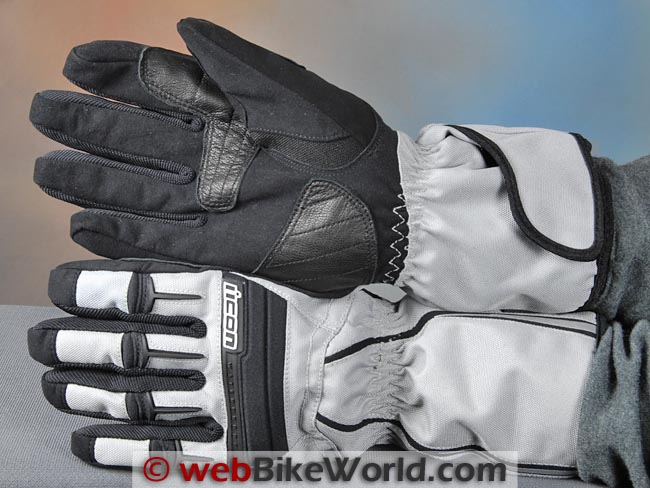 Icon PDX Gloves
I don't know how long the PDX gloves have been in the Icon lineup, but they're still listed on the "Ride Icon" website and they're readily available in light gray, black, red or blue, so they're a current winter 2012/2013 offering. I chose the gray because the color is unusual and different.
The PDX gloves have a "waterproof textile chassis", according to Icon. But the palms and fingers seem to have been made with at least some type of leather protection — it's actually difficult to tell whether it's leather, faux leather or textile.
There are a couple of very thin leather protectors sewn on to the grip and heel of the hand. The extra leather in the hand grip will probably help reduce wear in that critical area, but I doubt very much if the small heel patch would do anything in the way of protection.
There are no hard knuckle protectors or armor of any type on the PDX gloves, and no hard armor on the Teknic Tornado gloves either, so if you must have hard protection, neither of these gloves is for you.
Build Quality
The Icon PDX gloves have excellent build quality, although their feature set is limited compared to the Teknic Tornado and other types of motorcycle race gloves or more protective types. The stitching and detailing is very nicely done, especially around the fingers, which have perfectly aligned stitching and expert folds where the various panels come together.
The "chassis" (shell) of the PDX gloves seems sturdy enough for a pair of relatively inexpensive textile motorcycle gloves. It has the look and feel of some type of soft Cordura-like clone, but Icon isn't mentioning any names, so who knows what brand of textile is really used.
No matter — I wouldn't want to hit the ground wearing either the Icon PDX or Teknic Tornado gloves, but both pair are probably considered "touring" gloves…as if touring riders don't need protection.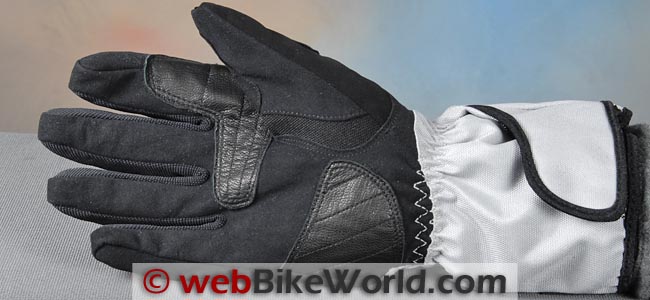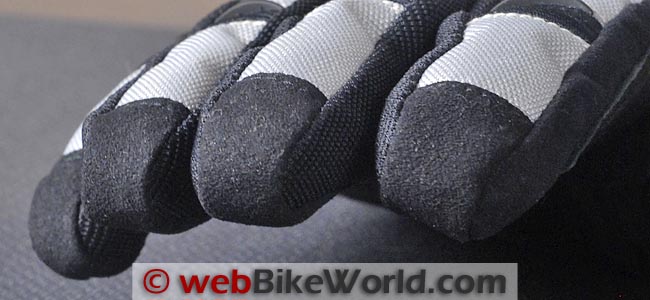 Fit and Comfort
The Icon PDX gloves (these are size large) feel just a touch snug, but they fit well. This contrasts with the Teknic Tornado gloves, which feel slightly roomy, even perhaps 1/2 size bigger than expected. Neither type of fit is a problem, because some riders prefer snug and some prefer roomy.
The thin soft fleece lining in the PDX gloves feels almost identical to the liner used in the Teknic gloves. Icon does not claim that the PDX gloves are insulated — I had assumed that they were only because they looked like winter gloves to me.
The gauntlet is generously sized and fits over my winter and waterproof motorcycle jackets.
Overall, the PDX gloves are comfortable, in spite of (and because of) the absence of hard armor, which keeps the outer body of the glove more flexible. I can sort of feel the waterproof lining in there, somewhere, wrapping around my hands; it makes itself known by a sort of rubbery feeling. Actually, the Icon PDX gloves feel much more like a pair of winter street or snow gloves than motorcycle gloves, at least in how they fit.
The fingertips of the PDX gloves have a unique construction form that I haven't seen before. The leather — again, I can't tell what it is but it looks like it may be a type of rough-out "Nubuck" (Wikipedia) —  runs from under the fingers, around the fingertip and up along the top of the finger.
This construction avoids stitching at the fingertips, which adds to the comfort level. I think it also helps ensure the waterproof integrity of the liner (which Icon does not claim to be breathable).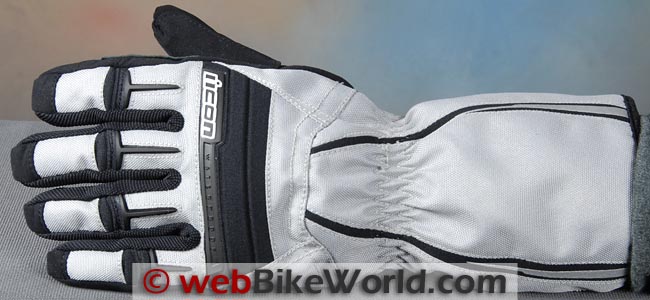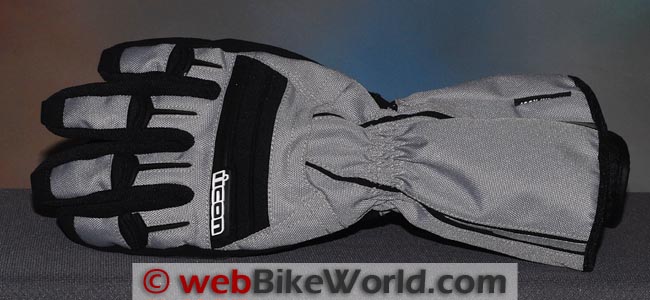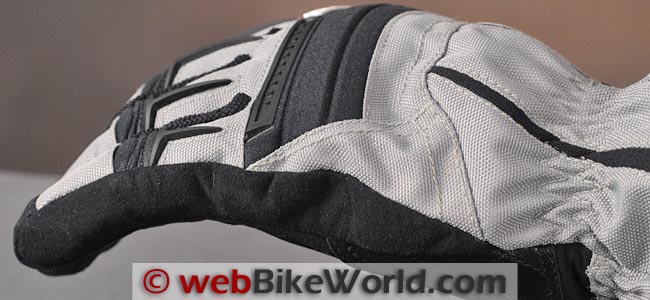 The Missing Feature
I could live without the hard armor because the PDX gloves proved to be completely waterproof in the admittedly extreme webBikeWorld "Bucket Test", where the gloves are held under water for 5 minutes, up to the gauntlet, while being worn.
We wore three different pairs of gloves during a couple of crazy Hurricane Sandy rides while breaking in the new BMW C 650 GT scooter (review). The outer shell of the Icon PDX gloves became completely soaked, as expected, but my hands remained completely dry. I'll get to the Teknic Tornado gloves in a minute, but just for kicks, we brought along an old favorite winter/cold weather/rain glove, the Roadgear "Boss" waterproof gloves (review), which also remained completely waterproof.
Since "cheap" (i.e., "inexpensive") and "waterproof" were my two main concerns, the Icon PDX passed the test. In fact, these would have won the shootout except for one thing: they do not have a secondary wrist strap.
Too bad, because this is a fatal flaw in a pair of motorcycle gloves, as far as I'm concerned. A secondary wrist strap goes a long way to making sure the gloves remain securely on the wrist during a crash — very important for a piece of protective gear.
The PDX gloves have some elastic at the wrist, but it does nothing to keep the gloves on the hands; they can be easily pulled off the hands with little effort, just like a pair of street gloves.
Icon PDX Gloves Conclusion
The Icon PDX gloves meet most of the criteria, with good build quality, comfort and the ability to keep out moisture. This pair proved to be completely waterproof in all conditions — not easy to find at this price point.
They're comfortable and I went into this realizing there would be no hard armor. But the lack of a secondary wrist strap, or any means to ensure that the gloves will remain on the hands when most needed, is a deal-killer, unfortunately.
On to the next pair…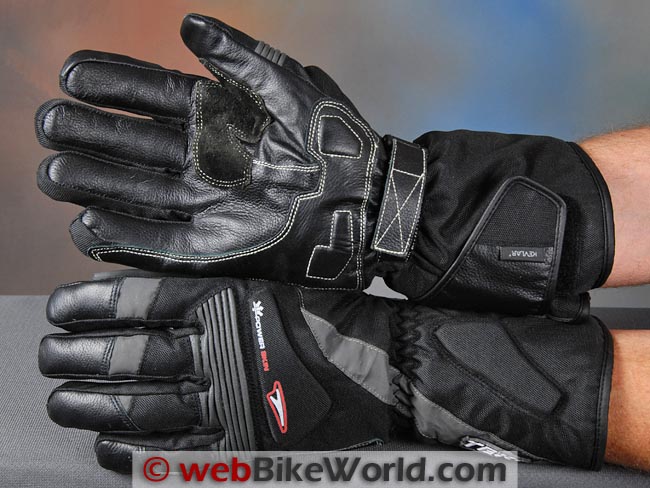 Teknic Tornado Gloves
Teknic is known for its innovative gear designed by and for "real-world" riders. I guess they don't have as much of a marketing budget as Icon does (or used to, anyway), because the brand flies under the radar and even their U.S. website is a model of simplicity, lacking even an "About Us" page.
I was pumped when the Teknic Tornado gloves arrived, because they confirmed my feelings about Teknic gear. At first glance, the Tornado gloves have every feature missing from the Icon PDX gloves, even though both have an identical list price.
The Tornado gloves are also classified as textile, but the entire palm, the outside of the heel of the hand, the underside of the fingers and the tops of the fingertips are leather. There are no hard armor parts here either, but I expected that. Teknic did at least add some padding bumps on the back of the main knuckles and on the heel of the hand, but I don't think they're much more than decoration.
Build Quality
The Teknic Tornado gloves are well made, although the contrasting stitching isn't quite as perfect as it is on the Icon PDX gloves. But it all looks good, with double rows and it's probably hand-stitched, which accounts for the slight miscues here and there.
There's some extra leather on the grip section, double-stitched and, in a sort of funny reverso from the Icon PDX gloves, this time the grip leather is Nubuck, while the rest of the leather is thin-ish cowhide. The Nubuck grip wear patch continues up into the thumb, so no doubt should help prevent wear in this crucial area.
Teknic employs some familiar brand names in the construction of the Tornado gloves: genuine DuPont Cordura for the outer shell; DuPont Thermolite Plus insulation in the tops and palms; a Powerskin "z-liner" and Kevlar in the palms. Good specs for a 60-buck glove, no doubt.
One other important safety feature that is present on the Tornado gloves is the secondary wrist strap. This feature should be standard on any motorcycle glove. It works well, feels comfortable and adds some insurance that the gloves will stay on in an accident.
I can not pull the Tornado gloves from my hands once the strap is properly secured. That is a big plus and illustrates the "rider-centric" experience that the Teknic folks bring to the table.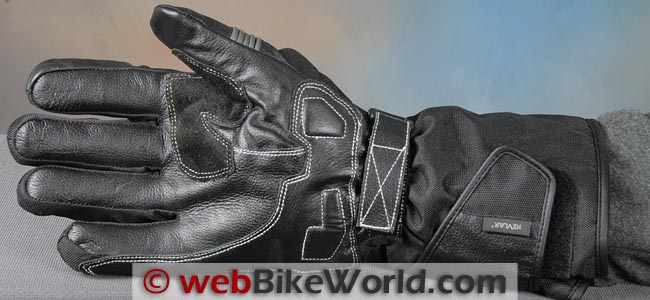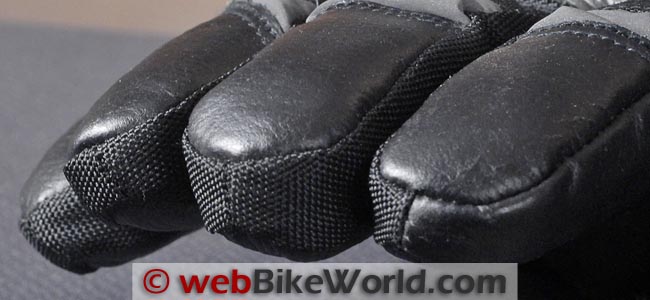 Fit and Comfort
In contrast to the snug fit of the Icon PDX, the Teknic Tornado gloves have a slightly roomy fit that borders on oversized by about 1/2 size. Both are comfy, however, so it comes down to your preference. Both of these gloves are size large and should more or less fit anyone taking a standard size large, with the exceptions noted.
The fingers feel roomier and very slightly longer on the Teknic gloves. The "box" section fingertips have two "walls" and a "floor" and "ceiling" construction, as described in several other webBikeWorld.com motorcycle glove reviews.
The gauntlet on the Tornado gloves is also generously sized; perhaps a touch larger than the Icon PDX gloves. It also fits easily over my winter and waterproof motorcycle jackets.
I happen to prefer the slightly more roomy fit of the Teknic Tornado gloves, although the palm does bunch up just a bit on my hand shape. Also, for my hands, the roomy fit leaves air gaps that, I think, make my hands feel colder than they should.
The waterproof liner is barely noticeable when wearing the Tornado gloves, probably because of the extra layer of insulation. Overall, I'd have to give the comfort nod to the Teknic Tornado gloves, but just by a hair.
The Missing Feature
So everything sounds rosy, right? Unfortunately, the Tornado gloves have their own version of a fatal flaw: this pair is not waterproof.
Having only tried this one pair, I can't say whether this is a trend or an unlucky roll of the dice, but I can say that the thumb on the right Tornado glove immediately starts leaking when the gloves are immersed in the bucket.
I tried it a couple of times with the same results (after first drying the gloves for a few days). The left glove is fine, but the right glove leaks, with water immediately entering at the tip of the thumb.
Here's what probably happened: whomever was stitching these together ended up poking the needle through the waterproof liner — a definite no-no. It's a quality fault and something to be very careful about and the manufacturer should have ensured careful QC procedures to avoid this during manufacturing, and to test the water integrity before the gloves are shipped.
In fact, this is one of the things you pay for when you buy a pair of expensive waterproof gloves, like, for example, the VQuattro Lazio gloves (review). Although after you read through a few webBikeWorld motorcycle glove reviews, you'll probably find one or more expensive gloves that leaked also…
By the way, this is the difference between a Gore-Tex labeled and certified product and the lesser brands of waterproof membranes. Gore is very careful about monitoring the manufacturing process and would never allow something like this to happen. They also have the lifetime guarantee to back it up. I will be contacting Teknic to see about exchanging these and let's see what happens.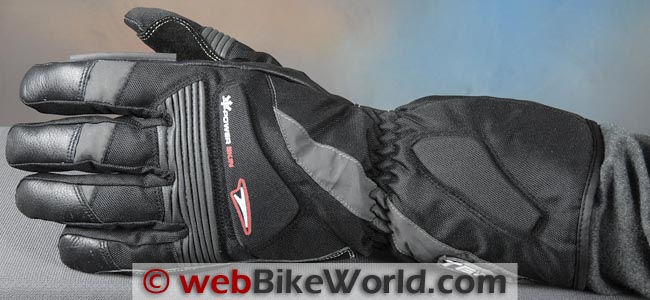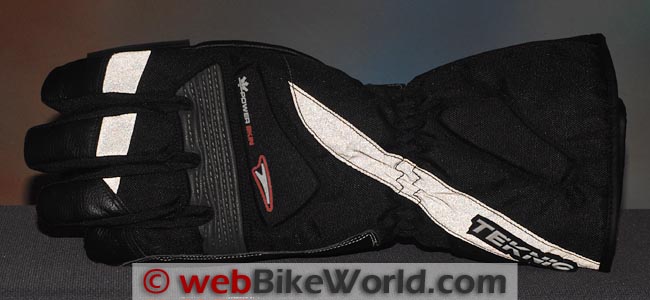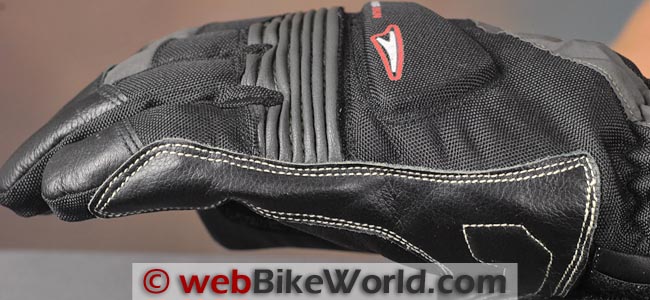 Teknic Tornado Gloves Conclusion
I wanted to like the Teknic Tornado gloves. They have all the features I was looking for at a price that I think is very reasonable.
I prefer the slightly room fit in a winter glove. The secondary wrist strap works well. I like the fact that Teknic uses name-brand suppliers for the included features. And, the light insulation is a bonus, and it doesn't get in the way; i.e., I don't feel like I'm wearing puff pastry on my hands.
But, there's that fatal flaw. It's too bad about the leaking thumb, and it's surprising that a company like Teknic let this one slip by.
I suppose one might say that on the other hand (hey — a pun!), the rest of the glove body and the entire left-hand glove are still waterproof. And since the right thumb is wrapped around the throttle, chances of water entering there are slim. Unfortunately, that's not the way it worked out in the "real world". The water seeped in and could be felt as it soaked through the liner across the knuckles. Yuck!
Conclusion: Icon PDX vs. Teknic Tornado Gloves
This is a tough call, because each of these glove types have their advantages and disadvantages. As often happens, if I could somehow merge the best of both worlds — or in this case, gloves — into one, I'd be happy.
Neither of these gloves are designed for riding a motorcycle in the coldest of winter weather, as I discovered, but the Teknic Tornado gloves do keep my hands a bit warmer because of the DuPont Thermolite insulation.
However, I also realized that the overall feel, comfort, fit and warmth, however, is nearly identical to the Roadgear Boss gloves reviewed on webBikeWorld way back in 2004 and which, after nearly 10 years, are still in production.
The Boss gloves have remained waterproof after all these years and they match the Teknic Tornado gloves nearly feature for feature. So in the end, I also realized that there's not much to be gained by switching brands. And since "waterproof" was my main priority, that pretty much knocks the Tornado gloves out of contention, while the Roadgear Boss gloves are still keeping the hands dry.
The surprise is that we've come light years in the quality and features of motorcycle jackets and helmets, but apparently not for gloves — has nothing been learned in all that time? It looks like the Roadgear Boss gloves were way ahead of their time — who knew?
Back to the Icon PDX gloves: I wasn't too fond of them at first, but the more I wear them, the more I like them. They seemed to have become more comfortable after a few rides and they have also remained waterproof.
While they may be fine for cooler summer rain riding and light Fall use, they really do feel colder, especially in the 42 degree F heavy rain during Super Storm Sandy. They sure are waterproof though…
But — and there's that big "But" again — if only Icon had installed a secondary wrist strap, these would be just the ticket, although they still wouldn't beat the 8+ year old Roadgear Boss gloves. Unfortunately, that missing wrist strap is a major fail and I get very uptight riding a motorcycle with a pair of gloves that I know can come flying off my hand with little effort at all.
So remember when I wished that I could blend the best features of the Icon PDX with the best features of the Teknic Tornado gloves? Well, here they are — and they were right here in the glove drawer all along: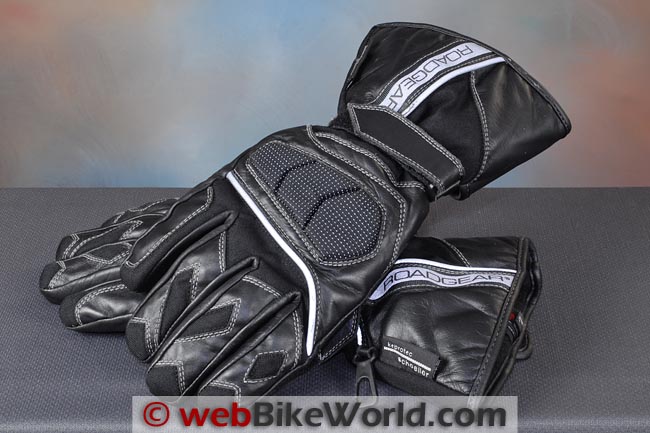 Moral of the Story
So who wins this cheap textile waterproof glove shootout? The very convoluted answer is the Roadgear Boss gloves (review).
OK, so they're $30.00 more expensive than either the PDX or Tornado gloves. But they are indeed waterproof AND they have that all-important secondary wrist strap. They keep my hands pretty warm. They look good, and they even have reflective piping to match the Tornado gloves. What's not to like?
Moral of the story: the grass isn't always greener on the other side. You'd think I'd know that by now…
w

BW

 Review: Icon PDX vs. Teknic Tornado Motorcycle Gloves
Manufacturer:
Icon
 and Teknic
List Price (2012): $59.99 each.
Made In: Icon PDX: China. Teknic Tornado: Pakistan.
Colors: Icon PDX: Black, Blue, Red, Gray. Teknic Tornado: Black.
Sizes: Icon PDX: S-4XL. Teknic Tornado: S-3XL
Review Date: November 2012
Note:
 For informational use only. All material and photographs are Copyright © webWorld International, LLC since 2000. All rights reserved. See the webBikeWorld® 
Site Info page
. Product specifications, features and details may change or differ from our descriptions. Always check before purchasing. Read the
Terms and Conditions
!
Owner 

Comments and Feedback