Icon Field Armor Motorcycle Shin Guards Review Summary
Fits under loose jeans and most leather or textile motorcycle riding pants.
Probably offers better protection than most original equipment padding or thin armor.
It surely fits better so you may want to toss the cheap armor that came with your pants and use this instead.
In our journey of truth for the ultimate in motorcycle protection, we've looked at back protectors, full-length leathers, armored shirts and pants, airbag vests and jackets.
Not to mention all the basic leather jackets, pants and gloves reviewed on these pages over the years that are also designed to protect their owners much better than jeans and a T-shirt.
But wait, there's more!
I found these Icon "Field Armor" motorcycle shin guards (or knee armor or leg guards, your preference) and figured we'd have to give them a try.
Icon claims that they are designed to fit under jeans, and they do, sort of, as long as the jeans are loose fitting.
Actually, they fit nicely under the Joe Rocket Steel jeans and Sliders Kevlar jeans we reviewed not too long ago.
And since those jeans include some abrasion resistant backing in the knee and shin area, combining them with a set of the Icon Field Armor motorcycle shin guards could theoretically make for some halfway decent protection in case of a crash.
I still prefer leather though. But that's not a problem, because the shin guards fit, albeit tightly, under a selection of different leather motorcycle pants I've tried also.
Where they really work for me is under the Lookwell full-length one-piece leather suit I've been wearing.
I've had trouble getting a correct fit with off-the-shelf leather suits (and pants also) because my crotch to knee distance seems shorter than every size 56 (Euro) suit designer had in mind.
The suits seem to fit from the waist up, but the knees are almost always too low.
To solve this problem, I've found that I can remove the original equipment knee armor in the suit and replace it with the Icon shin guards.
Most of the time, this provides a good and secure fit that's better than the original equipment padding or armor.
One suit I tried has a special molded leather knee cap that ends up down on my shin, about 3″ below my knee, which looks ridiculous.
So even though the Icon knee armor fits, that suit still looks strange because the formed/molded knee just doesn't look right on me. I'm going to order a custom fitted suit soon and will report on the entire process.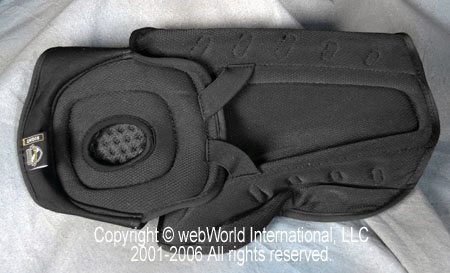 Icon Field Armor Shin Guards
Anyway, the Icon Field Armor shin guards fit my relatively skinny legs and calves fairly well.
The armor has three elastic straps that cinch around the back of the calf and close with Velcro, and one semi-elastic strap that connects around the back of the knee.
I'm surprised that the calf straps aren't longer; I'm guessing that someone with large calves might have problems getting the shin guards to fit correctly.
The problem is that the Velcro straps are only about 6″ (15.3cm) long and only the tips of the strap are covered with a section of Velcro, measuring about the last 2″ (50mm) of the strap.
The straps don't stretch very far, and it seems as if at least half of the Velcro must be mated to the opposite half for it to stay secured, meaning that there isn't much strap length to play with.
The bottom line is that I think the Icon Field Armor shin guards would be a very difficult fit for anyone with a calf diameter of around 18″ or more.
While that may seem like a lot, I bet if you measure a calf you'll see that it doesn't take much muscle to go beyond 18″.
That being said, the shin guards fit me, and they're not as difficult to put on as I thought they might be when I first brought them home.
I loosen the three Velcro straps in the back, step into them like I'm stepping into a pair of pants, cinch up the straps in the back and the one that goes around the knee and I'm all set.
There's enough flexibility in the straps to make the armor fairly comfortable. The knee armor is separate from the shin armor, although they are both connected with a couple of permanently attached elastic straps. This allows the knee to articulate separate from the shin, which mitigates any stiffness that might otherwise be felt.
The strap that goes around the back of the knee is just barely long enough to fit me, so this may be another area of concern for riders with thicker legs and/or knees than mine.
The problem is compounded because the knee strap is made from a less flexible fabric than the calf straps, so there's not as much give for the knee. This is probably by design, to keep the knee armor in place during an incident.
The leg armor, or shin armor, or shin guards, whatever you'd like to call them, have a decent amount of padding on the inside, which also helps to make them comfortable to wear.
The knee has a dual layer of padding with a big donut hole in the middle (see photo below), allowing my kneecap room to move around.
I am actually surprised at how comfortable these things are, or, rather, I'm surprised that they don't feel like a knight's armor and that I can wear them without really noticing any discomfort.
The outside of the shin guard and knee armor is some type of hard molded plastic.
There were no labels or stickers in or on the box that indicated whether the Icon Field Armor meets CE or other type of approval, so I have to assume that they don't.
This means that we can only take Icon's word that the product will actually perform as anticipated in a crash.
I think good quality, heavy leather backed by a recognized brand of armor that meets some type of approved testing scheme is the best bet for maximum protection.
Conclusion
My impression is that the Icon Field Armor shin guards seem like they would offer a decent level of protection.
I've been wearing them in combination with the Knox Cross Sport shirt and pants under a full set of leathers and I feel both comfortable and safe.
w

BW

 Product Review:  Icon Field Armor Motorcycle Shin Guards

Available From:  Icon
List Price (2006): $65.00
Colors: Black
Made In: China
Review Date:  March 2006
Note:
 For informational use only. All material and photographs are Copyright © webWorld International, LLC since 2000. All rights reserved. See the webBikeWorld® 
Site Info page
. Product specifications, features and details may change or differ from our descriptions. Always check before purchasing. Read the
Terms and Conditions
!
Owner Comments and Feedback
---
From "G.R.R." (August 2011):  "I never ride without fixed leg armor. Of the three products I use (Knox Cross Lite Guards, Alpinestars Reflex Knee Guards (review), and the Icon Field Armor guards (review).
Tthe Icons are the most comfortable in hot weather. The Knox and the Alpinestars don't allow perspiration to evaporate in the knee cup area, leaving the knees completely wet after a hot weather ride. The Icons do an excellent job of venting water vapor.
Wearing a long legged undergarment will improve the hot weather comfort of all three products. Icon's entire Field Armor line has been updated recently.
I still use the original shin/knee guards featured in your review. They served me well in a 40 MPH low side tumble in which I broke a bone in my hand and acquired helmet rash on the front and back of my Shoei. The Icon Field Armor held its position as I always run the top shin fastener above the calf directly behind the knee. The shin guard section articulates freely over the knee guard in this configuration.
Being a 5'5″ male this method also allows the bottoms of the shin guards to clear short boots or, to slip into the tops of higher boots. As for the tight-fitting straps, as with most new gear they will stretch a bit with use."
---
From "K.I." (02/11):  "Thank you for you love of motorcycling, and integrity in reviewing riding gear. I've learned a lot, and based many decisions on what I learned from your web site.
I've owned the Icon Field Armor Shin Guards for about 4 riding seasons, and have worn them extensively. I've also tested them in a low side crash at highways speeds, which I'll explain after a couple general points on usage.
They are a good product for what they are intended to do: be convenient, easy to use, and versatile protection. I also think they provide better protection than what is in more recreational riding leathers/pants. Still, in my opinion, there are probably better solutions out there.
I'm looking into a full pant system for securing armor to my body (such as the product offered by Bohn). I think that sort of system will be more secure and likely to stay in place. I think it will be quicker to put on as well, because you don't have to fuss with all the Velcro straps that are on the Field Armor reviewed here.
That being said, the Field Armor by Icon is really versatile. I would usually wear them under leathers, because like you, I find it difficult to find leather pants/suits that put the armor in exactly the right places and would keep it there in a fall.
I found them to be most comfortable over pants, which probably isn't how most people use them. But, they eliminate "pant flap" from the wind, which can be annoying on long rides (if you aren't wearing leathers), and stop drafts from going up your legs. Also, having cotton or denim in between the shin guards and your skin makes things more comfortable. I could pop them off when I stop, and put them in my motorcycle luggage, and go about my business.
I would wear these a lot when I didn't want to fuss with putting on all the leathers and such for a quick casual ride to a destination. For performance or long rides, I would wear them under my leathers. Again, very versatile equipment.
I didn't have many problems keeping them in place. When I sit on my bike, I always adjust my armor for comfort and placement to make sure they will protect what they're intended to protect. After that, they always seemed to stay in place, especially if they were wore under leather pants, which pushes and holds them tighter against the body.
I didn't notice any significant problem keeping them in place without leathers either. And again, I particularly liked them for quick and easy leg protection for short trips. I would pop them on over my pants, and then off when I wanted to walk around like a "normal" person.
For commuting, these are very nice to have, and far better than nothing for leg protection. In an accident, I feel they did a really good job, but could've done better. I low-sided my bike on a tight curve, hitting the pavement at about 60-70 mph. I was wearing leather pants over the Field Armor, and cotton pants or jeans under them.
The most intense point of impact was my left knee (left hand and elbow as well, but the knee easily took the most of my weight when hitting the pavement). If I had not been wearing these, I probably would've broken my knee cap or something along those lines. I also probably wouldn't suffered abrasion tears in the skin from my pants being pushed against my skin hard, and then pulled to the side from the friction of the impact/slide motion present when hitting pavement at speed.
In fact, I could see the weave pattern from the nylon fabric that lines my leathers imprinted in the hard plastic outer layer of the armor from the force of impact. I could also see that the plastic was then smeared from that same fabric sliding across its surface. This happened when the friction from moving across the concrete pulled the fabric with the full force of my weight on that spot. Think press (from impact) and pull (from slide/friction).
Anyway, that impact was intense, and easily would've ripped skin without these knee guards on. And, mind you, that was with leathers on. I walked away with absolutely no broken skin, nor any memorable abrasion burns on my skin. I'd say that is a job well done for this product, especially considering it was the spot that took the most intense damage from the crash (one layer of thick leather in the knee area of my leathers was completely wore through in a fraction of a second).
However, due to what I take to be a lack of impact absorbing padding in the knee cup, I did suffer some bruising of bone. In fact, for 3-4 months after than accident, I could push into a spot on the bone just to the inside of my kneecap that would hurt, like a bruise does. However, it would only hurt when I pushed on that spot. So, I'd say it did a good job of protecting me (I particularly like that hard plastic over the foam), but with more impact absorbing foam, the product would've been better.
Another good point is durability. I would still feel comfortable using this product after the crash. I would say it is in as good of condition as it was before the accident, save for the cosmetic damage I described earlier (which is evidence of the intensity of the impact the equipment withstood). So, I'd say there is room for improvement, but this product saved my knee.
And when I think about how many times I want to jump on the bike to run over to a friends, or some other short trip, without putting leathers on, these are the perfect quick fix to that problem. Just strap them on over your pants, and away you go with many times the protection you would have without them. And when you get to your destination, pop them off, take of your riding jacket, and it's as if you came in a car. No cumbersome gear to walk around in. No lengthy process of undressing a suit.
That convenience could save your knees if you use your cycle for lots of commuting, and never seem to want to mess with leathers. For long rides, or performance riding, I think it's worth the extra time to pull on under armor like Bohn's, or suit up in leathers that FIT RIGHT, which remember, is difficult to achieve."
---
From "J.S." (3/10):  "I was wearing the Icon knee/shin guards in a low side crash at about 45 mph. They protected me perfectly and did not move around. No bumps, bruises, or abrasion, not even redness!!!
That being said, they can move around slightly when walking so make sure they are adjusted properly before getting back on the bike. Also, if you don't wear at least 8 in high boots they will move around too much. Other than that extremely comfortable to wear all day with no issues."
---
From "JB" (10/09):  "CRASH REPORT: I owned these leg guards for 2 months. I always wore them under slacks and jeans and as long as I wore high enough boots to keep the shin armor up, I was comfortable.
I did however have to adjust them somewhat frequently. I'm 5'8, 135lbs so also a skinny guy and I had to modify the calf Velcro to fit tighter by doubling the fabric over and sewing a couple lines through it.
To get to the meat of the issue here: I lowsided not too long ago and these did not protect my knee the way I expected them to. They shifted down my leg during the ride and when I hit the pavement my knee was exposed and I got to experience some lovely road rash.
Granted, the damage would have been worse if I were wearing nothing on my legs at all but I was disappointed with their performance. Bottom line here, if you do not have big enough legs to keep these in the proper position then look elsewhere for knee protection."
---
From "M.G.":  "I've owned the Icon Leg Armor for about 3 months and I felt I'd share my personal experience with the product. One of the main reasons I bought these over another brand is the knee strap combined with the price. Most other articles of leg armor either lack the knee strap, or cost $20 more.
Being a college student, I needed something of reasonable value that I could still wear on campus. These work just fine for that purpose. When I tell other riders I own these they often ask, "Do you wear them under or over jeans?" I can usually tap on my jeans to give them the response as the armor is easily concealed underneath. But if I'm going for a quick run to the store I can wear the armor over my jeans, albeit at the expense of fashion.
I agree with Bill's original review that stated they're not very adjustable. While he was concerned that they would not be big enough, the bottom straps are actually too big for me. I'm a skinny guy at 5'8″ and 125lbs, and while the knee and upper leg strap fit, the bottom two are almost useless.
Based on how they fit me, my guess is that if you're shorter than 5'3″ these may be too long for you. The shin portion of the armor is hardly an inch above my ankle while standing, and I pull it back up every once in a while to keep it from interfering with my feet while I walk.
The knee portion also has a tendency to slide out of position while riding. Instead of covering the knee, it's more down and off to the outside.
Because of the convenience and simple fact that they're better than jeans alone, I continue to wear them. Wearing the armor instead of leather pants at school makes these attractive as well."
Other WebBikeWorld Accessories Posts