The increasingly aerodynamic helmet stands out for a variety of reasons, from its near perfect dynamic design that cuts back down on drag and resistance, while providing the rider with a better line of sight. The helmet comes in a composite shell and is designed to sculpt the rider's head perfectly, but with a higher clip on feature so that there's less interference from the jacket.
Moreover, this sports helmet has been engineered to promote speed along with safety so you should be able to utilize the same when taking part in sports bike events. The helmet gives you a better line of sight while it ensures that your head is protected at all times, but works to decrease air and wind resistance thanks to its aggressive geometry.
The Helmet: What Would You Love?
When it comes to the helmet itself, it is comprised of limited shell area, with aerospace grade carbon fiber, giving it the structural stability and strength and comes with a track recognized ERP certification as well. Moreover, Icon has crafted a perfect helmet with the latest engineering tech so that it weighs less and is easier to carry around on your head while enabling you to see better.
The helmet is specifically designed with the latest changes to motorbikes, including the elevated rear seat, and comes with a five piece liner instead of the usual three, thereby providing for better fitment for your head than the norm.
With custom linings and better padding for specific areas of the head, including the crown, Icon's helmet comes with 27 fitment options, more so than most helmets in the market today.
Key Features
Some of the key features of the icon helmet are listed below:
Hand crafted composite shell
The icon airframe pro helmet comes with a sturdy composite shell with aerospace grade carbon fiber, resulting in less weight but better structural stability, thereby providing you with better protection. The shell is handmade but engineered to provide you with better speed in a neat frame.
Four unique shell sizes
The Icon Airframe Pro Helmet comes in four unique shell sizes for your head, each designed to provide you with less drag and resistance as you rev up your bike faster. This is one of the key features that makes this helmet perfect for sports bike aficionados.
Sculpted base
The sculpted base of the helmet is designed to provide you with less interference in the neck area from shirts and jackets. It hugs your jawline and comes with a better neck roll than most helmets.
Inner lining
The helmet comes with a five-piece inner liner, thereby enabling you to cushion your head better, which provides for better fitment. Apart from this, it also comes with moisture wicking hydra dry, designed to provide you with better comfort as you snap the helmet into place.
More, the padding inside the helmet can be removed and washed regularly. This helps the helmet get rid of any germs, fungus, or moisture that might get into it with constant wear. Therefore, you can keep the helmet germ-free and protect you from any kind of infection or allergy.
Liner ported forehead vents
These vents are designed to allow for better ventilation while enabling you to be more comfortable wearing the helmet.
Low profile vents
Apart from the liner ported forehead vents, the Icon helmet also comes with low profile vents which are placed all over the helmet to aid in better ventilation and to increase your comfort.
Perfect face shield
The Icon pro helmet comes with fog free optics shield which should enable you to see better and the face shield also comes with a quick release, thereby facilitating better movement and vision.
Adjustable breath deflector and chin curtain: The helmet also comes with a removable breath deflector and chin curtain and thereby allows for better ventilation, and less weight, overall.
World standards
The Icon helmet meets the world standards, from the DOT FMVSS 218 (US), ECE 22-05 (EUROPE), SAI AS1698 (Australia) and SG (Japan) safety and testing standards. The helmet is manufactured with stringent compliance and quality checks in place and provides you with better comfort, safety and durability than most sports helmets do.
Pros and Cons
Here are some of the pros of the Icon Airframe pro helmet:
Better durability
Neat design
Designed to lessen drag and wind resistance
Engineered to provide better safety while providing riders with better line of sight
Fog free face shield
Five layered inner lining
Well ventilated
Some of the cons of the helmet include:
Thick cheek pads
Removable chin guard can actually cause some discomfort when riding at top speeds, especially without the chin guard in place
Needs better chin strap button
Needs better option to adjust the vents
Too snug a fit although this is not a con but if you happen to be listening to your iPod, then yes the snug fit can cause some discomfort
Many Pro Helmet Models to choose from:
There are many different and awesome models of this helmet available:
Conclusion
The Icon airframe pro helmet definitely happens to be one of the best, from its aerodynamic and aesthetically pleasing design to its additional features, enabling better comfort for the user.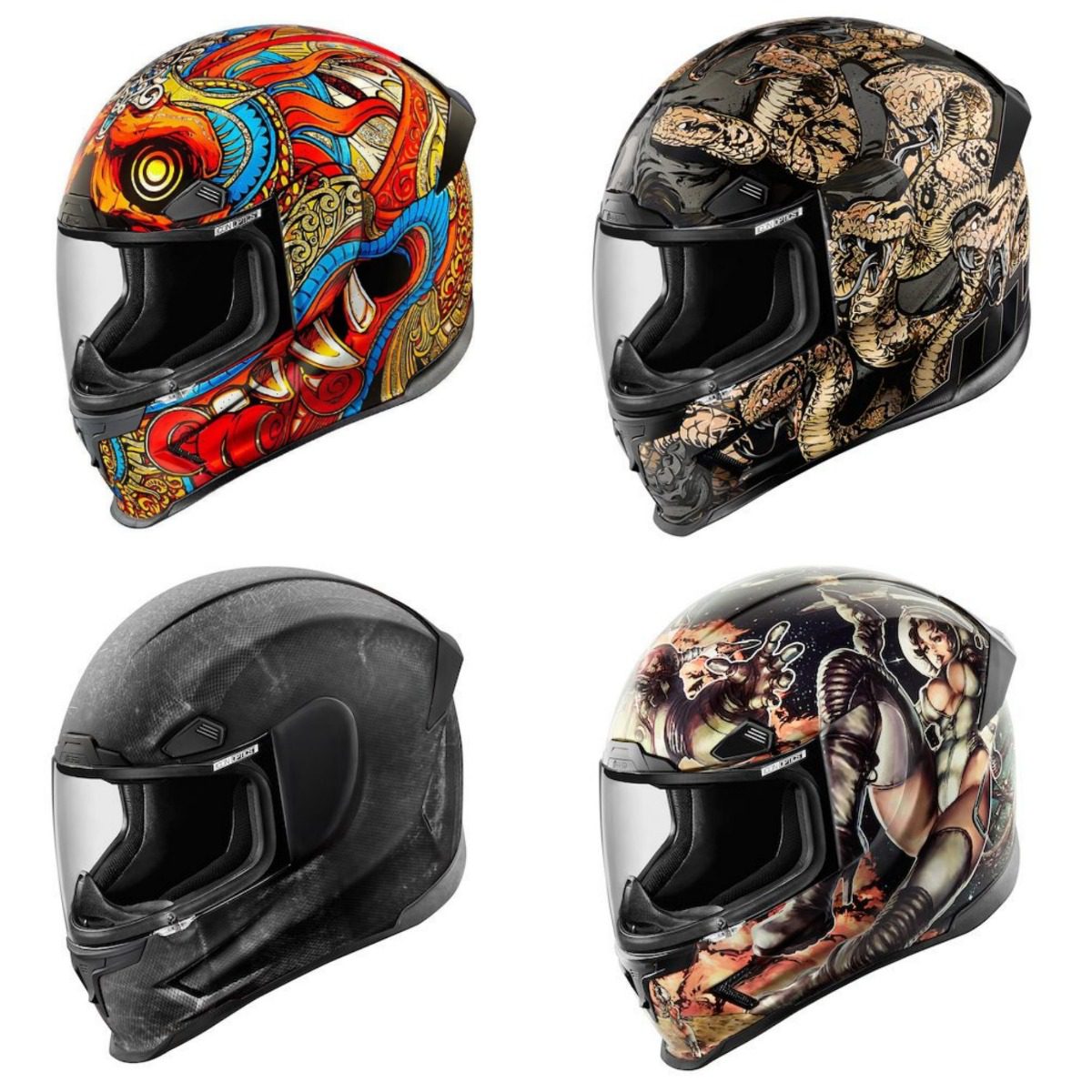 With its hand crafted carbon fiber shell, you can definitely count on this helmet to provide your head with all the protection it needs, as you rev up at top speeds along the highway.