Waterproof Boots Review Summary
Waterproof Boots Image Gallery
A reasonably priced waterproof boot that is comfortable but doesn't really stand out from its peers.
A protective and comfortable motorcycle boot that excels at being both protective and comfortable can be a difficult item to find.
There are numerous reviews on webBikeWorld that back up this statement.
A couple of years ago, when I was looking for a new pair of boots, the review of the Alpinestars Recon boots (review) convinced me to purchase a pair of of my own and they have been very good to me ever since..
They're comfortable and a simple change-out of the laces made them easier to put on and take off.
However, they're getting old and I have been searching for a replacement, because the Recon boots have been discontinued.
I wanted a pair of boots that are comfortable, reasonably protective, and waterproof, like the Alpinestars Recon boots.
That last criteria can be problematic, as waterproof boots can to get too hot for comfort in hot weather.
I discovered though that there are currently many choices in this segment and many of them are under the $150.00 USD limit of my budget.
Indeed, I found several offerings in this price range, including boots from Teknic, Tour Master, and TCX (just to name the brands starting with "T").
What I ended up with though did not come from a brand to which I normally give a lot of consideration. But the feature list and photos piqued my interest — and the price of $125.00 made this an easy decision.
The Icon Accelerant Waterproof boot
Icon is not a brand that creates products that I would describe using words such as subtle, reserved, or muted.
In fact, many Icon products shout out their branding in much the same way as the neighbor's dog that barks at you every day when you get home, even though it knows you, your car, and what time you arrive home every day.
The Accelerant Waterproof boots seem to buck this trend. They would appear to be the waterproof version of the Icon Tarmac boots (review), but there are some differences.
For example, they are only available in black (thank goodness) and they could easily be mistaken for a pair of hiking/walking boots. The other major difference is, of course, the waterproof design of the Accelerant boots.
The Accelerant boots are described by Icon as "low-key with casual styling", which is about right — unless you turn them upside down.
The underside of the sole is mostly covered in a bright orange layer of rubber. While this could be considered a bit flamboyant, it's possible that the color could add a bit of visibility, depending on how one's feet are positioned when riding.
Icon Accelerant Boots – Construction and Protection
The Accelerant Waterproof boots are constructed of leather and nylon for the uppers and the sole is made from an anti-slip rubber compound.
At the top is a strap with an adjustable buckle to cinch the top of the boot around the leg. On the front of the strap is a thick pad of leather with another patch on it, displaying the Icon logo.
Icon refers to this pad as a "shin deflection strap". I can see how it might provide some decent protection to one's shin, albeit in a small area. This strap also is useful in tidying up the generous amount of shoe lace on the boot and safely keeping it from moving parts.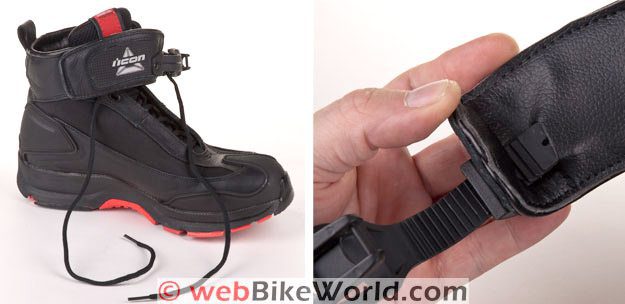 Speaking of which, the shoe laces are quite long. At least they are not the twisted type of laces found on some boots and shoes but the excess lace is considerable and care should be taken to secure it with the strap before riding.
Icon claims the Accelerant boots include internal ankle armor, but it is difficult to determine exactly what kind it is. My estimation from squeezing on the sides of the boot seems to indicate that there is a foam disk on the inside ankle.
More foam padding is included on the outside facing part of the boots for protection in that area. Hard protection would be better, but what's there is certainly better than what might be found on hiking boots.
As with the Icon Tarmac boots, the soles of the Accelerant boots feature a steel shank for support and protection. This helps stiffen the sole and can lessen foot fatigue, especially when you have your feet on the pegs for long periods of time.
This type of support can also reduce the amount that the sole can flex in unpleasant ways in the event of a crash, but this depends also on the size and placement of the shank.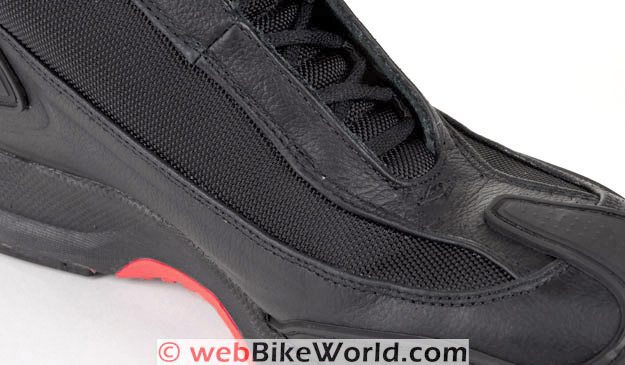 It is interesting to note that even with the piece of steel in the sole the boots surprisingly lightweight. They are also less bulky than you might think by looking at the photos. I had not been prepared for the how light they would be when I first received them — I was worried that only one boot had made it into the package instead of a pair!
In spite of the light weight, the boots seem quite sturdy and well-constructed. The major seams are double-stitched where leather and nylon parts meet. Single stitching is used only on the rubber panels that wrap around the front and rear sections of the boot and the strip of leather just over the laces.
While on the subject of those rubber panels, both left and right boots have a patch of rubber up front that wraps over the top of the toes slightly.
It may serve as a shifter "pad" to take the wear of the shift lever rather than having direct contact with the leather. The actual area is rather narrow though and this is why I say "may serve" since it may have been more of a cosmetic decision and Icon doesn't specifically claim that these are for that purpose.
Fit and Comfort
The Accelerant Waterproof boots run pretty true to size, maybe leaning a bit toward the smaller end of the scale but not much. I wear a US 10.5 in most shoes and these boots fit snug but not uncomfortably. If I wanted to wear thick socks for colder weather it might be a bit of a stretch, literally.
The boots were pretty comfortable right out of the box even though they were rather stiff. It took several wearings before they started to break in but they still remain relatively stiff in say, comparison the Alpinestar Recon boots (yes, them again). You may have noticed I've been making many comparisons to the Alpinestars Recon boots quite a bit during this review but have no fear, there's only a couple more coming.
First, let's talk breathability. The Icon Accelerant Waterproof boots do allow some air to flow through and you can feel it when riding at about 50 MPH or more. It's not like the amount of air that would flow through mesh, but it can be felt.
At the same time I have worn them all day more than once and they never felt too hot. In fact I'd say they are right there with the Recon boots as far as temperature management goes.
The next point of comparison is foot support. The Accelerant Waterproof boots have a bit more arch support than the Recon boots. They don't reach hiking boot territory but the difference is noticeable.
If it wasn't for the stiffness of the Accelerant boots, they might be a better choice if you were going to be doing a lot of walking.
If you will be spending time wearing the Icon Accelerant boots off the bike, the strap above the ankle can be the cause of some discomfort. I found that I needed to make use of the strap adjustment if I needed to do more than walk from the bike to the house, office or similar distances.
The strap itself is adjusted with a ratcheting, plastic toothed section (think large zip-tie) making it easy to cinch it down snugly. Making sure it is a snug fit would most likely help maintain the waterproof nature of the boots.
Adjusting the length the other way however, does require one to completely release the aluminum buckle in order to make the change.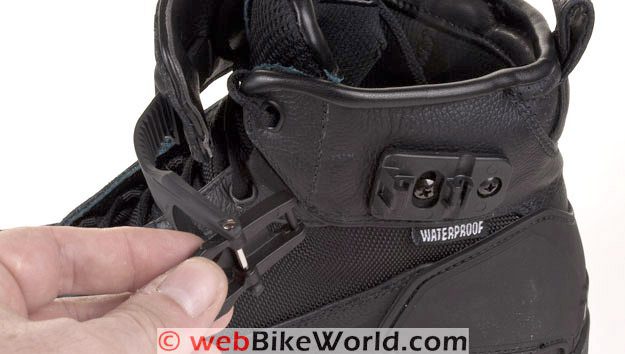 The buckle itself can be a little tricky at first but it does become easier once used to it. The buckle is quite a robust unit and seems quite capable of staying in place in the event of an impact. It may also help provide some additional protection in the event of a crash.
The Icon Accelerant boots do possess a trait that I have noticed in other Icon boots. The toe of the boot seems rather tall and I find I have to make allowances for this when shifting. If I planned on riding in these boots often, I would have to make adjustments to my shift linkage to make it comfortable to use them when riding.
I wouldn't think this would be necessary when looking at the Accelerant boots in person, since they don't appear that bulky in the front.
However, I have owned several boots over the years and the only other pair of boots that had this issue for me came from Icon back a few years ago. I don't really consider it a problem with the design, but if possible I suggest trying on a pair where you can sit on your bike to see if you'll have issues. Of course,  you should try and do this with any boots you are considering.
Waterproof Evaluation
Icon claims the Accelerant Waterproof boots are 100% waterproof. I evaluated them in a similar fashion to how some other waterproof have been evaluated in webBikeWorld reviews. I submerged the boots up to about ankle height and timed how long it took for water to make its way in.
I found the waterproof barrier lasted just short of two and half minutes before the boots became wet inside. At that point, the water really started to pool up inside. I'm not certain that this justifies a 100% waterproof claim, but I am not clear on how Icon tests the waterproof capability of the products.
To be fair, a pair of boots getting wet in the rain is quite a bit different from being submerged. In the rain there is not the water pressure against the material as there is when submerged in a bucket or deep puddle.
It may be that they could be rained on for hours and water never finds its way to your feet but I have not had the good (or bad?) fortune of trying this scenario myself.
Conclusion
The Icon Accelerant Waterproof Boots represent a reasonable value for the price. They do have some protective features and I would rate them between a hiking boot and sport-touring boot as far as protection goes.
Some more robust ankle protection and a bit more height to the boot itself would make me feel better about wearing them in a crash.
The comfort of the boots varies. The lower part of the foot is treated quite well as the boots offer good support not unlike decent hiking boots. The upper portion can be uncomfortable at times though depending on how the buckle and strap sit on my leg.
The waterproofing is hard to judge but in my opinion, if you are looking for a boot as a serious touring companion where you have potential for long periods of rain, look elsewhere. If you are looking for a comfortable boot that will keep you feet dry if you get caught in the occasional rain shower, the Icon Accelerant Waterproof boots are a good candidate.
Overall, the Icon Accelerant Waterproof boots are good in several ways but they don't seem to excel at any of them. With so many choices in this market segment in the same price range they don't really do anything to stand out from the competition, well, unless you turn them upside down and look at those soles…
wBW Product Review: Icon Accelerant Waterproof Boots

Available From:  Icon
Suggested Retail Price:  $125.00
Colors: Black
Made In: China
Sizes: 6 to 8. 8.5 to 11.5 (in half sizes); 12 to 14
Publication Date:  January 2010
Note: 
For informational use only. All material and photographs are Copyright © webWorld International, LLC – 2000-2013. All rights reserved. See the webBikeWorld® 
Site Info page
. NOTE: Product specifications, features and details may change or differ from our descriptions. Always check before purchasing. Read the 
Terms and Conditions
!
Owner Comments and Feedback
---
From "D" (3/10):  "I have owned these boots for only a few months but that was enough to convince me that they are good!  I bought them to take my Motorcycle Safety Course, and I'm glad I did.
My first 2 days on a motorcycle were spent in the rain… I had full a Gore-Tex outfit over my gear and these boots, for two rainy 9-hour sessions the boots kept my feet dry and warm. Sport bike owners may want to stay away from these since there isn't a shifting pad across the left boot. I think the designers had cruiser riders in mind when putting the boot together!"
---
From "A.O.W." (1/10):  "I have owned and ride with these boots for two years now. I was unlucky enough to get caught in a rain storm while on the Pennsylvania Turnpike going from Harrisburg to Pittsburgh. It rained for 2.5 hrs of my 3 hr ride!  Rain is a bit of an understatement as it was more of a torrential downpour.
The boots kept my feet dry and warm. Boots are waterproof while riding in the rain. Comfortable (as I often wear them most of the day), lightweight, and overall a good product.
Two complaints that I have 1) need larger toe shift area on the boots 2) the leather at the toe area on right foot tends to have the colored finish rubbed off after about 100 miles of city riding."