The Husqvarna single-cylinder Vitpilen 401 street bike is one of the most controversial and divisive motorcycles I've ridden in ages.
After my road test I'm still trying to work out what it is all about and to which riders it will appeal.
Controversial features are the price, styling, the single-cylinder engine and, of course, the name.
Let's tackle them in that order.
Price
The Vitpilen and its scrambler sister, Svartpilen, each cost $11,592 ride away which is a lot to pay for a learner bike.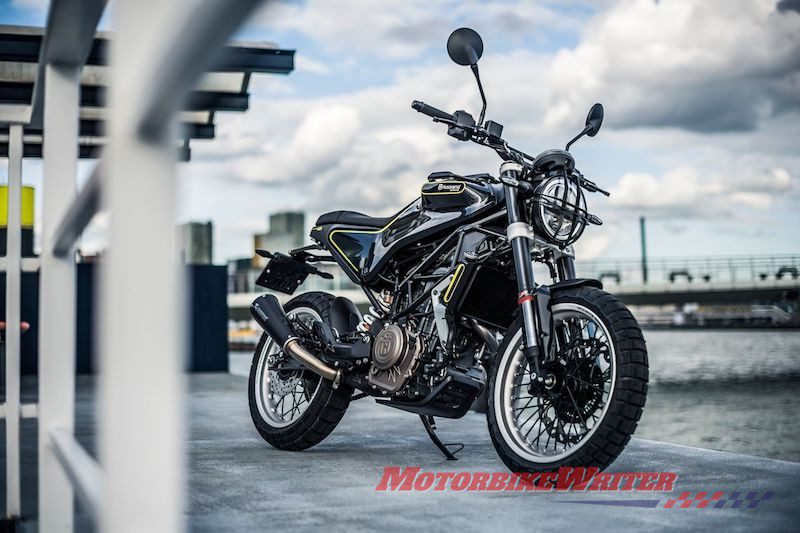 Compare that to the Australian retail prices of the BMW G 310 R ($5790+ on-road costs), Harley-Davidson Street 500 ($9995 rideaway), Honda CBR300R ($5749 +ORC), Benelli BN302 ($5590 +ORC), Kawasaki Z300 ($5999 +ORC), Royal Enfield Rumbler 350 ($6790 ride away) and Yamaha MT-03 ($6099 +ORC).
In fact, the only learner bike we can find that costs more is the Ducati 400cc Scrambler Sixty2 at $11,990 plus on-road costs.
Most controversial is the fact that the bike is based on the KTM 390 Duke which only costs $6095 (+ORC).
Sure, the Husky has a lot of good kit, including braided brake lines and WP suspension, but so does the Duke 390 and the 373cc engine has the same output of 32kW and 37Nm.
There will also be Vitpilen and Svartpilen 701 models coming in the next couple of months and we wonder how much they will cost!
Styling
Some people won't mind the price, paying anything to have a bike that looks different and stands out from the pack.
It certainly does look different, if controversial. We can't find anything like it, although a friend says it reminds him of the early '80s Yamaha RD350LC in silhouette.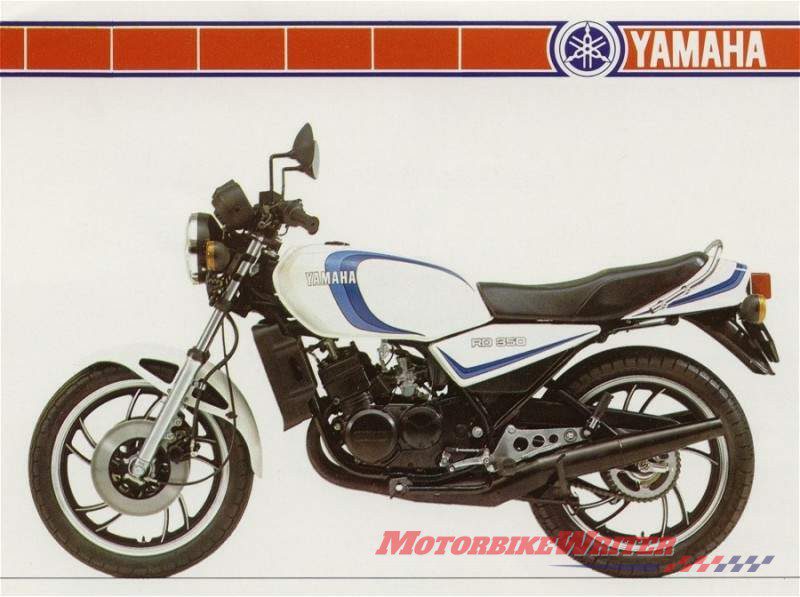 Most striking about the bike's silhouette is the big gap over back wheel, the floating Nabuk leather seat and the one-piece tank and side panels.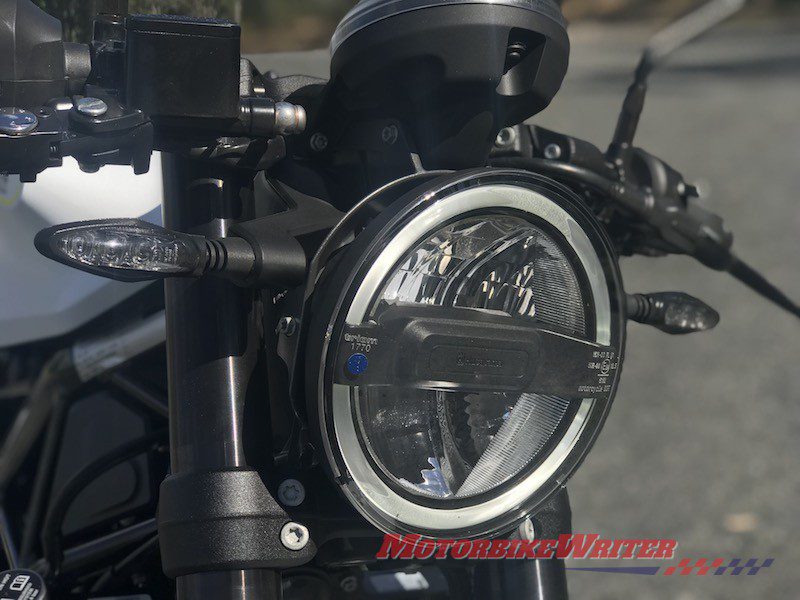 Overall it appears controversial, but there is a lot to love in the detail: sturdy aluminium triple clamps; LED lighting; classy bronze paint accents on the wheel rims, aluminium fuel cap and engine bottom-end casing; and the clever way they have hidden the massive catalytic converter in a gap through the swing arm pivot.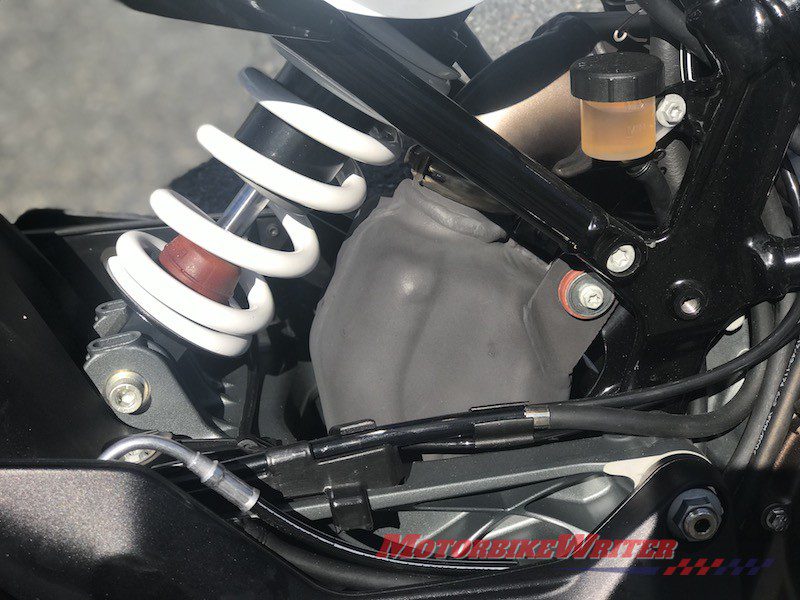 We've seen a lot of bikes before with isolated rear huggers including the number plate, but this one also has the indicators attached to it rather than the back of the bike.
It cleans up the tail of the seat, but the bright LED indicators are a little too low to attract attention from following motorists.
I'm not a big fan of white bikes, but the paintwork isn't dominant as there isn't a lot of bodywork.
Besides, Husky diverts your attention with the use of DayGlo yellow accents on the radiator, wheels and bodywork trim.
They attract a lot of attention, but they also draw the eye to the ugly radiator which sticks out too far and has an unsightly cap with a dominant warning label.
In fact, there are a lot of labels all over the bike and engine that counter the overall clean look of the bike.
I also don't like the messy cabling around the engine.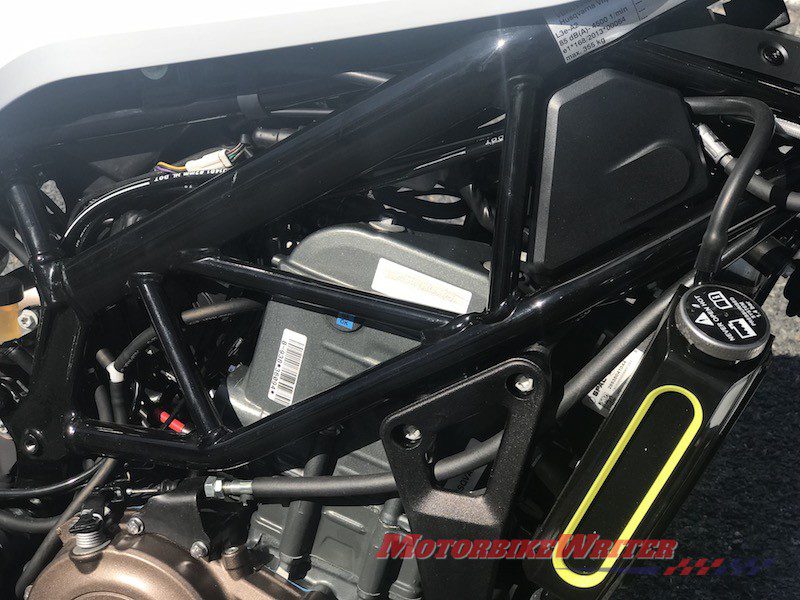 The simple instrument pod is a single round pod with all-digital information.
Unfortunately, the display is small and the figures even smaller so it's difficult to read.
And the glass shield over the glass pod makes it almost impossible to read in high-glare situations.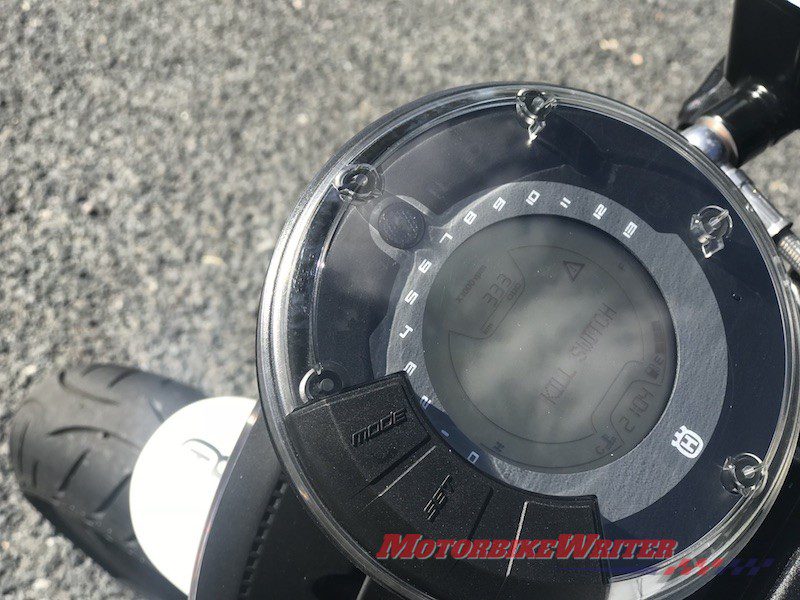 The controversial tank shape is also an uncomfortable shape as your inner thighs press against the squared-off edges.
Maybe I'm getting old, but the riding position and seat are very uncomfortable.
You lean slightly forward to the low bars on a hard and high seat, and there is almost no room for a pillion, nor a grab handle.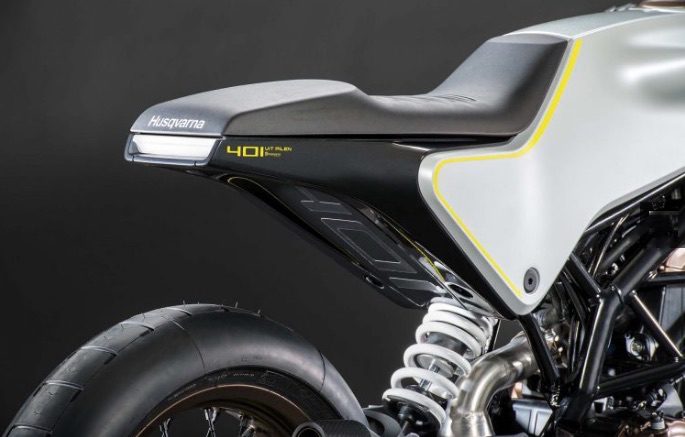 Even though the bike looks very futuristic, they have equipped it with traditional bug-eyed mirrors, rather than sharp arrow-shaped mirror or bar-end units.
However, they work well and give you clear vision of the rear outside of your elbows.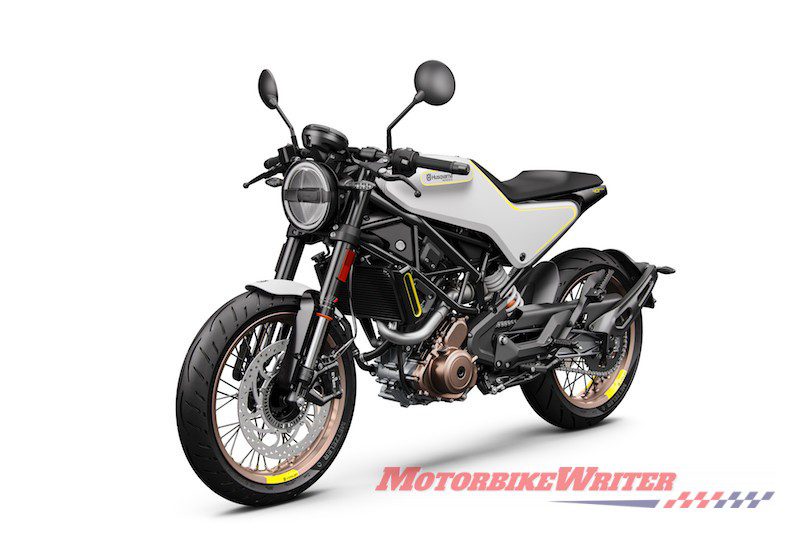 The stubby sidestand also works well and appears to be quite sturdy.
Perhaps the first thing new owners will do is swap the ugly and raw muffler for an aftermarket can. 
It has rough welds, raw rivets and a non-aligned, crumpled shell; certainly not up to the high standards of fit and finish of the rest of the bike. It's also way too quiet.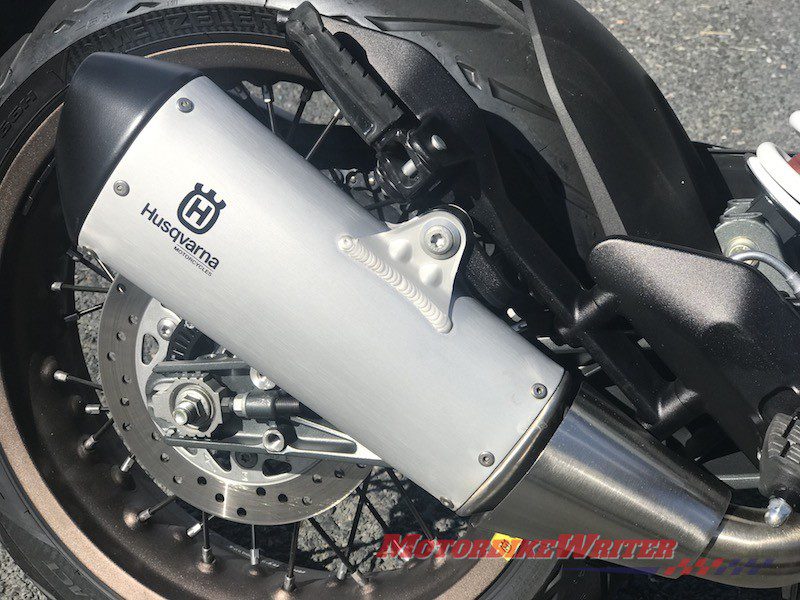 Interestingly, the key to unlock the seat is right up the front next to the radiator. Just another quirky feature to add to the controversial design.
Single cylinder
Husqvarna has a reputation for its robust single-cylinder engines in enduro and off-road racing.
Now it is breaking into road bikes, it probably needs to develop some multi-cylinder engines.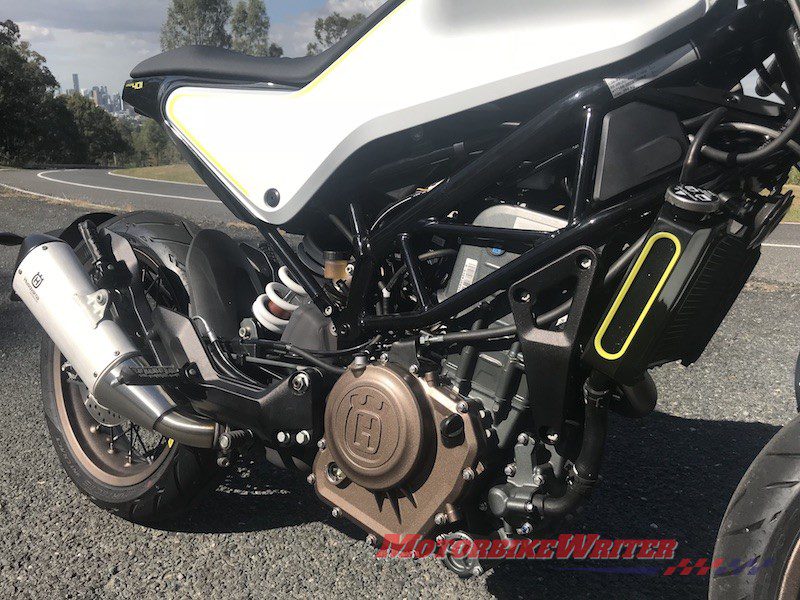 However, don't dismiss this single as coarse and breathless. It's not, thanks to good fuelling and a balancer shaft.
If you keep it singing in its sweet zone between 4500 and 6500 revs, it is smooth and delightfully responsive.
After all, the bike weighs only 157kg dry.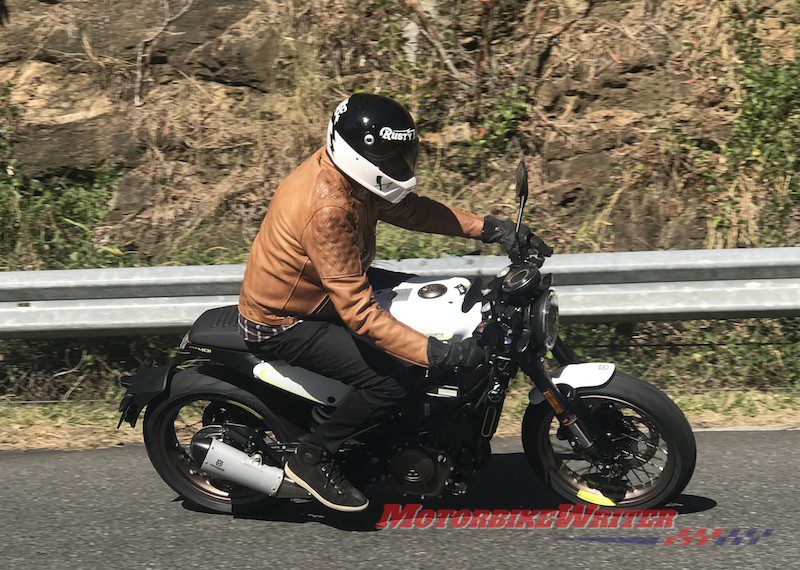 The ride-by-wire throttle is smooth which helps with low-speed manoeuvres and peak torque is down low for smart urban riding.
Out on the highway it doesn't seem breathless, rattly or annoyingly rough or buzzy.
It settles down into a nice throb with no mechanical noise and plenty of power in reserve for rapid overtaking., There is no need to drop from sixth to fifth.
Husqvarna has single-cylinder 701 Vitpilen and Svartpilen models coming powered by the same engine as their 701 Supermoto and Enduro models.
It's also liquid-cooled, but features twin balancer shafts, so it should also be quite smooth.
Name
Vitpilen means "white arrow" in Swedish which is controversial as Husqvarna motorcycles have not been made in Sweden since 1987 when Cagiva bought the company and moved production to Varese in Italy.
BMW bought the company in 2007, but kept production in Varese. It was sold to a KTM board member in 2013 and production moved to the KTM factory in Mattighofen, Austria.
Black Arrow and White Arrow would have been better, less controversial names, for the black and white models.
However, Vitpilen and Svartpilen just sound strange and we're not sure how they will be received by Aussie riders.
How does it ride?
The most important thing about the Vitpilen is how it rides.
This is a really sharp tool for incising the commuter traffic and carving the canyons. It's certainly no long-range runner with its harsh rider ergonomics.
Handling is razor sharp with light steering and stable feel over bumps and irregularities, despite a firm suspension.
Even basic WP suspension like this is a lot better than many sophisticated units.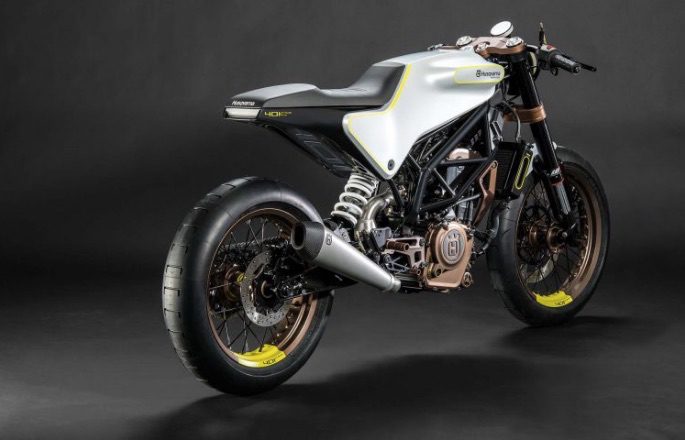 The tight frame and suspension set-up allows you to milk the single-cylinder engine for all its worth.
Brakes are ByBre which is a basic version of Brembo. The front 320mm single disc is very effective and the lever has a lot of initial bite, allowing the rider to late-brake into corners. The rear brake has good feel and plenty of effect for trail-braking duties.
ABS is smooth, non-intrusive and can be switched off.
Controversial conclusion
It will be very difficult for some riders to overcome the controversial name, price, single-cylinder engine and styling quirks of the Vitpilen.
However, if they do, they will find it a rewarding bike to ride in traffic and on your favourite twisting road.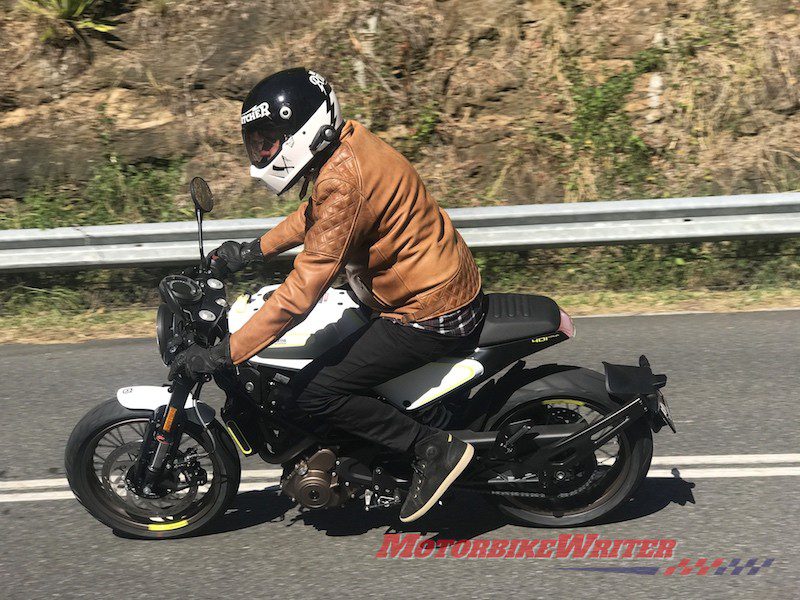 Husqvarna Vitpilen tech specs
Price: $11,592 ride away

Engine: 373cc, liquid-cooled single-cylinder

Power: 32kW

Torque: 37Nm

Bore x stroke: 89 x 60mm

Transmission: 6-speed

Frame: powder-coated steel trellis

Suspension: WP upside-down 43mm forks, 142mm travel; WP monoshock, 150mm travel

Brakes: ByBre 4-piston radial fixed calliper, 320mm brake disc; single-piston floating calliper, 230mm brake disc; switchable ABS Bosch 9M

Wheelbase: 1357mm

Clearance: 170mm

Seat: 835mm

Tank: 9.5 litres