There could be nothing more heartbreaking than to have your motorcycle stolen, but what can be done to reduce the alarming rate of theft?
In Australia, 23 motorcycles and scooters are stolen every day. But that's nothing, really. France tops the list for stolen motorcycles with 151 a day, while London alone, has more than 41 stolen every day!
We recently published an article that showed a massive rise in Queensland's motorcycle theft rate after the government opted out of the National Motor Vehicle Theft Reduction Council.
It also pointed out that 96% of motorcycles stolen did not even have a disc lock.
But are governments and riders the only ones to blame for motorcycle theft?
Sure riders need to play their part. (See a list of things you can do to secure your bike at the end of this article.)
But governments, police, insurance companies, motorcycle dealers and manufacturers can also play their part.
Motorcycle theft has hidden costs for all of these stakeholders. It costs governments in terms of policing, it costs insurance companies in payouts and it costs dealers and manufacturers when customers are turned off riding by theft.
How to reduce bike theft
So what can they do?
Governments could supply more secure parking at bus and train carers for commuters. That means lighting, security cameras and anchor points for motorcycles. They do it for bicycles, so why not for motorcycles?
We applaud the Queensland Police Service for their awareness campaign, but police should also include patrols past known motorcycle theft locations.
Insurance companies should encourage riders to fit aftermarket alarms and use approved locking systems. They can do this by reducing premiums for those who comply. Some do, but not all.
Manufacturers should make their bikes more difficult to steal and cut up for spare parts.
While some manufacturers fit immobilisers, Harley-Davidson is the only one that fits a loud alarm as standard.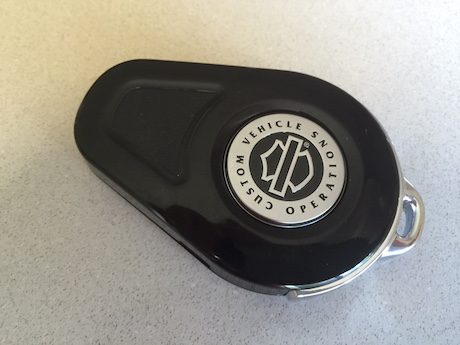 They could also apply DataDot paint that allows police to trace the owner of a recovered stolen motorcycle and to trace stolen parts.
DataDot is an almost invisible paint that includes a code that is stored on a national database. You can add DataDot to a motorcycle for $200.
Bikes featuring DataDot paint should also feature warning stickers to alert would-be thieves.
And motorcycle dealers should encourage customers to put aside at least $50 to buy an alarmed disc lock rather than forking out hundreds for an aftermarket exhaust!
If everyone plays their part, we can reduce motorcycle theft and save money.
Here's how you can protect your bike
Use a secure disc lock with an alarm and a reminder cord attached to your handlebars so you don't ride off with it still in place.

Buy a secure chain so you can anchor your bike to an immovable object such as a lamp post.

If you park your motorcycle outside your house, consider installing outdoor security cameras or a motion sensor light near the bike.

Also, use the steering lock if your bike has one.

Park in a secure location such as your garage or behind a locked gate.

Consider the extra security of using the steering lock, a disc lock or chain as well.

Pull out a spark plug or fuse, or have an immobiliser fitted.

Avoid parking your bike in railway or shopping centre car parks as these are notorious for theft.

Park in a locked carpark. If you have to park in the open, leave it where you can see your bike or in view of a security camera and/or under a light.

Otherwise, keep your bike out of sight, maybe parking it behind your car. If parking in a garage, block the bike with your car and ensure the garage is locked.

Use DataDot, DNA+ or a security tag to identify your bike.

When riding home, make sure you are not being followed.

Stay alert for suspicious vans or trucks driving around late at night. These are used to transport stolen motorcycles.

Put a cover over your bike. It might slow down thieves and prevent theft of accessories. But make sure it isn't a flashy lone with the brand name of the bike on it. That only entices thieves.

When riding in a group, park your bikes together.

Consider marking your bike in a unique way that could aid in recovery and therefore dissuade thieves.

At hotels or public parking spaces, try to park in view of parking lot security cameras and lights.

Install a motorcycle alarm and/or a hidden kill switch.

Buy a GPS tracking system that can track and relay your bike's speed, location and direction.