Hopes of abolishing the Victorian motorcycle safety levy in 2018 have increased slightly after the Opposition said it would "consider" the move.
Long-time campaigner against the "unfair tax", Rodney Brown, wrote to Liberal Shadow Minister for Roads David Hodgett asking for his policies on motorcycles including abolishing the levy.
Rodney pointed out that the Victorian Road Safety Committee's Inquiry Into Motorcycle Safety recommended that the motorcycle safety levy be abolished.
The Shadow Minister replied: "As a holder of a full motorcycle license myself, I am firmly aware of the positive aspects and benefits that come with owning your own motorcycle as well as the benefits to the public …
"Regarding your specific concerns with the Motorcycle Safety Levy, I have noted these and I am happy to consider your feedback on this matter as we continue to develop our policies towards next year's State election."
No clear-cut promise
It's not exactly a clear-cut promise and we don't hold out much hope given the Liberals promised to drop the levy when it was introduced in 2002 by the then Labor Government.
However, Rodney says he is buoyed by the response.
"I took it that he agreed that we should not be singled out to pay more than other road users towards the road toll," he says.
Victorians go to the polls in November 2018.
When we asked current Roads Minister Luke Donnellan earlier this year about the tax, he supported it.
The $50 levy was introduced in 2002 by Labor and it has been retained by successive governments.
As it is indexed to inflation, it has now risen to $73.20, collecting millions in revenue, much of which has not been spent.
United opposition
Since its introduction, the Victorian Motorcycle Council, Victorian Freedom Riders and Independent Rider's Group have all called for the levy to be scrapped.
Rodney, who is a former No 1 member of the Motorcycle Riders Association of Australia and former Rehabilitation Co-ordinator at The Public Transport Corporation, says car crashes are more likely to have multiple injuries and deaths, yet drivers do not pay a safety levy.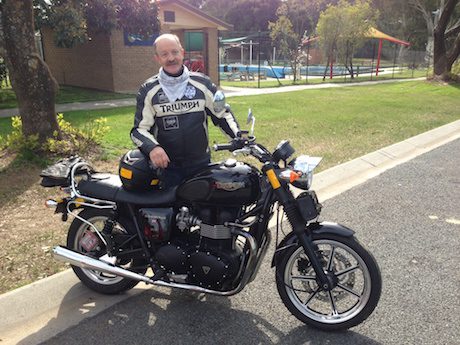 "In a motorcycle accident there may only be one person involved," he says.
If government does change hands and the Shadow Roads Minister becomes the Roads Minister and the levy is dropped – that's a lot of "ifs" – Rodney is still concerned riders may be slugged.
"If we manage to get the motorcycle safety levy abolished, we don't want to see it transferred on to our registration and tolls we have to pay," he says.
"In fact I don't think we should be paying freeway tolls."