The V4 Sport-Tourer
Being the youngest of five siblings I was often on the receiving end of hand-me-downs.
Sometimes it was clothes, sometimes sporting equipment and thankfully, motorcycles.
I have a brother who is seven years my elder and luckily for me, he also had an interest in motorcycles.
Growing up I was always riding a dirt bike one size too big and often getting myself in a little over my head.
When my brother's interest turned from dirt to street the timing could not have been better.
Just as I was coming up on my 16th birthday my brother decided it was time to go shopping for a sportbike. To my surprise, I was actually somewhat included in the narrowing down process of what bike to purchase.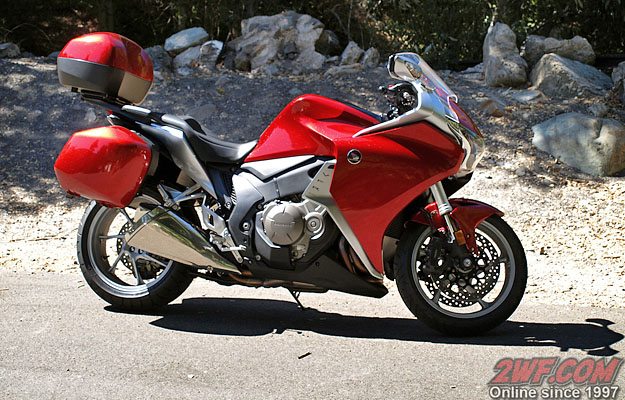 Which Bike?
The two bikes up for contention were a rare 1987 Yamaha FZR750 and a beautiful Italian red 1990 Honda VFR.
My brother decided to go with the Yamaha so I never did get my chance to sample the V-4 from Honda, that is … until now.
Twenty years later, I finally have that red VFR sitting in my garage. Well — not that exact 1990 Honda VFR of course — but the all new VFR1200F.
Many things have changed since then, in my life and the life of the VFR.
We both have a slightly larger displacement; however the Honda's has grown much more significantly. In the early VFR, 750cc was the norm until 1998 when the displacement was upped to 781 cc; close enough to label the model  the VFR800.
Not until the current 2010 model did the VFR make the significant jump to 1237cc's.
Honda has brought to market two versions of the current VFR1200F. I would be testing the standard model, which features a six-speed transmission, while the other version utilizes a new Dual Clutch Transmission which is without shift and clutch levers.
Oh, maybe it's better for me anyway — I have been told I am kind of old-school and would hate to cramp my style with some new DCT technology…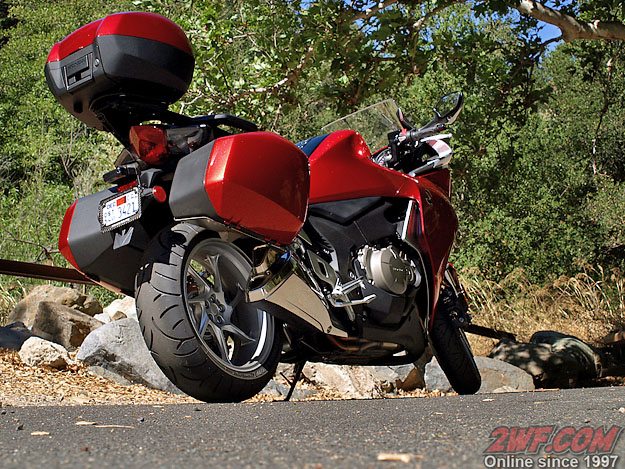 The Honda VFR1200F
But before you start feeling too sorry for me, I should note the VFR I would be riding was equipped with some special bits.
While they would not make me any faster, they would surely make my longer journeys much more enjoyable and accommodating.
The color-matched saddlebags have a 29-liter storage capacity per saddlebag and the rear trunk has a 33-liter capacity, which comes in handy if you are looking to bring along an extra full face helmet.
I have trouble putting together an Ikea coffee table by myself so I was pleasantly surprised at the ease in which the luggage can be installed and removed with a quick flick of the ignition key.
Any motorcycle model that starts with the letter "V" is almost always going to be about the motor and with 30 years of V4 technology, this Honda is no different.
In this case, the star is the 1237 cc liquid-cooled 76° V-4.
Although it may not be the MotoGP derived V5 powering this VFR, some design technologies did make their way over to the street V4.
For example, the two front cylinders are spread wider than the rear pair so that the engine can be tapered slimmer at the rear.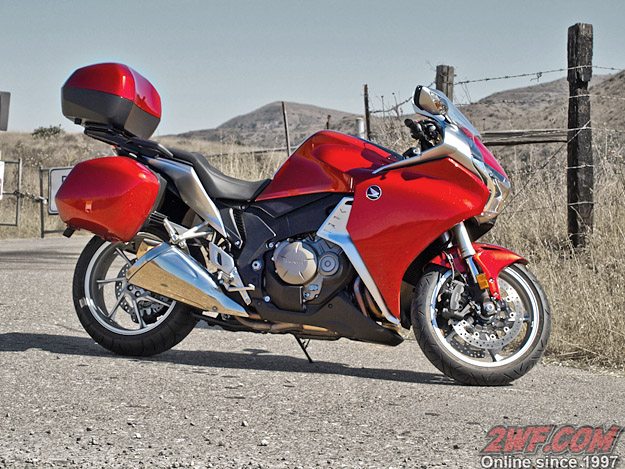 Overall, it's more compact than the 781 cc engine used in the old Interceptor. Honda also looked to their successful CRF motocross machines using Unicam technology to minimize cylinder head size and weight.
Crankshaft horsepower is in the 167 HP range at 10,000 RPM and max torque is 95.1 ft. lbs. at 8,750 RPM.
90% of that torque is available at just 4000 RPM. Fuel delivery comes via "Throttle By Wire" technology that is matched to four 44 mm throttle bodies, each with a single 12-hole injector for spraying fuel.
All of these ponies are emitted through the VFR's compact exhaust system, which has been placed towards the front of the bike to aid in mass centralization. The design is fairly funky and unique and, in my opinion, quite attractive.
The transmission on this base model VFR was the standard 6-speed unit with back-torque limiting clutch. As I mentioned earlier, there is also an automated Dual Clutch Transmission available for the VF1200F which allows push-button "paddle" shifting.
The VFR1200F features a 43 mm inverted cartridge fork up front with adjustable spring preload and 4.7 inches of travel.
Honda's beautiful Pro Arm single-sided swingarm handles things out back via a single gas-charged shock with remote spring preload adjuster, rebound damping adjustability and 5.1 inches of travel. Rake measures 25.5-degrees with 101 mm of trail.
Hauling the new VFR1200F to a stop is the Combined Braking System (CBS) with ABS.
During front brake lever activation, all the right-side caliper pistons are applied, along with four of the pistons on the left side. When the rear brake is applied, the other two left-side pistons are actuated.
Hardware includes dual 320 mm discs up front with 6-piston calipers, while the rear has a single 276 mm disc and a two-piston caliper.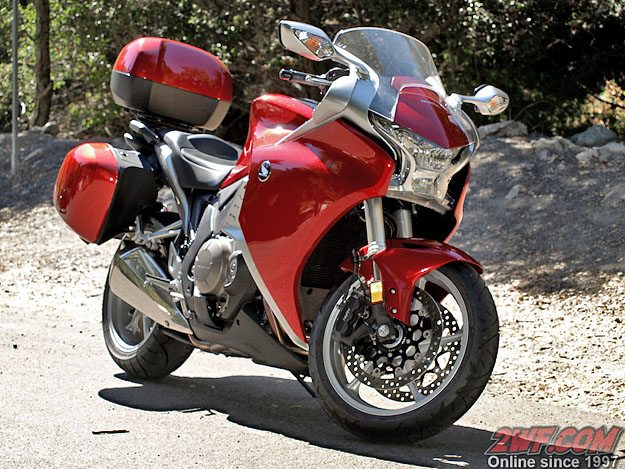 Riding the VFR1200F
There has been a fair amount of talk about the VFR's Layered Concept Fairing which fuses the cowl and fairings together.
To be honest I didn't pay much attention to it but I must admit it did appear quite sleek with no visible fasteners. The smooth lines and slippery paint created a clean and aerodynamic finish.
Before leaving on my maiden voyage aboard the VFR1200F I removed the hard luggage to get a better idea of the performance on hand.
Even with the luggage removed the Honda still feels hefty, tipping the scales at 591 pounds.
Some muscle is required when maneuvering through parking lots and cramped areas, so all of you people who spend your time cruising at low speed, this is not the bike for you.
Hopefully most of us will make it out of the parking lot where the VFR1200F's weight is less noticeable.
The bike transitions comfortably through twisty sections and it was easy to find a rhythm on this well-balanced machine.
I was careful not to get too gung-ho on corner entries however, as the VFR is a bit of a handful while trying to tighten up a line at speed.
The combination of a 60.8-inch wheelbase and some extra pounds is indeed noticeable when trying to bring back the Honda once it gets off line.
Ride quality was excellent at the rear end and freeway expansions were smoothed out nicely, while the front felt like it needed a touch more damping to make things a little more plush when encountering harsh bumps.
It's always going to be a tough task for a motorcycle to perform well at sporting speeds while also being plush enough for touring, but the VFR seems to handle it all in stride.
The Honda has a fairly upright riding position and good wind protection which should make it a nice bike on the long haul.
However, I found the foot pegs to be somewhat tucked back and up which left my legs feeling slightly cramped for a bike where longer rides are certainly part of the norm.
Seat height is low while the fuel tank feels high and  bulky, so I definitely felt more like I was sitting in the bike than on top of it.
Overall, the Honda provides a very refined riding experience whether doing some sport riding or just taking it easy on a long cruise.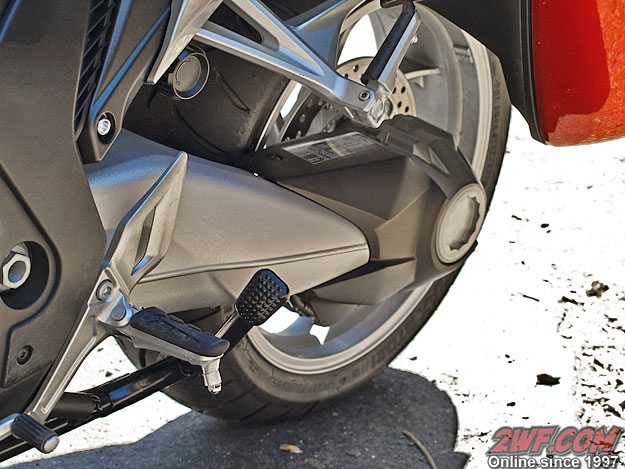 The VFR1200F Engine
Where the VFR1200F starts to show more of its "sportier" side is in the powerplant. Power delivery was quite entertaining with the front end dancing nicely in the air as I grabbed for the next upshift.
Yes, what an unassuming little motorcycle you are! All wrapped up in your saddlebags and simple understated paint.
But deep down you've got a little wild child in you that wants to break out, just looking for a tight corner exit followed by some open road where you can let your true, inner self out.
Hey, if this bike testing thing doesn't work out, I could always have a go as a motorcycle psychologist!
The VFR does not accelerate brutally but it does pack a good punch. I had read much of the VFR's fantastic sounding motor, but to be honest I did not share this opinion.
Seeing as how this was a V4, I was hoping for a more distinctive and noticeable bellow to stir the emotions. But to my dismay, the VFR sounded somewhat muted.
The power is put to the ground via a newly designed shaft drive connected to the VFR'r single-sided swingarm.
Honda uses an offset shaft with a vertically expanding pivot and sliding CV joint to minimize any variations in length during the rear wheel's arc of travel.
Driveline lash is non-existent and I rarely noticed the shaft drive working out back, which of course, is a good thing.
There was no excessive rear end hopping and squatting that is sometimes apparent with shaft drive and it actually felt very close to a chain-driven motorcycle, minus the driveline lash.
The standard ABS brakes were very non-intrusive, and I was rarely hard enough on the binders to really feel any pulsing or signs that the ABS was kicking in.
The braking hardware provided plenty of stopping power and feel was good at the lever in all situations.
The VFR1200F features a sporty slipper clutch. Not too long ago even the CBR-series sportbike went without a slipper clutch, so I was a little surprised to see one on this model.
Sorry to say, I was not riding the VFR quite hard enough to back-er-in and give the slipper a true test. But, it's nice to know it's there if needed. Clutch action felt light at the lever and overall had a good feel.
The 6-speed transmission felt good, but not great.
There was a definite feel of notchiness between 1st and 2nd gear and I was conscious of being sure-footed to not accidently miss a shift.
For a motorcycle otherwise so refined, I was slightly disappointed the shifting was not a little slicker.
The cockpit styling of the VFR1200F is modern, clean and extremely visible in all lighting conditions.
The tachometer is positioned dead center and most prominent. Fuel gauge, trip meter, clock, gear indicator, ambient temperature, speedo, it's all there for your viewing pleasure.
At a starting MSRP of $15,999, the VFR1200F is for the serious enthusiast — someone who appreciates technology and isn't afraid to fork out the money for it.
I was left a little on the fence regarding my final impressions of the VFR.
The Honda's curbside appeal does not get my heart pulsating the way the VFR of the early nineties did. This is a totally different machine that is much less on the sporting side and much more of an all-arounder.
w
BW
 Opinionator: Honda VFR1200F
Picks…
Typical Honda fit and finish.
Good ride in most conditions.
Styling (to some people!).
Pans…
Foot pegs not for long-distance touring..
Price.
Styling (to some other people!).
High price.
Conclusion
There is really very little to fault on the new VFR and Honda's use of functional technology has made for a very refined, well-performing motorcycle.
It does come at the expense of having to soften the edge, however, and the Honda is no lightweight.
Perhaps the new VFR has taught me more about myself than it has the motorcycle. Although I'm not getting any younger I still like a little edge in my motorcycles.
Publication Date: October 2010
2010 Honda VFR1200F Specs 
Engine
Engine: Liquid-cooled 76° V-4, SOHC, four valves per cylinder.
Displacement: 1237 cc
Bore/Stroke: 81 mm x 60 mm
Engine Torque:
Horsepower:
Fueling: PGM-FI 44mm throttle bodies
Ignition: Digital electronic
Compression Ratio: 12.0:1
Alternator: 450W at 6000 RPM.
Transmission
Gear box: 6-speed (VFR1200F) or six-speed automatic with two modes and manual mode (VFR1200F with Dual Clutch Automatic Transmission)
Final drive: Shaft
Wheels, Tires, Chassis
Front suspension: 43 mm forks with 4.7 inches travel.
Rear suspension: Pro Arm single-side swingarm with Pro-Link single gas-charged shock; 5.1 inches travel.
Tires: Front: 120/70 ZR17 radial. Rear: 190/55 ZR17 radial.
Brakes
Front: Dual 320mm discs, CBS 6-piston calipers with ABS.
Rear: Single 276mm disc, CBS two-piston caliper with ABS.
Dimensions, Weights and Capacities
Wheelbase: 60.8 inches (1545 mm)
Trail: 101.0mm (4.0 inches)
Seat Height: 32.1 inches (815mm)
Rake: 25-deg
Curb Weight: 591 lbs (VFR1200F) or 613 lbs (VFR1200F with Dual Clutch Automatic Transmission).
Fuel tank capacity: 4.9 gallons
Color
Candy Red
Price
List Price: $15,999.00
Review Date: October 2010
More wBW Motorcycle Reviews  |  All wBW Motorcycle Product Reviews
Note:
 For informational use only. All material and photographs are Copyright © webWorld International, LLC since 2000. All rights reserved. See the webBikeWorld® 
Site Info page
. Product specifications, features and details may change or differ from our descriptions. Always check before purchasing. Read the
Terms and Conditions
!
Owner Comments and Feedback
Other WebBikeWorld Brands Posts