Honda Announces the EV-neo Electric Scooter
---
December 16, 2010 – Here's an interesting press release from Honda about a new electric scooter that will be available in Japan for business to "transport heavy goods" (!).
Testing, data collection and feedback on this electric scooter during real-world business use in Japan may help Honda decide if a two-wheeled electric vehicle strategy is appropriate and perhaps will be used for future development of electric scooters and motorcycles in Japan and the rest of the world.
---
Honda Motor Co., Ltd. announced that it will start lease sales of the EV-neo electric scooter starting Friday, December 24, 2010.
The EV-neo is an electric scooter developed for businesses to transport heavy goods or for delivery services. It is claimed to deliver a clean and quiet ride without compromising power. The vehicle qualifies as a first-class motor-driven cycle in Japan for engine displacements of 50cc or less.
Honda plans to deliver about 100 monitoring vehicles between December 2010 and March 2011 to cooperating businesses in the monitoring program for collecting riding data and other useful information. Honda will then start lease sales of the EV-neo to general businesses and individual business owners in April 2011.
The wide range of data collected from actual business use together with the data obtained from test operations of 10 prototype vehicles, conducted since October 2010, is expected to be used in future development of electric scooters and motorcycles.
On top of the excellent environmental performance offering a clean and quiet ride worthy of an electric scooter with zero CO2 emissions while riding, the EV-neo leverages a motor that, even with cargo loaded, generates high torque even in the low-speed range to achieve a powerful starting and hill-climbing performance.
An in-house manufactured motor and a lithium-ion battery that apply Insight technology have been adopted, and an exclusively developed quick charger enabling full recharge in 30 minutes in a 25°C environment allows charging to be conducted at convenient intervals during the working day.
The EV-neo has been developed as a complete electric scooter that can be used in a wide variety of business situations.
A body design, which features a wide and flat loading space that enables easy loading, and a flat floor that makes it easy to get on and off the vehicle, ensures ease of use in delivery services and other business situations.
The EV-neo PRO, which is based on the EV-neo and will be put on sale simultaneously, adds a large rear carrier that is convenient for delivery of newspapers and other items, and a standard-equipment bracket that can further enhance load capacity by attaching a basket in front.
By offering products with outstanding environmental performance to more customers, Honda says they are committed to advancing its contribution to reducing CO2 emissions on a global scale.
Annual target lease sales (in Japan): 1,000 units.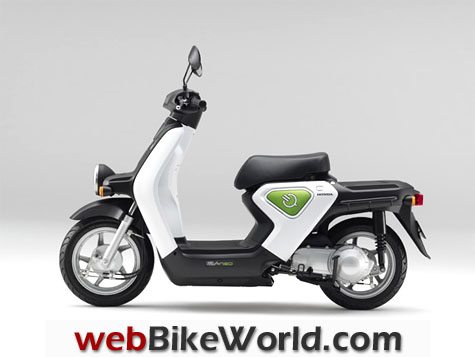 Manufacturer's suggested retail prices:
EV-neo:
Base price: 454,650 yen (433,000 yen before tax) (Approximately $5,400 USD)
Base price (with regular charger): 494,550 yen (471,000 yen before tax)
Base price (with quick charger): 574,350 yen (547,000 yen before tax)
EV-neo PRO
Base price: 459,900 yen (438,000 yen before tax) (Approximately $5,400 USD)
Base price (with regular charger): 499,800 yen (476,000 yen before tax)
Base price (with quick charger): 579,600 yen (552,000 yen before tax)
Options (sold separately)
Regular charger: 39,900 yen (38,000 yen before tax) (Approximately $470.00 USD)
Quick charger: 119,700 yen (114, 000 yen before tax)
Audible pedestrian alert system: 19,950 yen (19,000 yen before tax)
Note: Prices do not include installation and related costs.
Main features
A power unit that is clean and quiet, yet powerful. The newly developed power unit boasts outstanding environmental performance.
The combination of a Honda-made brushless motor and a lithium-ion battery emits absolutely no CO2 from riding the vehicle and produces a quiet running sound worthy of an electric vehicle – a valuable asset for early-morning deliveries or circulating around residential neighborhoods.
Generating a powerful torque in the low-speed range, the power unit allows the scooter to be started uphill on a 12-degree grade while loaded with 30 kg of cargo.
A sturdy battery system suitable for business use. The achievement of 34 km vehicle range per charge (measured at a constant speed of 30 km/h on a level road) enables use for such business purposes as door-to-door deliveries or circulating around a residential area.
The EV-neo uses the new SCiB lithium-ion battery from Toshiba Corporation, which is well-suited for repeated charging and discharging and for quick charging and also delivers stable performance at extremely low temperatures.
In addition, the EV-neo's newly developed battery cooling system uses a specially equipped cooling fan that makes the scooter ready for use in all four seasons.
Choose among two different chargers according to work requirements. The quick charger, designed exclusively for the EV-neo and using a 200-Volt power source, provides full charging from empty in about 30 minutes under 25°C conditions, making it possible to recharge the vehicle quickly during spare moments in the working day.
The portable regular charger can be stored under the seat and provides 100% charging from empty in about 3.5 hours at 25°C.
A body intended for delivery services and similar business uses. Cargo totaling 30 kg (the maximum statutory loading capacity for 50cc-or-under first-class motor-driven cycles in Japan), composed of 5 kg in the front (When the front basket or similar accessory is attached), 5 kg in the luggage space under the seat, and 20 kg on the rear deck, can be loaded onto the body.
A low-center-of-gravity design that places the major weight of the battery under the floor, combined with the 12-inch tires, provide enhanced riding stability with loaded cargo.
Securing a 50-degree handlebar turning angle to the right and the left, the vehicle is easy to maneuver in alleys through its sharp turning capability.
The EV-neo scooter uses Honda's unique Combined Brake System (CBS) to ensure stable braking performance even with a full load of cargo.
The center stand and standard side stand come enclosed in rubber to reduce the noise made by kicking up the stand, thus helping to ensure quietness even when deliveries require frequent parking stops.
Advanced equipment for greater user-friendliness. Digital meter with excellent visibility displays mileage, remaining battery power, and an in-progress indicator for charging.
An automatic energy-saving system ensures that power is shut off when the rider is away from the vehicle for a specified time with the main switch on.
The charging connector, newly developed exclusively for the EV-neo, pays extra attention to durability and the ease of plugging in and pulling out the charger.
Other features
Body color available in Los White.
Optional audible pedestrian alert system to warn pedestrians of an approaching vehicle when riding at 28 km/h or lower.
Honda EV-neo Electric Scooter Specifications

Dimensions (L × W × H) (m)
1.830 {1.875} ×0.695×1.065
Wheelbase (m)
1.250
Ground clearance (m)
0.120
Seat height (m)
0.756
Vehicle weight (kg)
106 {110}
Number of riders
1
Minimum turning radius (m)
1.7
Electric motor type
AF71M AC synchronous motor
Rated output (kW)
0.58
Maximum output (kW[PS]/rpm)
2.8[3.8]/5,000
Maximum torque (N·m[kgf·m]/rpm)
11[1.1]/2,000
Range (km)
34 per charge (based on a riding test at a constant speed of 30 km/h on a level surface)
Main battery type
Lithium-ion battery
Main battery voltage/capacity
72V/12.6Ah (1HR)
Power source for battery charger
Regular charger
100V AC (single phase)
Quick charger
200V AC (single phase)
Clutch type
Dry multi-plate shoe
Caster angle (deg)/Trail (mm)
26°30´/74
Tire size
Front
90/90-12 44J
Rear
100/80-12 56J
Brake type
Front
Mechanical, leading/trailing
Rear
Mechanical, leading/trailing
Suspension type
Front
Telescopic
Rear
Unit swing arm
Frame type
Underbone