Our Honda CX500 project bike has had a coat of rust as a custom paint job and doesn't it look like a relic from behind a 1970s racer's shed?
The unique tank paint job is the genius of veteran painter Stuart Blackburne of Simca Specialist Motorcycle Repairs, in Slacks Creek, Brisbane.
He's been painting motorbikes for 20 years and enjoys custom jobs such as ours.
"I love doing custom jobs where you can spend a bit of time on the project," he says.
"My favourite is painting race bikes. I've done a bike for Cam McDonald, Garry McCoy's old GP bike and an RC45 that raced at the Suzuka 12 Hour.
"A lot of people love the Kenny Roberts racing bikes and are asking for that to be adapted to newer bikes.
"What we've done here is make something look old."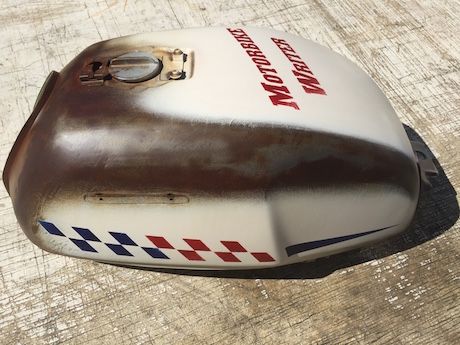 Here is the step-by-step process of painting our CX tank:
Media blasting. "We don't call it sand blasting anymore, because you use all sorts of media such as sodium, garnet, vapour or beed. It depends on the surface you are using. For example, aluminium cases get vapour blasted."
Apply high-strength epoxy primer which eats into the steel and stops it corroding. "We painted all around and underneath the tank to stop any rust."

Epoxy primer

Rusting. "We then make it rust up by wiping it with hydrochloric acid which makes it go rusty quicker. We leave it outside for a day or two to rust up nicely."

Rusting process

Rusting process

Cleaning. He then cleans the sections where it is to be painted with deoxidene that kills the rusting process.
Epoxy primer goes over the top and then it is painted.

Primed and ready for painting

Clear coat. After it is painted, it is cleaned and coated with a ceramic matte clear.

The finished product
Stuart says price of the paint job depends on whether the tank is full of bog, but runs from as little as $300 up to $1500.
"Some tanks are that bad the customer wanted to throw it in the bin, but we fixed them," he says.
"The CX tank was fine. It had two small dents which added to the character."
While the rust look is becoming popular, Stuart says there is also a call for matte finishes and bright candy colours.
"Rather than the deaths skulls and flames, riders are wanting more artistic designs.
"I haven't done any skulls for ages. In fact, I've had bike shops asking me to get rid of the skulls and airbrushing on trade-in bikes.
"But I believe airbrushing will be coming back in."
Stuart, who rides a 2005 Triumph Speedy with twin discs, says Harleys and cruisers are not necessarily the most popular bikes for custom paint these days.
"I'm getting a lot of hipster kids on SV650s, SRs and other LAMS bikes which is great to see."
Our project bike will be finished this week by Rocker Classic Motorcycles in Redcliffe and we plan for its first public showing at the Sunshine Coast running of the Distinguished Gentlemen's Ride (details below).