What do you think of this unsual-looking Honda Bulldog concept unveiled at the 31st Osaka Motorcycle Show in Japan over the weekend?
It looks like a two-wheeled version of a Jeep with its fat 15-inch knobby tyres, low 730mm seat, high exchaust pipe, twin headlights, massive tank and robust, military styling.
The Honda Bulldog is powered by a liquid-cooled four-stroke DOHC inline two-cylinder 400cc engine from the CB400, mated to a six-speed transmission.
It's not exactly a competitor for the BMW GS series, but it could open up adventure travelling to novices or those who feel big adventure bikes are just too big and heavy.
There is no word on the weight of the Bulldog, but it looks fairly solid, especially viewed from the rear.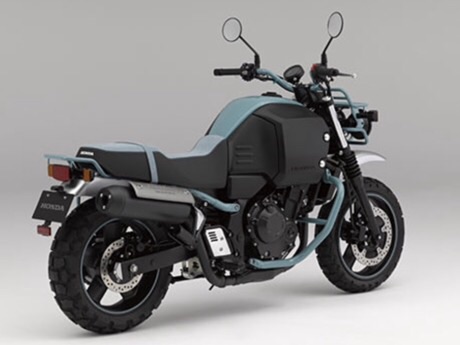 The Bulldog seems to be designed for long-distance adventure touring with heaps of luggage racks on the back, sides and even above the headlight. They also double as crash protection and styling accents.
Like a bulldog, it's ugly, but has a certain charm. Honda refers to it as a "Loveable Touring Partner" designed to go "beyond the boundaries of conventional leisure motorcycles, to actively enjoy outdoor life".
It seems ready to take on some rugged country, although there are no details on suspension geometry for tackling the tough stuff. There are no other details, either such as power, torque, tank capacity or brakes, although they are single discs.
As a concept bike, Honda is testing the market to see what sort of interest it generates. However, Honda doesn't tend to make production-ready concepts like this without the intention of going to market.
Just look at the Africa Twin concept it showed at EICMA in Milan last year. That bike will be production ready sometime this year.
If the Bulldog does go into production, it could find a market in our popular learner-approved motorcycle scheme.
Would you ride one?