Hobbit Odyssey Day 3: Ferry ride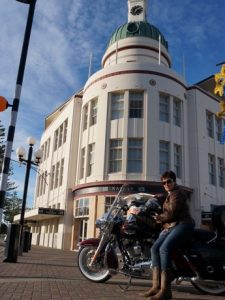 We are sitting on the Interislander Ferry heading to the South Island of New Zealand after three days in the North Island on our Hobbit Odyssey tour.
The first three days have been adventurous with a lost pannier on the second day, but the third day has been sensational so far.
It started in the seaside town of Napier which was substantially damaged in a 1931 earthquake and then quickly rebuilt in the art deco style of the '30s. These buildings still stand as a testament to quality builders and an evergreen style.
You come over all Great Gatsby and feel like dancing the Charleston and drinking copious amounts of champagne. As we were reluctantly leaving they were setting up the Sound Shell by the beach with sound equipment for what looks like a killer New Year's Eve party.
Our plan is to stay on Highway 2 all the way to Wellington. Now while that may sound boring, you can never underestimate a highway in New Zealand.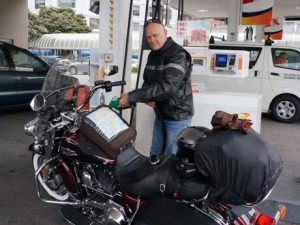 There are occasional boring stretches of a few minutes, but it largely meanders through quaint villages, past idling sheep and cattle, and pleasant farming countryside. The longest straight was no more than one kilometre and there are plenty of high-speed sweepers to keep you interested. The pace is steady and the Harley Road King is drinking only 5.6L/100km with passenger and luggage!
However, the mountain pass that heads over the Rimutaka Range between Featherston and Upper Hutt is a motorcyclist's paradise.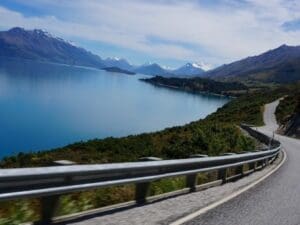 You know you are in for a great time when you see the crash warning signs with motorcycle icons. For the most part, drivers move over to let you through and those that don't are tourists.
There are also several passing lanes, so you shouldn't get held up too much by slow-moving traffic.
It reminds me a little of Red Mountain Pass in the Rockies of Colorado as it snakes through the forests. The surface is good quality, although run-off and gravel slides can be a trap.
And as you crest the summit and start to descend, you will cop a gale-force blast around nearly every corner.
What a treat for the nearby residents of Wellington to have this on their doorstep.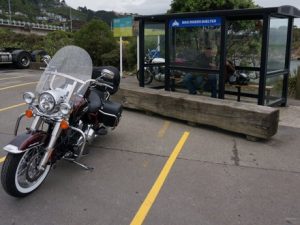 The New Zealand capital lived up its reputation as a wet and windy city, but at least the Interislander Ferry has thoughtfully provided a sheltered area for riders to wait for boarding.
They suggest you bring your own tie-downs, but there are only three bikes so plenty are available.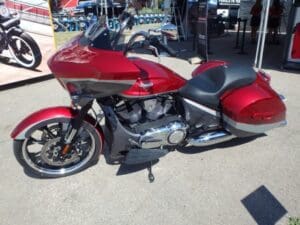 The sea is relatively calm today, so they say, but my stomach says otherwise. We spend the next three hours concerned more about the journey back rather than looking ahead into the driving grey rains of Picton.
But the news is good. A southwest change is coming and fair weather ahead, so we will head down the west coast while the sun shines.
Tonight we are seeing in the new year in the quiet town of Blenheim.
Hopefully it's very quiet and we can get plenty of rest before the sensational roads over the next few days.