If you love a comfortable long ride then you will want a helmet that makes you feel comfortable and keeps you safe. With a wide range of options in the market to choose from, getting the best helmet may not be a walk in the park. But introducing the new HJC RPHA-MAX Align Modular Motorcycle Helmet, you will never go wrong.
It is important to understand that the RPHA helmet is the first modular helmet with the stylish and look of a full face sport bike helmet. What makes it different from the rest is that it has been designed for superior fit and comfort using the advanced CAD technology. What you get is a whole new modular helmet constructed from Advanced P.I.M (Premium Integrated Matrix). This is generally a composite of fiberglass epoxy, carbon fiber, organic fibers and aramid epoxy formulated to come up with a remarkably strong and extremely lightweight helmet. There is so much that goes into the creation of this helmet.
Here is a look at some of the features you will love about the HJC RPHA-MAX Align Modular Motorcycle Helmet
The Advanced Premium Integrated Matrix Construction
The matrix of Carbon Fiber, Fiberglass, Organic Non-Woven Fabric and Aramid creates what riders have referred to as the strongest yet extremely lightweight shell. This is why the helmet has been designed for superior fit and comfort thanks to the advanced CAD technology.
Optimal Shell Sizing
Riders enjoy proportional sizing with this helmet. There are three shell sizes you can choose form. These are XS-S, M-L and XL-XXL. They range in hat size and head measurement. This means that you will always get something that fits you and feel comfortable in it.
One-Touch Integrated Sunshield
There is nothing that gives a rider maximum pleasure than riding in a helmet that keeps the blazing sun off the eyes. The HJC Helmet comes with a one-touch integrated three position adjustable smoke tinted sunshield that gives you full control of how you want to ride. The anti-scratch sunshield deploys quickly and easily when you need it. There is also the optional tinted sunshield available for replacement. You simply buy what you find suitable for your eyes.
Very Quiet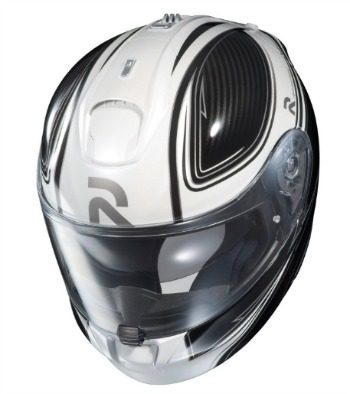 If you simply want a helmet that is quiet and comfortable then this Modular Motorcycle Helmet has got you covered. This is among the quietest even among full-face lids in the market. The helmet has been developed in HJC's wind tunnel laboratory at high speed to reduce the wind noise levels. It is so quiet you won't believe you are going at a high speed. It's only 84dB at 100 kph/62.5 mph.
Sport Helmet Design
For riders who prefer a helmet that has the Max look of a full-face sports bike helmet then this one comes in handy. The design is extremely compact and aerodynamic for a complete full-face helmet. In fact, the 3D anti scratch shield and Pinlock 100% Max Vission is a design every rider wants. The helmet also has a single-button onehanded chin bar/face shield release for superior fit and comfort. The innovative centre one-touch locking system adds style to the design of the helmet. It is easy to open and close with an extremely secure seal. In fact, this is the lightest modular helmet ever designed with the size small weighing in at 1565 grams.
RapidFire II Shield Replacement System
Simplicity has always been HJC Helmets' motivational factor and everything they create revolves around efficiency. This helmet is no different. It has a simple and secure shield ratchet system that provides ultra-quick, tool-less removal and installation so that riders can have the most efficient operation.
Outstanding Interior
The company has also not compromised the quality of this helmet with the interior. There is more than what meets the eye. The interior of HJC Helmet is lightweight, odour free, moisture wicking and has an antibacterial premium soft feel with Ginkgo extract. The self-cooling properties are enhanced by the innovative new fabric. As compared to other major fabrics, this one cools down faster which makes it the best helmet for long hot rides. You can remove and wash the crown and cheek pads. All helmet sizes allow you to change the cheek pads if you so desire.
Pros
This helmet is the best fit for long distance riders and works equally well for short distance riders. The interior has the most comfortable fabric that feels fresh all the time. The fact that you can remove the pads and clean or change makes this helmet serve you longer than any other.
The HJC RPHA Motorcycle Helmet has also been designed in such a way that you can wear your sun glasses with it. In fact, the sun glass visor that flips down is very nice. You can purchase a mirrored lens for the helmet to have the best view. Together it looks very sharp and stylish.
The light weight feature is perfect for carrying around if you don't feel like leaving in on your bike. This feature also makes it easy to have it on your head for long. So when you can't stand the heavy riding gears on you, try out something that's less cumbersome.
Cons
One of the major shortcomings of the MAX Align Modular Motorcycle Helmet is that it has a chin strap that requires the buckles to be properly set before you can tighten it. Without this you cannot tighten properly. It has also been seen to have a face guard latch that sticks out which makes it difficult to open the face guard.
Verdict
You may be wondering whether to get the HJC RPHA Align Motorcycle Helmet or not. Well with a few shortcomings, this helmet has better features than any other in the market and has proven to be worth the price. The matte black helmet gives you a bold look. However, there is a wide range of colors to choose from and all have the same quality.