HJC CL-Max Review Summary
The HJC CL-Max II is a basic, no-frills, flip-up motorcycle helmet.
It's comfortable (for "Round" shaped heads) and the price is right; it can be found for $115.00 in solid colors.
One of the big selling points for the CL-Max II is that it is available in a huge number of sizes, ranging from XS all the way up to 5XL.
The face shield works well and it's easy to remove and replace.
The face shield also has a (larger than optimal) first opening position for defogging or city use and the eye port has very good horizontal outward visibility.
The helmet also has large and deep ear pockets, which help seal out noise. Overall, the helmet was quieter than expected in our evaluations.
The build quality isn't bad but the paint and graphics are a bit rough. HJC could step up their game in this department with more quality control and it shouldn't raise the price by much at all.
The bottom line is that the HJC CL-Max II is a nice, basic, comfortable flip-up helmet with sizes to fit any size head there is.
It's sold in just about every motorcycle shop on the planet and all of these reasons are what make it one of the world's best-selling flip-up motorcycle helmets.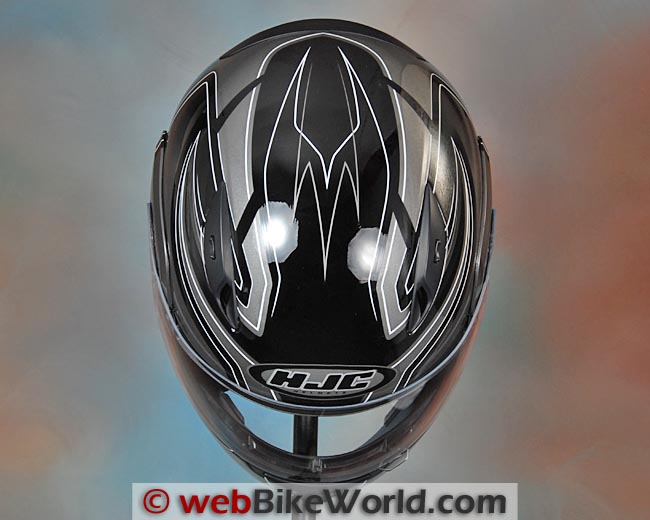 Paint, Graphics and Overall Quality
This CL-Max II is the black, silver and white "Zader" graphics version, which costs about $18.00 (street) more than the $115.00 (street) plain ol' solid color model.
The solid color version of the CL-Max II is available in Pearl White, White, Matte Black, Metallic Wine, Metallic Silver and Black. The CL-Max II has a polycarbonate shell.
The new Zader graphics spice it up just a touch, but there are a few tiny bumps here and there under the decal, along with a few tiny bubbles where the decal didn't seal correctly. This can occur when bits of dust or dirt are trapped underneath.
In other words, the quality control isn't as good as it could/should be and the helmets aren't cleaned and prepped correctly before the paint and/or graphics are applied.
It shouldn't be much more expensive for HJC to take a little more time and care to improve the quality, and that would be my recommendation.
Otherwise, the helmet has good levels of build quality and probably better than average for this price range.
The face shield and rotating flip-up visor work well and the liner is comfortable, removable and thickly padded, with no pressure points or hard edges that I can feel.
The optical quality of the face shields is sometimes variable on the less expensive HJC helmets, but this one seems fine. It's not perfect, but there are no wavy points that I can see, and that's good.
The face shield also has solid-feeling detents and it even has a small first opening position that is good for city or slow-speed riding.
The rotating flip-up visor has metal locking hooks in the chin bar and the visor also has a relatively strong detent to hold it open when raised.
Although the helmet shell has more flexibility than I'd like (watch the video below), there are no creaks, squeaks or groans like there sometimes are in cheap (uh, I mean less expensive) flip-up motorcycle helmets.
Of course, I'm cutting some slack here because at 115 bucks ($126.00 for the Zader graphics), one can't expect perfection.
Indeed, I think the HJC CL-Max II is among the best values in this price range. However, you might want to kick in another $60.00 or so and step up to the HJC IS-Max (review), which also includes an internally rotating sun visor.
Score: We give the HJC CL-Max II a "Very Good" rating for overall quality. See the Summary Table at the bottom of the page for a description of our rating system.
HJC CL-Max II Helmet Fit, Internal Shape and Liner
Most of the less expensive HJC helmets we've reviewed recently have what we call a "Slight Round" internal shape, which should fit most "Neutral" to "Slight Round" or even "Round" shaped heads as defined in the webBikeWorld Motorcycle Helmet FAQ. The CL-Max II is no exception.
This helmet is a size large and it fits as expected for that size. Slightly round shaped heads of about 60.0 to 60.5 cm circumference should fit the helmet.
Because it's a flip-up, there is a certain amount of variation in the width, due to the flexibility of the shell of this helmet type.
The CL-Max II shell does feel slightly more flexible than we'd like, which provides some "give" on the sides when the rotating flip-up visor is locked down.
But the liner and padding are comfortable; the padding feels especially thick, if a bit soft. The liner fabric is also smooth and comfortable, although perhaps not the most plush type you'll find, but certainly better than I expected for this prince range.
HJC says that the liner has a "Bioceramic Nylex moisture-wicking interior" that is anti-bacterial treated. It's  removable and washable, although we have not tried to do either.
The ear pockets in the CL-Max II feel larger and deeper than average. They provide a good seal and cushioning that runs fully around my ears, and this is both more comfortable than many other helmets and provides a good seal, which I think helps reduce perceived noise. I can also slip in a pair of straight-temple sunglasses, like the Randolph Engineering Aviator sunglasses (review).
The CL-Max II has an external covered recess for the HJC Chatterbox XBi-2H Bluetooth intercom, which is specifically designed to fit the HJC IS-Max BT, CL-Max II and HJC Sy-Max III (review) only.
The EPS liner in the ear pockets is not molded to accept speakers, however, but the speakers can be placed in the ear pockets.

More information on helmet fit can be found in the webBikeWorld Motorcycle Helmet FAQ page, along with the chart that lists the helmet weights of webBikeWorld reviewed helmets and also by shape on the webBikeWorld Motorcycle Helmet Shapes page.
Score: We'll give the HJC CL-Max II an "Excellent" rating for shape, comfort and thick padding.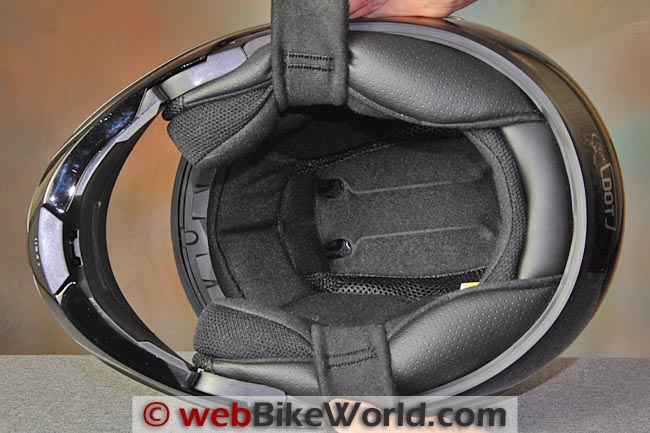 The HJC CL-Max II liner is comfortable and removable.
HJC CL-Max II Face Shield, Eye Port and Outward Visibility
Most flip-up helmets are a bit lacking when it comes to outward visibility, but the CL-Max II is slightly better than average.
The horizontal visibility isn't bad at all; in fact, I'd say it is slightly better than average in this regard. The vertical view is about average, which isn't bad also, because some flip-up helmets have a tall chin bar and/or a breath guard mounted on top, which can intrude on vision.
The face shield, claimed to prevent 95% of UV rays, seals tightly against the eye port gasket which, surprisingly enough, fully surrounds the eye port, albeit in a couple of sections.
Getting a good seal can be difficult, due to the curvature of the face shield and how it matches the helmet, and this is extra hard with a flip-up helmet, due to the inherent flexibility of the design.
So the fit between the face shield and gasket is an indication of the build quality…and HJC's vast experience in making zillions of motorcycle helmets.
The face shield removal system on the CL-Max II is very easy to use, as illustrated in the video below. Lift the face shield all the way up and press the lever release on either side and the face shield pops right out. By the way, the face shield measures 2.06 mm thick and it has the lift tab on the lower left-hand side.
The rotating flip-up visor operates with a single centrally-located release button under the chin bar. It's easy to use and works well.

Score: The HJC CL-Max II visibility gets a "Very Good".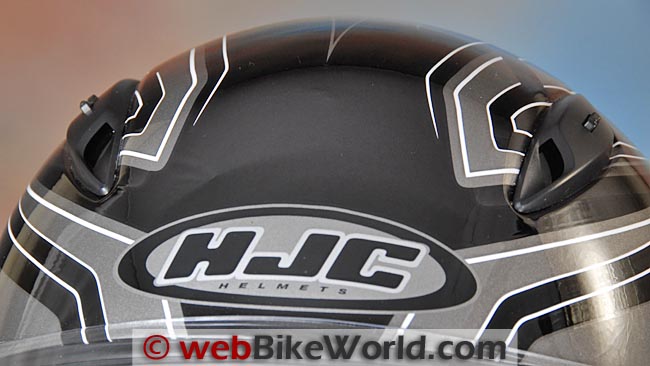 HJC CL-Max II top vents.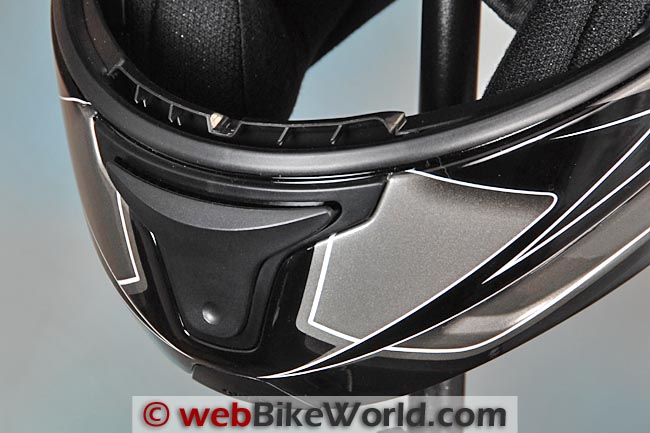 Large rocker-style chin vent on the HJC CL-Max II.
HJC CL-Max II Ventilation and Air Flow
The CL-Max II has a nice, big chin vent that functions via a rocker panel in the front. It's easy to find when wearing gloves but it opens only a narrow slot along the top that directs a small amount of air along the top of the chin bar and on to the back of the face shield.
There is a chin curtain available for the CL-Max II; it has a list price of only $4.99, so I suggest ordering one when you buy the helmet.
HJC apparently saves some money by not including chin curtains with most of their lower-end helmets; we purchased the accessory chin curtain for the very nice HJC CL-15 (review) and it made a big difference. So if you don't see a chin vent listed as a standard accessory with your HJC helmet, check the parts list and maybe you'll find one.
The top vents on the CL-Max II operate independently with small rocker buttons that are similar to the one found on the CL-15. Unfortunately, not much air seems to flow in…or none that I can directly feel, anyway.
A small rear diffuser sits over the rear exhaust system, which is comprised of two holes through the shell and EPS.
The liner inside the helmet has openings at the front for the intake and at the rear for the exhaust, so I think the air is flowing through, it's just that I don't directly feel it on the top of my head.
Overall, the system is about average for a helmet in this price range and this basically means that the ventilation is adequate but certainly not anything I'd call excellent or outstanding.

Score: We'll rate the ventilation system of the HJC CL-Max II as "Very Good" overall.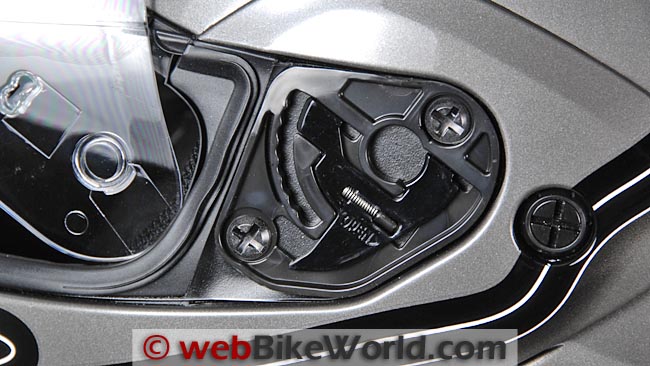 The face shield removal system on the CL-Max II is easy to use.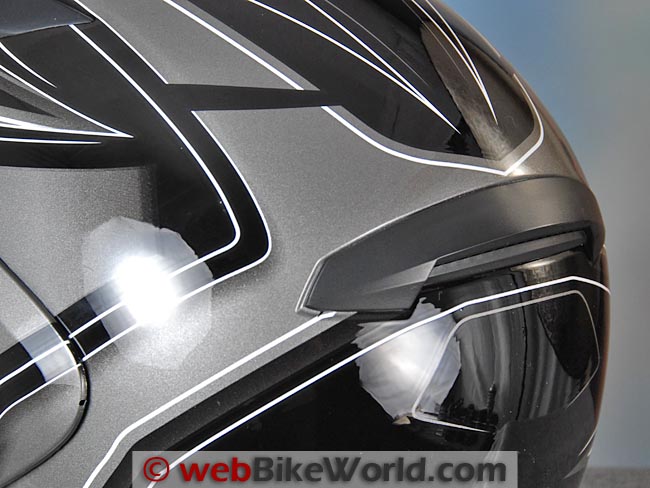 Thin diffuser with molded slots fits over two exhaust holes in the rear of the helmet.
HJC CL-Max II Sound Levels
The CL-Max II is quieter than I expected actually, with some wind noise coming from the top vents when they are open and when I'm sitting up straight. If I'm riding a sport-touring bike with a forward leaning riding position, the sound from the top vents disappears.
There is some wind noise around the bottom of the helmet, and I wish I had purchased the chin curtain to see if that makes a difference. But the large and snug-fitting ear pockets with their thick padding helps deaden the noise, and there isn't much wind noise generated by the seam where the rotating flip-up visor seals against the shell.
So overall, I think the CL-Max II is a relatively quiet helmet, especially compared to other flip-up helmets in this price range. Again, I think the thick padding and ear pocket design helps a lot in this regard.

Note that our helmet evaluations are a combined effort of several riders over time on different types of motorcycles with and without windscreens.
Evaluators wear correctly fitted, high quality ear plugs (even when evaluating motorcycle intercom systems).
Always protect your hearing when riding a motorcycle. See the wBW Earplug Reviews for more information on choosing and wearing earplugs.
Note also that perceived noise levels will vary, depending on the individual.
Noise can be caused by many factors, including helmet fit, the type of motorcycle and windscreen, wind speed and direction and even the rider's clothing.
For more information on helmet noise, visit the wBW Motorcycle Helmet Noise page.
Score: We'll give the HJC CL-Max II an "Excellent" rating for noise control.
w

BW

 Video: HJC CL-Max II Helmet
Helmet Weight
This CL-Max II in size large weighs 1688 grams (3 lbs., 11-1/2 oz.), which is slightly heavy, but not by much. The weight is distributed evenly so it doesn't seem to matter much on this size large.
Other size helmets in this weight range include the full-face size large Vemar Geo (review) at 1688 grams; the size large SCHUBERTH C3 With SRC (review) at 1692 grams and the AGV Miglia II (review)flip-up, also in size large, at 1707 grams.
Note that all of the helmets reviewed on webBikeWorld have been weighed and the weights are available on the wBW Motorcycle Helmet Weights page, along with a chart that lists the helmets by weight and shape on the wBW Motorcycle Helmet Shapes page.
Score: We rate the HJC CL-Max II as "Excellent" for its reasonable weight and good balance.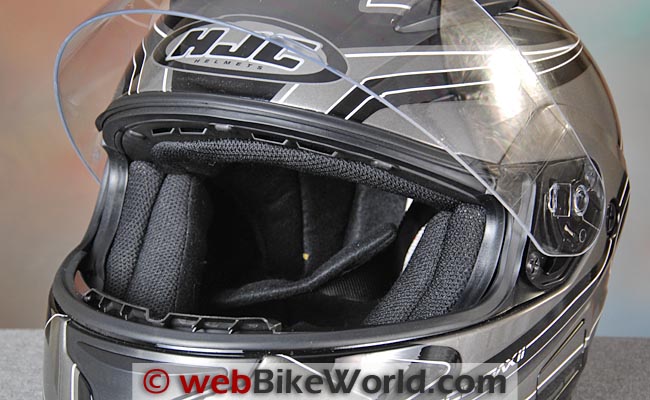 Miscellaneous
The HJC CL-Max II has a double-D ring chin strap attachment system. The padding under the chin strap is very nice and comfortable and seems longer or more substantial than many other helmets, including the expensive Arai helmets, which typically have chin strap padding that is too short.
The CL-Max II sold in the U.S. meets the DOT standard only. It is available in a huge size range, from XS all the way up to 5XL (XXXXXL).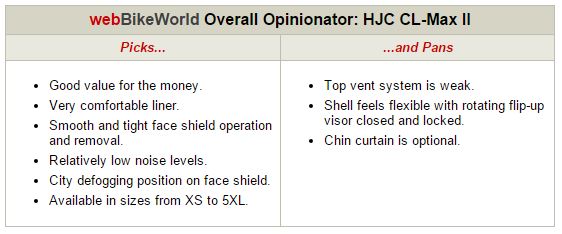 Conclusion
I'm not sure what improvements have been made from the original CL-Max with the HJC CL-Max II, but this helmet — like most HJC products — is a very good value.
While it may not offer any revolutionary features compared to other flip-up helmets in this very competitive price range, the CL-Max II is comfortable (for round shaped heads), relatively quiet and covered by a three year warranty.
You could literally buy a new CL-Max II every year for 5 years straight and still beat the cost of a single flip-up from one of the other brands.
That's not to say that the CL-Max II is the equivalent of a $600.00+ helmet, but it is an indication of the value, and this is why HJC helmets have become so popular.
So if you're on a limited budget or if you're just looking for a knock-around flip-up to add to your collection at a very reasonable price or if you need a flip-up helmet larger than size XXL, the HJC CL-Max II is probably about as good of a choice as you will find for its street price of around $110.00.
w

BW

 Review: HJC CL-Max II Helmet
Manufacturer: HJC Helmets
List Price: $139.99-$159.99
Colors: Solids and graphics
Made In: China
Sizes: XS-5XL Shell Sizes: Unknown
Review Date: October 2013

Rating Scale is subjective: Unacceptable, Poor, Neutral, Very Good, Excellent, Outstanding.
Note:
 For informational use only. All material and photographs are Copyright © webWorld International, LLC since 2000. All rights reserved. See the webBikeWorld® 
Site Info page
. Product specifications, features and details may change or differ from our descriptions. Always check before purchasing. Read the
Terms and Conditions
!