One of the Best Cheap Helmets
Good quality, comfortable liner, quiet on unfaired bikes but can be loud when affected by turbulence.
Air flow could be better. Lots of chin room.
The CL-14 face shield provides good visibility, but this one is rather flimsy.
According to our search logs, one of the most popular helmets is the HJC CL-14.
Riders are looking for information on this helmet, so we decided it was definitely overdue for a wBWreview article.
HJC is known primarily as a manufacturer of mid-range helmets with good quality that are very competitively priced, and the CL-14 definitely meets that description.
Although HJC offers many different color combinations, their full-face helmet line is actually rather straightforward.
There are basically three different helmet lines, known as the CS, CL and AC. The basic distinguishing characteristics of the CS-10 and CS-12 are their thermoplastic shell.
The CS-10 is U.S. DOT-only approved and starts at a very reasonable $89.99 list price. The CS-12 is DOT FMVSS 218 and lists for $109.99 at the time this article was posted.
A move up to the CL line brings a "complex polycarbonate" shell, Snell plus DOT approval and the same "ACS" ventilation system as used on HJC's top-of-the-line AC-11 helmet, which uses a composite weave fiberglass shell with Dyneema and Kevlar fibers.
The CL-14 starts at a list price of $139.99 for solid colors. The AC-11 list price is right around $200, depending upon colors and graphics.
All very reasonable prices for a decent, well-built helmet with good specifications. We are especially impressed by the quality of the liners in the CL and AC models, and the overall quality of all HJC helmets seems very good for the price.
Motorcycle Helmet Snobbery?
Now there's a lot of snobbery to deal with in the world of motorcycle helmets, and like all snobbery, it's unjustified.
Every webBikeWorld visitor who is at all interested in motorcycle helmet safety has, of course, read the wBW Motorcycle Helmet FAQ page.
That page has a link to the recent and Motorcyclist test of selected helmets ("Motorcycle Helmet Performance: Blowing the Lid Off"), which concludes that more money doesn't always buy the best protection.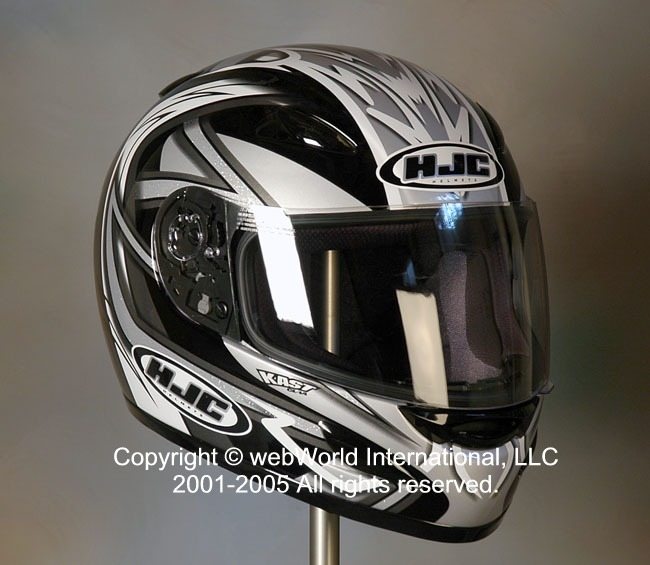 ---
Where to Buy HJC CL-14 Helmet
Check Reviews & Prices on Amazon
Check Reviews & Prices On RevZilla
See More Motorcycle Helmets, Motorcycle Visor, Motorcycle Intercom
---
And the helmet in that test that transmitted the second lowest level of G forces (the less G forces that are transmitted, the lower the chance of brain injury)?
Believe it or not, the Pep Boys "Raider" motorcycle helmet at 174 G's. The Raider lists for $69.95.
We don't know how the HJC CL-14 rates in comparison, and Motorcyclist magazine did not test one unfortunately.
But one of the points in the article that was raised was that the common helmet safety standards (i.e., Snell, DOT, ECE, BSI, etc.) aren't harmonized and don't always mean that an approved helmet will transmit lower G's.
In fact, there's a belief among some that "softer" helmets will transmit lower G forces, because, if they're designed correctly, the force can be distributed over a wider surface area, which could lower the point force for any given area.
In any case, the CL-14 is both DOT and Snell approved, for what it's worth.
Snobbery rules say that DOT approval is to be discounted, but the Motorcyclist article tells us otherwise. DOT-only standards may actually create helmets that transmit lower G forces. Go figure.
Helmet Fit and Comfort
The first thing that impressed me about the HJC CL-14 was the comfortable fit.
For some reason, the webBikeWorld occasional staff all have round-shaped heads (see the wBW Motorcycle Helmet FAQ page for more information on helmet fit).
Helmets that fit a round head shape are not as common as the more "normal" shape for the so-called "long oval" head.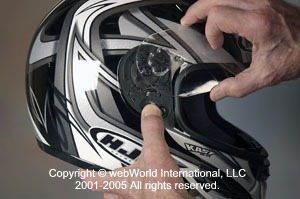 So whenever we find a helmet that fits round heads, we rejoice!  A helmet can be the safest helmet in the world, but if it doesn't fit, it's basically worthless.
And ill-fitting helmets can be very painful indeed. I know — I've tried many of them.
The helmet also has a comfortable neck strap with good ol' D-rings, but HJC did not include a snap to secure the loose end of the strap, which is an oversight, in our opinion.
Internal Shape
The CL-14 has, in my opinion, an internal shape very similar to the Arai Quantum II (see the wBWreview of the Quantum II), which has recently become my favorite all-around helmet, although it's not without its faults.
The CL-14 in size XL fits me very well and the comfortable and well-made liner is reminiscent of liners on much, much more expensive helmets.
The CL-14 also seemingly has tons of chin room. I'm not sure why — it must be the shape of the shell — but there should be no problem for those with Leno-sized jawbones.
By the way, be sure and visit the wBW Motorcycle Helmet FAQ page for more information on fitting a motorcycle helmet and a discussion on head shapes.
---
Where to Buy HJC CL-14 Helmet
Check Reviews & Prices on Amazon
Check Reviews & Prices On RevZilla
See More Motorcycle Helmets, Motorcycle Visor, Motorcycle Intercom
---
Face Shield
The CL-14 face shield has its pros and cons. It's a nice, big unit that offers a wide and deep view of the road ahead over a variety of motorcycle seating positions, including the head-down sportbike crouch.
The downside is that the face shield itself seems rather flimsy.
It has several notches that allow it to be opened in a few different positions, but the detents are rubbery feeling and the visor definitely bends one way and another as it's lifted. It also could use about one more notch at the upper end, to allow it to be opened higher and out of sight when desired.
The visor problem is really too bad, and one of the two problems with the helmet, in our opinion.
One would think that the motorcycle helmet manufacturers would settle on a standard for visor opening and removal and go with it, but each company seems to want to reinvent the wheel, if only for the sake of corporate ego.
We think the problem with the CL-14's visor is that it's thinner than necessary to overcome the detents.
The visor also doesn't quite fit against the seal around the visor opening, although this doesn't seem to have an effect on noise, at least that can be noticed.
The visor is of the type that covers the side rotating and removal mechanism, and this type of visor, in our experience, normally generates lower high-frequency noises than visors with external side plates.
w

BW

 Video: HJC CL-14 Face Shield Removal and Installation
Noise Levels
The other big problem with the CL-14 is that it seems to generate lots of low-frequency "booming" noises, caused by turbulence around the neck and lower sides of the helmet.
This was only apparent to us when riding behind half-fairings, such as those on our '98 Triumph Tiger and a Suzuki Bandit 1200.
The lower-frequency noise completely disappeared when riding unfaired bikes.
Something about the design of the shell seems to cause lots of noise that comes up under the neck area when the lower portion of the helmet is buffeted by turbulence, so be forewarned.
Of course, we always wear correctly fitted, high quality earplugs and an extra helmet liner when riding, and we strongly recommend that you always wear hearing protection also.
See the wBW Earplugs and Hearing Protection page for more information on choosing and wearing earplugs.
Note that your experience with this helmet's noise levels may be different, depending upon many factors, including your head shape, motorcycle configuration, prevailing winds and more.
---
Where to Buy HJC CL-14 Helmet
Check Reviews & Prices on Amazon
Check Reviews & Prices On RevZilla
See More Motorcycle Helmets, Motorcycle Visor, Motorcycle Intercom
---
Venting and Air Flow
The CL-14 has two chin vents, one on either side, that are opened by sliding back a cover.
Two more brow vents are also opened by sliding back their covers, and this is a novel and reasonable design that works well, although we have a slight doubt as to how long the covers will last in normal use.
The helmet flows some air, but not as much as we hoped.
The weather has been very, very hot here recently, and the CL-14 doesn't provide as much air flow as we'd like.
I can feel some air on my face, coming through the chin vents, but I really don't feel much on top of my head, and in this heat, it can sure use all the venting it can get. Two exhaust vents on the rear of the helmet are permanently open.
The good news is that the CL-14 has very low levels of high-frequency noise, meaning, in part, that the vents are correctly designed.
In fact, I can think of several more expensive helmets that could benefit from a similar vent design, at least as far as the noise levels are concerned.
I think part of the problem with the CL-14 is that the vent holes are not perpendicular to the air flow, resulting in a lower volume of air coming through the vents.
The CL-14's liner is not removable, which is fine with me, as I always wear a skull-cap type helmet liner, which helps to keep the liner like new.
Our CL-14 in size XL weighs 3 lbs., 12-1/8 oz., or 1704 grams, which puts it just about mid-pack when compared to all of the helmets we've reviewed. See the wBW Motorcycle Helmet FAQ pagefor a chart that compares the weights of all the helmets reviewed on webBikeWorld.
The strange thing is that the CL-14 seems heavier than it really is both during handling and when being worn, for some reason, which is usually not the case.
Although it only feels slightly heavier than it should when riding, the weight does carry well and the mass isn't that noticeable.
Conclusion
The HJC CL-14 can be purchased for as little as $125.99, including shipping.
The CL-14 is a very good helmet for the price, with good to high levels of build quality and a very good liner. It flows more air than some helmets, but not as much as we'd like.
The visor isn't as well made as it could be, and the helmet seems to be more affected than most by turbulence around the lower region.
But all in all, we think it's a very good helmet for the price and is all-around better than many helmets costing two or more times as much.
Round-head riders will like the fit and you sure could do a lot worse than choosing the HJC CL-14.
w

BW

 Review:  HJC CL-14 Helmet
Manufacturer: HJC Helmets
List Price (2005):  $139.99-$149.99
Colors: Red, Blue, Silver, White, etc.
Made In: Korea
Review Date: August 2005
Note:
 For informational use only. All material and photographs are Copyright © webWorld International, LLC since 2000. All rights reserved. See the webBikeWorld® 
Site Info page
. Product specifications, features and details may change or differ from our descriptions. Always check before purchasing. Read the
Terms and Conditions
!
---
Where to Buy HJC CL-14 Helmet
Check Reviews & Prices on Amazon
Check Reviews & Prices On RevZilla
See More Motorcycle Helmets, Motorcycle Visor, Motorcycle Intercom
---
Owner Comments and Feedback
---
From "D.P." (04/11):  "I just read your article on the HJC CL-14 and it was mentioned that "The helmet also has a comfortable neck strap with good ol' D-rings, but HJC did not include a snap to secure the loose end of the strap, which is an oversight, in our opinion."
Actually the CL-14 does have an elastic retaining loop for the strap end, but it is easy to miss. It does work well once you find it."
---
From "R. d K."  (5/09):  "I've had my HJC CL-14 helmet for nearly three years now and I agree with your comments on fit and build quality. The visor on my helmet also feels flimsy and doesn't seal properly around the bottom edge.
You have to press very firmly on the bottom edge of the visor with the palm of your hand to make the visor seal in any way at all. Once you do that the noise levels in the helmet reduce significantly, as does the airflow.
I tried adjusting the side plates but all I succeeded in doing was snapping off one of the plastic screws. Luckily my local dealer had some spares and gave me a new screw for free.
The version of the CL-14 I have came fitted with a mesh chin curtain which seems to just about eliminate the low frequency booming noises (or maybe it's my beard that does that).
During summer riding I find the air flow though the top vents inadequate and need to keep the visor cracked open a touch to avoid getting too hot. I leave the top vents open all year around, including when I'm riding in winter in minus 5 Celsius and below.
The chin vents on the other hand are extremely effective and the centre one especially so. The centre vents does a superb job of defogging the visor but it can make my face rather cold in winter.
I have my doubts about the effectiveness of the breath deflector and I've found it to be quite flimsy. When you put the helmet on your arm the breath deflector dislodges almost every time but I've become used to pushing it back in place after I've put the helmet on my head.
All in all I'm very happy with my HJC CL-14, I just wish I had bought a plain white one instead of a yellow and black one. It is quite visible but a white one would have been better and cooler to wear."
Other WebBikeWorld Helmet Posts