Hippo Hands Review Summary
Hippo Hands Image Gallery
Editor's Note: I remember seeing a pair of Hippo Hands installed on an old BMW Airhead many years ago. I wasn't sure if the product was still available or not. We receive several emails each year asking about them and Chris recently installed a pair for his GS.
Here's his story…
As soon as the thermostat drops below 65 degrees F, some riders start making plans to putting their bikes away for the winter. For the rest of us, the cold is just another obstacle to overcome. With the proper gear you can ride in nearly any temperature — some even ride in the snow (tire studs recommended!). Riding in snow is a bit over the top for me, but if the roads are clear and dry I'm usually out and up on two wheels. Now that it's dark for both the morning and evening ride, I use the "super-slab" both ways for my 100 mile round-trip commute.
This results in some vicious wind chills that can literally suck all of the heat out of my body unless I'm wearing the appropriate riding gear. Over the years webBikeWorld has evaluated various types of heated gear, both powered from the bike's electrical system and by batteries, so be sure to visit those reviews for more info. I've been using Gerbing's heated gear for the past 8 years now and it has all worked fine, keeping me warm from my shoulders to my toes.
I purchased their "Ultimate Heated Suit" along with a pair of their heated socks and their warmest heated gloves in Jan of 2001. The gloves work well, but I'm having trouble with the sheer bulk of the material. Having abused my hands for the past 40 years in the automotive repair business, I'm now paying the price — I just can't feel the controls well enough with so much material around my hands.
It was during a visit to the Adventure Riders website that I came a cross a thread in a forum that started with a question of how other riders were keeping their hands warm in sub-freezing temps. There were the usual hardy riders that claimed they only needed insulated gloves, but then I came across one solution posted by a rider using a pair of Hippo Hands. The post included pictures of a pair installed on his BMW GS.
This was a coincidence, because I had been at the local BMW dealer just the weekend before and parked out front was a R1150GS that was identical to mine.
And guess what? The owner had similar contraptions mounted on his bike. I wasn't sure if these devices were Hippo Hands, but they were of the same design.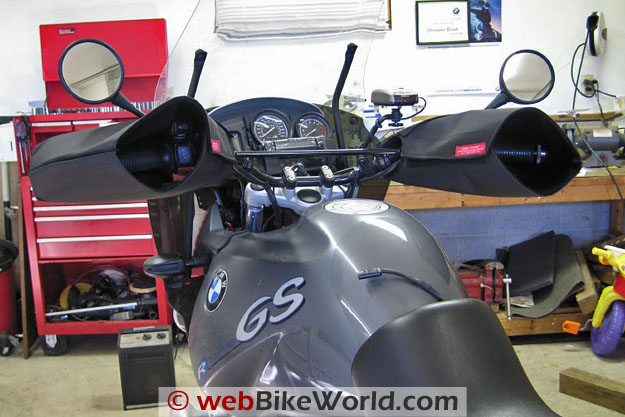 Hippo Hands
Genuine Hippo Hands are manufactured by World Vintage Motorcycle Sales Co., located in Mississauga, Ontario, Canada, just outside of Toronto.
I was unable to determine how long the company has been making Hippo Hands, but World Vintage Motorcycle Sales claims to be the only outlet for "true" Hippo Hands.
World Vintage also makes fork gaiters that do not require disassembly of the forks.
So what are Hippo Hands exactly? Well, handlebar muffs are commonly used colder climates on motorcycles and snowmobiles to protect the rider's hands from the cold and wind.
The concept is simple: by surrounding the handgrips with a wind and water proof barrier along with some insulation, it's possible to keep your hands warm without big bulky gloves.
I have to admit, I was a little bit skeptical about the looks though — Hippo Hands aren't the most attractive accessory — but then they're not going to be on the bike year 'round, hopefully just for a couple of months, at least in my neck of the woods.
I decided to give a set of handlebar muffs a try and chose Hippo Hands instead of another brand because they tailor theirs to fit specific makes and model bikes.
When placing the order, World Vintage Motorcycle Sales requests information about the make, model and year of bike on which the Hippo Hands will be installed to ensure that the correct fit will be sent.
The order was placed and paid via PayPal through the World Vintage website. They also accept orders via "snail mail" with a check or money order, but this will obviously slow things down.
The package arrived in around 6 working days, which considering we were in the mist of the Christmas rush wasn't bad.
Since the weather here had been rain followed by freezing temperatures at night, I had to travel by "cage" anyway, so this wasn't a problem.
When the Hippo Hands arrived I was impressed with the materials used in their construction. The outside layer is a black "heavy weight polyurethane-coated Cordura-like nylon material, for water repellency".
A heavyweight polyester arctic fleece is used as the liner for warmth. Between these two layers is a plastic stiffener to help the muffs keep their shape, which aids tremendously when inserting your hand into the openings.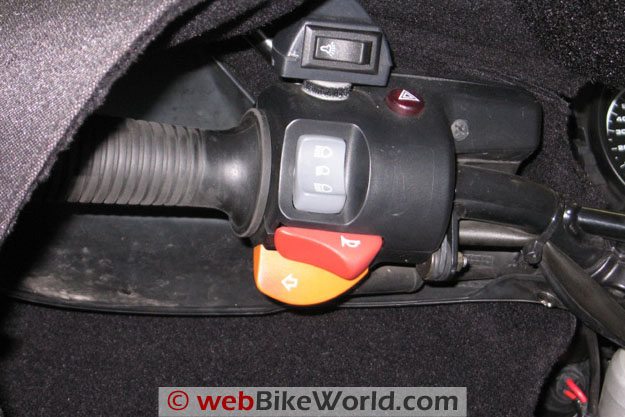 Modding the Hippo Hands Mods
My wife, the resident sewing authority, was impressed with the overall quality of the work. When laid flat, the Hippo Hands measure 14-1/2″ x 17″ (370 mm x 430 mm).
The included instructions direct the owner to apply the large piece of supplied Velcro to the front side of each hand guard.
This grips a mating piece of Velcro on the inside of the Hippo Hand.
This keeps it stable and prevents it from rotating downward which could make it difficult when inserting your hands while riding (you don't want to have to take your eyes off of the road in order to find the opening each time).
I'm not real fond of the Velcro on the hand-guards — it looks kind of tacky to me when the muffs are removed. One solution may be to remove the strips each spring and replace them when frigid weather returns.
By the way, when removed from the bike, the manufacturer recommends storing the muffs flat so they will retain their shape and stiffness.
After attaching the Velcro to the hand guards it was simply a matter of slipping the muffs over the handgrips and closing the Velcro covered seams.
I found it helpful to sit on the bike and fine tune the angle of the muff so that the opening is at a neutral height for easy hand removal and insertion by practicing without looking down.
The cutouts for the mirror stalks were located properly and I had no troubles with the installation. I also found that by changing the seam overlap, the opening size or shape can be modified to some degree.
The hand guards on my GS keep the muffs clear of the controls, but on some motorcycles the muffs can be forced back by the wind blast, where they might push on either the brake or clutch lever (or both).
If this is occurs, the owner must fabricate some braces to hold the Hippo Hands away from the levers.
World Vintage doesn't make braces available for purchase though, probably due to liability issues. They do have pictures on their web site that customers have submitted of bracing they have built themselves.
In searching for "handlebar muffs" I happened across other examples of inventive homemade bracing complete with pictures. It's worth a peek at these solutions as they can provide you with some great ideas.
Gotta love the Internet! Total install time, 15 minutes, including pictures.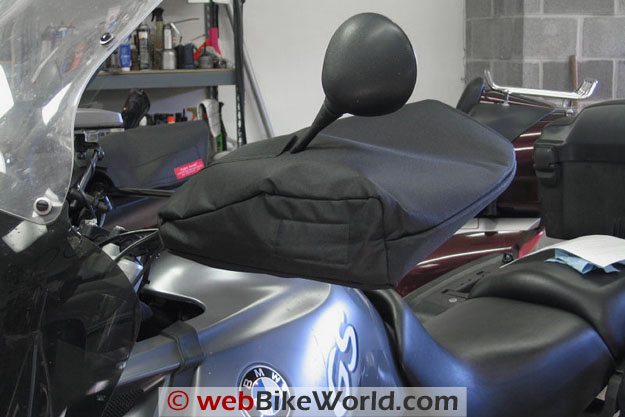 My initial outing was impressive even though the ambient temperature was a balmy 41 degs F (+5 C). I wore my summer ventilated gloves so I could more accurately feel the effects.
My hands were perfectly warm regardless of the speeds (Yeah, I know, that's not sub-freezing, but they were calling for colder temps that upcoming workweek).
It is completely different having your hands inside the muffs and out of sight.
Even though it's not necessary to look at your hands when riding, not being able to see them is kind of weird. It takes some getting used to, but it becomes second nature with practice.
A better evaluation came during my next morning's commute. I wore the same summer ventilated gloves for the 48 minute trip at highway speeds at 23 degrees F (-5 C).
It was necessary to switch on my heated grips, but mostly because my thumbs had gotten chilly. A non-ventilated glove and minimizing the opening where the Hippo Hands fit around the handlebars would probably solve this condition.
All in all, I'm very pleased with how the Hippo Hands perform. I've found that I can wear a far lighter weight glove when it's cold outside, which gives me a much better feel for the controls.
One thing I did notice when wearing lighter weight gloves is that you don't want to leave your hands outside of the muffs for any more than a few seconds because they can get cold very quickly.
No resting your hand on the tank for a few minutes. Of course, you're better off with both hands on the controls anyway, right?
UPDATE (March 28, 2009): Now that I've had put some miles on with them, the biggest negative is they can catch some wind which can put some unfavorable input into the handle bars.
Conclusion
Warm hands allow a faster response time when necessary, which is very important for a motorcyclist. It's also important to be able to have proper "feel" for the controls.
A glove that is too bulky can diminish that feel.
A pair of Hippo Hands solves both problems, keeping the rider's hands warm, which allows a better grip and feel for the controls, while providing more comfort with a lighter weight glove in cold temperatures.
Perhaps not the most attractive motorcycle accessory, but Hippo Hands are one item where "form follows function".
Another plus is that the cost for a set of Hippo Hands is probably less than you'd pay for a pair of quality winter or heated riding gloves — without having to deal with the wires.
More wBW Motorcycle Hand Guard Reviews
▪ Heated Grips & Heated Glove Reviews
▪ Barkbusters Blizzard Hand Guards Review
List Price (2009): $59.95 and up.
Made In: Canada
Colors: Black
Sizes: Fits various motorcycles.
Review Date: January 2009
Note:
 For informational use only. All material and photographs are Copyright © webWorld International, LLC since 2000. All rights reserved. See the webBikeWorld® 
Site Info page
. Product specifications, features and details may change or differ from our descriptions. Always check before purchasing. Read the
Terms and Conditions
!
Owner Comments and Feedback
---
From "B.C." (1/09): "I'm into my second winter of riding with Hippo Hands.
I remembered them from the seventies when, as I recall, they were actual sleeves into which the rider inserted his entire arm up to the elbow.
Not so the modern version, which have openings large enough to allow the rider to move his hands about freely.
Using the Hippo Hands in the cold weather, I do not have the vastly diminished "touch and feel" that thick winter gloves present and I haven't needed to go to heated grips or heated gloves on my FJR1300.
I find that the Hippo Hands are great down to about 20 degrees F paired with just light summer gloves and maybe a silk liner.
Much below 20 degrees and you have to remember that while the air inside the Hippo Hands is still, that still air remains very cold.
On my 50-mile daily commute, I have little problem but on long rides, I need to go to thicker gloves or more frequent coffee breaks.
On the FJR, by the way, I have no need for a frame inside the Hippo Hands to prevent them pressing on the controls at speed.
If the rider snugs the opening (where the handlebar enters the enclosure) down toward the triple tree, the travel of the enclosure is then restricted by the outside of the rider's arm."
---
From "A.B." (1/09): "I've used these Hippo Hands for several years, they've enabled me in the past to ride in the winter time without having to have heated gear on my old Kawasaki KZ400. They worked very well.
Nowadays I've got Oxford heated grips on my newer Kawasaki Ninja 250 and along with the Hippo Hands my hands stay nice & warm while wearing summer gloves.
It can take a little bit to get used to not being able to see your controls/switches but after that no problem. They're easy and quick to install/remove on the bike and with the rear staying open makes it easy to insert/remove your hands."
Other WebBikeWorld Gloves Posts