Hillside Leather Jacket Review Summary
Hillside Leather Jacket Image Gallery
I just got back from a trip to the Grand Canyon that is 2,630 miles round trip from Magnolia, Texas. 2,630 miles in 6 days plus an extra day touring the Grand Canyon park — not bad for a 71 year old guy! The Hillside jacket worked as advertised.
I rode in temperatures ranging from about 30 degrees (F) to about 88 degrees with only a little rain and a bit of snow. Most of the time I was riding in 45 to 65 degree temperatures.
I found the jacket with its Thinsulate liner was good to about 45-50 degrees wearing a vest underneath. Below 50, I plugged in my electric vest. Above 65 the jacket and liner was fine till around 80 then the liner had to be removed. I feel with the liner out and the vents open the jacket should be comfortable to the low 90's; after that it will be back to my ventilated jacket.
The white color works well reflecting the sun so it is quite a bit cooler than had it been all black. I will say the white leather is a bit of a bother to keep clean but the comfort in the sun makes it worth it to me.
Background
I guess you could call me old; I have been riding motorcycles for over 55 years now.
I will admit that when I started riding protective gear was the last thing that I thought about.
Over the years, however, I have come to realize there is something to the idea of keeping one's skin intact in the event of an accident.
I now always ride with a helmet, jacket, boots and gloves and I also wear protective riding pants from time to time.
I have owned any number of jackets over the years, mostly textile or leather and textile combinations.
One thing I noticed when reading about riding clothing is most materials are compared to how well they perform against leather.
I have also noticed all the guys who race do so in full leathers — must be something to this leather stuff! So I decided to try a leather jacket. Prior to ordering a jacket I did a lot of research on the internet and found leather jacket prices ranging from slightly over $100 to more than $1,000.
Some had CE rated armor and some did not. The norm for leather thickness seemed to be 1.2 mm to 1.4 mm cowhide.
During the course of my research, I somehow decided I really wanted a leather jacket made in the U.S.A. I can remember when most everything sold in the U.S.A. was made here and it was good stuff. I found that indeed there were still U.S. manufactures of leather jackets; actually quite a few were found.
I found the Hillside Leather web site and their products seemed to fit my requirements. Best of all, they advertised custom work. Hillside Leather is a small manufacturer with shops in Brooklyn, N.Y. and Kissimmee, Florida.
Their prices looked reasonable — in the $350 to $750 range — and they had a café racer style jacket that appealed to me. I should say most of their jackets are styled to appeal to the old-school cruiser crowd, but they had a couple that seemed more sporting. I contacted Hillside and discussed my ideas with them they agreed to try to meet my requirements.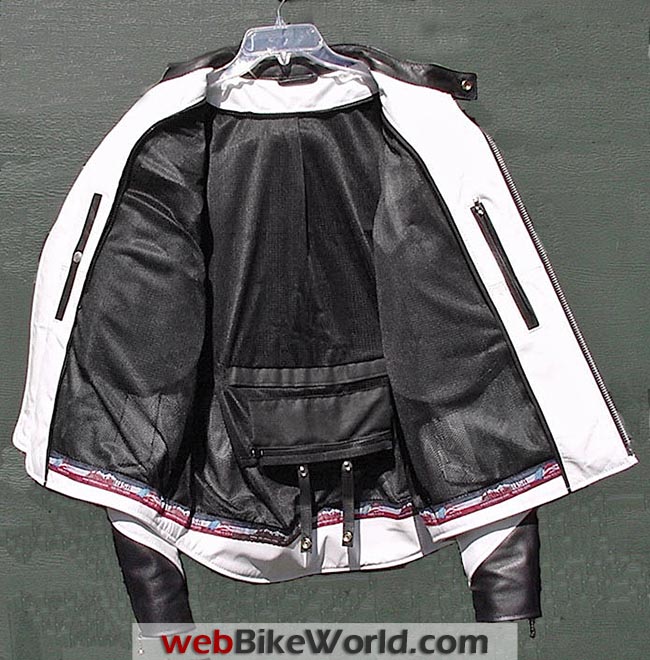 Hillside Leather Jacket Ordering Process
If you're interested in the standard offerings from Hillside Leather, you take your measurements as shown on the Hillside Web site and place your order. But since I wanted a number of changes to their standard jacket, the process was a bit more complicated.
The first thing I did was to make a Photoshop image of a jacket design I thought I would like it. I sent the image to Hillside along with my measurements. They got back to me with a quote, which I accepted, and they then sent me a jacket to try for sizing.
Based on the quality of the trial jacket sent to me, I was pretty certain I had made a good choice. The trial jacket also allowed me to see how the jacket was constructed. This had me rethink and modify my design to utilize the panel pieces they use in their standard jacket.
Hillside uses 1.6 mm to 1.8 mm leather standard in their jackets. This is thicker than most other jackets I had seen and it also increases the jacket weight. I decided to use the 1.6 mm leather to keep the finished weight of the jacket down. Leather jackets can be heavy!
Hillside also offers a choice of cowhide or horsehide leather. While horsehide is supposed to be tougher and more water resistant, it is also more expensive and due to the modifications I requested the price was already at the upper limit of my budget.
I decided on white leather for the main panels for two reasons. One was to be visible and two to reflect as much solar heating as possible. I also had the jacket trimmed in black leather with some of the panels perforated.
The two breast pockets were changed to vents and slash pockets added. I also ordered the optional Thinsulate liner.
Other modifications included installation of d3o armor in the shoulders, elbows and back. I supplied the armor; Hillside installed armor in the jacket as directed. Belt loops were added to hold the jacket down, or my pants up, as you view it. The back panel was lengthened to suite my build. I am 6 foot, 1 inch tall with a 30 inch inseam, so a lot of my height is in my torso.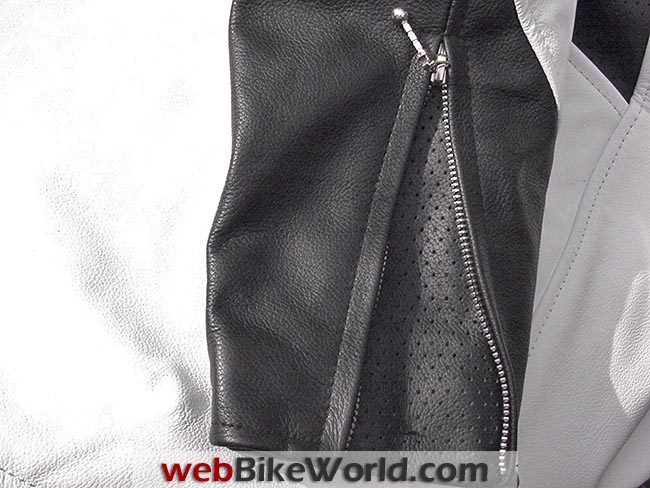 The Modified Hillside Café Racer Jacket
The finished Hillside Leather jacket fits as though it were made for me — and it was! As advertised, the d3o armor seems to conform to your body to the point you forget it is there shortly after putting the jacket on.
On the motorcycle, the jacket works well in the riding position and the shoulder panels seem to do their job in allowing unrestricted arm movement.
The leather used was thick and soft with what appears to be a durable finish that I find cleans easily with a damp cloth after riding.
To date, I have done about 6 rides of about 150 to 200 miles each wearing my new jacket. Temperatures ranged from the 50's to the 80's. Summer is coming to Texas; I have been wearing the jacket with the Thinsulate liner installed, and have been quite comfortable. Below 50 degrees I am sure I would also wear my electric vest; above 80, the liner needs to go. I am hopeful the vents will take me into the low 90's then it will be back to my leather mesh jacket.
Hillside Leather Jacket Details
Hillside builds what they call two "pistol pockets" inside the jacket. These pockets include a loop inside that acts as a holster. One is zippered and one closes with a snap. These pockets also work well for cell phones or wallets. All jacket pockets are fully leather lined.
The inside of the jacket has a "Polytwill" lining that is an open weave and allows air flow through the lining. The stitching and overall assembly seems very well done and I have no doubt it would hold up in a tumble just fine.
The Thinsulate liner installs easily with a zipper for the body and buttons inside the sleeves to hold the arms in place when you remove the jacket with the liner installed. The collar includes a snap closure and is leather lined. Since the jacket was made to fit there is no need for an adjustment on the collar snap.
The leather belt loops include snaps so you can loop them around your belt and snap them closed. They were well positioned for their intended purpose. Hillside also included a pant zipper that could be used for any pant of your choice by removing the lower part and sewing it into the waist of the pant. All zippers are robust YKK branded with generous metal pull tabs.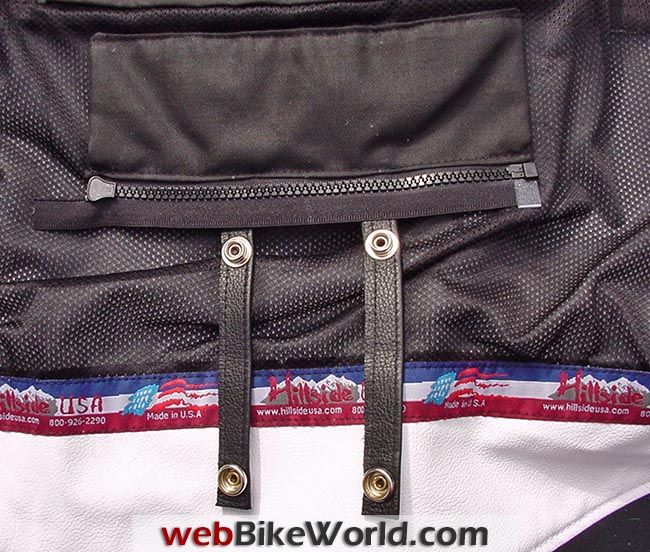 Conclusion
[asa2 tplid="6″]B00FJ6UFBO[/asa2]
I realize that a white leather jacket is not everyone's idea of the ideal motorcycle riding jacket, but Hillside will make one in any color you want and you can obtain samples of the leather for inspection prior to placing an order.
A friend of mine ordered a brown horsehide jacket from Hillside at the same time without modifications and was also quite pleased with the results. The horsehide does seem to have a slightly different feel and finish.
A word of caution: When you start adding modifications and features the basic cost of less than $350 rises quickly; mine ended up just north of $700 including the $100 + I spent for the d3o armor.
But on the plus side I got what I wanted sized to fit and the money went to Brooklyn N.Y, U.S.A. — that means something to me!
Hillside includes a lifetime warranty with all their jackets. At 72 years old I will likely not tax their warranty, though this might be a more important feature to younger customers.
w

BW

 Owner Report: Hillside Leather Jacket
Manufacturer: Hillside Leather(Brooklyn, U.S.A.)
List Price: $350.00 and up for customizing.
Colors: Your choice.
Made In: 

Brooklyn, N.Y., U.S.A.

Review Date: July 2012
Note:
 For informational use only. All material and photographs are Copyright © webWorld International, LLC since 2000. All rights reserved. See the webBikeWorld® 
Site Info page
. Product specifications, features and details may change or differ from our descriptions. Always check before purchasing. Read the
Terms and Conditions
!
Owner Comments and Feedback