The High Court of Australia is expected to hand down its decision on Queensland's "anti-bikie" laws tomorrow (November 14) about 9.30am AEDT (8.30am AEST).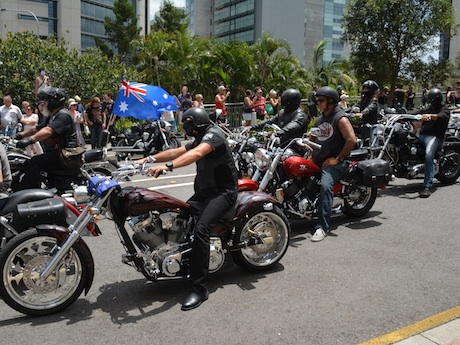 United Motorcycle Clubs of Queensland (UMCQ) spokesman Mick Kosenko says his family life and business have been on hold since the UMC launched a legal challenge on March 19 against the Vicious Lawless Associations Disestablishment Act (VLAD).
"If we win, the first thing I will do is go out for dinner at the pub with my family," says "Little Mick" who has been a Rebels MC member for more than 30 years. "Currently, I can't go out to dinner with more than two others in my family or we'll get arrested. Isn't that ridiculous?
"I've had the newspapers and the TV telling my family that I'm a criminal, a drug-dealing murder and an extortionist.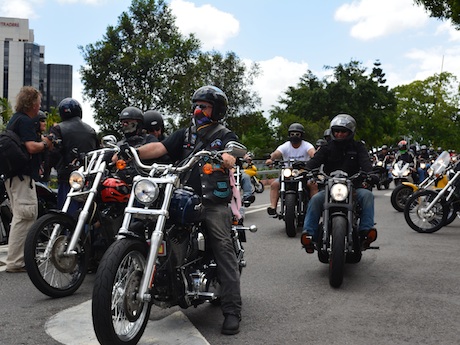 "I also have three guys who work with me who are club members and we have to do shifts so we don't all work together at the one time. I have six families that depend on this business."
Little Mick owns and runs the Koolsville Studios tattoo shop at Brendale in Brisbane's north and says he is sweating on the High Court overturning the VLAD laws.
"However, ff we don't win, well, there's an election early in the year and we have a lot of political parties on side," he says.
The UMC bill for the legal challenge is $1.2m and so far they raised over $1m with donations, cash from other UMCs around the country, support in cash and raffle items from heavyweights in the motorcycle industry and even cash donations from Europe, America and Canada.
"The whole world is watching us," says Little Mick. "I've been doing interviews about this on a US radio station which has a few million listeners."
Little Mick says if the appeal is thrown out, there will be other appeals in other states against similar laws which will spread public awareness. Every day I talk to members of the public who don't realise these laws don't just affect bikies, but everyone."
He says he blames the governments, not the police.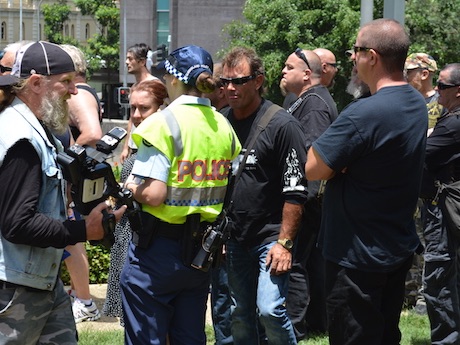 "The poor old cops are the meat in the sandwich here," he says. "I've had a policeman tell me that people come into the station who've been robbed and they don't have the manpower to help them because they have to spend the afternoon checking on whether a bikie is at home. It's a waste of resources chasing ghosts.
"Bikie clubs have been targeted for several years and they haven't been able to prove any organised crime. It's all hearsay. And after these made-up laws, they still haven't been able to prove anything or jail anyone. Why don't they go chasing the real bad guys like the Russian mafia?"
The case is "Kuczborski v. The State of Queensland" (Case No. B14/2014).
UMCQ applicant Stefan Kuczborski is currently in Europe and was not available for comment.