If you love long rides and are planning to upgrade your helmet with a newer model, then the Scorpion EXO-GT3000 might be the product you're looking for. This modular flip-up helmet comes stuffed with a number of impressive features that are perfect for life on the road.
Designed for adventure rides and touring, the EXO-GT3000 modular helmet is composed of material that makes it perfect for long rides. It provides comfortable ventilation, blocks out to a great extent, and is quite lightweight compared to other products available on the market. It also comes with an air-fit mechanism that can give you a very comfy, cozy fit.
Weighing in at just 3.54 pounds (1.6 kg), this modular helmet is of a rather simplistic design. But don't let that get you down. Its intermediate oval fit combined with its aerodynamic structure still manages to give it a hip, sporty look. So, what you'll have is a reserved yet edgy-looking headgear, perfect for touring.
All in all, the Scorpion EXO-GT3000 is one of the lightest and most compact modular helmets available in the market today. So, let's take a closer look at all the features that this product has to offer.
Benefits
One of the greatest benefits offered by the EXO-GT3000 is definitely its lightness. The fact that this is a modular design has helped bring down its weight from previous full-face designs offered by Scorpion. But, what really makes this an ultra-lightweight product is the use of TCT-Ultra Pre-Preg shell. The TCT-Ultra shell uses fiber mats that are pre-infused with plastic resin. This makes the shell extremely light without compromising on strength and durability.
So, the GT3000's shell is both strong and protective as well as light. It will provide all the safety you will need in the event of a crash and is easy to carry around. During long rides, touring, or while being stuck in the traffic in the rain, the lightweight property of the shell will reduce the toll it will have on your neck and shoulders.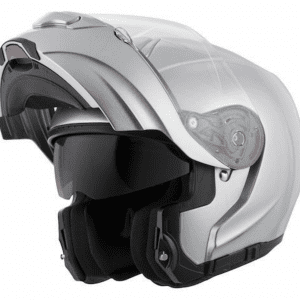 Another great advantage of the EXO-GT3000 is that it comes with an air-fit mechanism. Anyone who's particular about custom fits will love this aspect. Using a pump system, the cushions of the helmet can be inflated to just the right fit.
The EXO-GT3000 also provides a tight seal around the neck area. This weatherproofs your head as well as cuts off noise, providing quiet, relaxing rides through heavy traffic and harsh weather.
The helmet comes with speaker pockets that allow you to easily integrate a Bluetooth system to the helmet. The presence of the speaker pockets also avoids pressure points while you install a communication system. This gives you the freedom to make calls or listen to music while you drive to work or run errands.
Last, but not least, among the benefits that Scorpion offers is the cable drive drop down sun visor. This eliminates the need for carrying around any additional shields and makes the EXO-GT3000 an all-weather, all-season product.
Now that we've gone through the major benefits of using the Scorpion EXO-GT3000, let's look into all its individual features in detail.
Features
The Scorpion EXO-GT3000 is adventure and touring material that's light as well as quiet. And these are the features that make it so.
Shell
Scorpion offers 3 shell sizes for this model with a total of 6 fits—XS, SM, MD, LG, XL, and 2XL. Like a lot of sports helmets, it is of an intermediate oval shape.
As mentioned earlier, Scorpion uses TCT-Ultra advanced composite shell technology. This makes the shell durable and brings its weight down to 3.54 pounds.
Face Shields
The EXO-GT3000 comes with Everclear no-fog face shield. The Everclear no-fog coating provides clear vision in winter and during misty morning rides. It also makes the face shield scratch resistant.
Scorpion also offers a SpeedView cable-drive retractable sun visor. This drop-down visor is UV resistant and easy to operate. It provides comfortable vision, both under the midday sun and the harsh electric lights of night, without having to use any additional shields.
Ventilation System
With an Aero-tuned ventilation system, the EXO-GT3000 provides comfortable air circulation, keeping you relaxed and focused. The helmet is designed for riding in an upright position (as opposed to the leaned-forward, compact position of high rear-seat motorbikes) and the ventilation system provides optimum airflow for such rides.
Furthermore, the ventilation system is acoustically designed in such a way that it allows for minimal noise. This is an especially useful feature for long trips.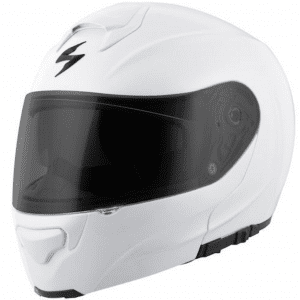 Liner and Cheek Pads
The EXO-GT3000 uses KwikWick 3 anti-microbial liner which comes with auto cooling fabric. This helps keep you comfortable in hot weather, especially during long-duration rides. The anti-microbial property will be particularly useful in rainy weather when moisture can easily breed microbes.
KwikFit cheek pads allow you to easily put on and take off most styles of eye glasses. The cheek pads are also 3 dimensionally contoured to provide the perfect fit.
Speaker Pockets
The inbuilt communication speaker pockets make the EXO-GT3000 BMW communication system friendly. The pockets are strategically placed to avoid pressure points near your ear and make it easier to install a Bluetooth system.
If you're on a tight budget and can't afford a Bluetooth integrated helmet at the moment, then speaker pockets (for a future communication system) are a great asset.
Extra Features Worth Noting
In addition to all the great features stated above, the EXO-GT3000 also has a few minor functions that make it user-friendly on an everyday basis.
It has a -Tech base plate system that allows the shield to be securely sealed against the eye port. The -Tech also allows for completely tool-free changes.
The flip-up chin bar is easy to operate and comes with an aero skirt that calms the wind at your chin.
The titanium double D-ring chin strap holds your helmet securely in all conditions and is, again, quite easy to operate.
And finally, the Scorpion EXO-GT3000 comes with a 5-year warranty.
The combination of all these features make this product ideal for touring and would make a great investment for anyone looking for a quality helmet.