The air is just starting to get that taste of fall and the leaves are beginning to think about leaving town. So it may seem like a strange time to do a review of the Held Fresh summer mesh gloves. I've been wearing them for several weeks, but our busy schedules of late have prevented me from jotting down my thoughts and we're now rushing to finish reviewing a few more items for summer riding.
No matter — as fall begins to grip the northern hemisphere, our friends Down Under are just waking up to a brand new summer and maybe a new set of warm-weather riding gloves. The Held Fresh gloves would have to go a long way to beat my current summer favorites, the recently reviewed and austerely named Komodo Mesh gloves but they might be just the thing for those riders whose hands are too slim for the Komodo fit.
Our recent frenzy of summer mesh glove reviews started a while back with our review of theFieldsheer Sonic Mesh gloves, which served their purpose but seem too lightweight to offer the levels of protection I prefer. My concerns about the protective abilities of the Fieldsheer gloves prompted a visitor to suggest the Held Fresh gloves as a better solution, and my search for them led me first to the Komodos.
The Held Fresh gloves have a list price of $54.99, which is nearly identical to the Komodos at $54.95. Remember when Held gloves used to command a premium, back when they were made in Germany? This pair of Fresh gloves do not have a label indicating the country of origin, but I'll assume that the price indicates global sourcing.
But the low price hasn't (yet?) affected the typical Held levels of quality — the Fresh gloves are very well made, with perfect rows of stitching and very nice attention to detail in features like the arrowhead-shaped extra sections of leather over the fingertips and the overlapped seams with their perfectly tiny stitches.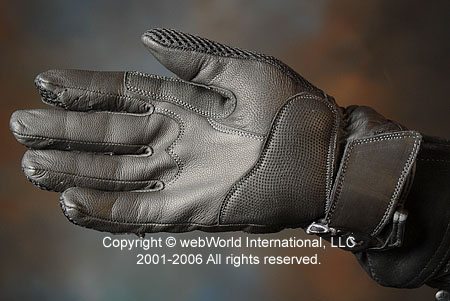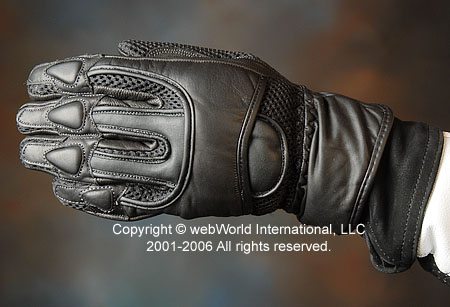 Unlike the Komodo Mesh gloves, which seem to run slightly large and have box-shaped fingers that prefer thicker hands, the Held Fresh gloves seem to run about a half size small. And the fingers are thinner than expected, so these might be the choice for riders who are also piano players with their typically long, thin digits.
The Fresh gloves don't feel quite as comfortable as the plush Komodos, first of all because the slightly-too-small sizing forces the tips of my fingers up into the very tip of the glove, where the internal leather seams bunch up and interfere with my short fingernails. I just don't like the feeling of something picking at my fingernail every time my hand moves and the Held Fresh gloves lose a few points in my book for that.
The palms of the gloves are claimed to be made from goatskin, which is apparently more abrasion resistant than cow hide. Or so they say…I'm not about to test the theory!
The leather on the palms does feel relatively thick for an admittedly lightweight summer glove. An extra layer of leather has been sewn over the palm and between the thumb and forefinger for added protection and wear resistance. These are both attached with double rows of external stitching.
Topside, the Held Fresh gloves have a sort of Art Deco-look with an extra section of leather that swoops from the forefinger, over the knuckles and up on to the pinky. This section is also nicely sewn with piping along the front. The section is open at the back, allowing lots of flex room for the knuckles.
Strips of leather also cover the backs of the two middle fingers, so other than the gloves having that summer lightweight feel to them, they do have more leather protection than most other summer leather perforated or textile mesh gloves.
Underneath all of this are sections of that typically soft summer textile mesh glove material. All that leather doesn't add much to their ventilating abilities, but, as we've mentioned before, it's a tradeoff between cooling breezes blowing through the glove and real protection. I'll take a bit of protection any day…
The wrists of the Held Fresh gloves include a small section of elastic that is sewn through in a bunch and also the typical and unfortunate tiny swatch of Velcro to hold the glove closed at the wrist.
Someday — I hope — someone will make a mesh glove with a real wrist strap. These mini Velcro postage stamp closures just aren't doing it for me. I can easily pull the Held Fresh gloves off my hand by the fingertips, which would not forebode well in a crash.
One feature that I definitely do not like and which pretty much knocks the Held Fresh out of contention for my favorite summer glove is the cuff. Held has unfortunately fell victim to the Case of the Missing Gauntlet, with a very short cuff that does not fit over several of my motorcycle jackets.  These gloves will have to be worn underneath the sleeves of many jackets, a European custom that I am not partial to.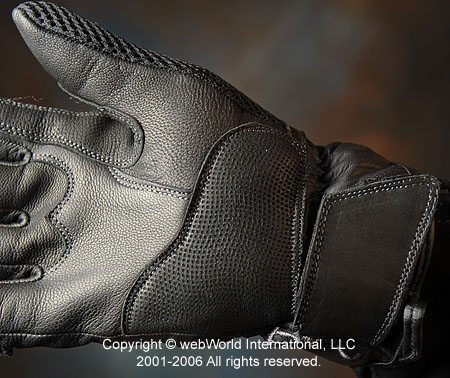 Conclusion
Motorcycle riders with thin fingers, slightly smaller than normal hands and/or the ability to accept the short cuff that may not fit over a motorcycle jacket sleeve may find the Held Fresh gloves an acceptable warm weather riding solution. At least the gloves do have several other redeeming features with their seemingly excellent build quality and relative promise of protection.
But unfortunately the size, the finger width and the cuff just don't fit my hands, so it's back to the Komodos for me again. Although we will probably have to start looking at winter riding gloves soon, so perhaps by next year we will see a completely new type of summer glove?
w

BW

 Review: Held Fresh Gloves
List Price (2006): $54.99
Made In: Unknown
Colors: Black
Sizes: 7-11
Review Date: October 2006
Note:
 For informational use only. All material and photographs are Copyright © webWorld International, LLC since 2000. All rights reserved. See the webBikeWorld® 
Site Info page
. Product specifications, features and details may change or differ from our descriptions. Always check before purchasing. Read the
Terms and Conditions
!
Owner Comments and Feedback