Hein Gericke Cargo Overpants Review Summary
Hein Gericke Cargo Overpants Image Gallery
Hein Gericke opened his business in Düsseldorf, Germany in 1970.  The company has grown dramatically since then, becoming what is probably the best known motorcycle clothing brand name in Europe.
Although Hein Gericke apparel has been sold in the U.S.A. since 1978, the brand has not been well recognized by American motorcyclists.  This may be due to their focus on European styling in the land of the cruiser, or it may have been caused by a lethargic distribution system.
35 years in the motorcycle clothing business is a couple of lifetimes of agony, for sure, and the fact that they're still here and growing certainly says something for the product.
The Hein Gericke brand has always been known for style and innovation.  Many younger motorcyclists probably don't realize that there was a time when the only motorcycle available with a factory designed fairing was the late '70's version of the BMW R100RS.  The availability of motorcycle clothing that was specifically designed and tailored for motorcycle riding was just as rare.  Motorcycle clothing with Lorica, Gore-Tex, Cordura, Kevlar, armor and carbon fiber were so far in the future that they weren't even conceivable.
The Hein Gericke line of motorcycle clothing was radically different, and people gawked over the photos of black and shapely leather in European magazines, wondering if they had the nerve – or body shape – to wear it.
Hein Gericke was also on the leading edge of mass marketing, distribution, retail and advertising in those days, long before the global economy, the Internet and even cable TV.  I was of mixed minds regarding their products; I couldn't figure out if the stuff was for real or for poseurs.
The brand had its ups and downs, but today's cutthroat market suffers no fools, and with their huge product line, the brand is as popular as ever in Europe and starting to make their mark in the U.S.A.   Several Hein Gericke clothing items have earned Ride (UK) magazine's  "Recommended" or "Best Buy" tags, so we decided it was time to take a look for ourselves.
Hein Gericke Cargo Overpants
Of all the different combinations of pants and jackets laying around the webBikeWorld offices — and there are many — I have a few favorites.  Whenever I'm working in the garage in a pair of jeans and need to make a run down to the hardware store, I reach for my old pair of Tourmaster overpants.  I've worn them for several years and although they have a few faults, their ease of use wins the day.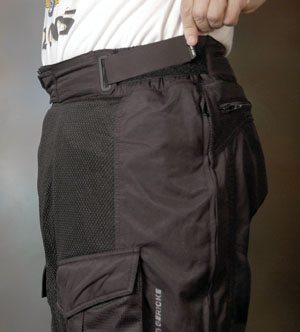 Overpants aren't the most glamorous apparel item one could wear, but I have to say that with all the specialized gear we have laying around here that a good pair of overpants is one of the items I simply could not do without.
One of the big drawbacks of the old Tourmasters is that they're hot, hot, hot.  They have no ventilation and the nylon lining sure doesn't help.  I've been on the lookout for quite some time for what I imagined was the "perfect" pair of overpants – easy to put on and take off, good quality, good protection, with lots of good air flow and something to keep out the water when necessary.
I searched high and low, and came up empty until these Hein Gericke Cargo Overpants.  They're just the ticket: zippers from ankle to waist to make them easy to slide on over boots
and jeans; wide adjustable waistband; loads of mesh in the thigh and seat; and a "Sheltex" detachable membrane to make them waterproof.
Bonus points for CE-approved knee armor; a two year warranty; reflective piping and Hein Gericke's "Safe Stich", which is a three-level stitching method to help prevent unraveling in a crash.
The Cargo Overpants are available in men's sizes 30 to 44.  European designed clothing used to be way too narrow for our corn-fed physiques.  But to be successful, modern apparel manufacturers now know that they have to tailor their sizing for the market.
The pants shown here are size 38 and they are, in our opinion, exactly size 38, so they apparently run true to size.  I have a 36″ waist, and the pants are slightly too large for me, so the 36 would have been perfect.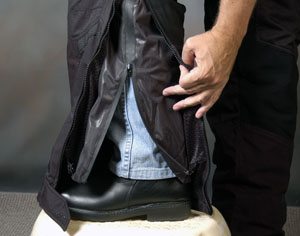 The Hein Gericke Cargo Overpants seem well made and they have some heft, weighing in at 4 pounds including the liner.  They're made from a ballistic nylon that feels like a soft Cordura-type material.
The pants have no front pockets; only a rear wallet pocket, measuring about 130 mm wide by 130 mm deep (5″ by 5″).  Each leg has a front cargo pocket, measuring about 170 mm wide (6-1/2″) by 220 mm deep (8-1/2″).
Each pocket has a flap with full-length "hook and loop" fastener, and a few rubberized nubs on one corner make it easy to grab.  The pockets aren't waterproof.
Stretchy knee panels and wide belt adjusters add to the comfort factor.  I've noticed more manufacturers offering adjustable waistbands and generous amounts of stretch fabric lately, which is a good trend.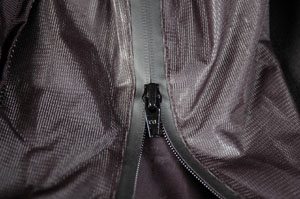 The Sheltex liner attaches with a full-length zipper inside the waist and three snaps at the cuff.  Both the pants and the liner have full-length zippers.  It's easy to slide the pants on and off over a pair of boots when the zippers are opened up about 2/3 of the way up the leg.
The liner uses an interesting type of zipper that seems to be coming into vogue with removable motorcycle clothing liners.  When the zipper is pulled, it appears to be catching on the fabric, but it somehow closes a membrane that covers the zipper teeth and helps to keep out the moisture.
The styling of the pants is subdued, which is a good thing, because they probably won't look dated any time soon as might happen with a more radical design.  There are a few panels of reflective material here and there, but they are well integrated into the design and not really noticeable until illuminated at night.
One of the tradeoffs is the elimination of any padding in the hips or rear.  Padding in these areas would probably decrease the amount of air that can flow through the mesh, which is located mostly on the thighs and rear of the pants.  The knees do have Hein Gericke's "Turtle" armor, which is removable and also seems to be very comfortable.
The armor in these size 38 pants falls slightly below my knee, and I think the size 36 would again be perfect.  Don't forget that armor will only do its job when it stays in place, so a snug fit is best.  Most riders I've come across wear their clothing at least one size too big.  Baggy is not better with motorcycle clothing!
Conclusion
The Hein Gericke Cargo Overpants are well made and have just about every feature I can think of to make them my new favorite.  I wear them over jeans and I haven't noticed any problems.
If you can only afford one pair of motorcycle pants, overpants are probably the style for you because of their versatility.  And these are as versatile as they get, because the mesh allows good air flow and the liner blocks the wind and water for nastier days.  The list price is $199.95, which is very reasonable, especially considering their all-season capabilities.
Note:  For informational use only.  All material and photographs are Copyright © webWorld International, LLC – 2000-2011.  All rights reserved.  See the webBikeWorld® Site Info page.  NOTE:  Product specifications, features and details may change or differ from our descriptions.  Always check before purchasing.  Read the Terms and Conditions!
Product Review:  Hein Gericke Cargo Overpants

Available From:  Hein Gericke USA
Suggested Retail Price:  $199.95
Colors:  Black
Made in:  Vietnam
Product Comments:  Well made, versatile overpants with good air flow and an included water- and wind-proof liner.  Full-length zippers on legs make them easy to put on or take off.  CE-approved armor in knees but no hip padding.
Other WebBikeWorld Motorcycle Pants Reviews
wBW Motorcycle Pants Info