Head-up display for riders has not died with the closure of American HUD helmet company Skully as fellow Americans FUSAR Technologies are developing "Eyes-Up Display".
Skully was the fastest fully-funded campaign on Indiegogo to reach $1 million, but now it has crashed and left customers likely to lose deposits.
It has also set back head-up display as British company BikeHUD faces long delays and Reevu helmets has put their HUD helmet on the backburner.
However, FUSAR, who has more than doubled its crowdfunding target, is developing their own "Eyes-Up Display".
Founder Ryan Shearman calls it "dual-eye augmented reality display".
"We distinguish between heads-up and eyes-up because of the way our display works," he says. "It's a more immersive display than the HUD utilised in the AR-1."
It doesn't have a peripheral transparent screen like the AR-1, but dual display fields each projected in front of each eye.
"It's a specialised design that is optimised for safe operational use while on the go," Ryan says.
"It won't have the massive field of vision that the Meta display has – it doesn't need it, but it will operate in a similar fashion.
"It's not due to be released until next year and we are keeping it behind the scenes until we can have a coordinated unveiling – likely early next year."
It's good news for the technology which seems to have stalled with British companies BikeHUD and REEVU helmets postponing their HUD releases.
Meanwhile, FUSAR is throwing an SOS lifeline to Skully supporters.
Now that Skully has finally admitted they have closed and are filing for bankruptcy, many of their customers who have forked out up to $US1500 for an AR-1 helmet are likely to lose their money and are considering legal action.
The latest talk is that the company owners blew a lot of the money on strip clubs, fast cars and lavish overseas holidays.
FUSAR is offering Skully customers free gear to the same value as their deposit. It's called the Skully Owners Stimulus or SOS program.
Currently FUSAR has a free iOS and Google Play app which records your ride, tracks performance metrics such as acceleration, lean angle, etc, then allows you to share it with your friends directly or through social media.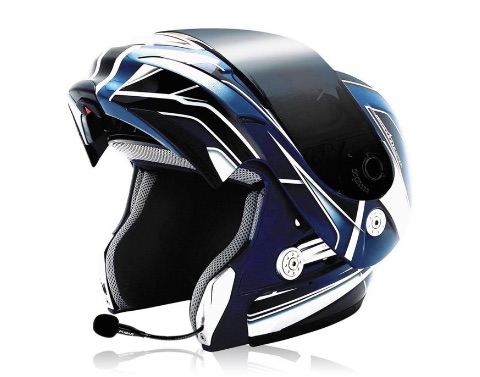 They also have a smart helmet kit including an action camera and Bluetooth intercom that promises unlimited push-to-talk intercom range for 12 riders using cellular data.
While a full bundle of FUSAR gear costs one-third of the AR-1 price, the company says SOS customers will be able to recoup the full value of their order "over time".
That could include their upcoming Eyes-Up Display, if they are willing to wait.