Power and torque figures have again been leaked for one of the most anticipated bikes this year, the Harley-Davidson Street family.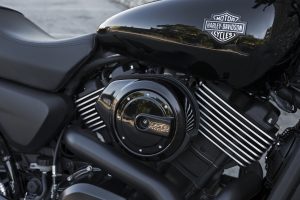 In January the Indian press leaked that the Revolution X engine in the Harley-Davidson Street 500 will have 25kW of power and 50Nm of torque while the 750 will have 35kW and 60Nm. However, Motorcycle USA magazine says their figures show the Street 750 producing 39kW at 7900rpm and 53.36Nm of torque at 6400rpm with a flat torque curve all the way through the rev range.
The American magazine recently got a chance to ride a pre-production Street 750 for a photo shoot in Orange County and, being journalists, they also took the opportunity on the unsupervised ride to take it to a local dyno shop to have it tested.
While the power and torque figures appear modest, the bikes will weigh only 215kg which is 40kg less than a Sportster 883 Iron. Motorcycle USA says it is a "very nice powerplant for a smaller cruiser", but they say there is no distinctive Harley-Davidson rumble. "The stock two-into-one exhaust note is subdued and lacks any sort of nastiness that you would expect from a blacked out HD," they write.
The Harley-Davidson Street family will be the first to also be built outside the US with models being built in India for the local market to avoid cripplingly high import duties. It is not yet known whether Indian-built Harleys will also be exported to other countries, such as Australia, or whether we will get the Kansas-built bikes.
Harley-Davidson Australia and New Zealand marketing manager Adam Wright says they will only import the Harley-Davidson Street 500 which will fit into the local lucrative learner-approved market. He says that at this stage they will not be available here until next January, although he admits he would like to have them earlier to satisfy "strong customer inquiries".