If you've ever wondered how Harley's doing with their engines, sit down for a bit; we've got a press release celebrating that Harley's just gone and set a new benchmark for performance – and not just their own performance, but all American V-Twin performance. 
Apparently, their newest brainchild – the Screamin' Eagle® 135ci Stage IV Performance Crate Engine (bit of a mouthful) – is built for 2021-later models, and shows off "the most displacement, and the most power, ever created by Harley-Davidson for a street-compliant crate engine."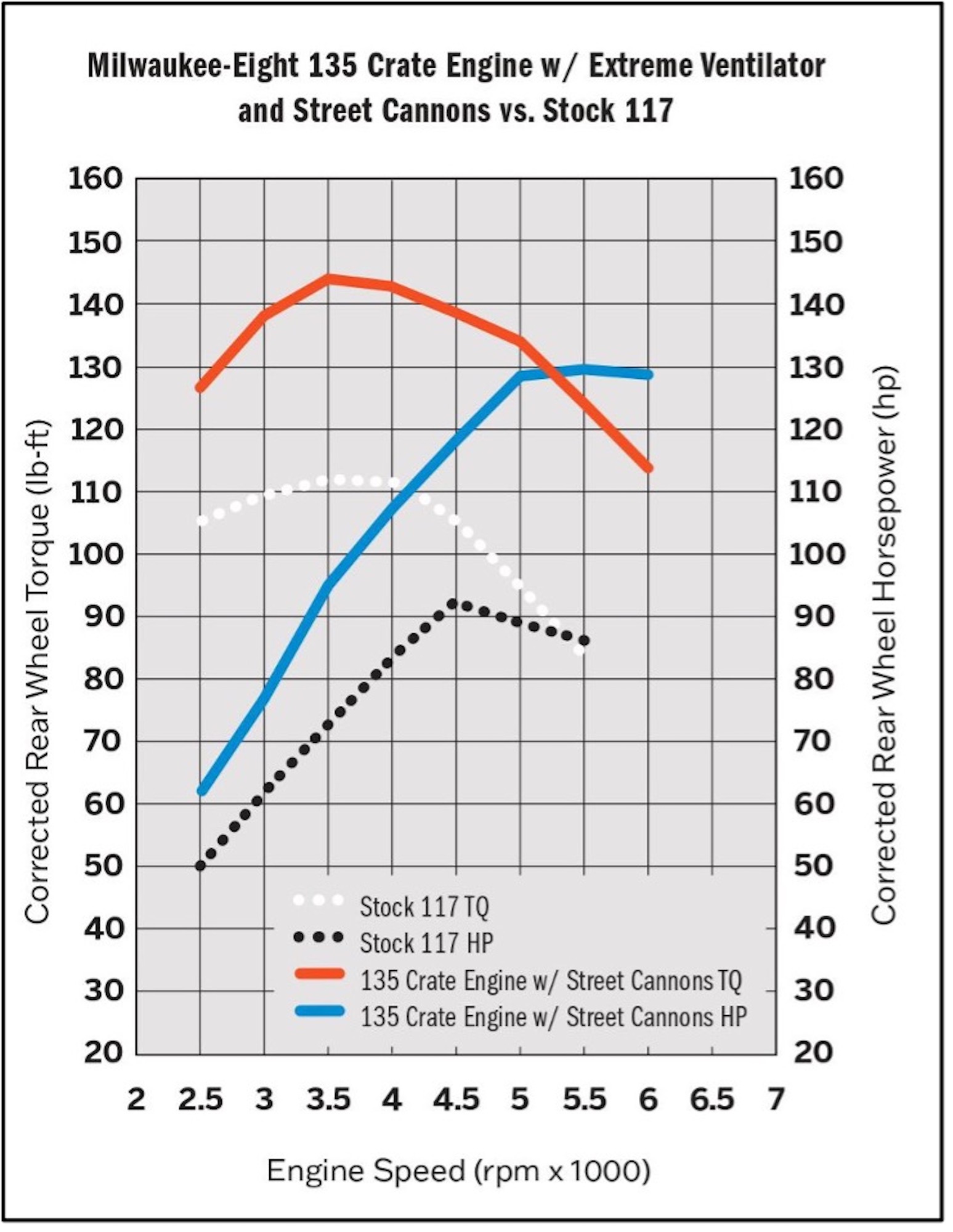 That's a hefty title – and, as you can see from the curve specs above, it is a title well-earned. Some quick maths on those 135 cubic inches afford a stunning 2212cc with 143lb-ft of rear-wheel torque @ 3500rpm and 130 rear-wheel ponies @ 5500rpm.
That's around 28% more yank (and 41% more ponies) than the brand's 1,923cc Milwaukee-Eight® 117 heart.
Yikes.
To top it all off, this engine is also purportedly "the only tuner available to maximize performance while being emissions and warranty compliant" – something we will be eager to try out for ourselves when the engine begins the trickle into production models.
How many cc's is your comfort zone? Take a look below at the components list if you're curious, and let us know what you think.
Screamin' Eagle® 135ci Stage IV Performance Crate Engine Componentry
New 68mm throttle body and matching CNC-machined intake manifold, originally developed for Harley-Davidson Screamin' Eagle factory racing team engines, to maximize airflow to the engine.

Screamin' Eagle Extreme CNC-ported cylinder heads provide significantly improved efficiency of cylinder filling, leading to more explosive power and increased rear-wheel torque when compared to stock. High-performance valve springs remain stable with the high-lift cam and in high-RPM operation.

Screamin' Eagle Pro Billet Cam Plate and Oil Pump provides higher pressure when the oil is hot to keep pressure drops to a minimum.

New 10.7:1 high-compression forged pistons.

SE8-517 high-lift camshaft, high-performance cam bearing and high-performance tappets.

Patent-protected 4.31-inch steel sleeve cylinders and new 4 5/8-inch flywheel (bore x stroke is 4.31 x 4.625).

New high-capacity 6.8 gram/second fuel injectors.

Screamin' Eagle Ventilator Extreme Air Cleaner and Screamin' Eagle Street Cannon mufflers (each sold separately) are not required but are highly recommended for peak performance.
*Media sourced from Harley's press release*