Two things stand out about the Harley-Davidson LiveWire electric motorcycle: it is literally electrifying and cool!
That's more than just a couple of gratuitous puns.
This bike is not an electric toy! It's a real bike that is claimed to go from 0-100km/h in three seconds and we proved it on the world media launch with several impromptu drags on a lonely country road outside of Portland, Oregon. So that's electrifying performance in anyone's lexicon.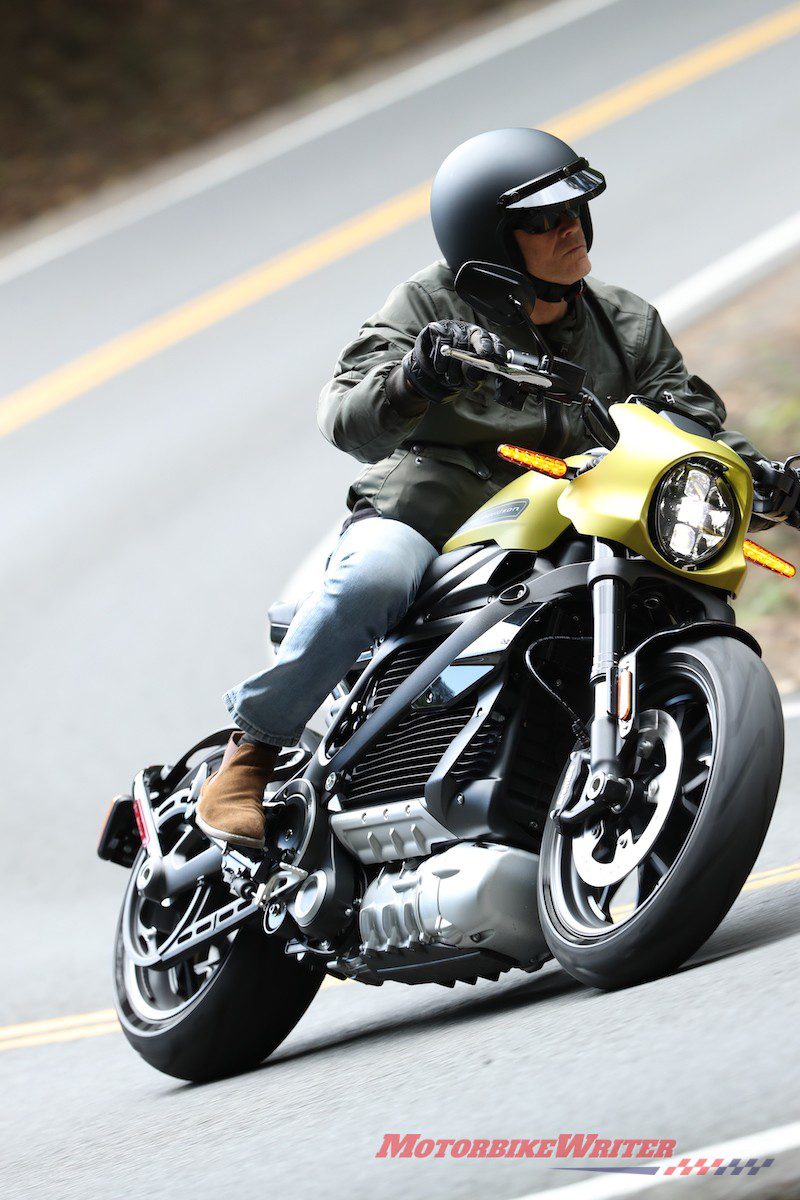 Many moto journos talk about the nirvana of having ultimate linear power delivery. That's exactly what this supplies. There are no surges or lags, just a hand-of-God thrust in the back as you hurtle forward and the world turns to a blur.
And after a vigorous 110km test ride through the streets of Portland and beautiful surrounding country, the bike was still cool to the touch, even the water-cooled motor, battery and radiator.
So it doesn't just look cool and represent a cool trend in motorcycling, it's literally cool to touch which makes it an ideal summer commuter bike!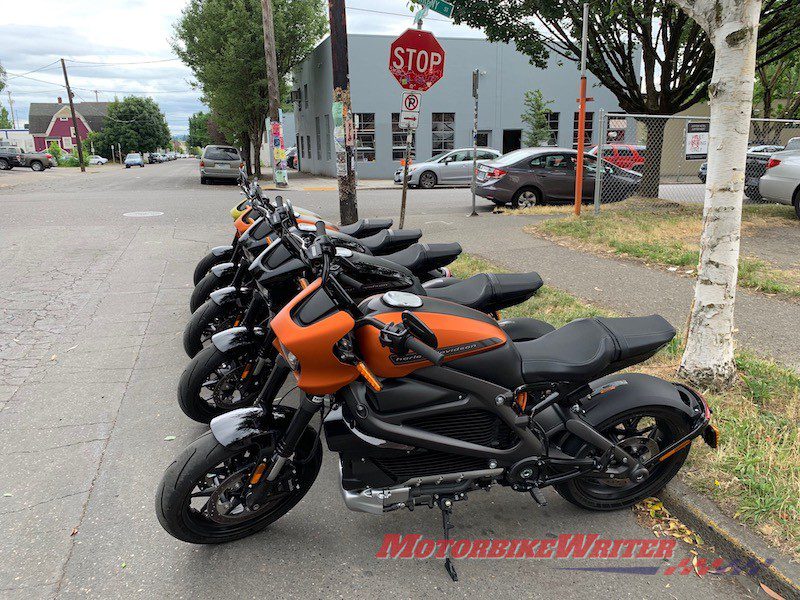 Price
The dual-seat LiveWire is made in York, Pennsylvania and has been in development almost a decade.
It finally goes on sale shortly in the USA at about $US30,000 in a choice of cool lime, a bright orange and gloss black.
It will arrive in Australia late next year probably at more than $A40,000 which is more than most of their Touring models.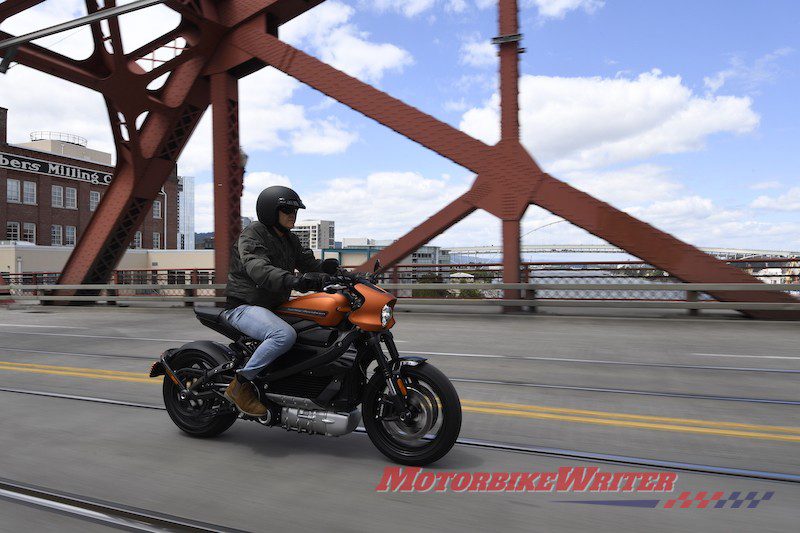 Harley-Davidson Australia and New Zealand say they won't have a definite figure until closer to our launch.
It's expensive, but it also has suitably premium components, a high quality of ft and finish (not a cadmium bolt in sight!), thick and lustrous paint, plus premium controls including a proximity key fob.
If I'm being picky there is a bare exposed wire to the front indicators that should be concealed
Styling is a subjective matter, but I like the modern, minimalist look and the big cooling fins around the battery, although the gloss black model looks way too dark. Maybe they should have made the calling fins silver on that one.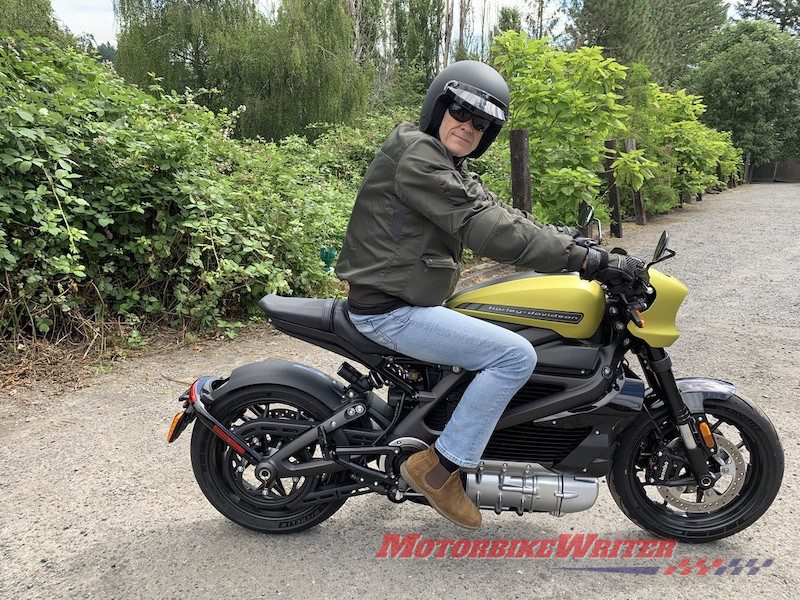 The remote rear fender with number plate allows for a tidy wasp-like tail with the pillion seat suspended in mid-air.
Underneath the seat is a small lockable compartment for the the mains charger and cable that includes a handy helmet hook. Harley put the key fob under the seat so we wouldn't lose it and it was the only mechanical sound in the whole bike. Most riders would keep it in their jacket pocket!
You can also get a small "speed screen blade", decorative trim, different hand and foot controls and a cover that includes a charging cord port. Many traditional Harley accessories such as wheels and bars can also be fitted.
LiveWire comes with two batteries. The big 15.5 kWh high-voltage Lithium-ion battery or "Renewable Energy Storage System (RESS)" made up of Samsung battery modules has a five-year/unlimited kilometre warranty.
Harley chief engineer Glen Koval says the recyclable battery should last 10 years without significant loss of capacity unless it is not treated well or used extensively in extreme cold conditions.
There is also a small 12V lithium-ion battery to power instruments, lights, etc.
Harley has not said how much a replacement main battery will cost, probably because in five years from now it will cost a lot less, anyway!
Silent running
Of course, the electric LiveWire is quiet, especially at low speeds, but not exactly silent.
When you switch it on, the headlight and instrument screen lights up, but there is no accompanying motor noise.
As you take off,  you can feel a gentle buzz which is induced by the rocking of magnets. Harley wanted riders feel the "heartbeat" of the machine.
When you give it the berries, the bike makes a turbine "whoosh" noise thanks to the belt drive and "meshing" of the primary spiral bevel gears. At highway speeds all you can hear is the wind.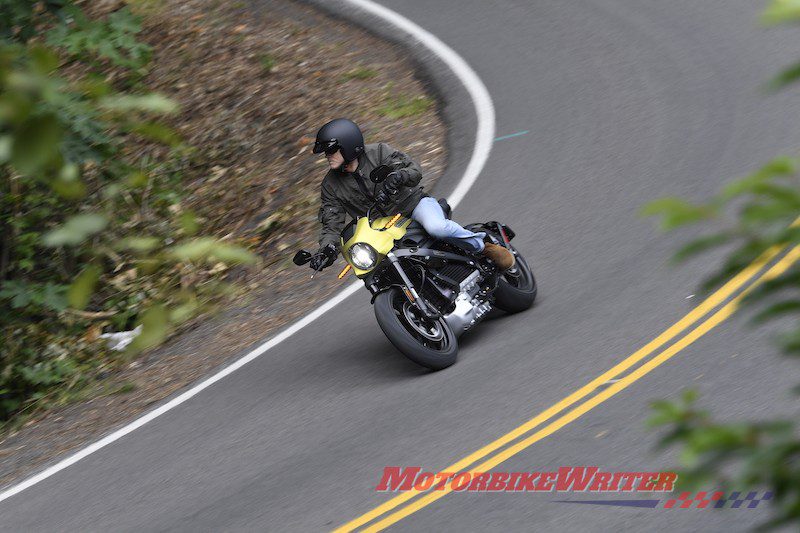 While I missed the throbbing sound and feel of a Harley V-twin engine, I actually found it made you more aware of surrounding noises from other vehicles.
It also meant that when I listened to music, GPS directions or phone calls on my helmet intercom, I didn't need to turn the volume up quite as high.
The lack of noise also seems to have a calming effect on the rider.
However, I was acutely aware that other road users couldn't hear me coming and a couple of times I tapped the horn to announce my presence.
Range
Harley recently released details that claim city range of up to 235km and 152km of highway range.
While they don't give total charging time from a mains outlet with the provided cord, they do tell us that a 120/240-volt outlet will provide about 20km (13 miles) per hour of charging. That means it will probably take at least 11 hours from flat to reach full capacity. And the cost would be less than $4.
They also claim their Fast Charge (DCFC) technology will recharge a flat battery to 80% in 40 minutes and full in 60 minutes.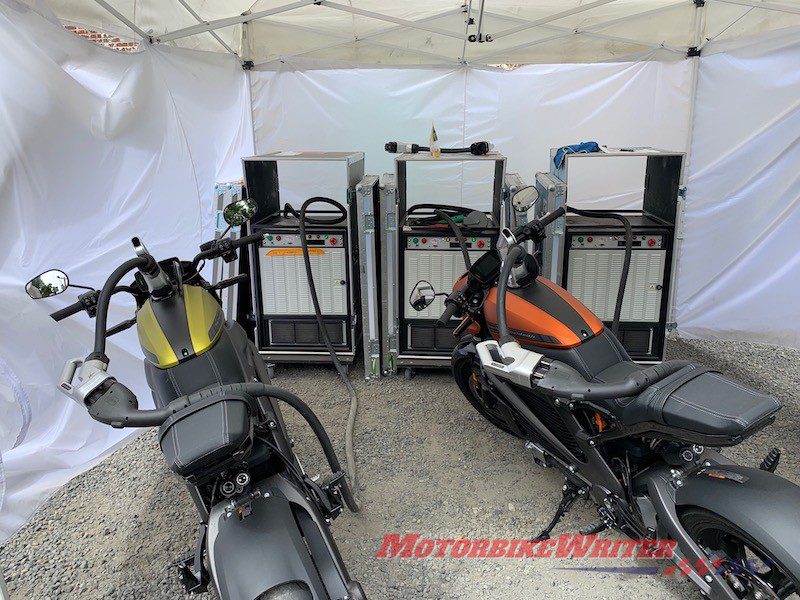 They brought in three mobile DC fast chargers for the event which they say are not as powerful as the permanent ones that will be at Harley dealerships. These chargers were only used at the end of the day's ride.
None of the bikes ran out of "juice" on the road test, even though we mainly rode hard and fast in the electrifying "Sport" mode.
We covered about 110km and my bike still showed 30% charge left.
The charging port is in the top of the "fuel" tank for easy access.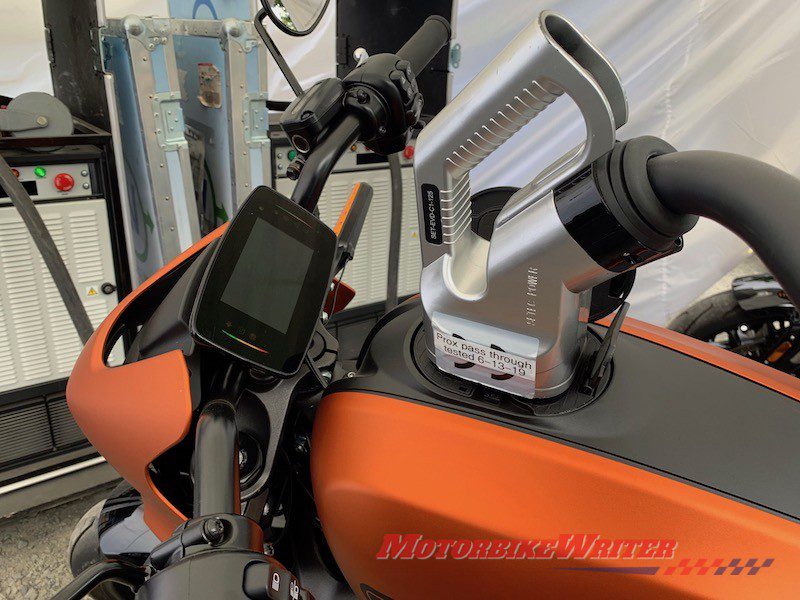 You can check the battery recharging status and time left to full on the instruments or on an accompanying H-D Connect app.
The Android and iOS app also alerts you if someone is tampering with your bike, includes a GPD tracker if its stolen, shows the closest charging stations and reminds you when the bike needs a service. But since the only consumables are the brake pads, servicing should be cheaper. Still, service intervals are 1600km first and then every 8000km like their conventional bikes.
Harley PR rep Joe Gustafson says the app gives the rider "peace of mind".
H-D Connect uses a cellular telematics control unit (TCU) that functions as an LTE-enabled modem connecting LiveWire motorcycles to the cloud. Owners will get the service free for a year.
It will be available soon in the USA, Canada, Puerto Rico and most EU countries and becomes available in late August 2020 in Australia, Brazil, Mexico and Japan. Subscription details and pricing will be available online.
Electrifying modes
There are seven riding modes: Range, Rain, Road and Sport, plus three customisable modes.
Each mode affects the acceleration and response from the twist-and-go throttle.
It also affects the amount of "regeneration" which is like engine braking and helps to recharge the battery.
Both of these also affect the range.
The modes also vary the amount of cornering-enhanced traction control that includes a wheelie control to stop the front wheel lifting and a rear-wheel lockup control.
They label their traction control High, Medium and Low, but high is not for high intervention but high slip, so it is opposite to what it appears.
Riders can select the modes on the fly with a button on the right-hand controller. Your selected mode is displayed on the big, easy-to-read 11cm colour touchscreen which is like a mini iPad.
Sport: Full, seamless power and 80% immediate throttle response. This offers truly electrifying performance. I thought it might make it a little jerky, but it so smooth and predictable, even in slow-speed manoeuvres. Traction control is also set to High which is the lowest level of intervention. However, you can turn it off when stopped. Regeneration is also quite significant at 80% so you don't even need to use the brakes to come to a full stop. The only time I touched the brakes was in emergency brake tests and when riding hard.
Road: This mode softens throttle response to 55%, power delivery to 80% and regen to 30%, plus medium traction control. Harley says it feels more like a traditional petrol-powered bike and they are right, but because of its twist-and-go transmission (like a scooter), you can't slip a little clutch to smooth out power delivery for tight, feet-up u-turns. But guess what! You don't need to. It's super-smooth with plenty of feel, unlike any EFI fly-by-wire throttle. Medium traction control can be turned off when stopped.
Range: Obviously this is the economy mode to squeeze extra range out of the bike. Throttle response is smoother at 55%, power 40% and regen 80%, making it quite jerky when you roll off the throttle. Traction control is medium and can be turned off when stopped.
Rain: Like the rain mode on many conventional bikes, this has 0% power, 30% soft throttle response, 15% regen and Low traction means high intervention and cannot be turned off.
Three Custom Modes: You can select your own levels of power, regeneration, throttle response and traction control and save them to A, B or C modes. Power, regeneration and throttle can be adjusted from 0-100% in 1% increments, and traction can be set to Low, Medium or High intervention.
Since most riders won't touch the brakes to slow down, the rear brake LED light will light up on regenerative braking to alert traffic behind your that you are slowing, avoiding rear-enders.
Lively LiveWire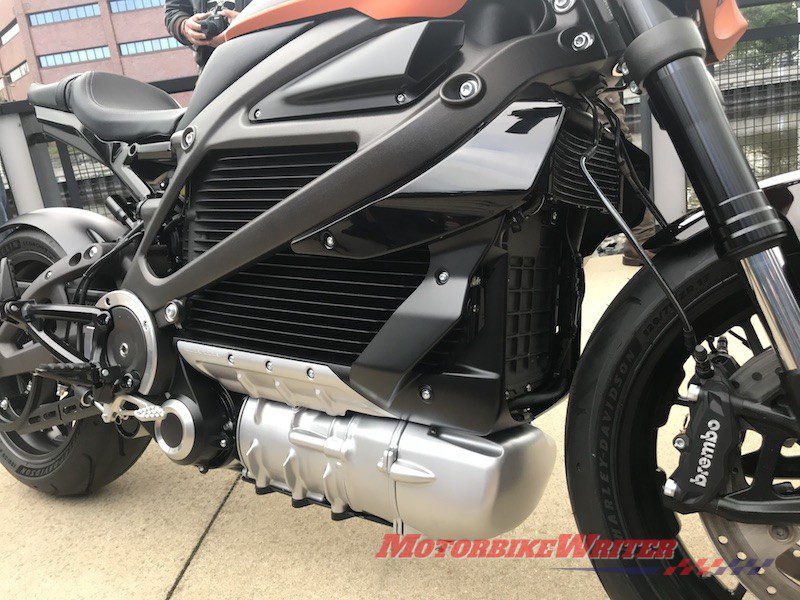 Harley says the H-D Revelation electric motor has 78kW of power. That's not too bad for a 249kg bike which is about the same as a 1200 Sportser or Ducati Diavel.
That power figure is the same as a KTM 1190, but the porky LiveWire weighs a substantial 32kg more.
More importantly, the bike has 116Nm of torque which is substantially more than the 95Nm in the 1200 Sportster .
Full-tilt torque is available as soon as you twist the throttle, which is why traction and wheelie control is so important.
It feels lively and lithe, like many streetfighter-style bikes with its flat bars.
On the highway it's stable, around town it's manoeuvrable and in the twisties it feels planted and precise, thanks to the premium Showa suspension.
It's fully adjustable, but rather than playing around with the clickers, you can go to the instrument screen and put in the weights of you, pillion and any luggage and it will calculate the right settings. How clever is that!
Some claimed it felt top heavy, but I didn't think so. The weight is carried low in the underslung motor. It feels a little heavy coming up off the side stand, but then it feels perfectly balanced.
I love the use of Harley's clever stable side stand that won't allow the bike to roll forward when parked downhill.
The low centre of gravity makes it easy to turn and quick to change direction.
However, the seat is 779mm high and is narrow so even shorter riders can get their feet flat down on the ground. I'm 183cm tall and I could still bend my legs with my feet flat on the ground. There is also a Slammer seat that is 25mm lower.
The Brembo brakes are powerful and have plenty of feel, but with the regenerative braking of the motor, you really don't need to use them that often, although it's nice to know they are there when you need them in an emergency.
Conclusion
At this price, it's going to be a hard sell, even for cashed-up, early adopters and techno nerds.
But they will find this is not just some toy. It's a serious, full-size, hard-charging, fun motorcycle that is both easy to ride and a hard charger for the adrenalin junkie.
Harley-Davidson LiveWire tech specs
Price: $US29,799 (about $A42,500)
Available: Next month in North American and Europe, late next year Australia and New Zealand
Colours: range, lime and black

Battery warranty: five-year, unlimited-km
Motor: H-D Revelation permanent-magnet, water-cooled electric motor
Power: 78kW (105hp)
Instant torque: 116Nm (86ft lbs)
Battery: Air-cooled 15.5kWh high-voltage lithium-ion battery (Rechargeable Energy Storage System)
Transmission: motor output shaft, 9.71:1 gear reduction, belt drive
Acceleration: 0 -100km/h 3 seconds; 100-130km/h 1.9 seconds
Top speed: 177km/h
Range: 235km (city), 152km (combined stop-and-go and highway range using MIC City and MIC Combined tests), 158km (World Motorcycle Test Cycle)

Charging points on the LIveWire are under the "fuel" cap.

Charging: 120/240-volt outlet 20km (13 miles) per hour of charging; DC Fast Charge (DCFC) 0-80% in 40 minutes or 100% in 60 minutes
Weight: 210kg
Suspension (rear): fully adjustable Showa Balanced Free Rear Cushion-lite mono-shock
Suspension (front); Showa Separate Function Fork-Big Piston

Fully adjustable Showa rear shock

Brakes: Dual Brembo Monoblock calipers, 300mm rotors
Tyres: H-D/Michelin Scorcher (180mm rear and 120mm front)
Rider aids: Reflex Defensive Rider Systems (RDRS), Cornering Enhanced Anti-lock Braking System (C-ABS), Cornering Enhanced Traction Control System (C-TCS) and Drag-Torque Slip Control System (DSCS)
Technology: 4.3" colour TFT touchscreen, Daymaker LED headlamp, LED lighting, H-D Connect service connectivity and Harley- Davidson App
Riding modes: Seven selectable Ride Modes electronically control motor performance and level of RDRS intervention
Accessories: dual seat and tail, speed screen blade, decorative trim, hand and foot controls and cover with charging cord port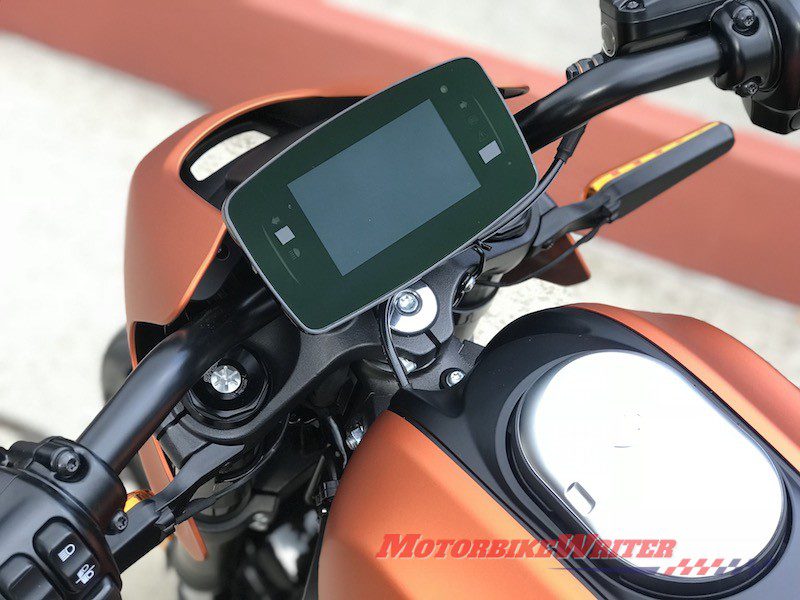 More tech specs
2020 Harley-Davidson LiveWire MODEL SPECIFICATIONS

Seat Height, Laden / Unladen

30 in. (761 mm) / 30.7 in. (780 mm)

Michelin® Scorcher® "Sport"

Tires, Front Specification

Tires, Rear Specification

Gross Vehicle Weight Rating

Gross Axle Weight Rating, Front

Gross Axle Weight Rating, Rear

Spiral bevel gear , 55/17 ratio

Gear Ratios (overall) 1st (*Cert) (X.XXX)

SHOWA® 43 mm Inverted Separate Function Forks – Big Piston (SFF-BP®), fully adjustable

SHOWA® Balance Free Rear Cushion Lite (BFRC-lite®), fully adjustable

Black, Split 5-Spoke Cast Aluminum

Wheels, Front Dia. / Width

17 in. (432 mm) / 3.5 in. (89 mm)

Wheels, Rear Dia. / Width

17 in. (432 mm) / 5.5 in. (140 mm)

Dual 4-piston monoblock radial mount front, dual-piston rear

Dual floating rotors (front), floating rotor (rear)

Brakes, Front Diameter / Thickness

11.8 in. (300 mm) / 0.2 in. (5 mm)

Brakes, Rear Diameter / Thickness

10.2 in. (260 mm) / 0.2 in. (5 mm)

Brakes, Anti-Lock Braking System (ABS)

Suspension Travel, Front / Rear

4.5 in. (115 mm) / 4.5 in. (115 mm)

Lean Angle Testing Method

Lean Angle, Right / Left (deg)

Lithium Ion, 12.8V , 24 Wh, 120 A
Onboard DC to DC conversion

Lights (as per country regulation), Headlamp

All LED, low beam, high beam and signature position lamp

Lights (as per country regulation), Tail/Stop

Lights (as per country regulation), Front Signal Lights

Lights (as per country regulation), Indicator Lamps

High beam, turn signals, ABS, traction control, EV fault

Lights, Rear Turn Signals

4.3" WQVGA 480×272 TFT Color Display with Ambient Light Sensor, 9 warning lights, Real Time Clock and Integrated Bluetooth Connectivity to a Smartphone to provide infotainment features including turn-by-turn navigation, telephone, music, and voice recognition.

USB C-type; output 5V at 3A

EV Specific Content: Motor

Internal Permanent Magnet Synchronous Motor with Water Jacket cooling

EV Specific Content: RESS

15.5kWh total, 13.6kWh min usable

EV Specific Content: Charging

SAE J1772 Combo Inlet (CCS1) / IEC 62196 Combo Inlet (CCS2)

On-board charger, charge rate

AC wall charging time (not verified)

Target – Full charge in 12.5 hrs
– Capable of 12.6 miles/hour charge rate (MIC city cycle)

DC fast charging time (not verified)

Target – Full charge in 1.0 hr
– Capable of 192 miles/hour charge rate (MIC city cycle)

EV Specific Content: Range

Highway (70 mph sustained)

WMTC (World Motorcycle Test Cycle)

Hands-free Mobile Phone – via Bluetooth

Voice Recognition Languages: Phone functions only

Via paired iOS or Android device
| | |
| --- | --- |
| Voice Recognition Languages: Tuner/Media/ Navigation | Via paired iOS or Android device |
| | |
| | |
| | |
(Harley-Davidson paid for our flights, hotels and meals.)