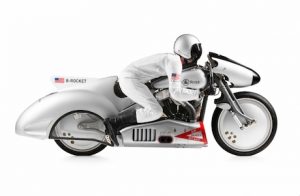 Take a Harley-Davidson FXS Softail Blackline, chop it, wrap it in brushed aluminium, add an exclusive Swiss watch and you get the B-Rocket.
The B-Rocket was commissioned by watch company Bell & Ross and unveiled at a jewellery and watch show in Switzerland. It's not the first time the company has commissioned a motorcycle to showcase their "time instruments". In 2011 they had a Nascafe racer built with a carbon-cased watch set in the fuel tank.
The Harley-Davidson custom was a joint project with British Shaw Harley custom shop. It kindles the spirit of 1960s land-speed-record streamliners with its aluminium covers and bombshell fairing and rear end.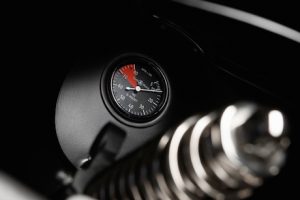 But it's not just a show piece. This Harley-Davidson custom streamliner actually works with the "pilot" or rider leaning across the padded fuel tank and gripping the super-low handlebars down by the forks. However, it doesn't have a head or tail light, indicators or mirrors. The bomber-style "jet turbines" below the V-twin are actually air intakes to cool the engine and oil.
Bell & Ross has released two watches – or chronographs, as they call them – inspired by the stainless steel and bare mechanical look of the B-Rocket. The company has not yet released pricing for the watches, but if you have to ask how much … you can't afford them!