Arbitrary handlebar height restrictions have created an excuse for police to conduct a witch-hunt to harass riders, says Zane Walton of Burleigh Bars Australia.
The Gold Coast handlebar manufacturer has started an online Change.org petition to scrap the arbitrary limit of 380mm above the seat.
Click here to read about the petition.
Witch-hunt examples
Zane supplied the following examples of customers who have been pulled over by police in this alleged witch-hunt:
Vicky Chand has had "many run-ins" with police over his 16″ Highball handlebars.
In November 2017, officers of NSW Strike Force Raptor 13 fined him for "defective steering" on her V-Rod which was parked on the street while Vicky was attending a wedding.
"They red-labelled me and told me I had to have my bike towed," says Vicky who has since swapped to drag bars.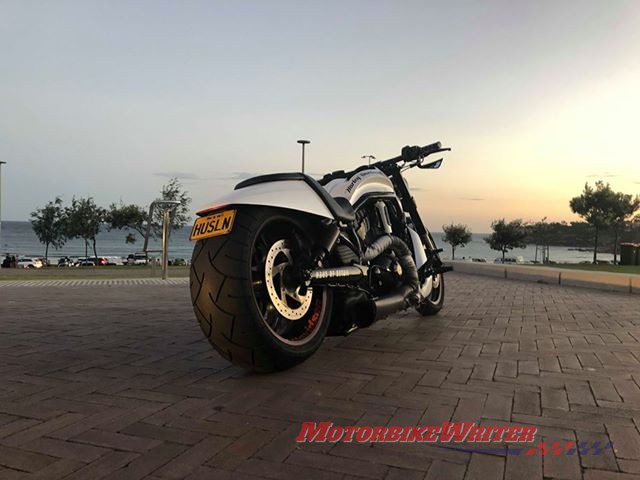 Paul Whittaker says he has been fined twice in the past year for the 16" Carlini Gangster bars on his Deluxe.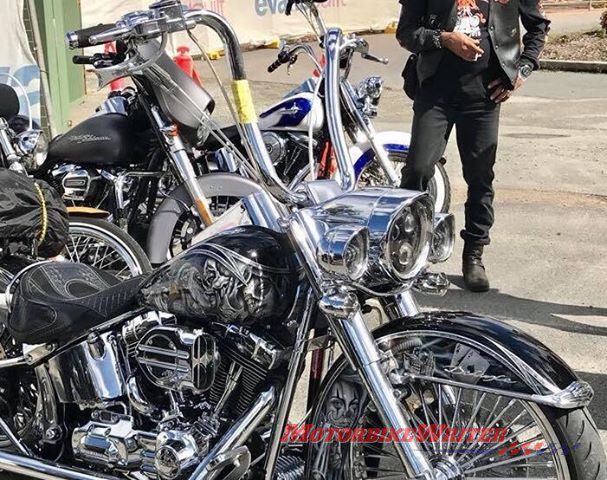 On the first occasion, police allowed him to ride home, but on the second occasion they gave him two hours to have it "fixed".
He says the police officers measured the bars with a two-foot square the first time and used their eyes the second time.
Paul has since swapped for Burleigh Beach Bars.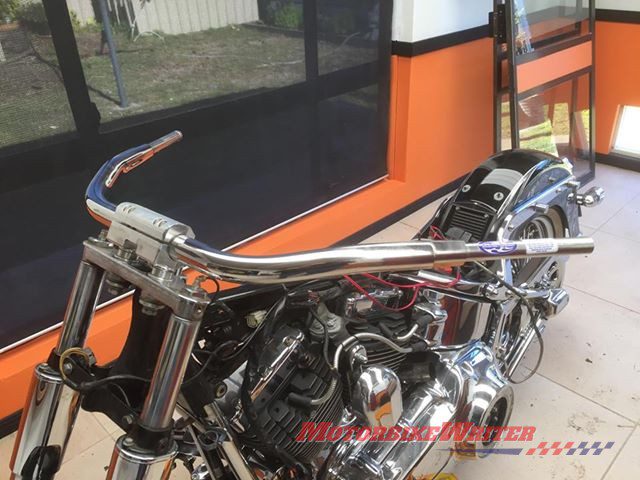 Gold Coast rider Nick Lawrenson says he was pulled over on his Harley-Davidson Street 500, breath-tested, had his licence checked and his bike inspected by police.
"The guy told me he was part of some Task Force and told me my bike was getting defected because of my illegal bars," Nick says.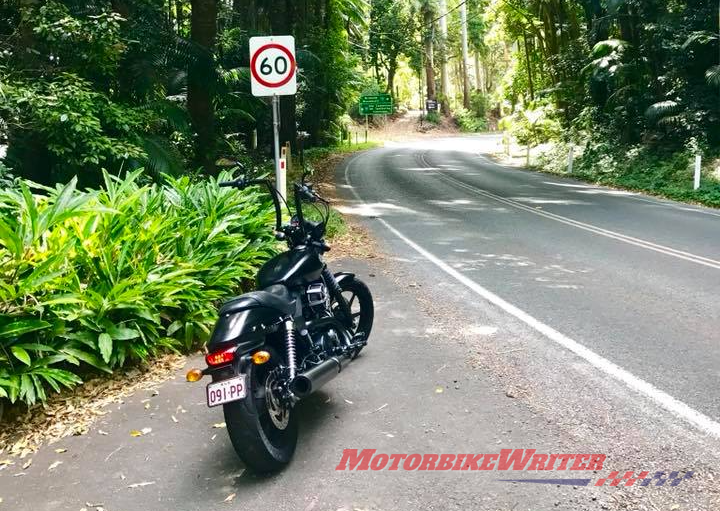 "So they busted out a tape measure and I was a little over one centimetre from legal height. I was written up, fined and defected. 
"They allowed me to ride home, but in a nutshell, they tried to catch me on everything and anything. 
"I wasn't wearing anything that supported or showed anything to any club whatsoever. It was pure harassment."
Mat Lodge says he copped a defect notice, but no fine for the 14" Highballs on 2" risers on his 2014 Dyna Fat Bob.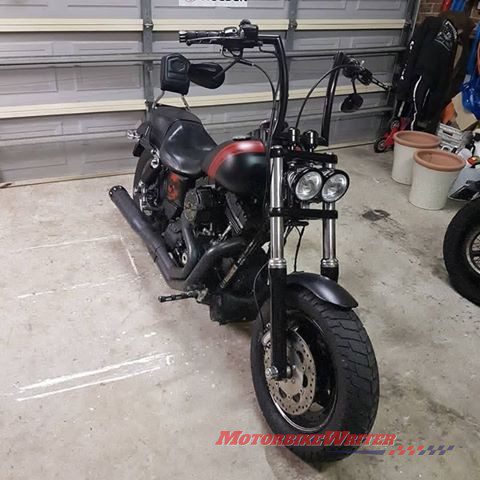 "I'm 6'4" so the grips are lower than my shoulders and comfortable as," he says.
"The bike handles better with them and I can easily ride all day with no aches or pains, unlike the stock bars."
Mat says he was wearing colours when he was pulled over at a petrol staton by members of the NSW Raptor Squad.
Kane Swan considers himself a bit lucky that police only red-stickered his bike for ape-hanger bars.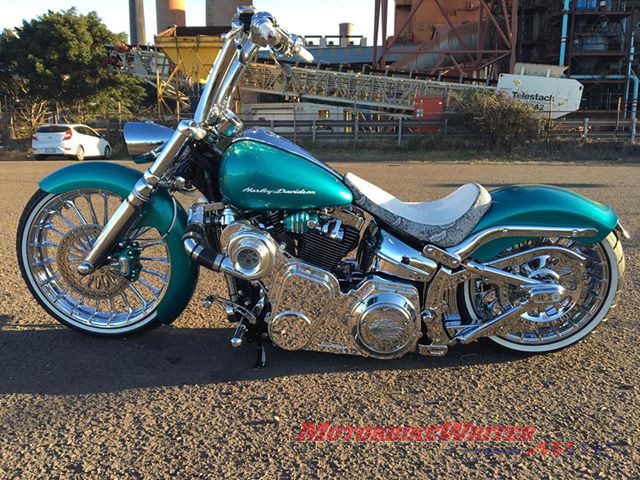 "They were more worried about the bars than the supercharger hanging off the side," he says.
Adrian Reynolds and his son were pulled over as they left the Bankstown Bike Show.
"All we did was pull the bars back and they both passed," he says.
Guy Annand was pulled over in heavy traffic in Parramatta by Raptor police who began asking which "gang" he belonged to and whom he rode with.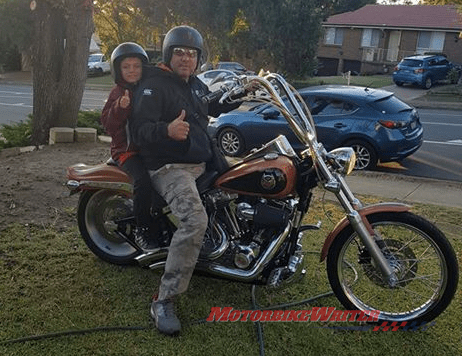 Guy told them he is a "one-man gang", but the police didn't believe him because "people that ride with them bars are OMC gang members".
He was fined for high bars and threatened with fines for his Vance & Hines exhaust being too loud, his mirrors being too small and a non-compliant helmet.
"They treated me like a criminal," he says.
Repeat offenders warned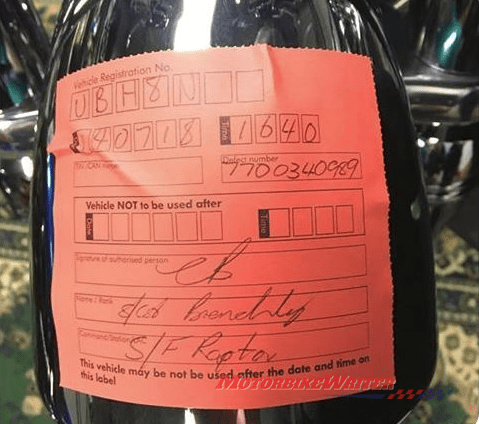 Transport officials have warned riders against refitting "illegal" bars after fitting standard bars to pass a compliance test.
If riders are caught a second time with the offending bars, another defect notice could be issued with penalties up to about $250 depending on which state you are in.
You could also cop an infringement notice for riding or parking a defective vehicle on a road which is an extra $250-odd.
If the rider is a multiple repeat offender, a police officer may decide to have the matter heard in court rather than issue an infringement notice.
This decision is not limited to a repeat offence within a 12-month period.
If found guilty, the court will decide the penalty amount up to the regulated maximum penalty for not complying with the vehicle standards which is about 20 penalty units. That could mean a fine of up to $2532, not including court costs!
Queensland can be even tougher with its "anti-hooning laws" under the Police Powers and Responsibilities Act 2000.
They allow police to impound, immobilise and confiscate a vehicle being driven when a hooning offence is committed.
The anti-hooning laws apply:
·         If the defect notice requires the vehicle to be re-inspected by an police officer or a transport inspector to clear the defect notice;
·         it has not been cleared; and
·         the vehicle is being driven or ridden on the road.