Quirky Isle of Man TT racer Guy Martin will pilot a Triumph streamliner in an attempt to break the motorcycle land speed record at the salt flats of Bonneville, USA, in August, 2015.
The current record, 376.363mph (605.697Km/h), was set in the Top Oil-Ack Attack streamliner in 2010.
Guy will pilot a purpose-built, methanol-fuelled Triumph Rocket Streamliner in the Division C (streamlined motorcycle) category and the crew believe he can even break the 400mph (643.737km/h) barrier.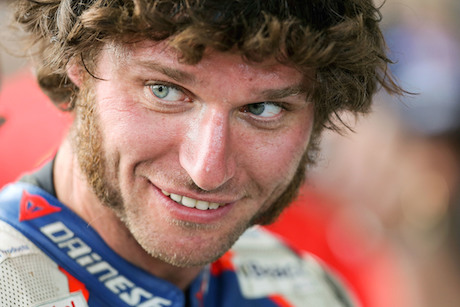 The Streamliner has a carbon kevlar monocoque construction with not one, but two turbocharged 2.3-litre Triumph Rocket III engines that, together, put out about 750kW at 9000rpm.
The final testing will be organised at the Bonneville Salt Flats in mid-July, while the record attempt will take place between August 24 – August 27, 2015.
Triumph has a long history of setting records at Bonneville and even named their most polar bike after the famous salt flats.
Triumph held the title of the World's Fastest Motorcycle from 1955 to 1970 with the exception of a brief 33-day period. The record-breaking Triumph streamliners of that period were Devil's Arrow, Texas Cee-gar, Dudek Streamliner and Gyronaut X1, the former achieving a top speed of 245.667mph (395.28km/h).
The Rocket III Streamliner was set for the record last year but it was cancelled by heavy rain.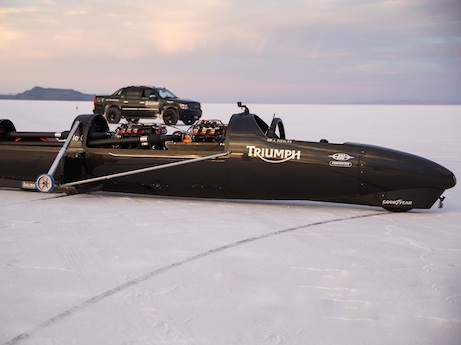 The streamliner has been built by Hot Rod Conspiracy, in Portland, Oregon. Company owner and engineer/aerodynamicist Matt Markstaller used a wind tunnel to design the 7.6m streamliner whose body is made of lightweight carbon fibre and Kevlar and weighs only 907kg.
It is powered by the two Rocket III engines which have been shortened in the stroke to fit into the Streamliner-Blown Fuel class limit of 3 litres. However, they have been turbocharged and run on methanol to produce 500hp (372kW) each. That's more than three times the 146hp (108kW) of the stock engine in the street-legal Rocket III.
The road machine nearly tears your arms off with its bulk power and 200Nm of torque, so you can imagine the sheer brute force of this monster. The suspension consists of front forks and a swing arm with two Ohlins TTX36 shocks in the front and three in the rear.