Motorcycle Art
Guenevere Schwien is a young artist bursting with talent and potential.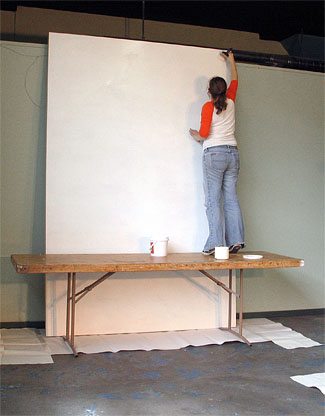 She has a keen eye for composition and a technical ability that allows her to achieve extreme realism in her oil paintings.
Her latest endeavor, a nine foot tall and six foot wide image of the tail end of a red Ducati 1098, has illustrated her capability in an impressive format. Reaching vertically almost twice her height and stretching wider than her arm spam, this painting dwarfed all her previous efforts.
The project was conceived by a collector who commissioned her to push her limits and expand her command over her trade by attempting such a grand scale.
The composition came together quickly; the vertical orientation was chosen to invite the viewers' eyes upward into the space of the object.
Guenevere took photos of her clients' bikes and studied other vertical compositions to develop a concept on how to frame the bike. The shot she chose is luscious and creates an intimate view at the rear wheel and underside of the exhaust system.
The implied night city lights in the background of the bike were invented for the composition to suit the many reflections on the body of the bike.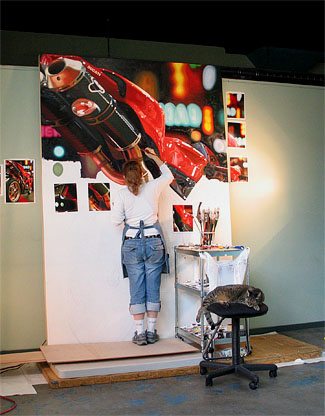 When it came time for Guenevere to start production, she had to rent a larger studio space to accommodate the tall stature of this mural-sized design. She procured a dusty abandoned retail space in a building that housed artist studios on the upper level, a bar and a hair salon.
After cleaning the space, Guenevere was ready to install a large wooden structure to mount the composition. Her medium of choice is wood, rather than canvas, because wood provides a smoother finish and an archival lifespan for the work.
She usually builds the structures herself to meet her exact specifications, but on this occasion a carpenter was employed, due to the size and scale of this work.
When the wooden structure was delivered she prepared the surface with gesso (Italian for 'gypsum'), a type of thin plaster spread on the surface of the wood to make it ready to receive paint.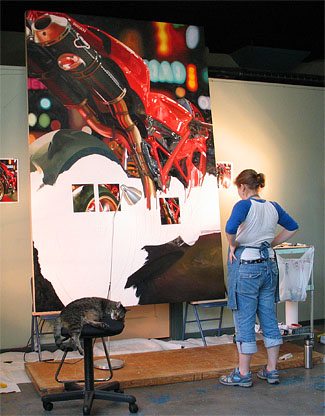 Standing in her large echoing studio with the bare white medium towering over her, Guenevere was filled with an overwhelming excitement. She felt that this project was going to be an outstanding success, so all she felt was ambition and devotion.
"I actually danced around the studio singing along to the radio" said Guenevere, describing her mood as she was ready to begin.
Her clients gave her full control to do what she does best and imposed no deadline for the completion of the painting. However, she had allotted herself three months to complete it, as this was the amount of time for the leased studio space.
During the first month, progress was slow while she adjusted to the new environs and became accustomed to work while standing on a table. By the second month she had found her groove and spent every day at the large studio.
She vigilantly watched the calendar to make sure the work was progressing on schedule. When the third month approached, 10-hour days became the norm, even including the Fourth of July holiday! The project became her baby and she had to tend to it every day.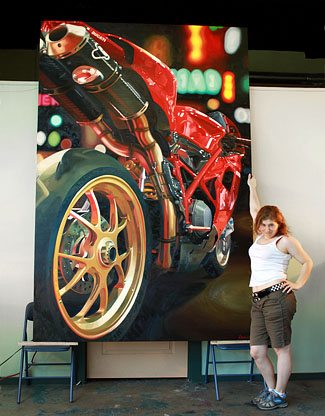 "I didn't want to give it up when I finished it" Guenevere explained about her feelings for the painting. "The day I finished, I didn't know what to do with myself". Her feelings at the end of the process were a strange mixture of success and loss.
The painting was delivered to the new owner after first being displayed for two weeks at MotoCorsa, Guenevere's hometown Ducati dealership in Portland, Oregon. The owners of this colossal Ducati painting emphatically appreciate its detail and execution. They will treasure it forever and are proud they could support such a talented young artist.
The project opened opportunities for Guenevere by showcasing her abilities and demonstrating there is a market for her work. Her paintings are now displayed in two galleries in Texas and California.
Guenevere also made a video documentary of the process that she hopes to release on her website in the coming months to help market her abilities as an artist.
Although she ironically doesn't have gallery representation in Portland, she is always seeking new venues and opportunities to show her paintings.
To learn more, visit her website at MotoPainter.com.
Note:
 For informational use only. All material and photographs are Copyright © webWorld International, LLC since 2000. All rights reserved. See the webBikeWorld® 
Site Info page
. Product specifications, features and details may change or differ from our descriptions. Always check before purchasing. Read the
Terms and Conditions
!
Other WebBikeWorld
Articles

Posts