I'm feeling pretty tough at the age of 57 riding 3000km to the Sturgis Motorcycle Rally with my wife on a Victory Cross Country Tour. But that's nothing!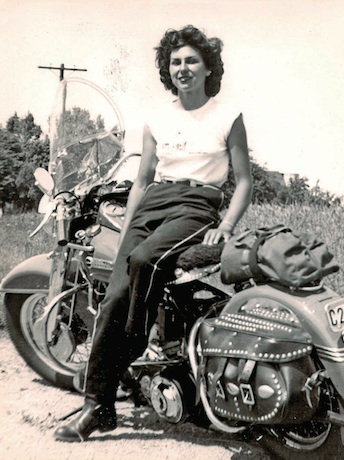 Grandmother Gloria Struck is 89 and will once again ride almost 3000km from New Jersey to the world's biggest motorcycle rally. Gloria was inducted into the Sturgis Motorcycle Museum's Hall of Fame in 2011 and is bound to be a major attraction and inspiration at this year's 74th annual event.
She has owned 14 motorcycles during the past 65 years, starting out on Indians, then switching to Harleys in 1950. Every year she rides to places like Daytona Bike Week, Sturgis, and women's conferences and Motor Maids rallies around the country. She now rides a 2004 Harley-Davidson Heritage Softail Classic with no heated grips, ABS, or other modern comforts.
In her riding career she has travelled more than 500,000 miles (800,000km) through almost every states of the US and much of Europe, and is known for riding up to 1000km in a day.
Gloria was born in the backroom behind her family's motorcycle shop in Clifton, New Jersey, in 1925. She joined the Motor Maids group in 1946 just six years after it was formed and is one of the longest active members. She has a daughter and a son who ride and she has inspired many other women to ride.
I can't wait to meet her when we attend the Sturgis Motorcycle Rally. What an inspiration!