GoPro Hero Review Summary
Buy it, use it, enjoy it, and if necessary, share it.
Be tolerant of its shortfalls and limitations.
Be happy, for the price, and for what you get, it cannot be beaten, at least for now.
Be prepared, for never-ending comments about its size, look and functionality.
While not the most technically advanced camera available or the cheapest, its simplicity and function put it in a class by itself.
With one of these little goodies, you won't have to attend acting classes in order to detail a credible tale, you can just show everyone.
The Helmet Hero is a waterproof digital helmet camera capable of capturing still photos and TV-quality video. Use of quick release mounts allows it to be used on motorcycles, bicycles, four-wheelers, skis, kayaks and more.
Originally released in 2006, the HERO cameras are a line patented by GoPro, a northern California-based team of inventors and athletes dedicated to making it easy to use a camera during favourite activities.
The camera has captured the imagination of outdoor enthusiasts of all kinds in a short period of time.
The HERO camera is available in three formats: the Helmet Hero, designed for use on motorcycle, bicycle and other helmets.
The Helmet Hero is supplied with several different mounting devices and plates; the Motorsports Hero, designed for use on automobiles and motorcycles; and the Digital Hero 3, which is waterproof and designed to strap on to the user's wrist.
Truly less than palm sized, the Helmet Hero measures 3.18 x 4.45 x 5.84 cm (1.25 x 1.75 x 2.3 in).
The clear polycarbonate housing, certified waterproof to 100 feet that the camera nestles into is only slightly larger at 3.30 x 4.57 x 6.60 cm (1.3 x 1.8 x 2.6 in).
The whole assembly weighs just .13 kg or 4.5oz.
A three megapixel sensor (2048 x 1536 at 96dpi) with a glass f2.8 lens and auto exposure is the heart of this small but mighty camera. It has 16mb of onboard memory, and can be expanded up to 2GB using a standard SD media card (not provided).
Picture modes allow single, 3X sequence photo burst or "photo every five seconds" picture taking, along with a ten second self-timer for those 'inclusive' shots.
With a 2GB expansion card used, over 1400+ pictures can be taken. Photos are stored and listed as .JPG files.
Video is captured at 30 frames per second (fps) in 512 x 384 resolution, with immersive sound (more on that later) and up to 56 minutes of video capture is claimed using a 2GB expansion card.
Video is stored and listed as .AVI files
Two alkaline AAA batteries are included in the kit to get the user up and running quickly. GoPro recommends that NiMH cells be used in normal temperatures and Lithium-ion cells for cold weather.
A programmable power setting helps extend battery life.
For downloading or viewing the JPG and AVI files, the system is compatible with Microsoft Windows ME, 2000, XP and Mac OS 9.1, 10.2 or later.
A combination cable (mini-USB to USB and RCA plugs) provides the connectivity to either a PC or a TV.
The product is guaranteed against manufacturing defects for one year.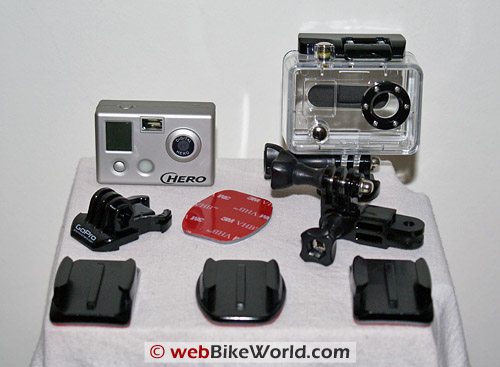 An Attractive Package
Like the other models in the line, the Helmet Digital Hero 3 is attractively packaged like some shiny new toy just waiting to pull in the true farkalista, which it does, and did!
The camera in its housing, mounted on a base plate sits out in full view under a clear acetate top.
The bottom (cardboard) half of the package contains the other goodies:
Three quick release mini base-plates, two curved and one flat surface mounts, for helmet or other surface use
Three-way pivot arm for side or angle mounting
A strapped quick-release base plate for use on any vented helmet (cycling, kayaking, etc)
A quality elastic and adjustable head strap mount perfect for climbing, swimming or walking
Data cable with a mini-USB plug on one end for the camera with a three-way splitter (USB, RCA video and RCA audio) on the other end for interfacing with a computer or a video device, ie TV
Documentation, written in four languages (English, French, Spanish and Chinese) consists of a fold-out Instructions sheet, a Watching your Digital Hero 3 Photos and Video on TV sheet, a single page Tips for using your Helmet HERO and, the Warranty
Spare 3M VHB double-sided mini base-plate tab
The base-plates use 3M VHB 4991 double-stick tape for securing to surfaces; a curing time of 12 hours is recommended when using the tape.
The bi-directional design of the base-plates allows the actual camera mount to be easily switched between forward or rear orientation.
No software is required for either the expansion card or for connecting to a PC as the system uses a "Driver Free" approach and once the camera is connected, it will be recognized as an image device and/or a mass storage device by the host computer.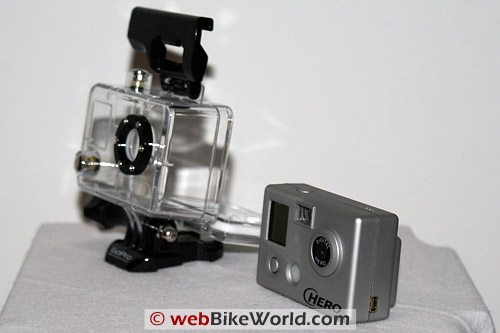 Capturing the Moments
Simple in design, it is equally simple to use, with a small front LCD and two multi-function buttons providing all user controls.
The LCD display only provides status information – it does not allow the display of preview or captured data as more sophisticated devices do.
The Power/Mode button, located on the lower left front, turns on the camera and provides the toggle between single photos, three-shot sequences, five-second repeat shots, video, timer, or delete modes.
All modes are indicated by appropriate icons on the LCD. Note – it is important to read and understand the functions of the two buttons, especially to keep from accidentally deleting captured files, which has happened during this evaluation.
The Shutter button also provides dual services.
It acts as the shutter button for shooting photos and videos; and, in 'Set' mode, it is used to cycle between discrete menu options initiated by the Mode button.
Two indicator lamps, one in the viewfinder and one on the front of the camera, blink red with picture or video capture.
Although the lamp in the viewfinder is somewhat of a nuisance, the lamps are needed to show when the camera is in capture mode.
The only other function indicators are the beeps: one beep for when shooting a photo or a series of photos and when starting a video capture; and, two beeps when the video capture is stopped, or the camera shuts itself down.
Despite substantial shutter lag, common to most point-n-shoot digitals, the unit yields crisp images and video, typically from about 1.5m (5 feet) to infinity, although depending on light conditions, good focus is provided at lesser distances.
From a technical perspective, the fixed focus lens is slightly wide-angle and equates to a focal length of about 43mm (using 35mm film format).
Made for the outdoor enthusiast and lacking a flash, the camera should and does work best under natural light conditions. On clear or overcast days, it provides crisp, clear images.
Unless there is a lot of natural or artificial light, indoor shooting usually results in pretty dim images or blurry video. While a very competent still camera, the video capture department is where this little gem really shines.
As expected, the 16MB of onboard memory limits 512 x 384 AVI video capture to 23 seconds resulting in a file size of 13.2MB. The camera beeps and shuts down automatically when the onboard memory is full.
To fully exploit the video capabilities of this camera, the use of 1 or 2GB SD expansion cards is required – a 2GB card will capture up to 56 minutes of video.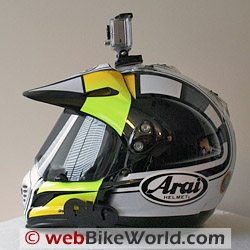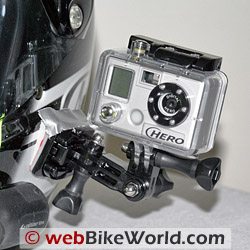 Video Tells All
For our new toy, two new SanDisk 2GB Class 2 media cards were procured and subsequently verified on a Sony VAIO notebook computer running MS Windows Vista Home Premium.
When an SD card is loaded (contact surfaces to the front) into the Hero and the camera powered up, the expansion card is immediately recognized and used, with a small SD icon displayed on line/level two of the LCD.
Most of our video testing was conducted with the Power mode disabled, allowing the camera to run beyond the pre-set timings.
We varied the Audio Mode settings between HI, recommended for non-high vibration activities, and LO, which is the recommended mode for all other activities.
To test both video capture and collect battery life data, two static video capture tests were conducted using the 2GB expansion cards.
In both tests the camera beeped and shut itself down after 55:58 (mm:ss), with AVI files of 1.86GB in size produced for each test.
A major drawback to all the capture activity is that there is no onboard ability to view any of the captured digital data. So, unless one has a handy playback device (handheld or otherwise) much of the picture and video capture is trial and error to some degree, akin to a film-based device.
The GoPro website has a good collection of sample photos and videos shot by the Hero camera, all of which do an excellent job of showing off its still picture and video capabilities as used in the great outdoors.
Some of pictures used in this submission were taken with the GoPro, and the intent is to post some of our ongoing test Hero videos.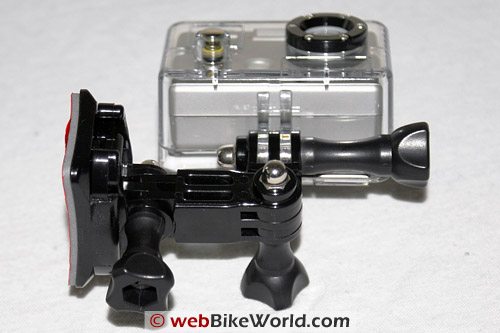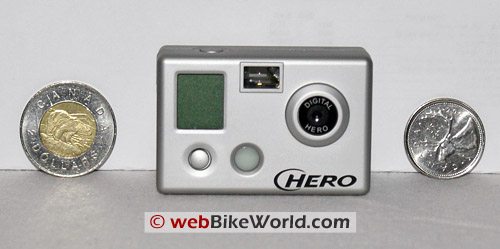 Sound Recording
Digital audio recording is done at a sampling rate of 8 bits, which equates to a high signal to noise ratio (SNR).
In simple terms, this means that the ambient noise levels, both from the surroundings and the digital capture environment, keeps any audio captured out of the hi-fidelity realm.
To help overcome this situation, the camera has two settings for video sound recording – HI and LO.
The HI setting is good for recording during wrist camera use and any non-high vibration activity (relatively static use).
The LO setting is for recording during high vibration activities, i.e., motorcycling. A warning is provided that if audio breakup is evident during filming, then the LO setting should be used.
The audio shortfall is particularly noticeable when using the camera inside the (sealed) waterproof housing. Test ride videos using both the HI and LO settings resulted in little change in the noise levels.
While noise levels did increase when running at street speeds, it was still virtually impossible to identify any other discrete source, including the motorcycle.
Overall, in a high noise environment, particularly motorcycling, discrete sources will likely be very hard to discern even when using the recommended LO setting.
If any sort of audio narration needs to be recorded along with the video, it will be necessary to speak close to the housing or into the microphone port located on the top left of the camera body.
This method will provide good, albeit slightly muffled audio, when playing back the file.
Still Photography
Editor's Note: I added these two photos (below), taken by H.B.C. with the HERO camera.
They have been resized from the original 2048×1536 pixels and 96 dpi from the camera to 600×489 pixels and 72 dpi to fit on this page, but are otherwise un-retouched.
Note that both photographs were taken under difficult conditions in an extreme range of lighting conditions, some of the most difficult lighting conditions that any camera could experience.
Although the snow in the second shot is overexposed, the motorcycle is nicely exposed and the details are relatively sharp.
Overexposure of snow in this instance would be normal for many cameras and especially point-and-shoot digicams.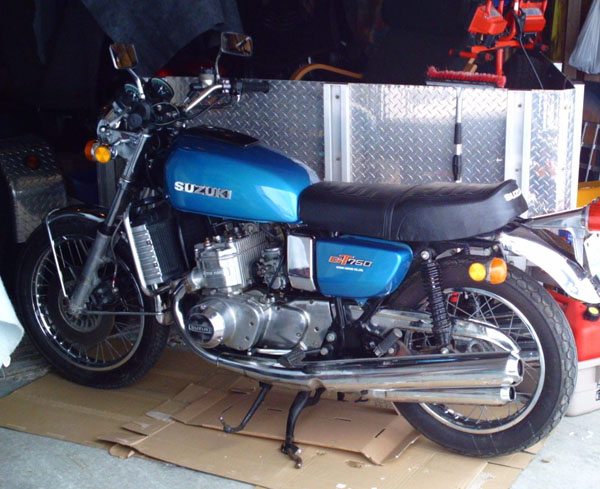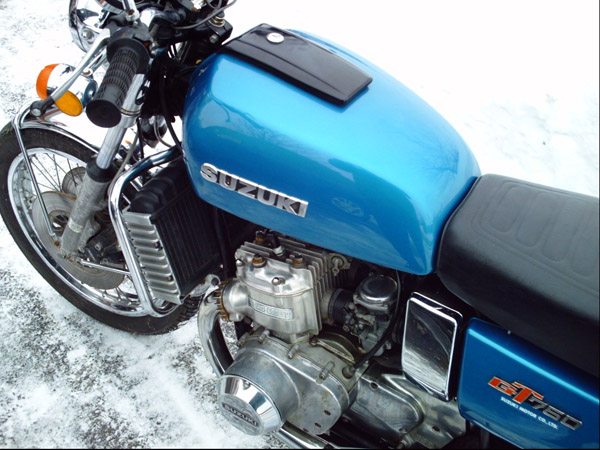 Bunny Power
Four different battery sets, of three types, were used for this initial evaluation – alkaline, NiMH and Lithium.
The supplied alkaline batteries which did not have a mAh rating on them lasted for about 45 minutes (combined picture taking and short video sessions), basically during initial setup of the system.
Two sets of rechargeable NiMH batteries were used. The first set was a pair of Duracell DC2400 NiMH 750MAh cells, about one year old, freshly charged. Based on video capture use this set provided one hour of indoor use.
A set of rechargeable Energizer NiMH 1.2v, 900 mAh rated batteries were up next, again about one year old and freshly charged.
Based on still photos and video capture use, this set provided just over 90 minutes of indoor use.
Moving outside where the ambient air temperature was around 0C (32F), we installed a fresh set of Energizer Lithium 03-2022 cells. Experience has shown that this battery in AAA and AA sizes, designed for digital device use, is hard to beat, in any temperature.
So far this set has eight (8) hours of use including multiple videos, photos, and switching the power on and off frequently, and the drum is still beating.
When the batteries are low, the battery icon in the upper left corner will blink, and when the power reaches a critical level, the camera will turn itself off.
As clearly stated in the provided documentation, both NiMH and Lithium batteries are highly recommended as they are typically more temperature resistant.
Mobile Operations
From a mobility perspective, the simplicity of the device is both a positive and negative.
On the positive side, the simple LCD status display and use of only two multi-function buttons is good, although one has to understand their respective roles.
However, this same simplicity, depending on where the camera is mounted and how it is accessed, can raise other concerns.
When mounted say on a helmet, top or side, the desired mode and capture functions must be initiated before the rider starts off due to access and safety requirements.
However, outside of having someone else check the tiny LCD display, or look for a flashing red light, the ability for the rider to monitor the device is negligible.
If the camera is mounted on a more visible and accessible spot, these issues will be somewhat mitigated as more direct view and control of the device is likely, although safety concerns remain paramount.
Although we have not used the camera extensively (yet), it does seem to be very reliable and when a certain mode is selected, and as long as battery power is good and, the aim correct, good photos and video will result.
Given this situation and acknowledging the issues identified, we are still confident that the camera can be used safely and competently.
All components are well made and appear rugged, including the camera itself.
We have no doubt that the 3M double sided tape will do the job in securing the mounting plates, although we would be tempted to safety wire the housing to a tie-off point as done for the GPS devices.
As long as one remembers to charge or replace the batteries and swap the expansion card out on a timed basis, the whole assembly will not likely require much care.
Of course, cleaning of the critical components is important of course, especially during the height of bug season or during snow falls.
Viewing the Videos
Accessing the captured good, or incriminating stuff is simple – connect the supplied data cable to the camera port, located on the left side, to a compatible USB port on a host computer and power up the camera.
For Windows users and depending on the Operating System (OS), you will see a device icon, or a removable disk icon under MY COMPUTER.
This icon should have a standard DCIM folder under it, with a 100GOPRO sub-folder that actually contains the files. From this point they can be viewed, copied or downloaded.
For Mac users, the device will typically be recognized as a mass storage device or an external hard drive.
For TV presentation, the correct NTSC (North America) or PAL (other areas or on a PAL TV) setting must be selected using the Shutter button to cycle between the two choices and then by pressing the Power/Mode button to save the setting.
With this done, plug in the RCA jacks (Yellow = Video, White = Audio) to the appropriate TV input, select the proper video input on the TV and power up the camera.
The first photo will appear on the screen, while videos will begin playing automatically. The Power/Mode button advances the photos or videos and the Shutter button is used to return to the previous selection.
Just remember that running these processes from the camera itself will consume juice and decrease overall battery life.
It is far simpler to remove the SD card itself and plug it into the appropriate device, either directly or via a multi-card reader interface hub. We all have them, right?
Price and Incentives
Based on site information and posted reviews, it is evident that GoPro is looking at adding additional accessories for this kit, in particular an optional wide angle snap-on lens, touted to increase field of vision by 40%.
This we want to see and use.
All kit items included in the Helmet kit, less the camera, are available directly from GoPro as an Expansion Kit (listed for $69.99). According to the web site, other goodies are one their way as well.
Having replacement or supplemental items available is good for everyone.
Particularly it allows users to replace damage or missing pieces, or augment the original kit pieces, allowing the camera or cameras, to be used on more than one, or two, mounting points.
In doing research into the product, it is very evident that the developers of the GoPro line are really into supporting and evolving their product.
They even run a F1000 R&D test car in SCCA races in California – a rough job but someone has to do it.
Conclusion
The Helmet Hero camera is a fun device despite lacking virtually all the bells 'n' whistles found on most other still and video devices.
With its simple looks and only two control buttons, it is not likely to appeal to everyone, especially the hard-core technophile. But, we know that looks can be deceiving.
For outdoor enthusiasts, motorcyclists in particular the Hero camera is an extremely cost effective and exciting way to capture photos and video, no matter what type of riding is involved.
We can't wait to get one or two of these units mounted up for spring to start recording our favourite trail, twisty and track runs.
The telling of tall tales and adventures can now be graphically illustrated, all without hauling around the latest, largest and most expensive imaging toys.
The "been there, done that" proof is in hand and all available for replay at some future opportune time – like the middle of winter, or for uploading to the new wBW video site.
UPDATE: The GoPro Hero has been superseded by the GoPro HD video camera (review).
More webBikeWorld: 
▪ Video Action Camera Reviews
▪ Intercom and Radio Reviews
w

BW

 Review: GoPro Hero Video Camera
Manufacturer: GoPro
List Price (2008): $199.95 CAD
Colors: Silver.
Made In: China
Review Date: February 2008
Note:
 For informational use only. All material and photographs are Copyright © webWorld International, LLC since 2000. All rights reserved. See the webBikeWorld® 
Site Info page
. Product specifications, features and details may change or differ from our descriptions. Always check before purchasing. Read the
Terms and Conditions
!
Owner Comments and Feedback
---
From "L.H." (3/10):  "I decided to purchase the 5 mp standard lens model rather than the wide angle model. I had previously bought and used a helmet cam that had a wide angle lens and I did not like the presentation and the horizontal lines and skewed edges.
The 5 mp standard lens camera works very well in most light conditions, low light being the exception, and the filed of vision works very well for my riding style. I am looking forward to the promised 4 gig.
Firmware upgrade that is already available for the wide angle camera.
I have had no issue with memory cards slipping out as noted in reader comments. The card slips into the side slot and is firmly installed by pressing into the case until there is an audible click."
Update from L.H. (8/10):  "The promised upgrade to allow use of a 4GB SD card has not materialized to date. Although the camera works well and is a solid unit I cannot say the same for the company's support system.
As of this writing their website states that a firmware upgrade is "coming soon". This notice has been on the website for many, many months. The website also alludes to an informational newsletter. I signed up for this but have not received information requested.
The HD model also has a promised upgrade that the company says is 99.99% completed. This has also been posted for a few months. But, my comment relates to the standard lens as the upgrade notice has been posted in one form or another since at least July of '09.
I am slightly hopeful that an upgrade will appear at some point. I do like the camera very much in spite of the support."
---
From "D.":  "A note to potential buyers of the Hero Camera: the quality of pictures is something that really needs to be thought about as it has left much to be desired in my case. I have owned the Hero for a few months now and use it primarily off of the included wrist-mount which works quite well but the equality of the stills has been particularly disappointing.
I am not a camera buff and only expected decent pictures from the Hero but found the lack of any kind of back lighting capability to make many of my photos unusable. I will say that the video in this excellent review looks very acceptable to me and a lot better than what I have seen from the still shots. For $150 – $160 (US) I would have expected a bit more quality in the images.
I have also had issues with the SD card staying out in it's slot – it's a bit large and though it can fit within the protective case, doing so presses on the card in a way that when you remove the camera from the case the SD card is ready to fall out – not the end of the world but annoying."