A Good Samaritan act, shortened and cancelled stages and incorrect roadblocks hampered Toby Price in his valiant efforts to win his third Dakar Rally.
Despite all the hurdles, Toby finished on the podium today as the best KTM rider after a strong third place in the 429km 12th and final stage.
The event was won by American Ricky Brabec (Honda), the first American to win the gruelling event held for the first time in Saudi Arabia.

It was also Honda's first win in 31 years and brought to an end KTM's winning streak of 18 titles.
Ricky was 16 minutes in front of Chilean Pablo Quintanilla (Husqvarna).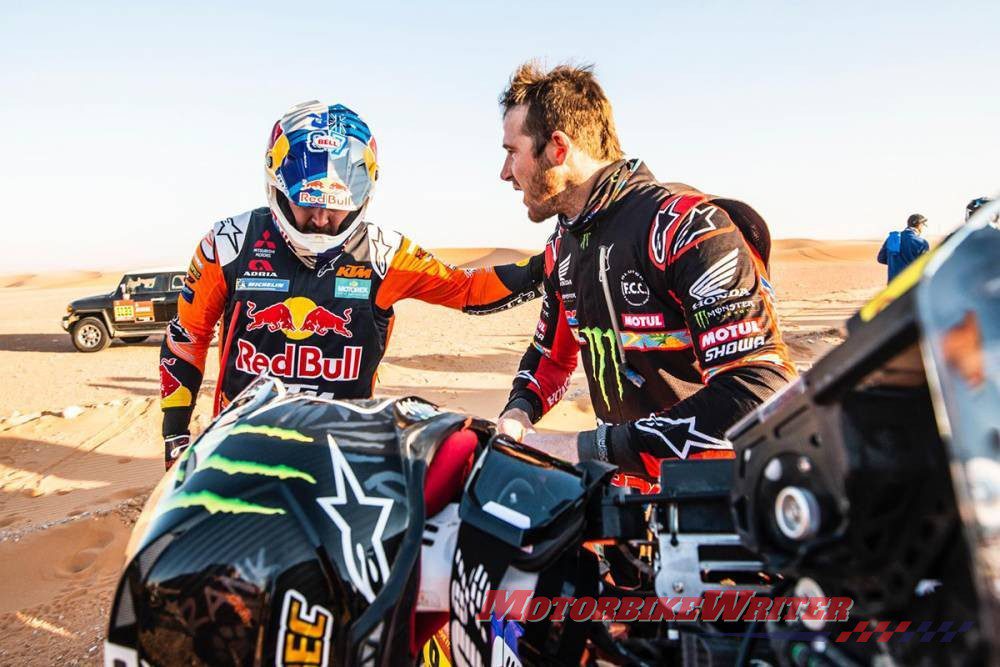 Top 5 outright
Sadly Paulo later died and the eighth stage was cancelled in his honour, leaving less opportunity for Toby to make up time. The 10th stage was also cut short when too many riders crashed.
Toby had said he was "comforted" by the fact that he virtually sacrificed his third rally win by being the first to stop for fallen rider Paulo Goncalves in the seventh stage.
In the wake of these setbacks, Toby's podium finish is a truly champion effort.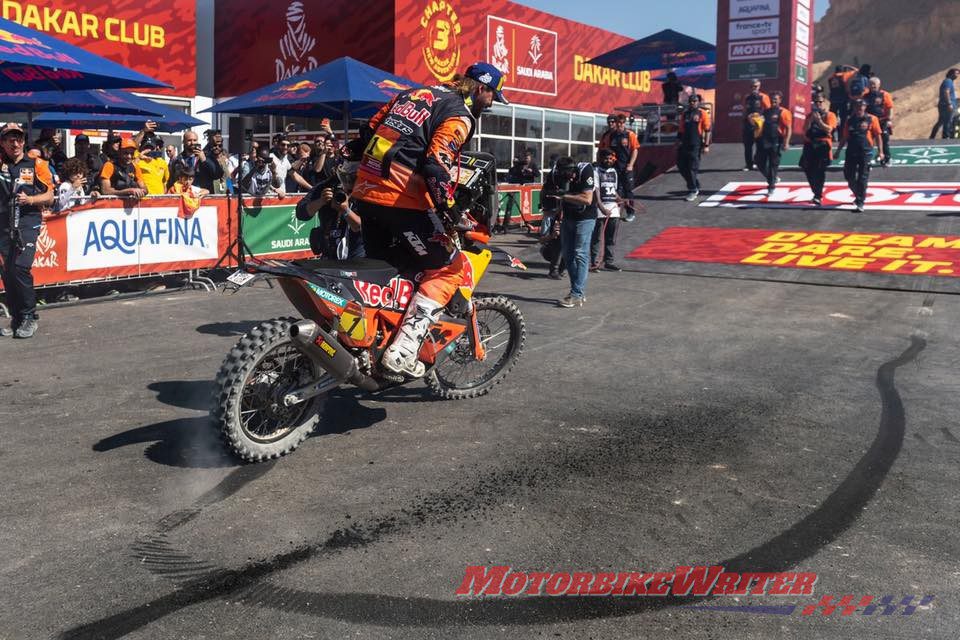 Toby wasn't the only Aussie who did us proud in the Dakar as both a tough competitor and aa Good Samaritan.
Mr Consistency, Rodney Faggotter (Yamaha, Queensland) finished most stages in the top 20 and recorded career best 13th outright and a sixth in one stage.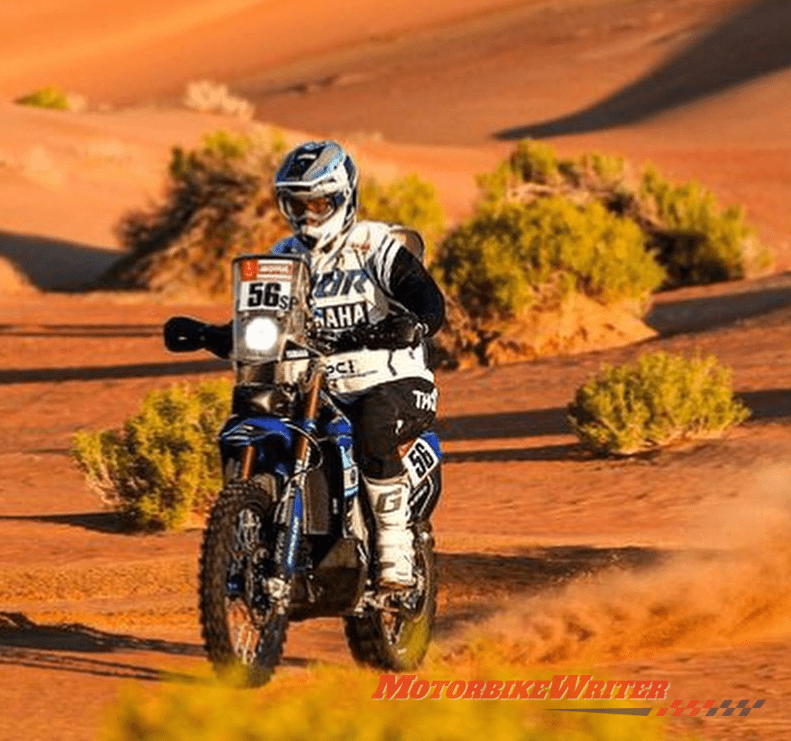 Like Toby, on the 10th stage Rodney stopped to help a crashed rider and was given the time back by the officials.
"I had a solid 2 weeks and rode the most 'in control' but also at the best I have ever done," Rodney says.
"The riders in front of me are the best rally riders in the world and most of them full time athletes. I'm pumped to be near and amongst these guys!"
Fellow Aussies Ben Young (KTM), Matthew Tisdall (KTM) and Trevor Wilson have also done well to keep going.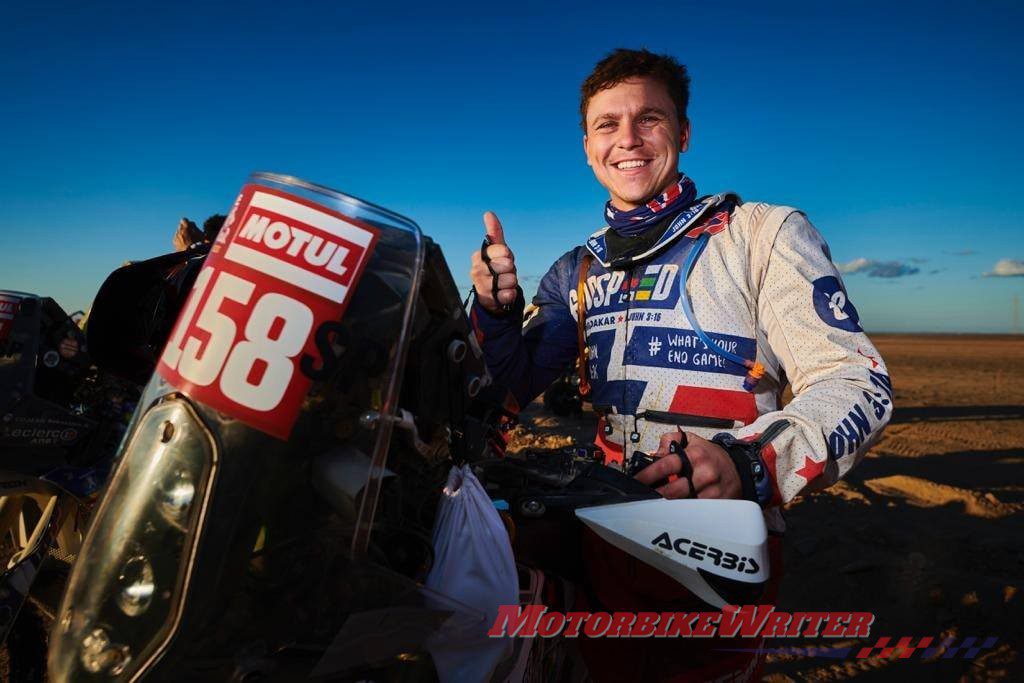 Ben as finished 70th with an overall 58th position in his second Dakar.
Trevor finished 62nd today and was 70th overall in his debut. The Brisbane schoolteacher flies back home today and will have a celebration party at the Eaton Hills Hotel tomorrow from 1pm.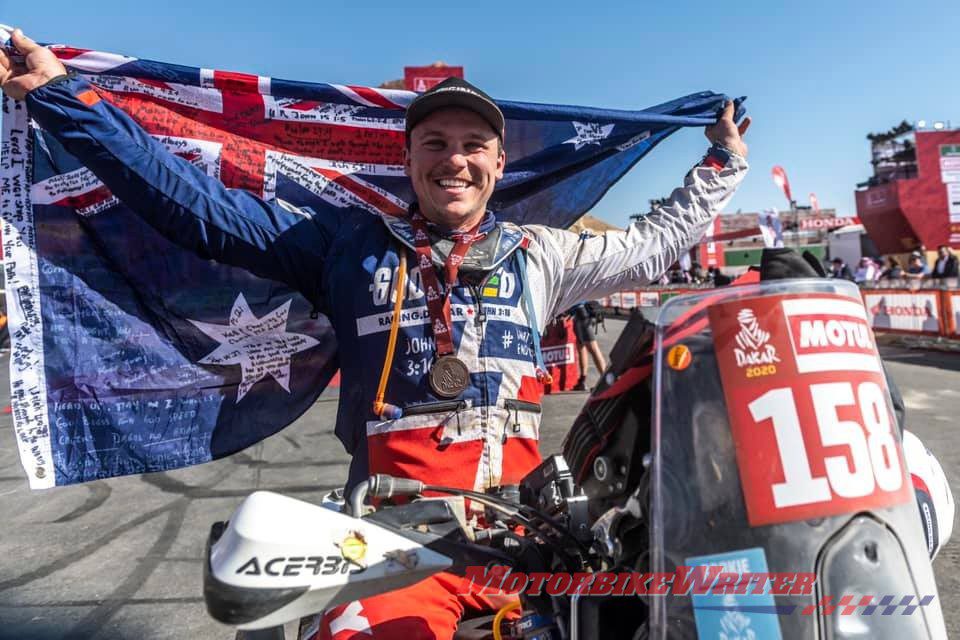 Matt finished in last place at 100th and placed last in 96th!
However, even to finish a gruelling Dakar is a massive feat and to have all four Aussie entrants complete the event is a tribute to their heroics.
About a third of the 158 field did not finish due to crashes or mechanical failures.
Five women made it to the finish of the Dakar led by Laia Sanz in 17th place overall, with Dutchwoman Mirjam Pol, South Africans Kirsten Landman and Taye Perry, and Spaniard Sara García also in the general classification.
For the first time the Dakar rally was run in the one country, Saudi Arabia, after being run in 35 countries on three continents since 1978.
Toby aids firefighters
Like many Aussie sports stars and celebrities, Toby is raising money for the bushfire appeal.
He is auctioning his starting jersey and pants for firefighters
Toby is also doing his bit for the current critical bushfire situation by auctioning his starting jersey and pants with proceeds going to the NSW Rural Fire Service.
It is open worldwide, just send in your bid in Australian dollars on his Facebook page or Instagram.
Current highest bid is still $13,001.
Auction closes on tomorrow (18 January 2020) at 5pm (AEST).
If you can't bid, please donate on this link. Sp far he has raised more than $5000.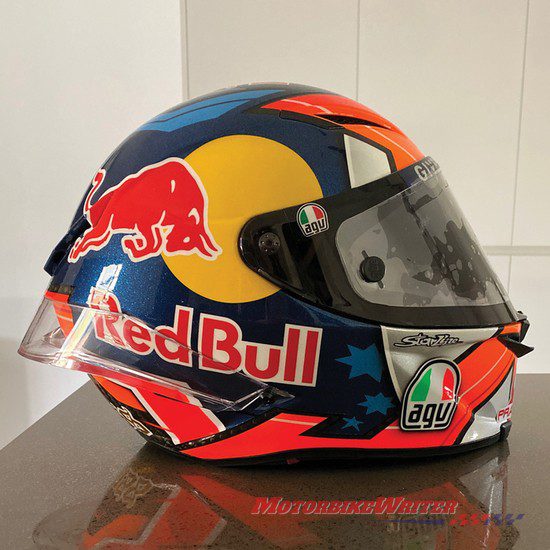 Meanwhile, Aussie MotoGP racer Jack Miller put his 2018 MotoGP helmet up for auction to raise money for the bushfire crisis.
The auction has closed with 22 bids and the winner bidding $18,000.
Jack will sign and send the helmet to the winning bidder.
Two-time MotoGP champ Casey Stoner says he will auction an old race suit for the first time, but no details are available yet.
Meanwhile, Deus Ex Machina founder Dare Jennings is raffling off his 1977 Triumph T140V.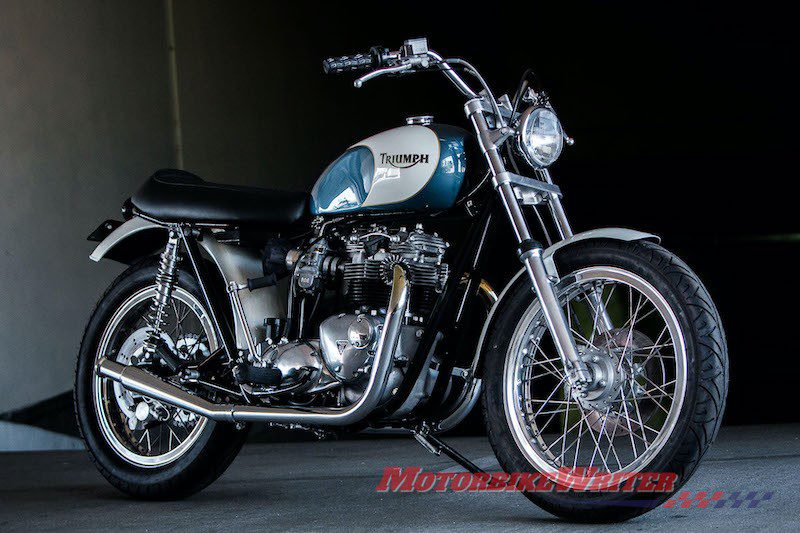 Money raised will be split among the Australia Red Cross, Save The Animals and Rural Fire Service.
You have the chance to win it by making at least a $50 donation via PayPal.