NHTSA says Helmet Use 25%+ Higher in Past Decade
According to the survey National Highway Traffic Safety Administration, helmet usage has risen significantly in the United States. When I first saw this reported on ultimatemotorcycling.com, I knew I had to share on webBikeWorld.
According to the NHTSA, since 2010 helmet usage rates have essentially gone from 54.3% of motorcyclists nationwide to 70.8%.  
Typically when you are reading about surveys conducted on a nationwide scale, you are usually referenced to data collected 5 or 10 years ago. Not this time, the survey conducted by a division of the NHTSA, is conducted on an annual basis, giving you almost real-time data.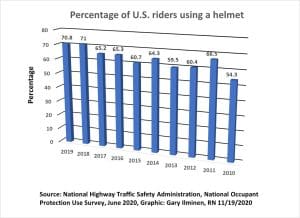 Given this information, you can see a clear rise in helmet usage in the last 2 years. This may be because there are only 3 states left where there are zero helmet laws altogether. 
It's no secret that wearing a helmet in the first place has the core purpose of protecting your brain. Studies have shown that wearing a helmet can lower your risk of head injury significantly. 
Notable, the survey also shows that helmet usage increased in states that have mandatory helmet laws from 83% to 89.2%, meaning we have less riders rebelling against the fact that helmets literally save lives (or that more riders are choosing to invest in protecting their noggin). 
This is a Great Trend
Not only have helmets improved in safety over the last few years, but the technology they carry has as well. 
You can see that modern full face helmets have gotten lighter (such as the Shoei RF-1400 being the lightest Snell M2020 helmet available, or the increasing use of carbon fiber and other ultra-lightweight materials driving down weights and prices), more comfortable, and include an array of high tech features, even in just the past 2 years. 
Helmets are starting to include luxuries that a lot of riders almost can't live without (pun intended). These features include drop down visors, integrated Bluetooth intercoms, adjustable padding, quick connect straps, and even photochromic visors that self tint on sunny days. 
Helmets are not only coming with more safety and tech features, they are also coming atan array of prices. No matter your budget, there is always a helmet out there for you. Though this can range from a $92 Bell Qualifier to a $1700 AGV Pista GP RR Carbon helmet. There are hundreds of helmets available for a variety of riding types. 
And we're stoked to see that more riders are choosing to wear these new lids.