Gold-plated screws, 360 diamonds and two safes in the fuel tank could make this Harley-Davidson Softail Blue Edition custom one of the most expensive motorcycles in the world at $A2.4 million ($US1.8m, €1.5m, £1.3m).
The custom is the work of Swiss custom Harley-Davidson workshop Bündnerbike.
They made the bike for countryman watchmaker Bucherer to promote their Blue Edition range of 16 exclusive watches created in cooperation with 11 renowned watch manufacturers.
Most expensive
However, the Blue Edition Harley-Davidson is not the world's most expensive motorcycle as Bucherer claim.
That honour is claimed by eccentric American artist Jack Armstrong whose "Cosmic Starship" Harley-DavidsonV-Rod sold to the Moran family of California for $US3m in 2012.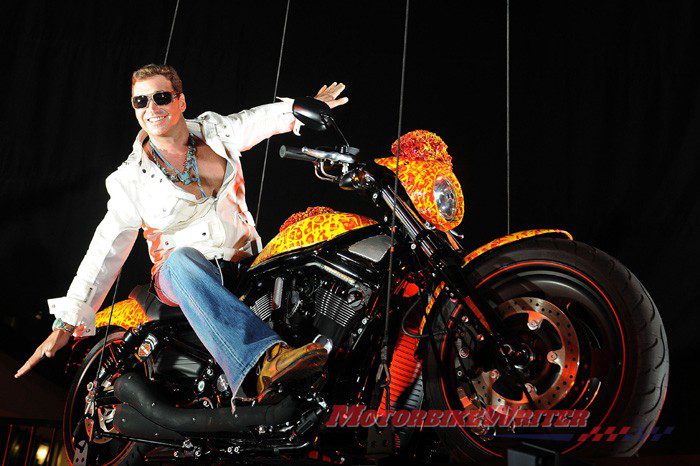 The bike has returned to the marketplace at $US10 million ($A13m).
Blue Edition Harley-Davidson
The Blue Edition Harley-Davidson took more than 2500 hours of work to produce. 
It started life as a Softail S with the 110 cubic-inch motor and has a hardtail rear, springer front end, copper details and a handcrafted slash-cut short exhaust.
The irridescent blue custom also comes with two glass-topped safes in the fuel tank to store a one-off watch from Carl F. Bucherer and a ring from Bucherer Fine Jewellery.
There are no other mechanical details available about the bike.
Motorcycle watches
Harley has had a long history of providing branded watches particularly with New York company Bulova.
Other manufacturers have had exclusive watches in recent years so devoted fans can wear their "heart" on their sleeve – or wrist!
They include a Ducati Scrambler watch in 2015 with Swiss watchmaker Tudor, a BMW GS watch, BMW boxer watch designed by Marc Jenni, and Swiss watchmaker Baume & Mercier and Indian Motorcycle with their Clifton Club Legend Tributes range.