Glare Sahara Waterless Cleaner and Polish Review Summary
Glare Sahara Waterless Cleaner and Polish Image Gallery
Interesting waterless cleaner, polish and wax combined into one product.
Works very well when used as directed.
Saves time and provides an outstanding finish.
Our friends at Ultra 2000 have been at it again.
First, they brought us Glare Professional Polish (review).
Then it was Glare Spider (review).
And now they've developed a waterless cleaner called "Glare Sahara Wash & Detail".
We've tried a zillion different cleaners, polishes and wax over the years, with maybe a bajillion more sprays, liquids and even soaps.
Well, maybe not quite a bajillion, but pretty close anyway!
We've been keeping track of our favorites in the "Our Picks for Best in Class" table on the webBikeWorld Cleaners, Polishes and Wax Reviews page.
That is also the de facto home page for all of our reviews of these type of products, so be sure to check it out.
If you do, you'll notice that Glare Professional Polish tops the list as our all-time favorite motorcycle polish.
There have been many challengers, but none has come close to providing the deep and long-lasting shine and protection of Glare.
I know, I know — this sounds like a shameless plug for the stuff, but believe me, we have no vested interest in Ultra 2000, Glare polish or any of their other products. The stuff just works better than anything else we've tried.
Sure, it takes a little more elbow grease to properly apply Glare polish to get the best results, but in the end, it's worth it, because it lasts so long; I've found that about one coat per year does the trick, with a touch up now and then. And by the way, the product isn't cheap, but I can't tell you how much money I've thrown away on junky auto parts store polish that doesn't work.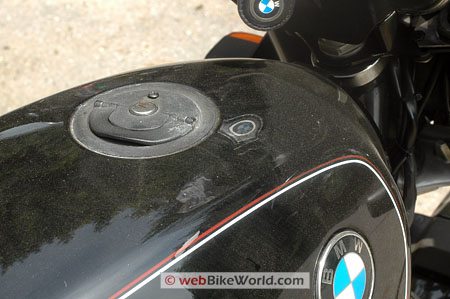 Glare Sahara Wash and Detail Spray
So what's different about the Sahara Wash and Detail Spray?  It's a sort of waterless cleaner, polish and wax version of the original Glare Professional Polish.
We've tried waterless cleaners before, with decent results (see our review of Dri Wash 'n Guard Waterless Motorcycle Cleaner), but I haven't really become a believer in either the concept or the product. I pretty much forgot about waterless cleaners until the Glare folks called up and offered a bottle of Sahara.
Honestly, I was initially lukewarm to the idea. Call me old-fashioned — I have such an ingrained bias against using anything but tons of water and buckets o' suds to float the dirt away that I have a hard time getting my mind wrapped around the notion of a waterless cleaner.
But having lived in a house with a private well with all its foibles now for a few years, I've come to understand the importance of water — and conservation thereof. Paying to fix a burnt-out a water pump located at the bottom of a 100-foot well will do things like that to you…
Plus, I'm lazy. There was a time when I'd be out there on the driveway washing and waxing the car and the bikes a couple of times a week. But now I'm just too busy for such foolishness, so the thought of breaking out the hose and the bucket and then searching for the suds and a clean sheepskin mitt gives me the willies.
Thus, both the Ducati and the BMW have become filthy beasts. The Beemer was asleep all winter in the garage, so it didn't get a chance to meet the salty road grime, but it did have a heapin' helpin' of that dusty brown patina that motorcycles — especially black ones — get after being stored for a half-year or so.
On the other hand, the Ducati was slogged through the rain and the salt and the mud of winter and it truly looked a mess. It desperately needed a cleaning but I just couldn't gin up the ambition to give it a proper bath.
So the Sahara waterless cleaner arrived just in time. Surely I'd prove 'em wrong once and for all, because the stuff couldn't clean up the mess on these rides, could it?
Glare Sahara Wash & Detail is designed to be "the only safe solution to washing and detailing your vehicle where water is a scarce commodity", says the label. Apparently, some Ultra 2000 international customers in dry climates have serious water sourcing problems, and the product was originally designed for them. Sahara is a waterless cleaner, or "wash compound", but it's combined with an "express detail", using the famous "Glassplexin" formula used in other Glare products.
It's not that I'm running out of water, but the lazy side of me sure liked the idea of spraying it on and wiping it off to uncover the shining painted secrets below.
The Sahara spray exits the bottle as a semi-thick, milky-white liquid. It has a kind of strange stickiness to it, so it pretty much stays put and doesn't seem to be inclined to run down the surface of the paint. I will say that the spray pattern is a bit hard to control and the white overspray can get on to other parts of a motorcycle. I think the sprayer may be made for the larger surface area of a car, rather than a bike.
After the surface is sprayed with a light coating of the Sahara waterless cleaner, it must be spread around using a microfiber cloth. The microfiber cloth is key. Microfiber is a miracle textile, and is said to be one of the only safe fabrics to use to clean a camera lens — and it's used dry for this purpose. The polyester ultra-fine fibers are somehow endowed with the ability to lift off the dirt like a magnet without rubbing it back in, or at least that's my understanding.
After the initial coat of Sahara is spread evenly with the microfiber cloth (I bought a whole bag of them in Wal-Mart for a song and they seem to work well), it starts to dry. It dries to a haze in about one minute and then it's buffed out, again using the microfiber cloth.
The second step (Glare products like this two-step process) is to spray another light coat on the paint, but this time buff it in with the microfiber cloth until it disappears, or mostly so.
All I can say is that I'm very impressed. The dirt just seems to disappear, and I noticed no spider web or any other type of scratches in the super-shiny black lacquer on the BMW. It leaves the same deep shine of the original Glare Professional Polish.
To go from dirt to super shine just like that is pretty amazing. It definitely seems to save the time and energy — and, of course, the water. I really like not having to mess with the hose and the bucket, and I'd have to polish the bike anyway after all that to end up with the same results.
Here are some photos of the before and after and the in-between: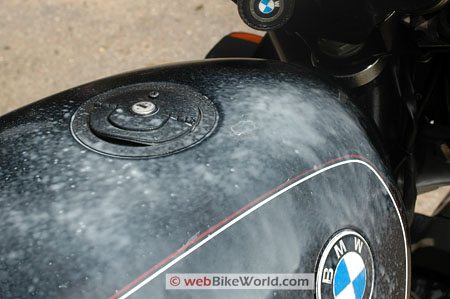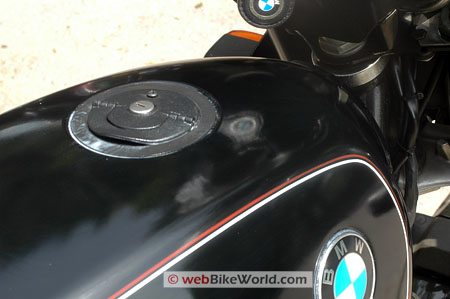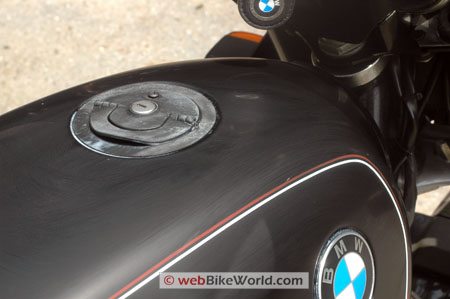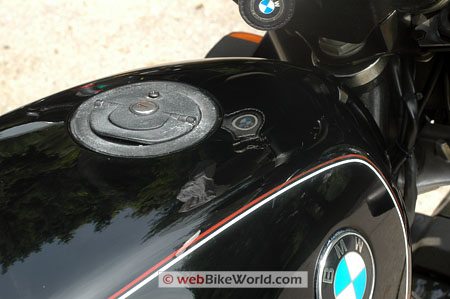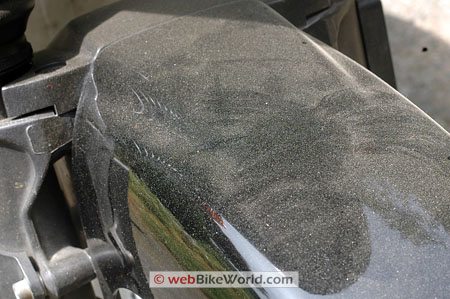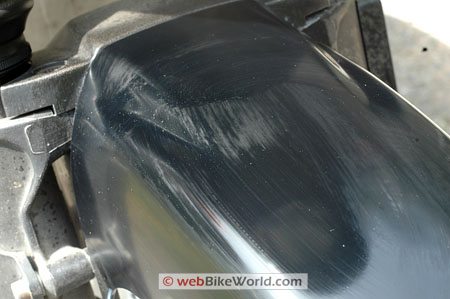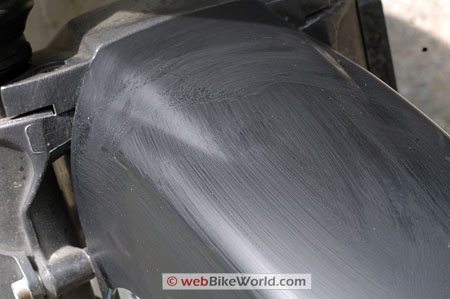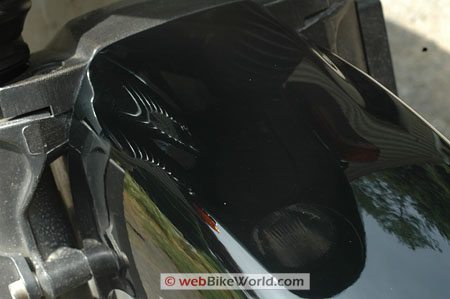 Conclusion
Glare Sahara isn't cheap, but my feeling is that it's worth the time saved plus the typically incredible Glare shine and protection that it provides. I honestly think that Glare Sahara leaves a better and more protected finish that just about any other off-the-shelf or custom motorcycle polish I can think of.
w

BW

 Review: Glare Sahara Waterless Cleaner and Polish
Manufacturer: Ultra 2000
List Price (2007):  $29.95 + S/H for 16 oz. spray bottle. 32 oz. refill is $59.90 + S/H. Sahara kit with 16 oz. spray bottle and a 32 oz. refill is $89.90 + S/H.
Review Date: May 2007
Made In: U.S.A.
Note:
 For informational use only. All material and photographs are Copyright © webWorld International, LLC since 2000. All rights reserved. See the webBikeWorld® 
Site Info page
. Product specifications, features and details may change or differ from our descriptions. Always check before purchasing. Read the
Terms and Conditions
!
Owner Comments and Feedback
---
From "J.S.":  "I like the theory of the waterless product but I see one big flaw in this type of product. My experience has usually been that if the paint needs cleaning and polishing so does the rest of the bike. At this point you still need soap and water to clean wheels, fenders and such."
Editor's Reply:  This is a good point, although I never thought of it before and I use these type of products frequently. If the wheels get dirty, I'm usually down there cleaning and polishing them by hand anyway (I first prep them by cleaning with Glass Plus) but I only try to do that once or twice per year. Never cleaned the fenders and the engine and other goodies usually get cleaned with special formulas….
Other WebBikeWorld Polishes & Wax Posts