Glare Professional Polish Review Summary
Glare Professional Polish Image Gallery
A little more work to apply but the results are well worth the effort.
Still the best stuff around after…oh, 10 years or so?
Let's face it — most photographs of a freshly polished motorcycle are going to make the finish look pretty good.
So reviewing motorcycle polishes isn't easy; other than issues like ease of application, there's not much to say.
Until, that is, some time has passed, and you get a better idea of how well the polish holds up and keeps the bike protected.
How does 5 years sound?
I first found out about Glare Professional Polish from several webBikeWorld visitors.
Each email conveyed a fanatical devotion to the product. A
typical email arrived one day from a person we'll call "Dan". Dan noted that we have several reviews of motorcycle polishes, but he was concerned about more than just a shiny finish.
"What about protection against brake fluid or gas?" he wrote.
"I have found a true one step polish called Glare Professional Polish that will protect against even gas. It will last for more than a year on the complete bike, including the exhaust.
So far I have found this GLARE to be the best polish I have ever used. As an example, I overfilled my tank on three occasions, where the gas ran over the paint and it did not damage the paint.
I polished my bike last March and the shine was still there even through the rain and heat of the summer". Pretty powerful statements from Dan, don't you think?
So I figured we'd better find out more about this stuff and see what all the fuss was about. After all, motorcycles seem to attract more bugs, grime and gore than just about any other vehicle on the road.
And I don't know about you, but I seem to have the hardest time fueling up without spilling at least a few drops.
No matter how careful I try to be, I end up dripping gas somewhere on the bike. So if there was a polish that could both make the bike shine and protect the paint, I had to check it out.
What Is It?
Glare Professional Polish has a proprietary ingredient called "Glassplexin".
Ultra 2000 Manufacturing International, Inc. actually offers a written guarantee that when applied as directed, Glare Professional Polish will "retain its brilliant luster and protect the treated surface from oxidizing, fading or corrosion caused by the sun, weather, salt air, road salt, road tar, bugs, bird drippings, tree sap, and detergents for five years".
The polish is also claimed to protect against "brake fluid, salt water, Coca Cola, eggs, paint strippers, mercuric acid and acid rain"!
Also, the product is claimed to be the only polish available that protects against ultraviolet rays, which can cause both the breakdown of any protective coat, which can lead to paint fade. Pretty impressive claims!
What's also interesting is that the product does not contain any silicones, waxes, polymers, acrylics, or Teflon (which, according to DuPont, doesn't add any protection to a polish anyway).
Ultra 2000 Manufacturing claims that the Glare Professional Polish forms a "covalent bond on and within the painted surface", and that it can actually be classified as a "paint sealant", rather than just a polish.
So, this sounds like just the thing for motorcycles.
The marketing materials that were sent to me with the polish includes a stack of testimonials from all sorts of businesses that use the polish on their cars, restorations, trucks and airplanes.
OK, but how does it go on and how does it look?

Using Glare Professional Polish
I had last polished the TBird a couple of months ago, but the bike got pretty grimy from riding it all winter. I never had a chance to really give it a good washing, so I first washed the bike using Glare Ultra Wash (which also works very nicely).
The photo on the left above shows the tank after washing but before the application of the Glare Professional Polish. Notice the "spider web" scratches that show up as a halo around the sun's reflection.
Taking photographs that can show the differences in polish is not easy.
It's very hard to show before/after differences. However, I am impressed with the way that the Glare Professional Polish removed the "spider web" scratches that had appeared in my Triumph Thunderbird Sport's fuel tank.
You can clearly see the difference in the "before" and "after" shots above.
The bike's black paint now has that "deep" show finish to it, and the entire bike really does look like it's coated with glass.
This was backed up by a friend who wandered into my garage, and before I said anything about polishing the bikes, immediately noticed how shiny they were and wanted to know what I had done to get such a nice finish.
Elbow Grease Required
The process for applying Glare Professional Polish is somewhat different than most other polishes.
First, it's important to ensure that the surface to be treated is very clean.
Then take a little bit of the polish, and using a clean cloth (I used a new terry washcloth), rub the polish in a circular motion in a small area until the polish disappears.
It's not that hard to do, but it does take some effort. You must work in the polish until it nearly completely disappears.
If you just rub it on and wipe it off, you will not get the desired results and, in fact, you'll be wasting your time. Rub it in!
I found that gentle continuous pressure works best. The paint seems to readily absorb the product, and the polish disappears relatively quickly.
Don't try to polish the entire tank at once; instead, rub it in until it disappears on small spaces at a time to cover the entire tank or surface.
The directions call for a second thin coat of Glare, but note that if you've done the job correctly, the second coat doesn't have to be rubbed in to the paint.
Apply a light second coat, let it dry to a haze, then buff it off, and you're done. The manufacturer claims that the Glare Polish will last up to 5 years with occasional touch-up treatments.

Using Glare Polish on Metal and Chrome
The manufacturer also recommends that Glare can be used on painted surfaces, chrome, polished aluminum, stainless steel and fiberglass.
They even say you can use it on eyeglasses (not anti-reflective coated), bathroom tile, mirrors, wooden furniture, silver, brass, copper and marble!
I talked to Kenneth Friedl, the President of the company, and he said the product will also bond to chrome exhaust systems, and that it's good from -250 to +650 degrees F.
So I also applied it to the TBird's signature dual exhausts.
The pipes looked pretty good to begin with, but see the photos above and compare the photo of the untreated pipes on the left (above) with the treated pipes on the right.
Notice that the untreated (but clean and shiny) area on the cone (yellow arrow, photo left) looks hazy when compared to the same pipe on the right, post treatment.
I'm not sure if it takes a day or so for the Glare Polish to "cure" or anything, but when I went out into the garage the next day, I couldn't believe how great the bikes looked.
There really does seem to be an extra deep gloss that makes the paint look brand new and gives them that "wet" look.
Other brands of polishes claim to do this; Glare is the first one I've used that actually seems to hold true to its claims.
I've tried about every brand and type of polish on the market in my quest for the ultimate shine and protective coating with the minimum amount of fuss.
We've probably been brainwashed to think that the only products that are any good are from companies that have zillion dollar marketing and ad campaigns on prime-time TV.
After all, how can a relatively unknown lab come up with a product that will beat all the big boys? But I think the Glare Professional Polish may have done it.
I'll see what happens over time and report back with my findings.
To be honest, after my initial surprise at how nice this product works, my expectations may be too great. Will the bikes keep their great shine over time and after repeated washings? Stay tuned!
[
UPDATE:
 It's been about 8 months since this review first appeared. My Thunderbird Sport looks as good as ever! I washed the bike once or twice and the Glare Polish is still doing its job. The bike looks great!]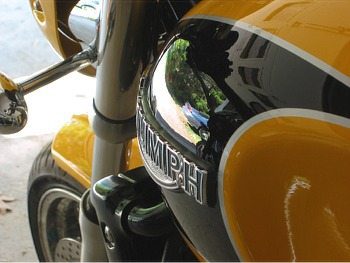 More Glare Products
Glare Vinyl – Leather All Weather Protectant:  This product contains an ingredient called "Supplexin", which is claimed to "beautify, soften, deodorize, preserve, and protect against damaging agents".
It also blocks UV rays. It works well on vinyl saddlebags and other plastic or vinyl surfaces on the motorcycle, and seems to give them a nice "soft" finish and feel. My wife uses this on her equestrian tack and she swears by it.
Glare Ultra Wash: Claimed to be pH balanced (more about pH) and also contains the same Glassplexin ingredient as the Glare Professional Polish.
It's not required to use the Ultra Wash if you've polished the bike with the Glare Professional Polish, but it's a nice wash that works well on motorcycles.
Glare Spider Swirl and Spider Remover: A spider and swirl remover that is used prior to the Glare Professional Polish treatment. Adds to the workload but gives that ultimate true mirror-like show finish when used with Glare Polish.
See the wBW Review of Glare Spider Swirl and Spider Remover.
w

BW

 Review: Glare Professional Polish
List Price (2005): $34.95
Made In: U.S.A.
Colors: N/A
Sizes: N/A
Review Date: May 2003
Note:
 For informational use only. All material and photographs are Copyright © webWorld International, LLC since 2000. All rights reserved. See the webBikeWorld® 
Site Info page
. Product specifications, features and details may change or differ from our descriptions. Always check before purchasing. Read the
Terms and Conditions
!
Owner Comments and Feedback
---
From "M" (June 2015): "I am a custom motorcycle painter, and I found with the formulation of the Glassplexin really makes a difference when you look deep into your clear coat.
The first time I used it four years ago or so, when I looked deep into the finish I had before using (the Glare Polish), I could see stuff I did not like. I was near the end of a paint job when I cut it and buffed it without using the polish. So I thought I would test it on this project.
After doing so, I could not believe that what I saw before using the product was not there any more.
When taking pictures of the bike, it was hard for me to get a good picture because it was so glossy all I could see in the pics were a mirror image reflection.
At that time, I knew why they called it Glare! When buffing it in, you may note that there is a residue that you cannot completely buff out, after working it in real good, take a micro fiber cloth and wipe it off and there it is."
"P.S.: I forgot to mention that these Glare products are meant to be used at high speeds when buffing, I noticed someone was talking about rubbing it in by hand, no wonder he did not have good results."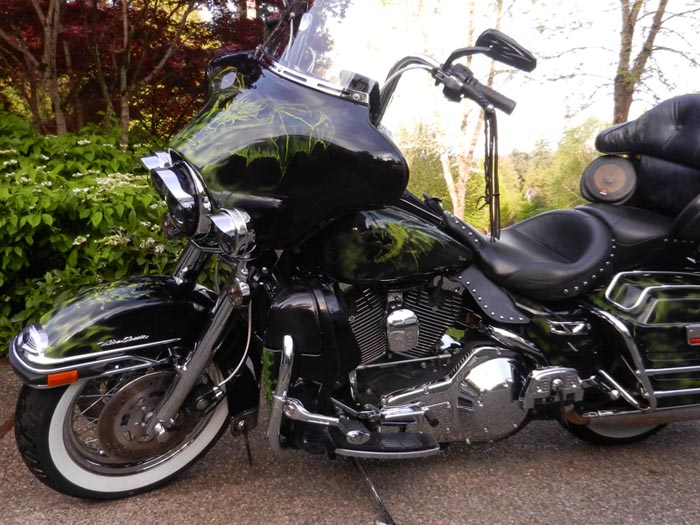 ---
From "R.B." (9/09): "I discovered that Honda carries (or carried) this same polish under its name for a lot cheaper. I tried it on my 2006 Triumph Speed Triple and it worked great.
I clean my bike with regular spray cleaner after every ride and use this stuff as a touch up. The bike looks like new, with a showroom enamel-like shine and a super slick feel. Conversely, I tried it on my Piaggio scooter and the result was less impressive.
It wasn't any better than Ice Wax (review) (quality of shine or duration) and, although gas may not penetrate it, the residue of a black walnut (dropped by a rotten little squirrel) went right through to the paint. So results do vary."
---
From "G.M." (2/09): "After reading wBW's review and the company's own glowing testimonials, I purchased this product in the fall of 2007, and applied it very meticulously, per the company's instructions, to my 2006 Ducati ST3s.
I have thus had nearly 1-1/2 years to judge its performance now.
While the finish looks good, I can't say that it looks any glossier than what I observe using a good quality Carnauba wax.
Also, the "slickness" of the finish (judged by running a hand or microfiber cloth across it) went away after one wash, just as it does with a regular wax.
Of course that doesn't mean there is no protection left, but the feel of the surface was the same as before the Glare was applied, after just one wash. I don't spill a lot of fuel or brake fluid on my bikes, so I can't say whether the Glare will actually protect paint from these evils.
However, I do collide with a lot of bugs in my warm weather riding, and I was disappointed with the continued difficulty of removing insects after a ride, even after applying the Glare.
I am a stickler for the appearance of my bikes, and I was hoping I'd found the "magic bullet" to ease surface maintenance in this Glare Polish. Well, not really.
I don't find its performance or shine to be any better than a quality Carnauba was finish, and it is much more expensive than a good wax. "Your results may vary", of course."
---
From "GP": "Hi Rick: Got a chance to use the Glare polish. It really does work great. My bike and sidecar (I used it on that too) look great, even when they are dusty.
I had a slight headset rubber cable mar (dull) on my tank (black). Other waxes/polishes wouldn't affect it…It's gone now!… My brother used Glare on his 1999 Gold Wing.
What a difference, in appearance and feel. He used some on his car. He is ordering more to finish the job. My dealer is not carrying the product at this time, but I haven't talked to the boss yet. :-D… …
Thanks for adding MADCO to your links. I have never met the guy, but with such a good product and with such great customer service he sure deserves a mention. Thanks for your time, and trusted evaluations…"
---
From "J.C.": "I thought I'd let you know what I think of this Glare polish, which I learned of from your web site.
I first used it on my 2003 Virago 250. I was not overly impressed, not that it did a poor job or anything but being a new bike it just kept it looking new. However when I used it on our ten year old vehicles I was impressed!
It gave them a like new gloss and a slipperiness to the finish (I understand from other testimonials that it gets better with repeated use). I would definitely recommend this product to anyone.
If you are able to buy it from a Canadian distributor it is really quite a reasonable price (about $23 Canadian + shipping /bottle)."
---
From "D.S." : "I have a 1994 Kawasaki Vulcan 750 and a 2002 Mazda Tribute and we put the Glare on both the bike and the SUV. After finding out that multiple coats just deepen the shine we decided to test the shine and see. Not only does the shine get deeper, but it seems to get easier to put on. I don't think I have ever seen a deeper shine on a vehicle.
I have 3 coats on my bike and it is amazing. We go thru the rain and there are no acid rain stains or bugs left on the vehicle. I wipe the bike off with a dry 80/20 microfibre towel and there is just a bit of dust even on the pipes.
The bugs just wipe off the next day. The SUV even looks better than the day we bought it. It is nice to know that neither gas nor brake fluid with affect the finish with this polish on it. My bike looks brand new."
---
From "R.": "I wrote before to tell you that I bought some of this polish. It took a while before I got the chance to use it. Well, after back surgery, I finally got to try it out. YEOWWWWWWWWW!
I have a Bonneville America In cardinal red. Now it's REALLY CARDINAL RED.
This stuff goes on and off really easy. All those spider web scratches disappeared. Even the one's in some of the chrome. Just like in your pictures. I'm impressed!
I'm always looking for that perfect wax/polish for my bike. I think I found it. The only thing left is the lasting time trial. If it doesn't last as long as advertised who cares cause it so easy to use. Thanks for the info."
---
From "D.M.": "I used it last night. I have to say this was easier than polishing and then waxing my bike.
The second coat comes off so easy, no buffing is really required. My bike is a 1981 KZ and this worked really nicely on shining it up.
I used it on all the painted, chromed and plastic parts. It seemed to clean up everything very nice.
I made everything I polished look brand new again. That's more than I can say for any wax I've ever used. It is pretty slick so I think it will repel water well and make it easy to clean bugs off my bike.
Just don't use it on the pedals, grips, pegs, or seat! I'm going to apply it to my car next since it easier than applying wax like I normally do twice a year. Thanks for the tip on the product!"
Other WebBikeWorld Polishes Posts